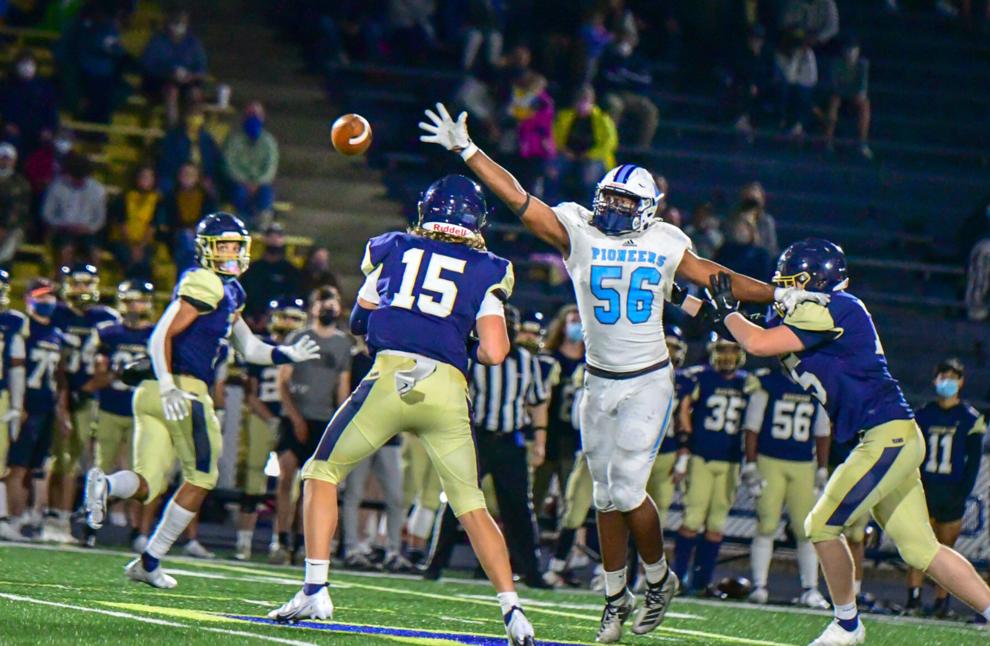 ASHEVILLE — In Watauga's 47-36 loss to T C Roberson in Asheville on Friday, April 9, it was a game that had just about everything.
There were aerial bombardments to score touchdowns. There were wingbacks diving into what can only be described as a rugby scrum — only to burst out the other side moments later into open space — and a long sprint downfield to paydirt.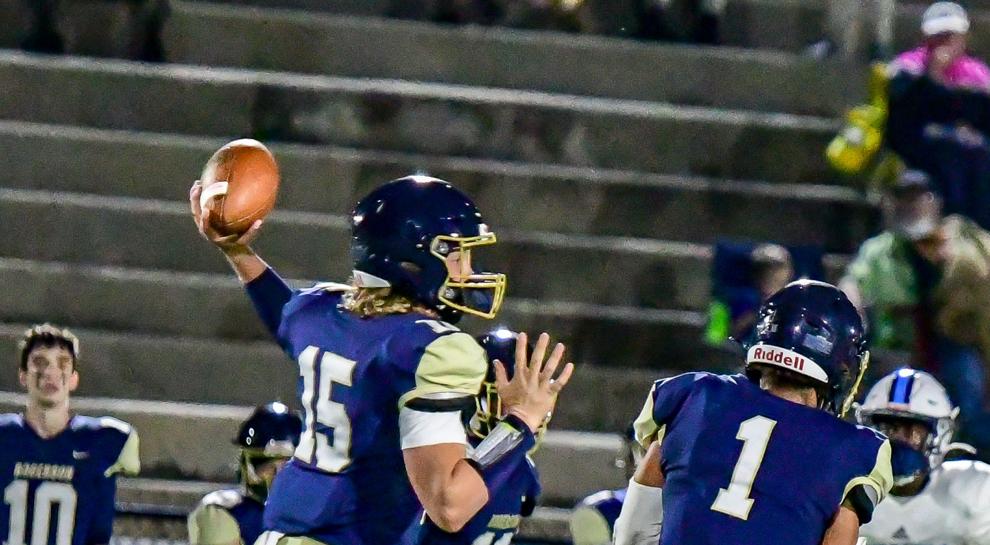 This was in addition to grinding offensive possessions, quarterbacks sidestepping would-be tacklers for long gains and brilliant coaching decisions with equally brilliant execution by the players on the field.
Yes, there were untimely turnovers, too, fumbles and interceptions and brilliant plays by defensive standouts.
Under Friday night's lights, previously undefeated Watauga's vulnerabilities — lack of size, youth and inexperience up and down large parts of the roster — were exposed by an athletically gifted and well-prepared, senior-laden Rams football team. The Pioneers defeated other athletically blessed, senior-laden teams during Northwestern Conference play, but none of them came to the gridiron arena as well-prepared as T C Roberson. And when two equally prepared teams meet in competition — and Watauga was equally prepared, to be sure — the benefits of experience usually come to the fore and size matters.
Tit for Tat, until the third quarter
For two-thirds of this football game, Watauga matched T C Roberson big play for big play. Eventually, they just ran out of answers for a talented, senior group of Ram playmakers expecting to move on and play at the next level, at least one committed to a Power 5 school, West Virginia.
Watauga received the opening kickoff, but turned the ball over on the Pioneers' second play from scrimmage when running back Carter Everett had the ball punched out of his arms as he was being tackled. Roberson's glee in recovering the fumble was short-lived, however, when Watauga senior defensive back Lucas Towle stepped in front of an intended Ram receiver to intercept QB Brody Whitson's third pass of the night, inside the WHS 10-yard line. It turned back Roberson's promising offensive possession and near-score, and gave the Pioneers another early chance to put points on the board with changing momentum.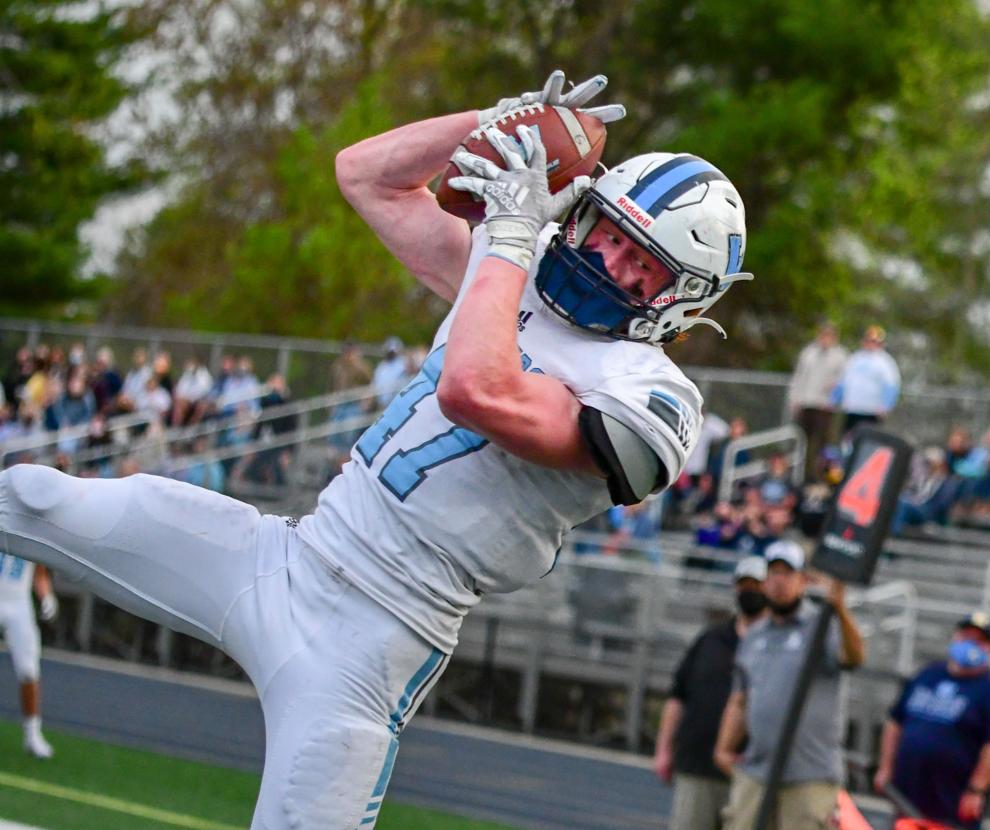 Watauga's second possession began as a patented, head coach Ryan Habich – designed, grind them out drive that takes time off the clock and keeps the opponent's offensive unit off the field. Beginning at their own 21 yard line, the Pioneers reached the Roberson 17 before the Rams dug in. But dig in they did, punctuated by a sack of quarterback Carlton Horine at the TCR 34-yard line, on 4th-and-16.
From turnovers to touchdowns
Inspired by the defensive stand, Roberson's offense responded by collecting yardage in chunks. On the first play from scrimmage, the Mars Hill-bound Whitson connected with West Virginia-bound wide receiver Rodney Mcday for 65 yards, to the Pioneer one-yard line. It was nullified by an offensive holding penalty, but provided hints at the big play abilities of the Rams yet to come.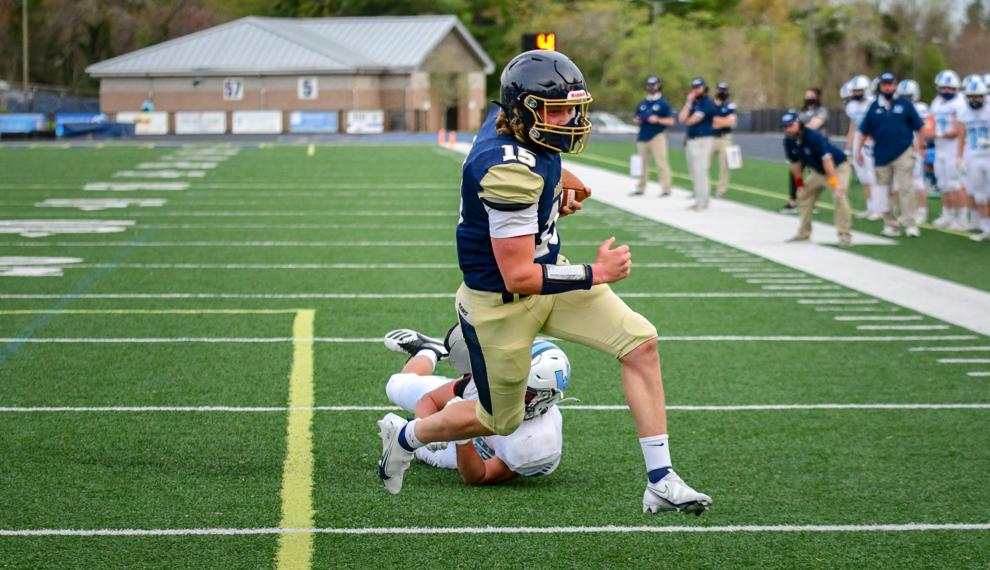 Other opponents faced by Watauga earlier this season, such as Alexander Central and Hickory, may have had good playmakers at quarterback and wide receiver but they did not have either the offensive line protection nor the well-executed blocking schemes employed by Roberson. With protection and time in the pocket, Whitson chewed up yardage through the air like eating a honey-embalmed sirloin: seven yards to Mcday, 13 yards to Mcday, 12 yards to wide receiver Zharius Looper, eight yards to Mcday, with good gain runs by Looper and Whitson mixed in. It was a drive that kept the young Watauga defenders off balance, culminated by a six-yard run around the left side on a keeper by Whitson.
All but a single minute had ticked off the clock for the first quarter, and Roberson drew first blood with a dominating offensive possession.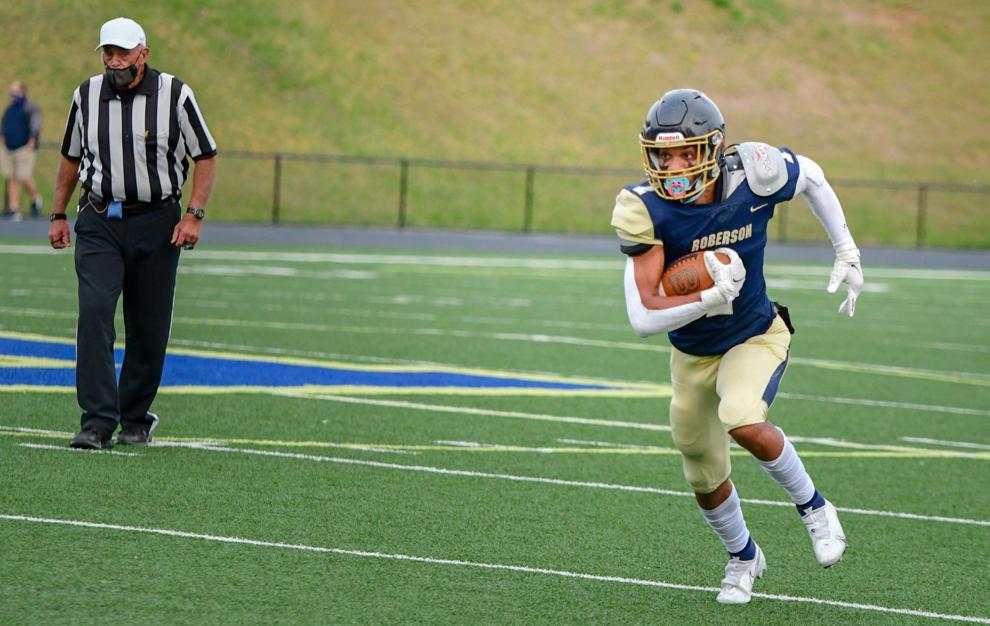 But Watauga responded. A 24-yard kickoff return by sophomore wingback Trey Thompson gave the Pioneers good field position at their own 38-yard line. On the first play of the offensive series, sophomore quarterback Carlton Horine put the ball in the hands of senior wingback Sebastian Best sweeping around the right side. Weaving his way through traffic like NASCAR driver Chase Elliott on a mission, Best navigated into the open, outsprinting all Ram defenders and across the goal line for a touchdown. When Horine ran the ball in for a 2-point conversion, giving the Pioneers a 8-7 lead, the Pioneer faithful roared their approval.
What started out as a turnover-fest had morphed into the barnburner of a football game that it would become.
Showing its ball control prowess, the Whitson-led Roberson offense responded with an eight-play, 56-yard drive that effectively mixed runs and passes, finished off by a seven-yard scoring aerial from Whitson to wide receiver Nazir Garner. It was just over a minute into the second quarter. After Brady Buckner's successful PAT kick, the Rams retook the lead, 14-8.
In response, Watauga initially struggled, but then Horine found that tight end Orlando Leon had gotten a few steps on the Ram secondary and he hit the veteran and versatile senior in stride for a 35 yard gain, Leon dragging Roberson with him the last few yards. Four plays later, Horine confirmed to any doubters that he could pass as well as run when he hit rarely used senior wide receiver Mark Mellon for a 21-yard advance to the TCR 4-yard line. The Ram defense stiffened, but after a QB sack and a tackle for loss, on fourth down and goal to go from the Roberson 8, Horine knifed a pass to Leon in the end zone to tie the game at 14 apiece. After yet another perfect PAT kick by Everett, the visitors from the High Country had retaken a tenuous lead, 15-14.
On their next possessions, both teams fumbled the football only to watch in frustration as an opposing player pounced on it. Then with 1:45 left before intermission, Roberson steadied themselves as Whitson hurried the ball downfield with 20-, 13- and 24-yard pass completions to three different receivers in Kamryn White, McDay, and Deshaun Whitmire, respectively. Then, with a mere 11 seconds remaining in the half, Whitson called his own number with a QB keeper off left tackle. The TD and subsequent PAT kick gave Roberson a still-nervous, 20-15 lead going into halftime.
The pivotal third quarter
The second half opened with a 30-yard kickoff return by TCR's White to midfield, giving the Rams a short field to the end zone; they made quick work of it. Dropping back on the first play from scrimmage to open the half, Whitson passed deep to McDay streaking down the sideline, the senior receiver gathering the ball in stride for a 50-yard TD. With the Buckner PAT kick, the Asheville hosts suddenly had a two-score lead, 27-15.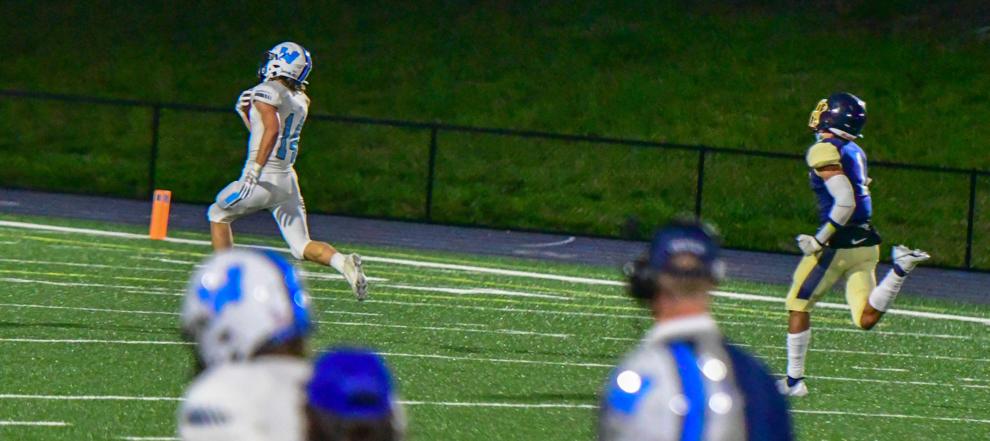 But Watauga's Best and the offensive line would have none of it. On Watauga's first play in the possession, Best took a handoff from Horine, cut into the middle of the line of scrimmage, squeezed through a gap manufactured by the offensive line, burst into the open and soon was sprinting for an 87-yard touchdown. Everett's PAT kick was true and the Pioneers narrowed the deficit to just five points, 27-22.
The Pioneers had even more surprises in store for the Rams. Everett recovered his own onside kick on the ensuing kickoff, quickly giving the Pioneers yet another offensive opportunity. Horine opened with another pass to Leon, this one for 37 yards to the Roberson 10. Then it was just a matter of putting the ball in Best's hands, rambling around the right side for a 10-yard TD run. Pioneers 29, Rams 27.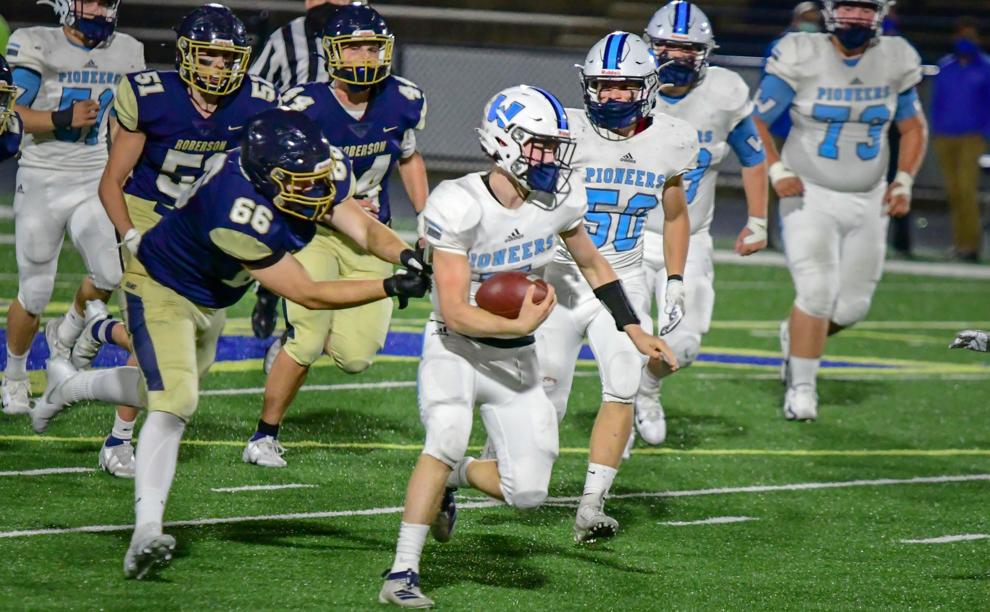 From this point in the contest, T C Roberson seemed to seize control. Helped by an offensive personal foul penalty against the Pioneers on the previous TD run by Best and a modest, 11-yard kickoff return by the Rams' P J Deshautuers, TCR started their next drive in Pioneer territory, at the WHS 47. With another good mixture of runs and passes, Whitson directed a seven-play drive that ended with yet another TD pass to Mcday, from six yards out. With another Buckner PAT kick, the Rams regained the lead for good, 33-29, with just under nine minutes remaining in the third quarter.
With a tightened defense and continuing good execution in a balanced offensive attack, T C Roberson gained control with two consecutive TD-producing drives to go up 47-29 with 9:51 remaining. Things were starting to look dim for the Pioneers. Watauga scored one more time on a 3-yard run by Thompson, but with 6:23 remaining Whitson and the Rams got produced a ball control drive that got the ball down to the Pioneer 3-yard line before allowing the clock to run out.
Statistical relevance
Both teams produced good total offense, Watauga with 456 and Roberson with 598. The Pioneers dominated in rushing yardage, 330 to 157, the Rams dominated in passing, 441-126.
Each side had a pair of turnovers, Watauga with two lost fumbles and TCR with a lost fumble and an interception. The two friendly rivals had near identical time of possession, the Pioneers came in at 23:26, the Rams 21 seconds more, at 23:47.
While the Pioneers converted on two of three fourth down conversions (67 percent), they were just four of eleven in third down conversion attempts (36 percent). Meanwhile, T C Roberson mostly avoided third and fourth down situations by recording a whopping 31 first downs, vs. Watauga's 19.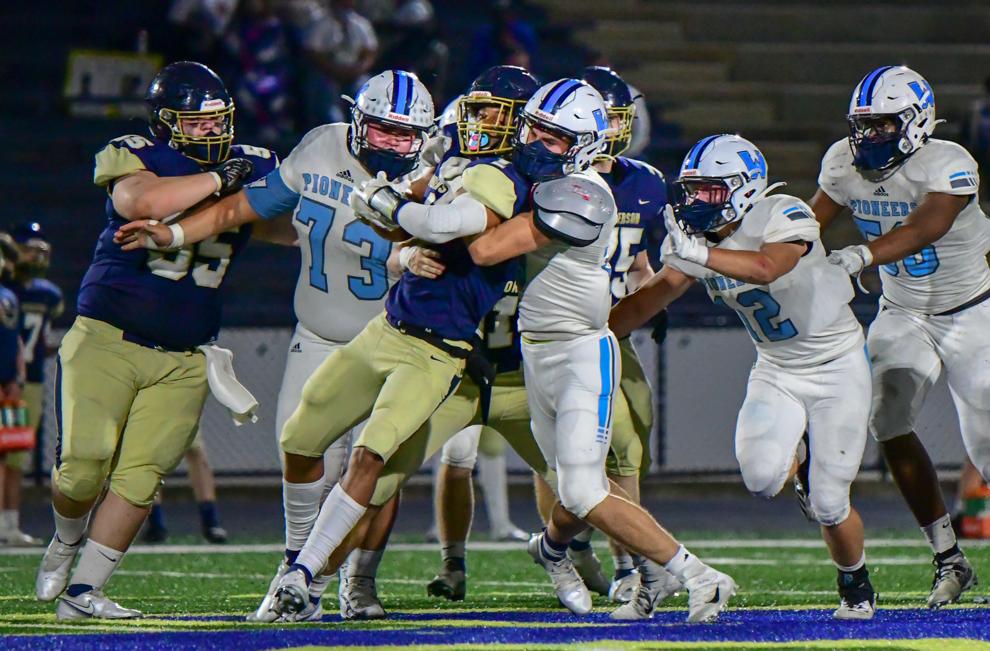 For the first time this year, Watauga was forced to play from behind and, as a result, rolled out arguably its most prolific passing game of the year. Horine completed six of eight passing attempts for 126 yards and the one TD to Leon. Whitson was efficient, completing 31 of 37 passes for 441 yards, five TDs, and one INT.
Not surprisingly, Pioneer senior Sebastian Best ground out a game-high 218 yards rushing, on just 15 carries. He crossed the goal line three times for touchdowns. Thanks to his 64- and 87-yard TD jaunts, Best averaged 14.5 yards per carry.
The Rams' Whitson rushed 12 times for 81 yards and two TDs, while teammate Zharius Looper nearly matched him with 76 yards on 14 carries.
Among the Ram receivers, Mcday was kept busy with 14 catches for 245 yards and three TDs. Whitmire also got into triple digits, with eight catches for 108 yards. The Pioneers' Leon hauled in four passes for 72 yards, including one touchdown.
Potential Rematch in State Playoffs
The North Carolina High School Athletics Association finalized the brackets for the state football playoffs on April 10, with Watauga getting the No. 1 seed in the West bracket. The Pioneers face the No. 8 seed, Greensboro-Dudley in Boone as the Round 1 matchup. Asheville-T C Roberson was awarded the No. 5 seed and will visit A L Brown (Kannapolis), the No. 4 seed.
The pairings mean that if Watauga can get by Dudley and if Roberson survives A L Brown, football fans will be treated to a rematch of the Pioneers and the Rams at Jack Groce Stadium for Round 2 of the playoffs, which in this COVID-19 abbreviated season has been reduced to just 16 teams in the 3AA bracket. The other Northwestern Conference team in the 3AA bracket is Alexander Central, with the No. 7 seed. The Cougars will face No. 2 Mt. Tabor (Winston-Salem).
Habich said late Saturday afternoon that the Pioneers "will need a lot of luck" to get by Dudley.
"With the young team that we have, we don't match up well with Dudley right now because of their size, speed and experience," said Habich. "But it is another football game in this shortened season and a good growth opportunity for our team. Dudley is 6-1 on the season and the only game they lost was to Mt. Tabor, which went undefeated."
Dudley, which plays in the strong 3A Piedmont Triad Conference focused around Winston-Salem and Greensboro, defeated Western Guilford, 54-7. The Panthers placed second in conference behind the Mt. Tabor Spartans, who were 7-0. Mt. Tabor edged Dudley in a nailbiter on March 20, 9-6.
"Whatever the outcome in Round 1, given that the playoffs have half the number of teams this year, it is an honor to be one of the 16 in the 3AA bracket," Habich said.
Habich is realistic in facing a strong Dudley program in Round 1, knowing full well that in an abbreviated playoff format the likelihood of meeting stronger teams in the earlier rounds is higher this year.
"We would rather have been matched with Asheville or a rematch with Roberson in the first round, but that is just the way things worked out this year," Habich said. "I look at Dudley and see what could be the best team in the 3AA bracket this year. The good news is that we get to play one more game at Jack Groce Stadium."