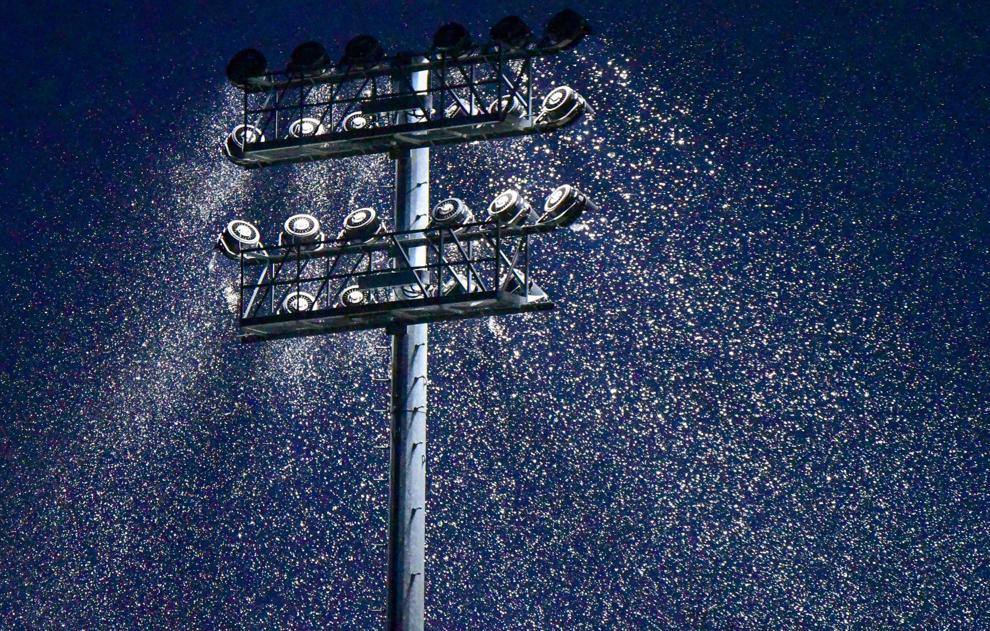 BOONE – Freedom High School's defense woke up late Friday night, April 1, at Jack Groce Stadium. The Patriots held Watauga scoreless in the second half but not before the Pioneers scored 21 unanswered points before intermission. Watauga's defense one-upped the Patriots by holding the visitors scoreless for the entire game in the Pioneers' 21-0 Northwestern Conference win.
With the victory, Watauga moves to 5-0 in the COVID-19-abbreviated spring season, securing the football team's third straight conference championship — a school record.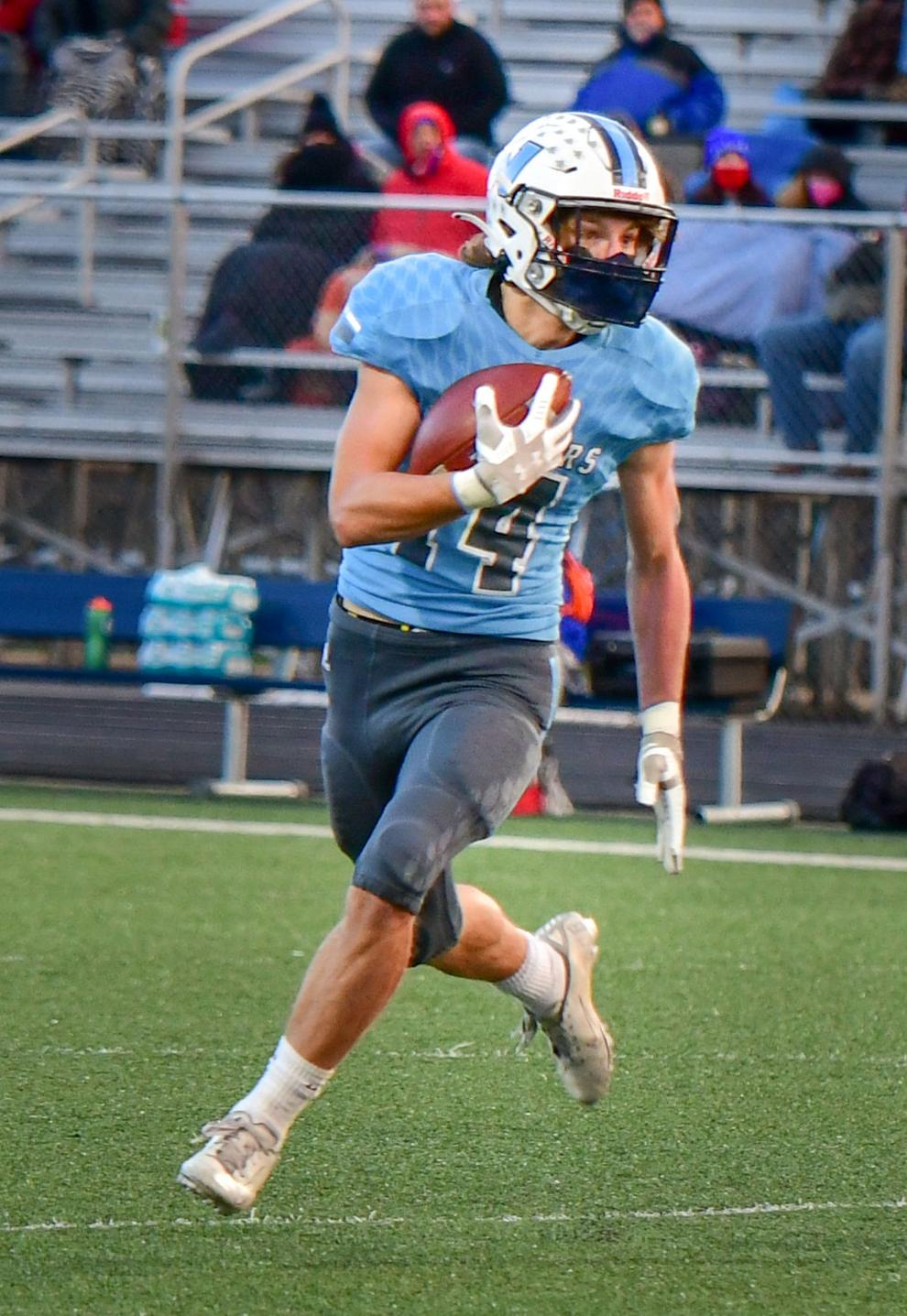 It was far from a balmy night in the High Country, temperatures hovering near or below 20 degrees Fahrenheit when taking into account wind chill. That hardly fazed the Pioneers. In spite of two second half turnovers (a lost fumble and an intercepted pass), Watauga rolled up 309 yards of total offense while smothering a Patriot offense that only managed 18 yards of total offense for the entire game.
Morganton-Freedom lost a fumble, but also added to the turnover column with two interceptions thrown in the second half, both poached by the Pioneers' junior defensive back, Joe Penley, his team-leading second and third of the season.
Watauga's first two scores in the first half were trademark Pioneer offensive possessions under head coach Ryan Habich, now in his eight year at the helm of the program.
The first touchdown was a nine-play, 60-yard drive that culminated with a five-yard scoring run up the middle by B-back Carter Everett, using up almost six full minutes of the clock in the process.
The second scoring drive started with 4:25 remaining in the first quarter. It evolved as a 9-play, 58-yard drive finished off when sophomore B-back Trey Thompson punched it over the goal line from two yards out, again up the middle.
Late in the first half, Watauga capitalized on a Patriot special teams miscue — on fourth and 10, a Desmond Caldwell punt that traveled minus two yards — to regain possession and faced with a short field of just 38 yards to paydirt.
Five plays later, wing back Sebastian Best came from the left side to take a handoff from quarterback Carton Horine on a counter play. He cut upfield through a gap, then burst to the right and outside to find nobody between him and the goal line as he coasted in for what turned out to be the game's final TD.
Upon receiving the ensuing kickoff, Freedom appeared to be throwing in the towel on the frigid night with roughly three minutes remaining in the half. The Patriots' coaching staff let the play clock run all the way down, taking time off the clock, before finally calling a timeout. After three plays that took almost two full minutes off the clock, Freedom's Caldwell finally got off a good punt for his night's work, this time booting the ball from behind his own 24 to be downed by a teammate at the Watauga 40.
That seemed to inspire the Patriot defense, which proceeded to sack Watauga's Horine for a seven-yard loss, then corral Best for another minus three yards on a run aiming to get outside on the right.
After Watauga's punt by Everett rolled to the Freedom 24, for a moment it looked like the inspired defensive play by the visitors had rubbed off on their offense. Patriot quarterback Thaddeus Reid completed an 11-yard pass to wide receiver Damien Dula, then picked up seven yards on a run after calling his own number. On fourth down and "going for it" with three yards to go, running back Demarcus Lowrance was stopped for no gain, but a face mask penalty against the Pioneers gave Freedom's offense renewed hope.
Unfortunately, the frigid, windy conditions took their toll on the Patriot receivers. Although Reid was sacked by Pioneer linebacker Jake Gragg, the next two Patriot plays were passes that Reid rifled on target, but were dropped by his intended receivers. Watauga got the ball with just 23 seconds remaining in the half and ran out the clock with just one short play.
Once again, clock management and control of possession were keys to Watauga's victory. The Pioneers controlled the ball for 31 minutes and 29 seconds, while limiting the Patriot offense to just 16:31 of opportunities.
Best rushed for 127 yards on 17 carries, while Everett added 115 yards rushing on 24 carries.
The Pioneer defense was again led by sophomore defensive end Isaiah Shirley, who was often double-teamed but still managed a sack, three tackles for loss and two more solo tackles.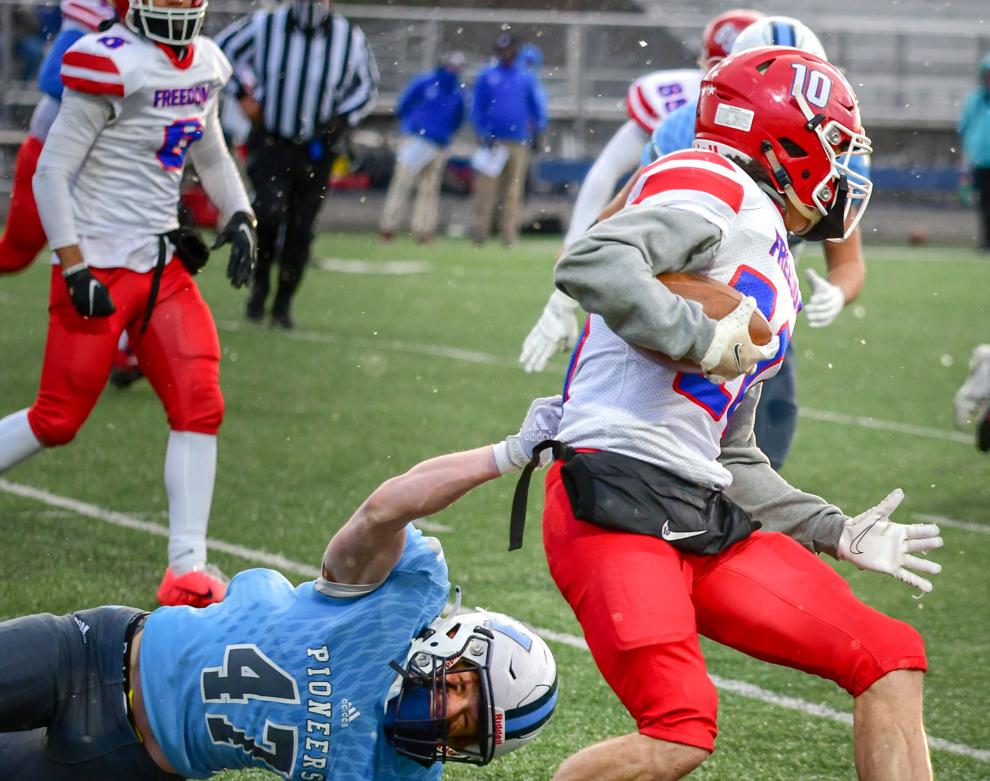 Linebackers Jake Gragg and Orlando Leon also played key roles on defense, Leon credited with a sack plus three and a half tackles for loss. Gragg teamed up on both a sack as well as a TFL. Sophomore Levi Temple was also credited with a QB sack on the night.
"We pride ourselves in moving the ball between the 20s and finishing (to score TDs)," said Pioneer head coach Ryan Habich after the game, noting that they were able to move the ball well between the twenties on this night, but made too many mistakes in not finishing. "We had silly penalties and missed blocking assignments that we will learn from."
Habich also noted that he was very proud of his young team in what they accomplished during the conference season.
"A lot of people said we were going to have a down year," Habich said. "Our guys didn't accept that."
The Northwestern Conference preseason media poll had the Pioneers finishing fourth in league play, behind Alexander Central, Hickory and Freedom, after so many Pioneer senior playmakers during the 2019 season graduated with the Class of 2020.
Watauga will take its undefeated, 5-0 record to Asheville on April 9 for its final game of the regular season — a non-conference affair against a friendly rival in T C Roberson, 4-1 going into Friday night's matchup with North Henderson. Game time in Asheville has not yet been announced.
Selected team statistics
Total Offense – WAT 309, FDM 18
Passing Yards – WAT 16, FDM 27
Rushing Yards – WAT 293, FDM -9
Penalties – WAT 4-35, FDM 2-20
Turnovers – WAT 2, FDM 3
Fumbles-Lost – WAT 1-1, FDM 1-1
Interceptions thrown – WAT 1, FDM 2
Defensive sacks – WAT 4, FDM 0
Time of possession – WAT 31:29, FDM 16:31
Third down conversions – WAT 7/13, FDM 1/10
Fourth down conversions – WAT ½, FDM ¼
Selected individual statistics
FDM – Thaddeus Reid: 8-of-19, 31 yards, 1 INT
FDM – Damien Dula: 1-of-2, -4 yards, 1 INT
WAT – Carlton Horine: 1-of-2, 16 yards, 1 INT
WAT – Sebastian Best: 17 carries, 127 yards, 1 TD
WAT – Carter Everett: 24 carries, 115 yards, 1 TD
WAT – Carlton Horine: 12 carries, 33 yards
WAT – Trey Thompson: 6 carries, 13 yards, 1 TD
WAT – Orlando Leon: 1-16
FDM – Demarcus Lowrance: 1-13
FDM – Damien Dula: 2-7
FDM – Desmond Caldwell: 6-7
High Country regional scores
Watauga 21, Freedom 0
South Caldwell 44, St. Stephens 13
Ashe County 55, West Wilkes 6
Alexander Central 48, Hickory 0
Hibriten 50, West Iredell 0
Draughn 21, West Caldwell 7
North Wilkes 7, Allegheny 0
Wilkes Central 44, Starmount 6
Bunker Hill 48, Patton 0