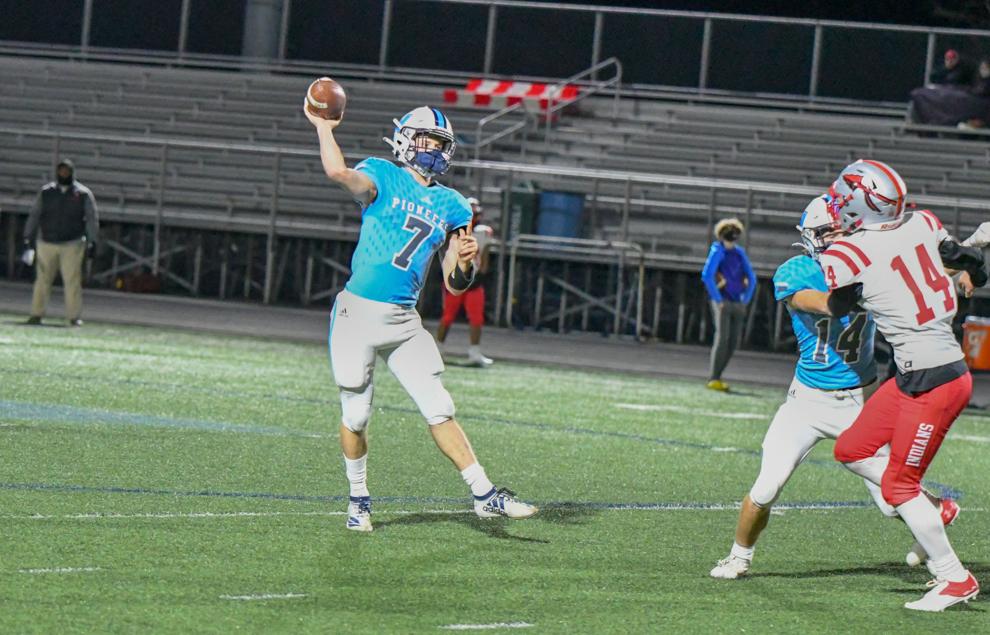 BOONE – Rolling up 481 yards of total offense — and holding an opponent to just 164 yards — is a good recipe for winning football games. Watauga High School did just that Friday, March 19, at Jack Groce Stadium while dominating Hickory-St. Stephens, 49-13.
Now 3-0 in Northwestern Conference play with convincing wins over Alexander Central, Hickory and Hickory-St. Stephens, Watauga head coach Ryan Habich's young Pioneers are getting better each week. While the first two wins were anchored by strong defensive play, Watauga's win over St. Stephens was an all-around effort.
Except for a couple of missed assignments on passing plays and a breakdown on special teams — that resulted in a second quarter, 86-yard kickoff return for a touchdown by the Indians' senior running back Zak Mclauchlin — the Pioneers played even better than in their first two outings, albeit Alexander Central and Hickory are arguably stronger opponents.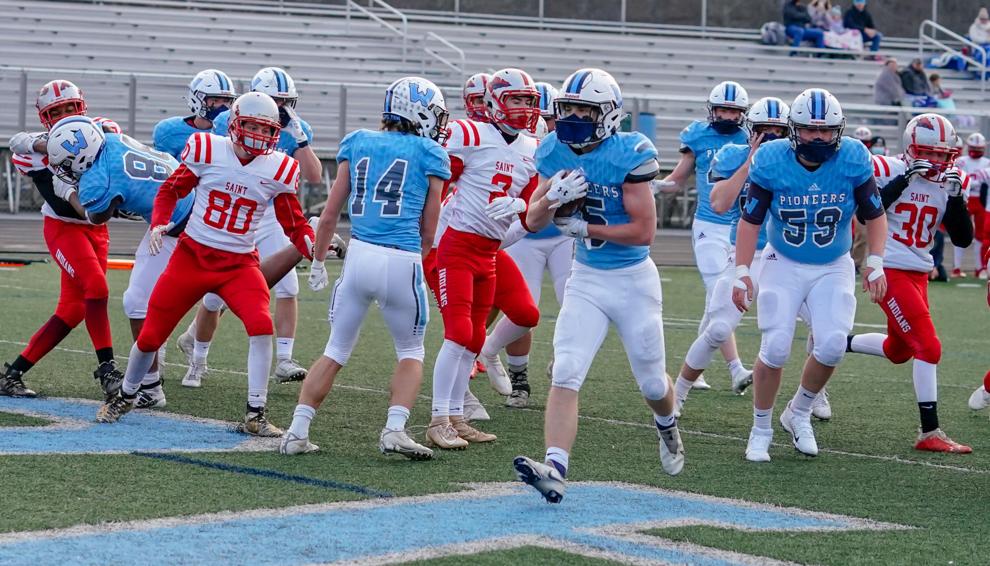 Senior wingback Sebastian Best ran for 168 yards and two touchdowns, the scores coming on exhilarating runs of 78 and 40 yards. Best's sprints down the right sideline helped Watauga to a 21-0 lead by the end of the first quarter.
The Pioneers kept pounding and added two more touchdown runs in the second quarter, by quarterback Carlton Horine (1 yard) and running back Carter Everett (2 yards), giving WHS a commanding 35-6 advantage at intermission.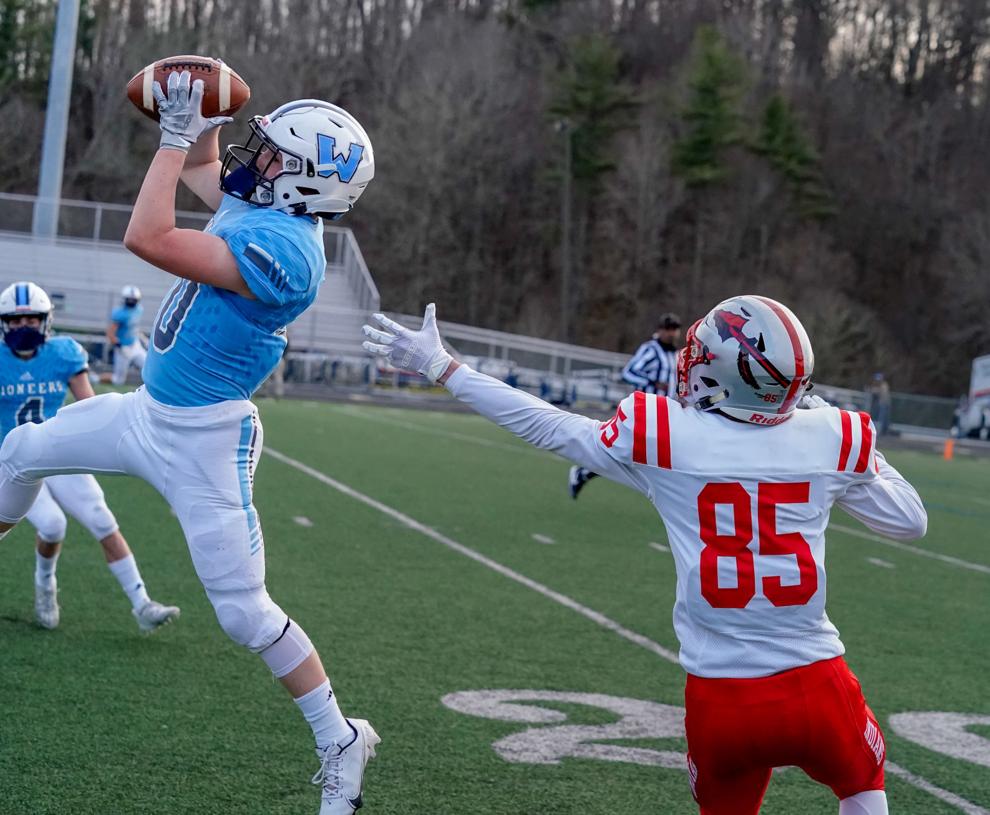 Watauga's Orlando Leon produced a 43-yard touchdown run over the left side in the third quarter and sophomore wingback Trey Thompson punched in another from four yards out in the fourth quarter. With 34 seconds remaining in the game and Habich giving several reserves valuable game experience, St. Stephens' Mclauchlin led a late offensive series and finally ran it in from one yard out to account for the last of the evening's scoring.
Considering that Watauga's center, Logan Johnson, was injured early last week and unavailable for the game against St. Stephens, the offensive unit's performance was impressive. Senior linebacker Jack Kohout, who had never played the center position before, stepped up into that critical role in Habich's multi-formation offense.
"Kohout did a great job tonight," Habich said after the game. "St. Stephens' nose tackle is pretty darn good and Jack held his own."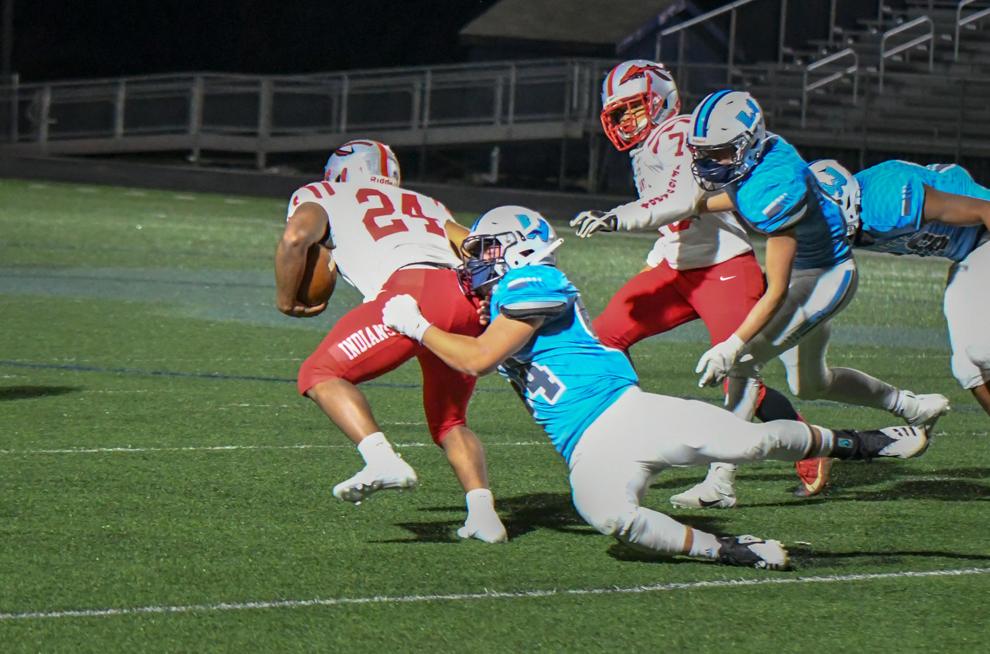 Junior defensive end Isaiah Shirley, senior linebacker Ben Myers, junior nose guard Grant Lawrence, senior linebacker Jake Gragg and Leon led the defensive effort, while Joe Penley recorded a nifty interception in the first quarter to stop a promising St. Stephens drive.
Next game for Watauga is a visit to McDowell on Friday, March 26. The Titans lost to Alexander Central, 39-7 while the Pioneers were beating the Indians, Friday night.
In other area action, the game between South Caldwell and Freedom was postponed because of COVID-19. West Caldwell surprised Foard, 13-0. West Wilkes got by Starmount, 10-7. Ashe County defeated Wilkes Central, 42-6.
Total Yards – WAT 481, SST 164
Passing Yards – WAT 78, SST 26
Rushing Yards – WAT 403, SST 138
Penalties – WAT 8-66, SST 4-46
Turnovers – WAT 1, SST 1
Time of Possession – WAT 27:19, SST 19:43
Third Down Conversions – WAT 5/9 (55.6%), SST 2/8 (25.0%)
Fourth Down Conversions – WAT 3/3 (100%), SST 0/2 (0%)
SELECTED INDIVIDUAL STATS
WAT – Carlton Horine: 2/3
, 66 yards
WAT – Levi Temple: 1/1, 13 yards
SST – Zane McPherson: 3/7, 26 yards
WAT – Sebastian Best: 10 carries, 168 yards, 2 TDs
SST – Zak Mclauchlin: 24 carries, 137 yards
WAT – Carter Everett: 17 carries, 77 yards, 2 TDs
WAT – Carlton Horine: 7 carries, 66 yards, 1 TD
WAT – Orlando Leon: 1 carry, 43 yards, 1 TD
WAT – Levi Temple: 2 carries, 29 yards
WAT – Trey Thompson: 5 carries, 25 yards, 1 TD
WAT – Cole Horine: 1 carry, 7 yards
WAT – Ty Southern: 1-52
SST – Zak Mclauchlin: 2-17
WAT – Sebastian Best: 1-13
WAT – Cole Horine: