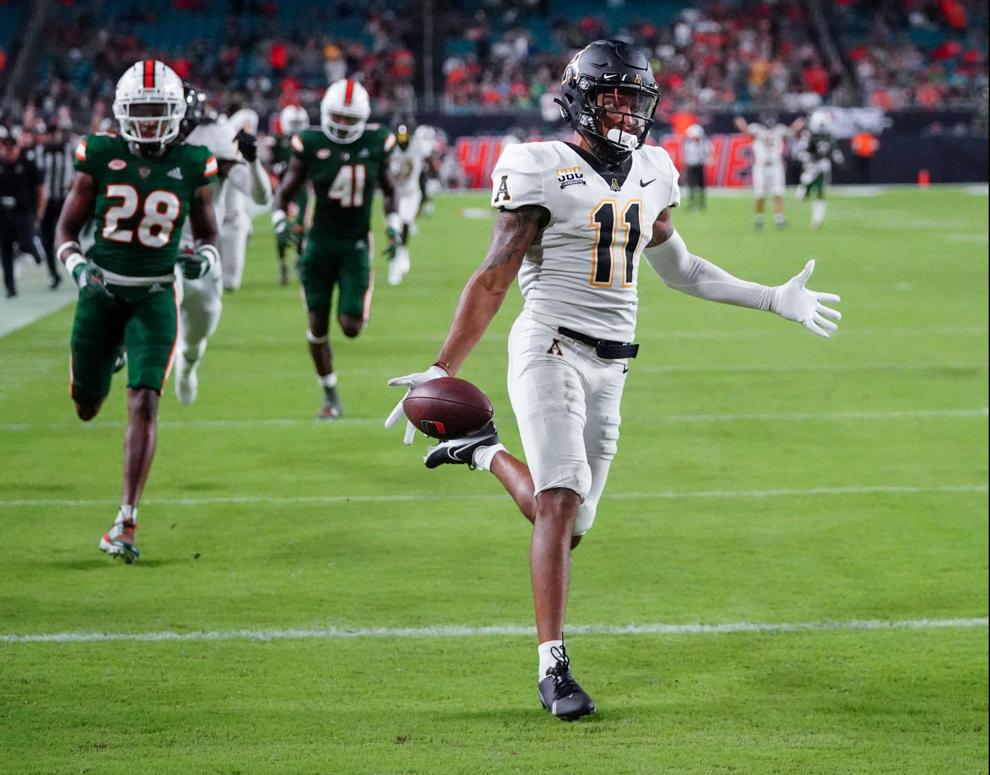 MIAMI — There is a classic 1941 movie starring Don Ameche and Betty Grable titled, "Moon Over Miami." Frequently seen around Hard Rock Stadium on Sept. 11 were T-shirts bearing the slogan, "Miami Over EVERYTHING." Appalachian State came within two minutes and two points of making that T-shirt obsolete.
Freshman placekicker Andre Borregales kicked a 43-yard field goal with 2:04 remaining to nudge Miami ahead of the Mountaineers, 25-23, then the Hurricanes' defense clamped down and held App State's offense to just one first down before forcing the Mountaineers to turn the ball over on downs. With only 55 seconds remaining when Miami got the ball for the last time, quarterback D'Eriq King only had to run out the clock to preserve the victory.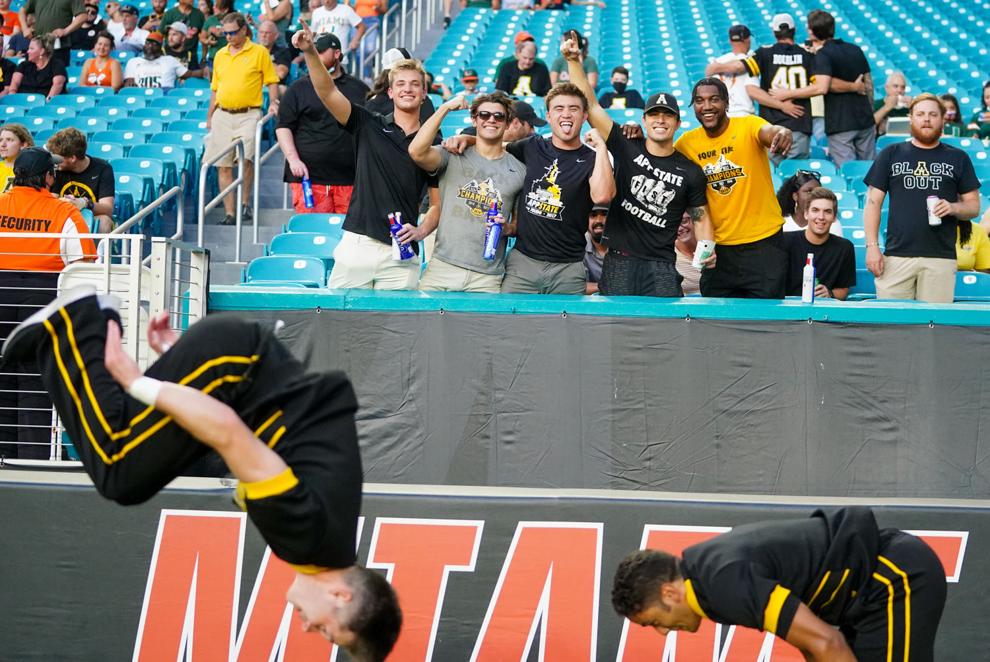 This was as tight of a football game as one could expect in pitting arguably the Group of Five's best at testing, if not upsetting, Power Five opponents against a Miami program gaining ground on its storied past. With multiple national championship years and almost 300 former players drafted by the NFL, not to mention a 45-10 shellacking of App State the last time the teams met in 2016, Miami sits amid one of the strongest recruiting areas for college football in the state of Florida.
The bookies made the Hurricanes 7.5 to 8.5 point favorites. The Mountaineers not only beat the spread, they nearly pulled off yet another historic upset. Instead of Miami dominating and expanding on leads, App State kept coming back with answers. The lead changed hands six times.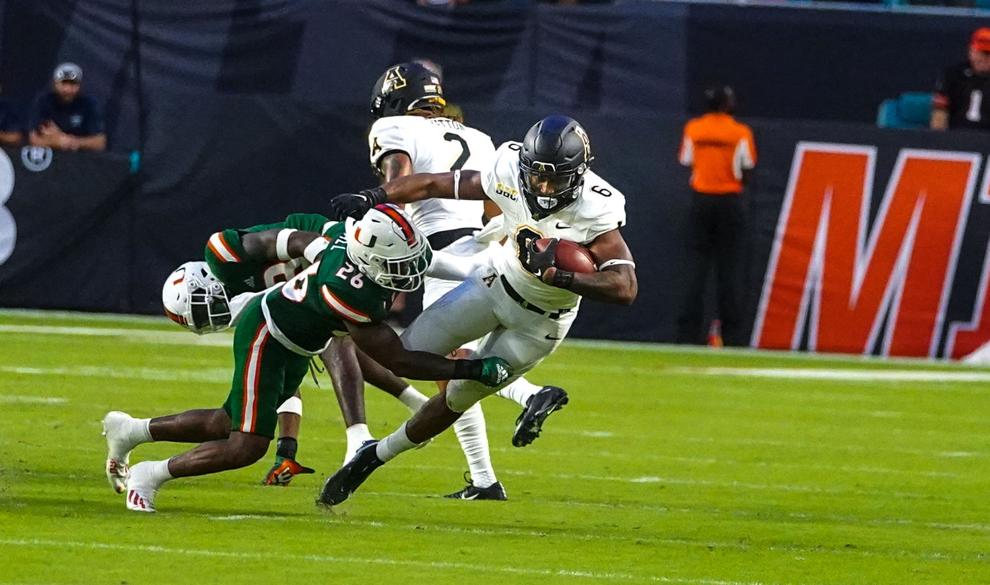 No Mountaineer "answer" was more electrifying than Jalen Virgil's 100-yard kickoff return with just over six minutes left in the first half. Miami had just gone ahead 12-7 on a 27-yard Borregales field goal. The former Sun Belt 100-meter champion in track covered the length of the field in 12 seconds, which is pretty impressive when you consider that he first had to run sideways and up the sideline through several would-be tacklers. For perspective, at the Sun Belt Conference Outdoor Track and Field Championships in 2019, Virgil ran the 100 meters in 10.30 seconds. His kickoff return at Hard Rock Stadium silenced all but the Mountaineer faithful, even earning genuflections from Miami fans in the stands, and catapulted App State to its first lead, 14-12.
While there were moments of glory for both teams' offensive units and special teams, for most of the game it was a defensive battle.
After the first quarter, the Mountaineer defense only allowed one Miami TD, a 12-yard run by junior running back Cam'Ron Harris to finish off a 6-play, 75 yard drive directed by the much ballyhooed 2020 graduate transfer quarterback from Houston, King. Other than the game's first TD when App State's own QB transfer, Chase Brice, was intercepted at the Mountaineer 6-yard line and gave the Hurricanes a very short field, all of Miami's other scoring was off the foot of Borregales: field goals of 27-, 38- and the final 43-yarder.
Until the fourth quarter, Brice and the offense moved the ball well at times, but had trouble finding the end zone. Part of the problem was having to start offensive possessions not just seven times inside their own 20 yard line, but three of those even inside the 5-yard line.
In the fourth quarter, Brice directed an impressive, 8-play, 80-yard drive that included a 41-yard pass down the middle to super senior wide receiver Malik Williams, and finished off with a 3-yard pass to Williams for a TD.
Although the scoring drive that put the Mountaineers ahead 23-22 consumed 3:28, it left too much time on the clock. Miami was only able to move the ball 55 yards in 10 plays against a stout App State defensive effort, but it was enough for the steady Borregales to slot the go-ahead 43-yard field goal.
Beyond Virgil's kickoff return for a TD, special teams played important roles in this contest, positively and negatively for the Mountaineers. With the game tied 7-7 and under a minute to go in the first quarter, a snap sailed over punter Xavier Subotsch's head and into the end zone, where Subotsch alertly kicked it out of the back. It gave Miami a 2-point safety instead of allowing them to fall on it for a TD.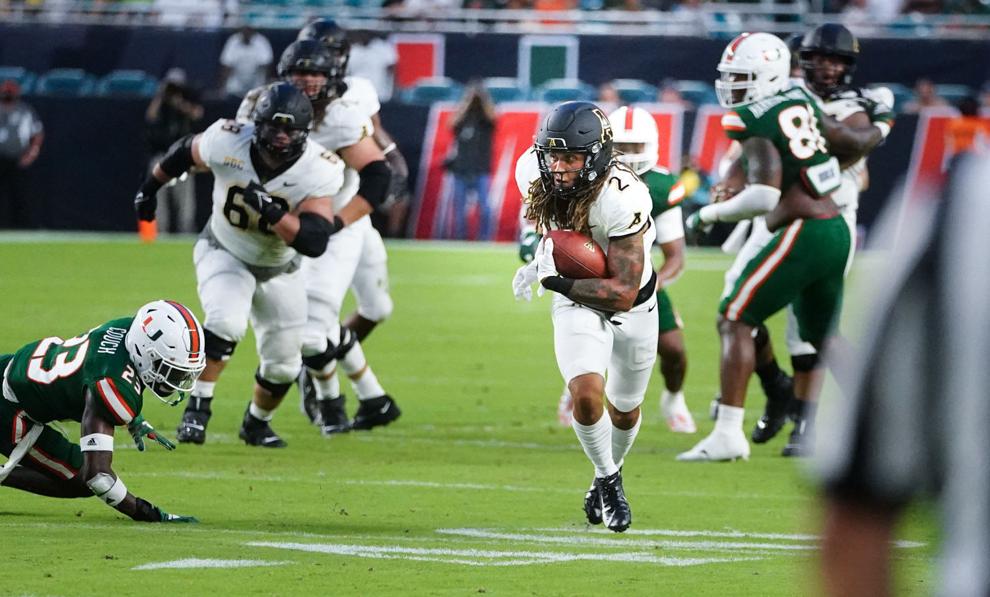 The Mountaineers' kickoff and punt coverage was also good, pinning the Hurricanes inside their own 20-yard line on four occasions.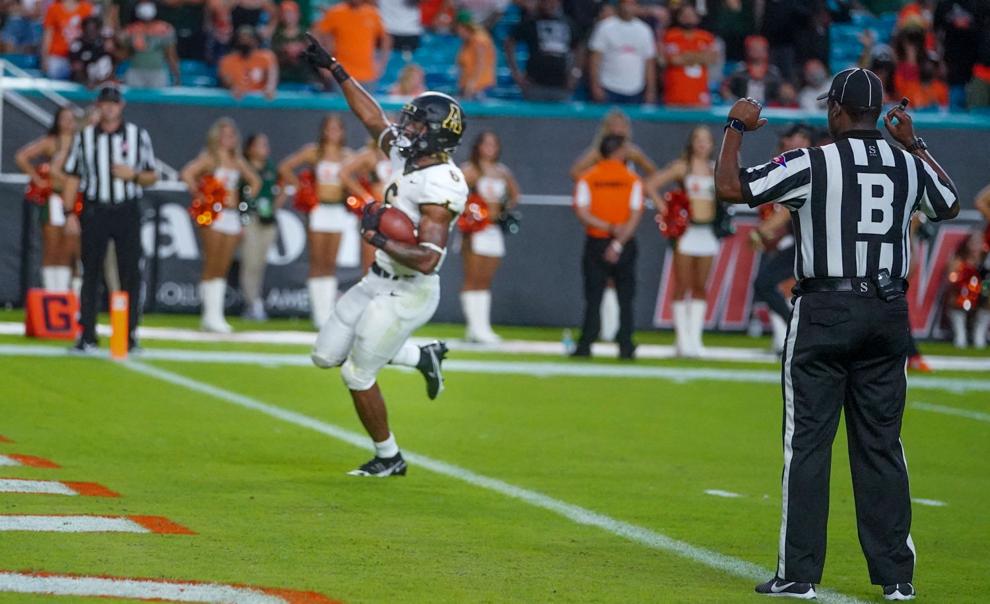 App State employed a balanced offensive attack, running the football 39 times for 127 yards on the ground vs. passing 34 times for 199 yards, netting 326 yards of total offense.
Miami's offense was similarly balanced, 43 rushing carries for 175 yards on the ground vs. 33 passes for 200 yards gained through the air, netting 375 total yards of offense.
App State returns to Kidd-Brewer Stadium on Sept. 18 to host former Southern Conference rival, Elon University (1-1). Kickoff is slated for 3:30 p.m., but the game is also the Hall of Fame game and will feature a special tribute to longtime former coach, Jerry Moore.
SELECTED TEAM STATS
Total Yards: APP 326, MIA 375
Net Rushing Yards: APP 127, MIA 175
Net Passing Yards: APP 199, MIA 200
Total Plays: APP 73, MIA 76
Avg. Yards Per Play: APP 4.5, MIA 4.9
Red Zone Points: APP 9, MIA 20
3rd Down Conversions: APP 5-of-15, MIA 5-of-16
4th Down Conversions: APP 1-of-3, MIA 0-0
Points Off Turnovers: APP 0, MIA 7
Time of Possession: APP 32:00, MIA 28:00
Penalties: APP 6-48, MIA 6-60
Tackles for Loss: APP 8-20 yards, MIA 7-12 yards
QB Sacks: APP 2, MIA 1
Interceptions By: APP 0, MIA 1
SELECTED INDIVIDUAL STATS
MIA — King 20-33, 200 yards, 0 TDs, 0 INTs
APP — Brice 21-34, 199 yards, 1 TD, 1 INT
MIA — Harris 18 carries, 91 yards, 1 TD
MIA — King 19 carries, 79 yards
MIA — Chaney 4 carries, 21 yards, 1 TD
APP — Peoples 17 carries, 95 yards, 1 TD
APP — Noel 16 carries, 51 yards
APP — Brice 4 carries, 7 yards
MIA — Smith 4-70
MIA — Rambo 5-52
MIA — Harley 5-27
APP — Sutton 7-60
APP — Williams 5-57, 1 TD
APP — Hennigan 3-28