BOONE — Appalachian State will host its first vaccine clinic starting March 11 after the North Carolina Department of Health and Human Services approved its application to become a community vaccination site.
Jason Marshburn, App State's director of Environmental Health, Safety, and Emergency Management, said the clinic will administer approximately 620 doses of the Johnson and Johnson vaccine over the course of two days at the Holmes Convocation Center to students, faculty and staff, and community members. 
"I am tremendously relieved, and I'm grateful to the enormous number of people who've worked so hard to make this happen," said App State Chancellor Sheri Everts in a statement. "We have a fabulous team at App State, and they have been working for this day for over a year."
The university is vaccinating anyone who is currently eligible in the NCDHHS guidelines — anyone 65 and older, health care workers, long term care residents and workers, and frontline essential workers. Marshburn said any community member can get a vaccine, but the university is focusing on the campus community. The clinic is by appointment only.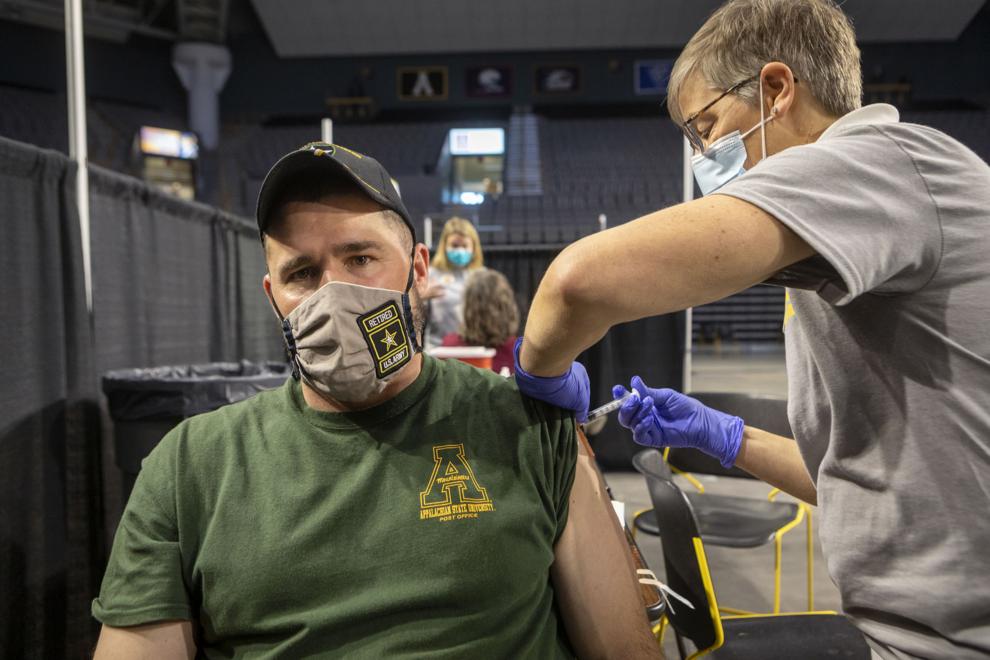 "We worked between the health care department and different divisions on campus to identify who was eligible under Phase 3, and we sent them registration information directly," Marshburn said.
The clinic is currently set up with nine vaccination stations that can accommodate two vaccinators each. Marshburn said clinic has the ability to add more stations as needed, and that they have the ability and space to "easily" conduct a 1,000 person vaccination clinic.
"This is not the first vaccine clinic we've done," Marshburn said. "We've done flu clinics in the past — a much smaller scale, but same concept. We took that formula, if you will, and scaled it up."
When people arrive at the clinic — which starts at 9 a.m. and goes until 4 p.m.— they'll get directed to the registration table to fill out paperwork. Marshburn said the majority of people have already filled out the required forms so registration will mainly be verifying the information.
Once registration is complete, Marshburn said people will queue in a line that wraps around what is normally the basketball court.
"One of the good things I think about App State is it's always a community approach," Marshburn said. "Everybody's very excited about this process. Everybody's very supportive of it. Everybody's worked together to accommodate different schedules, and we've been able to work through everything."
Once at the front of the line, a person will get directed to an open table to get their vaccine. The clinic will have some stations set up that will provide more privacy for the person receiving a vaccine if need arises.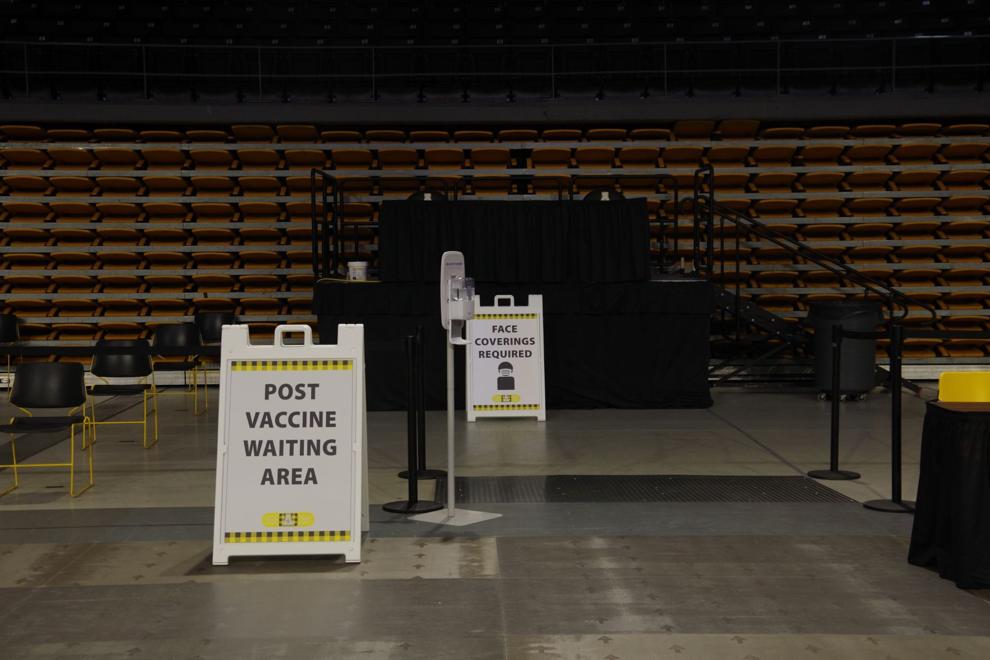 After their vaccine is administered, they will move to the waiting area for either 15 or 30 minutes to ensure no immediate side effects occur.
According to the Food and Drug Administration, the most common side effects from the Johnson and Johnson vaccine are pain at the injection site, headache, fatigue, muscle aches and nausea. Most of those side effects occurred within one to two days following vaccination and were mild to moderate in severity and lasted one to two days.
Marshburn said varying university departments will work the COVID-19 vaccination site. The only group not part of the university at the site will be Watauga Medics incase a medical emergency occurs.
"We've got the student health team and school of nursing doing the actual vaccine injections," Marshburn said. "It's a university effort."
Other departments working at the clinic include Campus Dining staff members who have been re-assigned to work with the university's COVID-19 response team, Emergency Management staff and Holmes Convocation Center staff.
The vaccine doses used for the March 11 and March 12 clinic will be drawn into a syringe and distributed on site by pharmacists.
The university will host vaccine clinics as long as needed. Marshburn said university officials have not been told if they have been allotted more vaccine doses as of March 10.