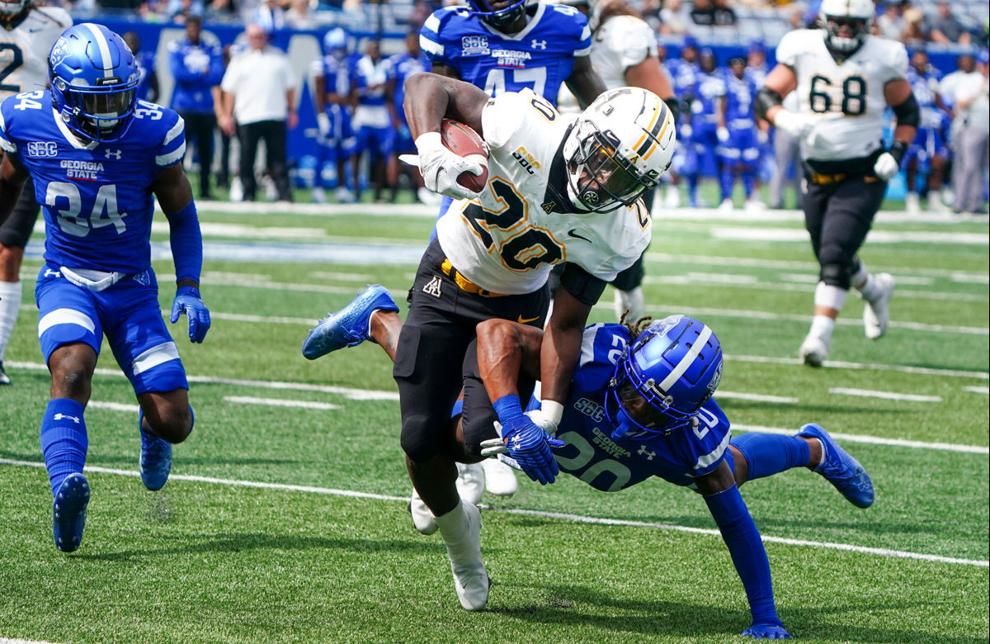 ATLANTA — They came. They saw. They conquered Georgia State, 45-16.
Appalachian State's Mountaineers arrived at Center Parc Stadium with high expectations for the first Sun Belt Conference game of the 2021 season — but with a lot of questions about how good they really might be. Plus, they were facing an opponent in the Panthers of GAST that last week led a storied, Power 5 stalwart, Auburn University, through three quarters (24-19) before collapsing in the final stanza and losing, 34-24.
Through the first half of the tilt between Georgia State and App State, few (if any) of the Mountaineer questions were answered. The Panthers showed signs of staying with their Sun Belt Conference rivals. At intermission, App State led, 14-6, but as head coach Shawn Clark told reporters later, "We weren't playing very well."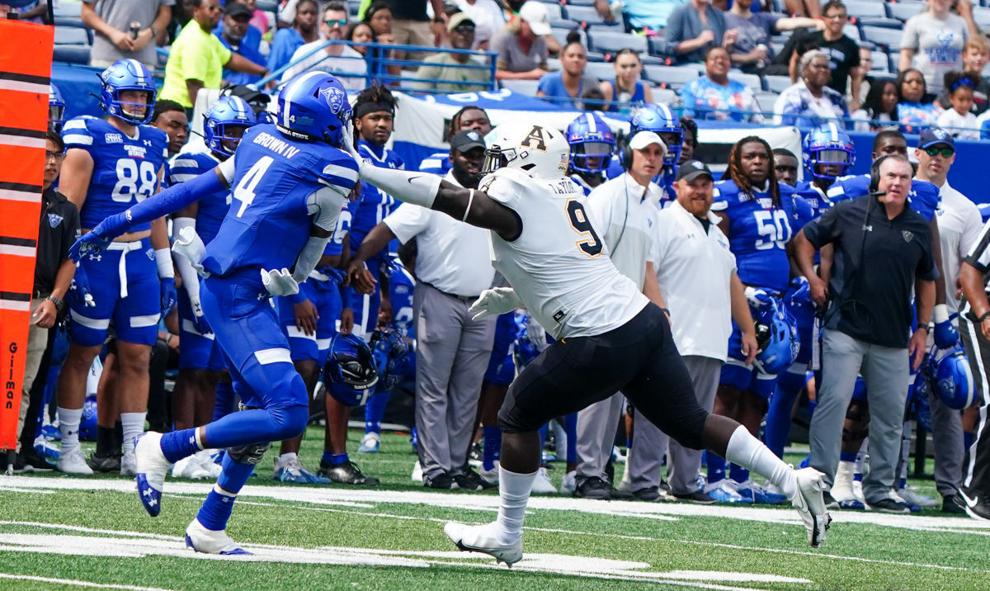 While App had teased the several hundred black and gold-clad faithful mostly packed into the south end zone grandstands with a first possession touchdown drive, finished off with a 23-yard wrestle-sprint by running back Nate Noel, something happened to the Mountaineers' ability to move the ball at will. Although quarterback Chase Brice also found super senior wide receiver Malik Williams across the middle for a 33-yard catch and run to a TD, the Mountaineers' first half offense at times looked morose.
"I lost focus," quarterback Chase Brice said after the game — accepting responsibility for the offensive unit's lack of steady production.
Meanwhile, the Mountaineer defense gave up some yards, but in every Panther possession App State's 'D' buckled down to force either a punt or no more than a field goal. Aided by a reinvigorated defensive line, App State's secondary defenders poached a trio of interceptions on the day. None were more important than on Georgia State's game-opening possession, when App State cornerback Shaun Jolly corralled GAST quarterback Darren Grainger's pass along the home team sideline, giving the Mountaineers possession at their own 41-yard line.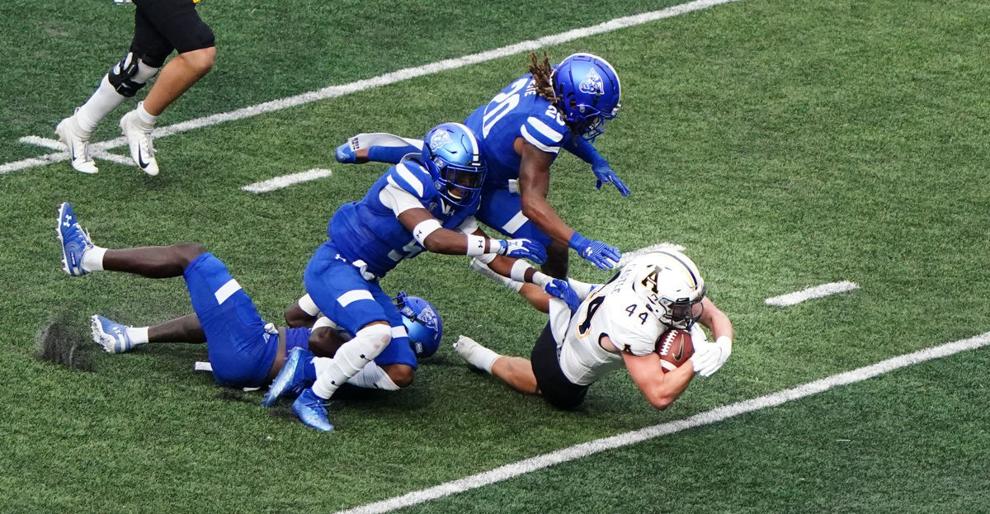 "I was singled up (in single coverage) and the receiver curled," said Jolly after the game. "In my head, I was thinking they were probably trying to set me up, trying to see what coverage I was in. I was sneaking up a little bit, but honestly I was expecting a deep ball because last week (against Auburn) they were taking shots downfield, but I trusted my technique and instincts and was able to make a play."
Perhaps reflecting Georgia State head coach Shawn Elliott's App State pedigree, the Panthers historically have run-first instincts, much like the Mountaineers. On this Oct. 2 day, App State was able to take away the Panthers' running game, forcing them into a one-dimensional passing attack that led to the Panthers playing catch-up for most of the afternoon.
Some might even opine that the Mountaineer defense won this game, holding the Panthers to punts and a smattering of field goals until a long TD pass near the end, when everything was already decided.
At halftime, Clark said he had a "heart-to-heart" talk with his offense, coach to players style. Whatever was said, worked.
After Georgia State placekicker Noel Ruiz split the uprights with a 22-yard field goal to open second half scoring, shrinking the Panther deficit to just 14-9, the Mountaineer offense exploded onto the scene.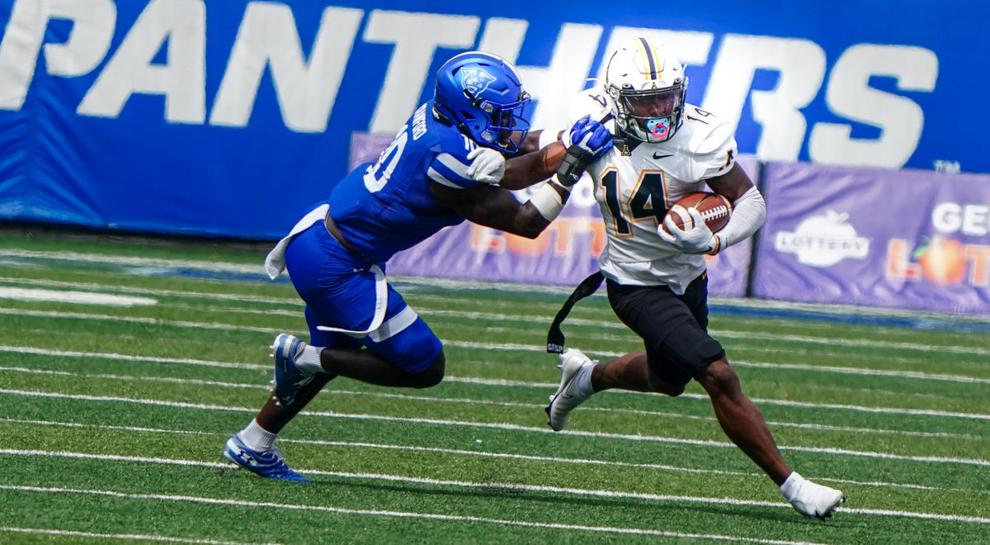 Behind an offensive line that provided Brice plenty of time to go through his progressions, the graduate student QB found super senior Corey Sutton with separation deep across the middle and laid the ball in his hands perfectly, in stride. Sutton then out sprinted the only close defensive back the remaining 40 yards, crossing the goal line along the left sideline.
"We weren't really sure whether they were going to play off, or press us," said Sutton in his post-game remarks. "After seeing the look they were giving us, we figured we could take a couple of shots. We missed on one in the first half, but at halftime we added a little bit to it. We just brought it together and it started going in the second half... We knew we wanted to hit them with a post (pattern) at some point. We didn't connect on the first drive, so we came back to it. Chase threw a great ball. I got the defender to turn his hips outside, then I knew I had a long run ahead."
Sutton's long catch and run to the end zone seemed to provide an added boost to the offense, as well as to the defense.
A 48-yard Chandler Staton field goal put the Mountaineers ahead 24-9, then App State found the end zone three more times over the rest of the third quarter and into the fourth, extending their advantage to 45-9. The visitors all but put the game away when Watauga High School alum Anderson Castle twisted, turned and bulled his way to a 22-yard rushing touchdown. Combined with Staton's sixth extra point kick, the effort finished App State's scoring on the day.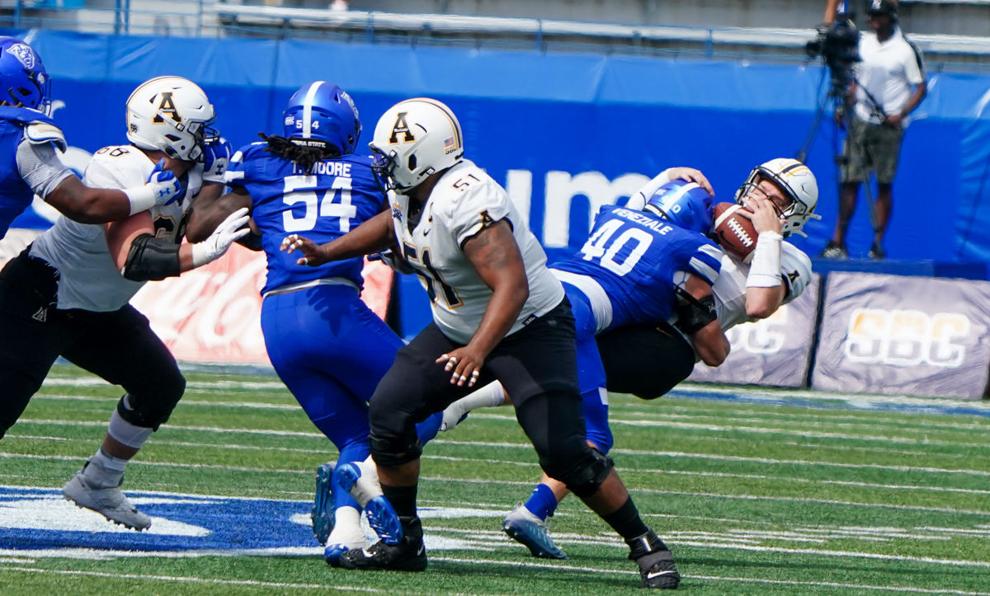 Clark told reporters later that the Mountaineers needed the depth they appear to have in the running back room. Junior Camerun Peoples was available, but still a little banged up from last week's Marshall game. "I would rather have Peoples at 100 percent, not 80 percent," said Clark.
Noel came up a little gimpy in the second half, so it fell to running backs Castle, Gabe Montgomery and Jahmir Smith to fill the void in the second half.
"I look at Anderson as a young John Riggins," said Clark, comparing Castle, still only a sophomore, to the former Washington Redskins fullback. "I am proud of him. He comes to work every day and is a true Mountaineer. He doesn't complain. He learns the plays. Today he was the top running back in the second half. We rode him. Little Riggins did good."
For his part, Castle said after the game that he learns every day from the lead guys in the running back room, namely Peoples and Noel, but also Daetrich Harrington, who is still looking to return to the field following an injury. After being called to the running back position in 2020 when the unit was thinned out with injuries, Castle said that in his few opportunities last season, without really understanding the blocking schemes or the plays, he was primarily a north-south runner. Now he is familiar with the team's outside zone scheme, which aims to get opposing defenders running horizontally and creating gaps.
"It requires patience, waiting for the gap to develop," said Castle. "Earlier this year, I was probably a little too quick in trying to turn up, but now I am doing a better job of waiting for the gap to open."
Appalachian State next travels to Lafayette, La., to face the Ragin' Cajuns of the University of Louisiana. They get to rest and heal for nine days before facing one of their fiercest Sun Belt rivals, the game scheduled for Oct. 12, a Tuesday, at 7:30 p.m. ET. Now 4-1 overall, 1-0 in Sun Belt play, the Mountaineers will face a Louisiana team that is 4-1/2-0, after taking home a 20-18 win over South Alabama on Oct. 2.
Appalachian State 45, @ Georgia State 15
Coastal Carolina 59, vs. Louisiana-Monroe 6
Georgia Southern 59, vs. Arkansas State 33
Louisiana 20, @ South Alabama 18
South Carolina 23, vs. Troy 14
Total Offense, Yards: APP 502, GAST 380
Net Yards Rushing: APP 163, GAST 134
Net Yards Passing: APP 339, GAST 246
Time of Possession: APP 31:32, GAST 28:28
Interceptions By: APP 3, GAST 0
Third Down Conversions: APP 9-16, GAST 3-15
Fourth Down Conversions: APP 0-1, GAST 0-2
SELECTED INDIVIDUAL STATS
APP — Chase Brice: 20-of-28, 326 yards, 3 TDs
GAST — Cornelius Brown IV: 16-31, 171 yards, 2 INTs, 0 TDs
GAST — Darren Grainger: 4-6, 75 yards, 1 INT, 1 TD
APP — Nate Noel: 12 carries, 74 net yards, 1 TD
APP — Anderson Castle: 12 carries, 56 net yards, 1 TD
APP — Jahmir Smith: 7 carries, 30 net yards
APP — Gabe Montgomery: 5 carries, 13 net yards
GAST — Marcus Carroll: 9 carries, 46 net yards
GAST — Jamyest Williams: 8 carries, 41 net yards
GAST — Cornelius Brown IV: 14 carries, 25 net yards
APP — Corey Sutton: 4 catches, 106 yards, 1 TD
APP — Malik Williams: 7 catches, 93 yards, 1 TD
APP — Christian Wells: 2 catches, 83 yards, 1 TD
APP — Thomas Hennigan: 4 catches, 43 yards
APP — Miller Gibbs: 1 catch, 5 yards, 1 TD
GAST — Sam Pinckney: 4 catches, 51 yards
GAST — Talique Williams: 1 catch, 66 yards, 1 TD
GAST — Cornelius McCoy: 4 catches, 41 yards
GAST — Terrance Dixon: 3 catches, 32 yards
APP — Shaun Jolley: 1 INT
APP — D'Marco Jackson: 1 INT
APP — Tim Frizzell: 1 INT