CONWAY, S.C. — Appalachian State ran away with the inaugural Myrtle Beach Bowl in Brooks Stadium by defeating North Texas (56-28) on Dec. 21 with running back Camerun Peoples setting two NCAA rushing records in the process.
Peoples set a new national standard for the most rushing yards in a single bowl game and tied another by scoring five touchdowns in a college football bowl game. The Mountaineers ran up 638 yards of total offense, 502 rushing. Peoples carried the ball 22 times for 319 yards and the five TDs. App State's lone senior running back, Marcus Williams Jr., was also prolific on the ground for the Mountaineers, carrying only six times but for 101 yards.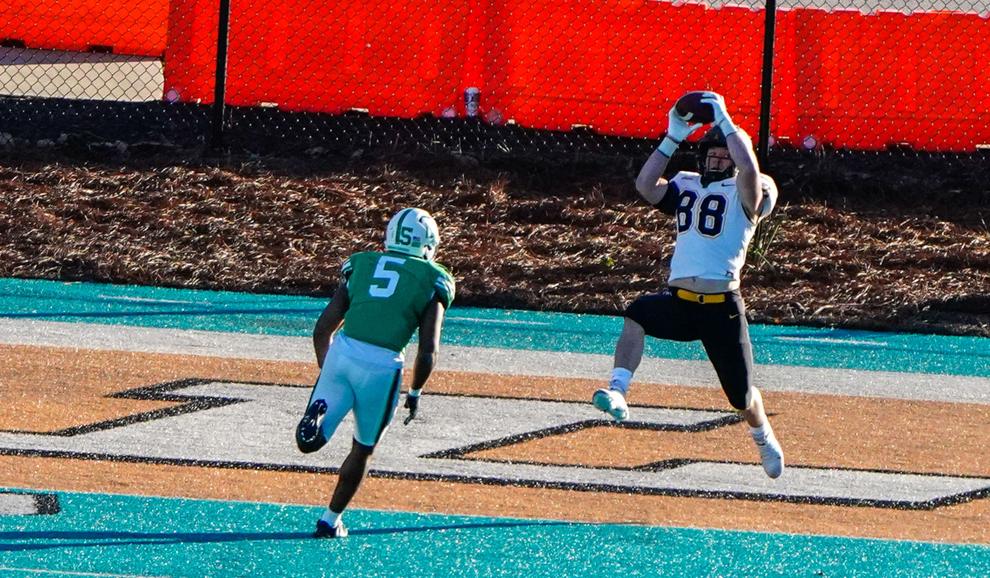 Peoples' record-setting day included three runs of at least 62 yards, featuring two scoring rushes of 62 and 64 yards and a 76-yarder where he was pushed out of bounds just short of the goal line in the third quarter. Williams also had a 70-yard scoring scamper, and a 79-yarder that was called back because of a penalty.
By late December standards, it was a balmy day in South Carolina, almost short sleeve shirt weather until night fell. But if it was pleasant outside the stadium, there was little in the way of good cheer inside as the game was halted several times when altercations broke out in the second quarter and the referees had to go to the replay booth to sort out the guilty parties. In all, 21 penalties were handed out for 209 yards. The flags were pretty evenly distributed, 12 for 118 yards against App State and nine for 91 yards in penalties for the Mean Green.
After the second quarter seemed near an emotional breaking point, the referees did a commendable job of getting control of the game. More than likely, the respective coaching staffs helped in that regard, convincing their players to focus on playing football.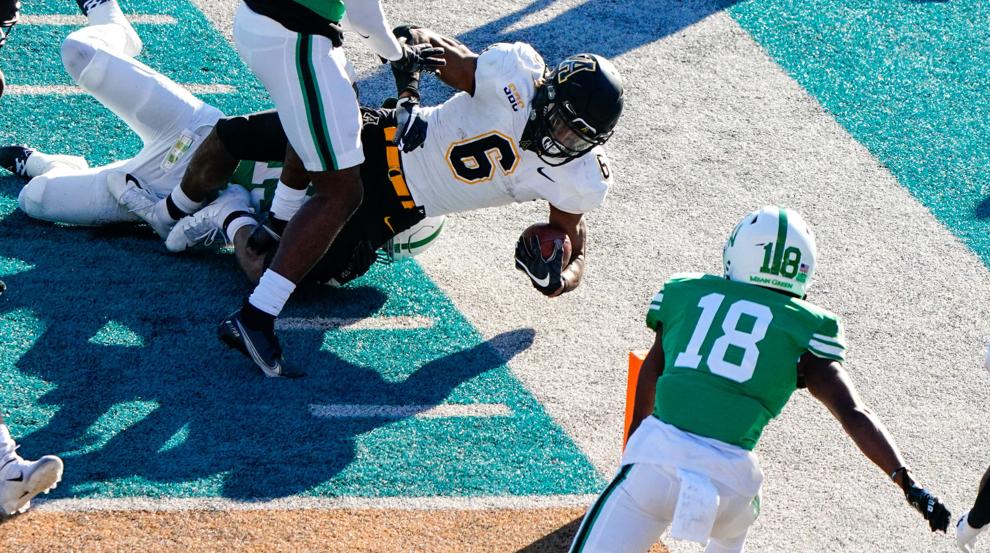 North Texas came into the game with a reputation for a high-octane offense and a vulnerable defense. In fact, they ranked No. 1 in Conference USA in scoring offense and total offense, but last in total defense in the 13-member conference. Although Appalachian's defense gave up 28 points and almost 497 yards of total offense to North Texas, the Mean Green scored an average of 35 points during the regular season; the Mountaineers' defense did a commendable job in throttling down the Denton, Tex.-based gridders.
While North Texas quarterback Jason Bean completed 21 of 36 passes for 251 yards and two TDs vs. 1 INT, the Mountaineers' senior QB Zac Thomas, was 8-of-16 for 114 yards and one passing TD. Thomas added 35 yards rushing in four carries.
Wide receiver Malik Williams shared one thing in common with Thomas — they each completed a touchdown pass to tight end Henry Pearson. Williams' came on a trick play, a double pass, to complete the Mountaineers' second offensive possession in the first quarter.
The previous single game bowl record for rushing yards was 307 by Georgia Tech's P.J. Daniels against Tulsa in 2003, according to the Myrtle Beach Bowl organizers.
In tying the record for most TDs in a bowl game, Peoples is in good company. He now shares the record with Kareem Hunt, currently a running back with the NFL's Cleveland Browns, and NFL Hall of Famer and Oklahoma State star, Barry Sanders, and others.

Given that the game was billed as a prospective high-scoring affair, it was curious that each of the teams' respective opening possessions ended in three-and-outs, leaving some of the 5,000 fans allowed in the 21,000 capacity Brooks Stadium bewildered.
Things heated up in short order, however. The Mountaineers scored on the next two offensive possessions, first the "trick" double-pass play from Thomas to Williams to Pearson that covered 22 yards, then more of a trademark Appalachian offensive drive of 12 plays, 90 yards, and ending with Peoples' first TD of the day from three yards out.
North Texas looked to make a game of it early in the second quarter with their own 12-play, 75-yard drive that culminated with a 16-yard pass from redshirt sophomore QB Kason Martin to Mean Green freshman Loronzo Thompson. Thompson was listed on the North Texas roster as a defensive back but was obviously pressed into service as a wide receiver for this game, too.
Martin was filling in for starter Jason Bean, also a redshirt sophomore, who was momentarily injured on a running play and sitting out for a couple of plays. It was the tackle by Mountaineer defensive back Steven Jones on a sliding Bean that started a brawl in front of the North Texas sideline. While the contact appeared on replays as incidental, one of the Mean Green offensive linemen appeared to take exception, got shoved back in return, and the donnybrook was on.
From there, the Mountaineers took control and never led by less than 14 points for the rest of the way.
Head coach Shawn Clark was matter-of-fact in his post-game remarks.
"Being able to run the football is the bread and butter of our offense," he said.
Noteworthy on at least two of the Mountaineers' long rushing TDs, one by Peoples and another by Williams Jr., was the performance of the offensive line. They seemed to have their way with their defensive counterparts, especially on the left side by Ryan Neuzil and Anderson Hardy. Two of the TD runs, one by Peoples and one by Williams Jr., appeared to be the same or similar plays, but the gaps in the line of scrimmage were enormous. "They were big enough to drive a freight train through," quipped one onlooker.
Williams Jr. was very complimentary of the offense line's handiwork in his comments after the game.
"They were very good in getting (us) to the second level and giving out one-on-ones with the safeties," William's Jr. said. "In the running back room, any time we have a one-on-one we expect to win it."
Clark finishes his first season at the helm of the Mountaineer football program with a 9-3 record, looking forward to a return to post-COVID-19 normalcy in the year ahead.