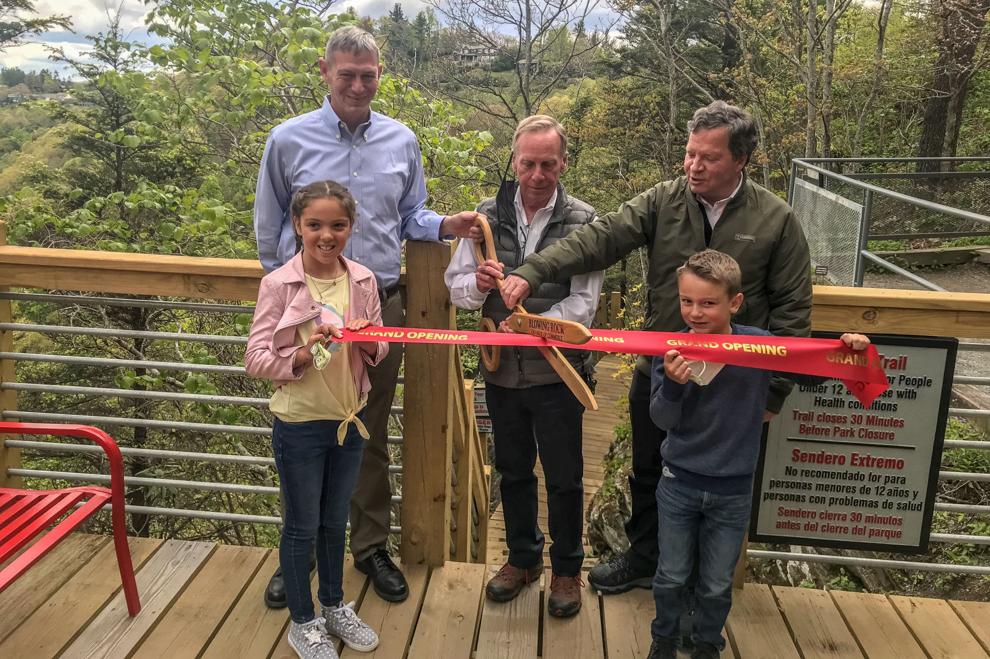 BLOWING ROCK — They have three different last names, but a trio of Grover Robbins descendants gathered at The Blowing Rock on May 13 for the grand opening of The Robbins Trail.
Owner Charlie Sellers and Tweetsie Railroad owner Chris Robbins, both grandsons of the attraction's founder, Grover Robbins Sr., and their cousin, Billy Elder, a great-grandson, were on hand for the ribbon-cutting, along with nearly three dozen Blowing Rock business folks and town officials. The ribbon cutting was hosted by the Blowing Rock Chamber of Commerce. Robbins Sr. started the attraction in 1934.
Sellers laughed when explaining to the gathering that the trail path is now more formalized with its construction by Boone and Statesville-based contractor Blue Ridge Trailworks.
"But when Grover Robbins Sr.'s three sons, Grover Jr., Harry, and Spencer were small boys, Grover, Sr. would pay those kids 25 cents to go down below the actual granite formation bearing the attraction name to retrieve debris — cans, paper cups, bottles and candy wrappers — that might have been tossed over the rock by patrons testing as to whether or not the old Native American tale of an upward draft carrying the brave warrior back up into the arms of his beloved maiden might be true.
"A quarter was big money, back in those days," quipped Sellers. "At any rate, this trail is to celebrate the contributions of my grandfather to the success that has become The Blowing Rock. I want to thank Billy and Chris for joining me today, as well as all of you for participating in this grand opening of The Robbins Trail."
With a tidbit of oral history, Sellers added that his uncle, Spencer, once told him that the trail below the iconic rock — where he and his brothers as kids picked up trash for a quarter — was believed to have been an old Indian trail back in the 1800s and, in all likelihood, probably before.