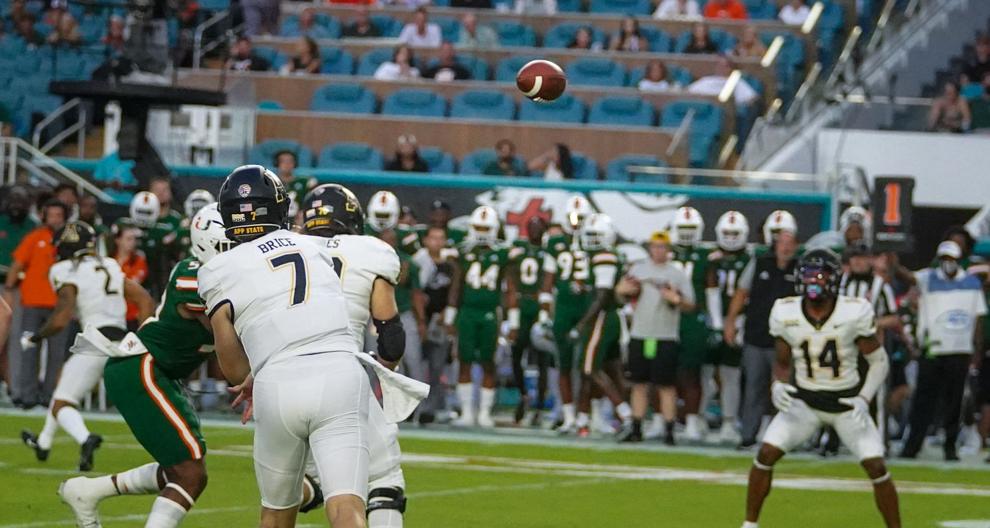 BOONE — After playing each other almost two dozen times over the years, it would appear Appalachian State and Elon University are familiar foes. Not so, in 2021.
The Phoenix and the Mountaineers last played each other on Sept. 21, 2013. Both teams were members of the Southern Conference. Since then, Elon has moved laterally, into the Colonial Athletic Association at the Football Championship Subdivision level, while App State graduated to the Football Bowl Championship level in 2014, joining the Sun Belt Conference — and started its historic run of conference championships and consecutive bowl victories.
Elon first played Appalachian State in 1937 (a 31-0 win by the Mountaineers in Boone), and things haven't gotten much better for the Phoenix since, at least vs. the Mountaineers from the High Country. App State owns a dominant, 32-9-1 record against Elon.
The Mountaineers have won the past 18 encounters with the last time Elon taking a victory coming in 1963 when they defeated App State 16-13 in Burlington. All of the other eight wins in the series were before 1963.
At the FCS level, at least, it has not been all bad for the Phoenix since 2013. They earned a berth in the FCS playoffs in 2017 and 2018, losing in the first round each year. Elon is still a member of the Colonial Athletic Association.
Both teams come into the Sept. 18 matchup at Kidd-Brewer Stadium with 1-1 records. Elon lost to Wofford in its season opener, 24-22, then edged Campbell 24-23 on Sept. 11. Appalachian State proved dominant in handling East Carolina on Sept. 2, 33-19, then lost a nail biter to Power 5 contender Miami on Sept. 11, 25-23.
In his weekly press conference on Monday, Sept. 13, App State head coach Shawn Clark was ready to put the Miami game in the rearview mirror and look ahead to Elon.
"It was a tough loss, but now we look ahead to Elon and our home opener at Kidd-Brewer Stadium... The goal is the same, to go 1-0 on Saturday," Clark said.
Clark understands the potential for an emotional letdown after playing Miami, but said all of the team's attention this week is defeating Elon. He said a few players are "banged up" from the Miami game, but otherwise everyone came out of the contest healthy.
When Elon Has The Ball
The Phoenix are led by quarterback Davis Cheek, who against Wofford completed 29 of 51 passes for 312 yards, 2 TDs and one interception. He was sacked twice. Three running backs combined for 114 net yards rushing, led by Jaylan Thomas' 56 yards on 13 carries. Cheek completed TD passes of 20 and 37 yards to Kortez Weeks and Chandler Brayboy, respectively.
Against Campbell, Cheek hit Jackson Parham with a 28-yard scoring pass and Brayboy with a 6-yard TD aerial. Placekicker Skylar Davis was good on a 47-yard field goal. For the game, Cheek was 22-of-37 for 269 yards passing, including 2 TDs.
Elon's offensive strength appears to be through the air by almost a three-to-one margin. App State will need its front seven to get pressure on the quarterback and not give Cheek time to find an open receiver, all of whom appear capable of being on the receiving end of big, "chunk" plays. A 6-3, 217 lb. senior from Matthews, North Carolina, who attended Butler High School, Cheek is a 2021 William V. Campbell Trophy nominee and has been included on the NFLPA Collegiate Bowl "Big Board" watchlist, one of just three from non-FBS schools.
When App Has The Ball
Against a perceived weaker opponent, at least on the surface, the Mountaineers may be tempted to return to a run-first orientation, pounding the ball at the line of scrimmage and testing the Elon defensive front seven. If they do, it could be a big day not just for front line running backs Camerun Peoples and Nate Noel, but also for high value reserves Gabe Montgomery and Anderson Castle.
On the other hand, this could also be an opportunity to showcase new quarterback Chase Brice and his talented "super senior" receivers in Corey Sutton, Thomas Hennigan, Jalen Virgil and Malik Williams, so a balanced offense may again materialize.
The Mountaineers may want to be on the lookout for Tre'Von Jones, named the CAA Defensive Player of the Week for his performance on Sept. 11 against Campbell. He led the Phoenix in tackles and made several critical fourth quarter plays to preserve the Elon win.
He caused turnovers leading to The Phoenix's final 10 points as Elon overcame a 17-7 second half deficit. Early in the fourth quarter, Jones got his first interception of the season, returning it 27 yards against the Camels. Late in the fourth, he recovered a fumble and had a quarterback sack.