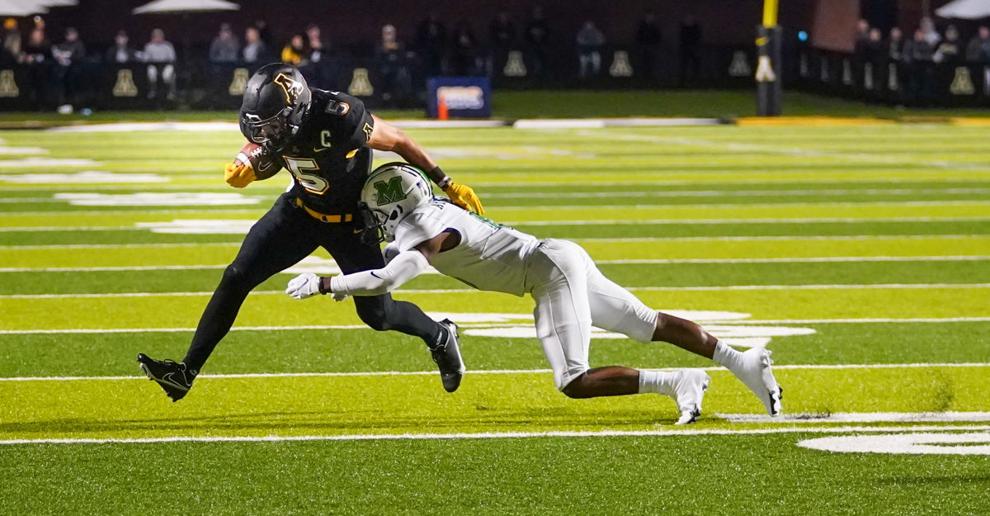 ATLANTA — For three quarters, Georgia State seemed to be in control of its non-conference matchup with historic SEC power, Auburn. The Panthers led the Tigers, 24-16, but then gave up 15 unanswered points to lose 34-24.
Georgia State has been inconsistent so far this season on offense in losses to Army, now an undefeated 4-0 on the season, as well as to two Power 5 programs, North Carolina and Auburn. Their lone win was a decisive, 20-9 win over rising Conference USA contender, Charlotte, when the Panthers rolled up 298 yards rushing.
Defensively, Georgia State appears vulnerable against the run. The Panthers could not corral Army's Jeff Monken-designed option offense that emphasizes a ground attack. Perhaps the Panthers' pass defense is vulnerable, too, because against North Carolina, GSU gave up 607 yards of total offense, 406 of that through the air.
Meanwhile, the Mountaineers have done some early season damage of their own in a rugged, but manageable, non-conference schedule. They are three points shy of having an undefeated season, that 2-point heartbreaker of a loss, 25-23, in Miami's Hard Rock Stadium representing the sole blemish. They dominated the AAC's East Carolina and the CAA's Elon, and had just enough to turn away the C-USA's Marshall.
There are intriguing storylines to the Oct. 2 matchup between the Mountaineers and Panthers, not the least of which is the relationship of Georgia State's head coach to the football program.
Georgia State's head coach Shawn Elliott is very familiar with the App State tradition, at one time having been a part of it. As the Mountaineers' offensive line coach under former head coach Jerry Moore, Elliott was an integral part of the school's back-to-back-to-back national championships at the FCS level. He played at Appalachian State from 1992 to 1995, then began serving as an assistant coach for the Mountaineers for 13 years, helping the team earn 10 playoff berths during that period.
When Georgia State Has The BallA junior transfer from Furman, Darren Grainger appears to have won the starting quarterback job, displacing redshirt sophomore Cornelius Brown IV. Both are dangerous dual threat QBs. In the team's win against Charlotte, the Panthers rolled up 298 yards rushing, with four players (including Grainger) recording more than 70 yards. While Elliott historically has favored a balanced offensive attack, look for the Panthers to try to keep the ball out of the hands of App State's offense and control the time of possession. That means running the football. Running back Tucker Gregg gained 150 net yards on 12 carries vs. Auburn, so he will probably be the head of the rushing spear, although Grainger is also a threat.
Meanwhile, App State's defense must control the perimeter while stopping gaps in the middle of the line of scrimmage and, at the same time, be wary of Grainger's or Brown's ability to throw the football to capable receivers, a unit led by Jamari Thrash and Ja'Cyais Credle. While Sam Pinckney and Cornelius McCoy garnered Sun Belt Conference preseason nods, it is Thrash and Credle who have led the team in receiving so far this season.
When App State Has The Ball
Offensively, App State has proven that it can move the football both on the ground and through the air. In fact, this may be the Mountaineers' most balanced offense in years. For instance, in the Sept. 23 matchup vs. Marshall, App State netted 283 yards rushing and 283 yards passing. You don't get much more balanced than that and it is regularly putting up big offensive numbers in terms of total offense.
What has emerged as a two-headed ground attack in the form of junior Camerun Peoples and sophomore Nate Noel in an outside zone scheme is working well for head coach Shawn Clark, the pair alternating from week to week as to who gets the most yards. Against Marshall, it was Noel's turn in netting 187 yards rushing, but it was People with the short yardage power in picking up 78 net yards and three touchdowns.
But defenses cannot stack the box against the Mountaineers because of transfer quarterback Chase Brice's delivery of passes to multiple receiving weapons, particularly four super senior wide receivers in Corey Sutton, Thomas Hennigan, Malik Williams and Jalen Virgil. Then you best not forget about tight ends Henry Pearson, Mike Evans and Miller Gibbs, or emerging WRs Christian Wells, Christan Horn, Milan Tucker or Deshaun Davis. And don't forget about Peoples and Noel coming out of the backfield.
Georgia State defensive back may test the Mountaineer aerial game, with DBs Quavian White and Antavious Lane each earning Sun Belt preseason nods.
On special teams, Georgia State has all-Sun Belt first team preseason selection as a placekicker, senior Noel Ruiz, returning after earning all-Sun Belt honors in 2020. Previously, he earned all-American honors at the FCS level while at North Carolina A&T. App State counters with a top placekicker of its own in super senior Chandler Staton, who may not get as much notoriety because the Mountaineers score a lot of touchdowns. Against, Marshall, Staton kicked a 45-yard field goal in the 4th quarter that turned out to be the game winner.
App State arguably has the edge in return specialists with Hennigan returning punts and Virgil returning kickoffs. Virgil, who has been timed in the 100 meters at 10.29 in track and field, already has two kickoff returns for TDs in the young season, one against East Carolina and another against Miami.
While Shawn Clark's Appalachian State has been a Sun Belt Conference power from the moment it joined the league in 2014, and under three different head coaches during that span, Shawn Elliott's Georgia State has steadily improved. Both teams have Power 5 victories to their credit in recent years, so this should prove an entertaining matchup.