BOONE — Winning football field position is a recipe for gridiron success. In the second half of Watauga's 23-6, convincing win over Hickory on March 12, junior punter Carter Everett and a hot-in-pursuit special teams unit downed the ball not once, but twice inside the Red Tornadoes' five-yard line to help preserve the Pioneer victory.
Starting offensive possessions with poor field position and a myriad number of self-inflicted miscues go a long way toward explaining why a very athletic Hickory team lacked punch, but that is not to take anything away from another dominant effort by the Pioneer defense.
Led by linebackers Jake Gragg and Orlando Leon, as well as another stellar effort by defensive end Isaiah Shirley, the Pioneer defense produced a whopping seven tackles for loss and a pair of quarterback sacks. Watauga's defensive secondary was credited with only one pass interception, a spectacular diving grab by senior Sebastian Best, but Everett also had two poaches that were nullified by penalties elsewhere on the field.
Watauga's offense remains in rebuild mode, but showed significant progress in rolling up 276 yards of total offense, a big improvement over the 155 yards of offensive production a week ago in the season-opening win over Alexander Central. Even so, the 276-yard effort pales beside the 400-, 500- and 600-yards of single game production a year ago.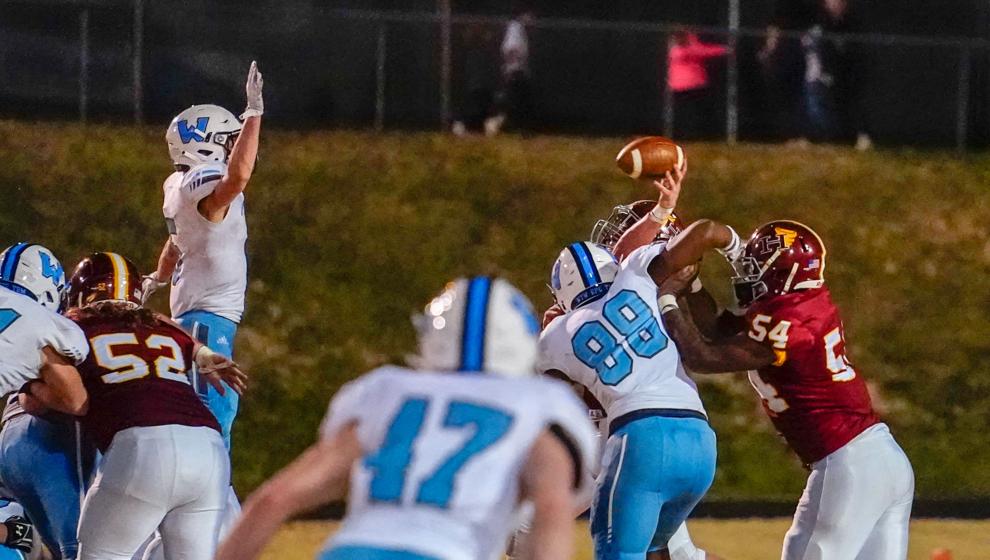 Playing both ways for most of the game, Best picked up 70 of the Pioneers' total yards rushing (207), and he did it on just 12 carries for a 5.8 yards per carry average. Everett was close behind, with 65 tough yards mostly up the middle, on 15 totes of the football (4.3 average yards per carry) — and another touchdown scored. Watauga's other rushing touchdown was produced by young sophomore Trey Thompson.
Hickory's troubles began right from the get-go. After receiving Watauga's kickoff at the 14-yard line to open the game, a holding penalty on the first play pushed the Red Tornadoes' back to their own 8-yard line. On the very next play from scrimmage, the Pioneers' Leon sacked Hickory QB Nick Everhart in the end zone for a safety. The visitors were on the board and barely 30 seconds had ticked off the clock.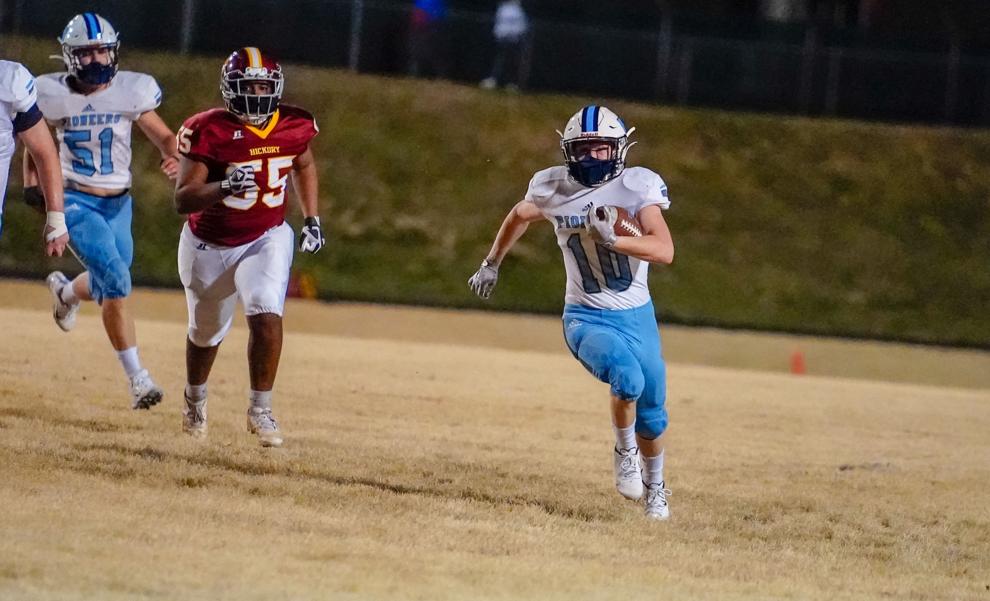 Because the score was a safety, the Pioneers got the ball right back. Setup by a nifty return of 19 yards by sophomore Levi Temple, head coach Ryan Habich's grinding, multi-pronged offense took possession at the Hickory 43. In eight plays, with runs by Best, Everett and quarterback Carlton Horine, the Pioneers found the end zone for the evening's first touchdown. Everett finished the drive, punching the ball across from five yards out.
The Pioneer defense held Hickory to a three-and-out, punting the ball back to the young mountain men from Boone. With Horine at the helm, Watauga's offense drove from their own 35 to the Red Tornadoes' 14 on alternating runs by Best, Everett and Horine, but Hickory defender Bryan Raynes forced a Best fumble, recovered by the home side's sophomore defender Ty Hill.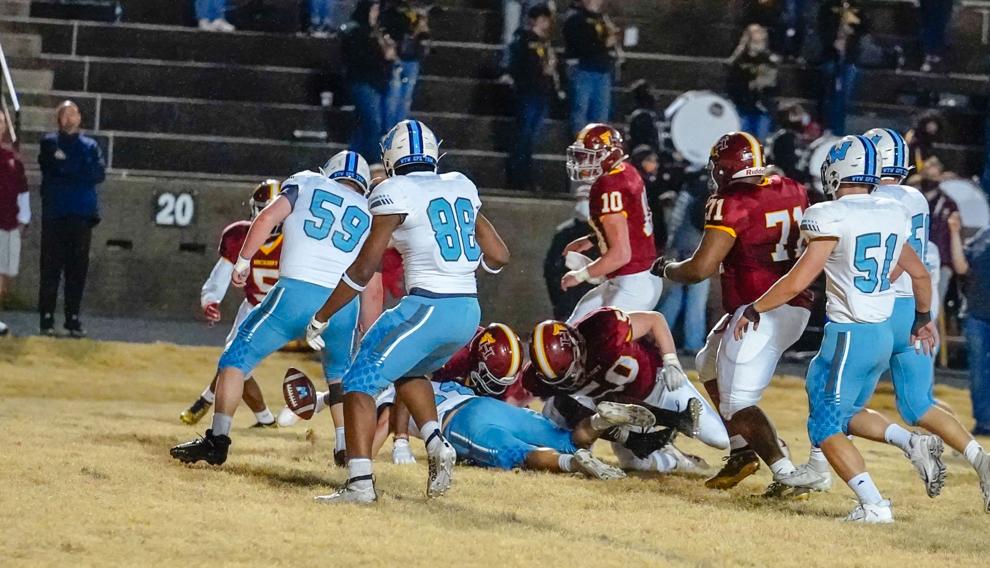 After taking over at their own 25-yard line, then suffering through back-to-back penalties, Hickory's offense again started to sputter. After struggling over eight plays to get the ball to midfield, the Red Tornadoes were flagged for yet another offensive holding penalty, setting up a 2nd-and-26 situation from their own 40-yard line.
The very next play was arguably Hickory's one shining moment on offense for the night: their tall (6-foot-5, 220 pounds) junior QB Nick Everhart completed a 60-yard pass-catch-run-score to sophomore wide receiver Ricco Walker (6-foot-5, 215 pounds, and fast). Once he cleared the Pioneer secondary and gathered in Everhart's pass without breaking stride, Walker was on cruise control into the end zone. If nothing else, the play demonstrated how dangerous the Everhart-Walker connection can be if given time at the line of scrimmage.
The Red Tornadoes' big play tightened the Pioneer advantage to just 9-6, but that was as close as it got at Frank Barger Stadium. Hickory got the ball back after Watauga's Horine was intercepted by Billy Houser, but the Red Tornadoes could do nothing with it. On fourth and nine at the Watauga 46, Everhart was sacked by the seemingly ever present Shirley, chasing him all the way back to the Hickory 40-yard line.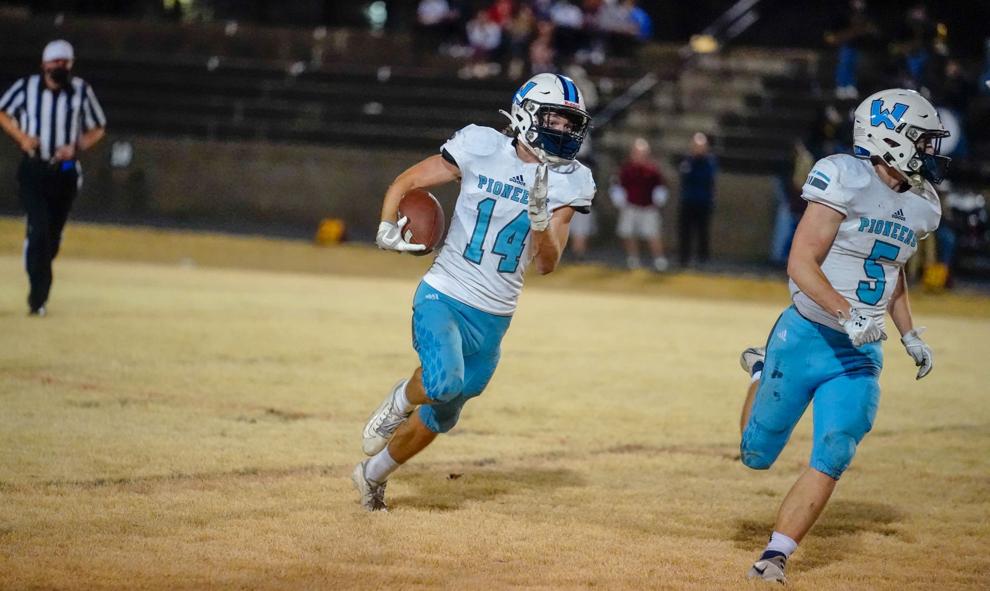 With just 32 seconds left in the first half, it became the Horine show for the Pioneers. Quarterback Carlton Horine completed a 38-yard catch-and-run to brother Cole Horine for what most of the WHS fans claimed was a touchdown. But two plays later, with just six seconds remaining on the clock, Thompson pushed around the left side for the touchdown from the one-yard line.
After intermission, Habich and his team went into clock control mode, keeping the Hickory offense off the field for as much time as he possibly could. With 3:40 left in the third quarter, Horine found Leon for a 31-yard touchdown and Horine surprised Hickory's special teams unit with a two-point conversion on a trick play, and that was the end of the night's scoring.
Hickory's desperation intensified with the two Everett punts covered by Watauga's special teams unit inside the five yard line in the fourth quarter.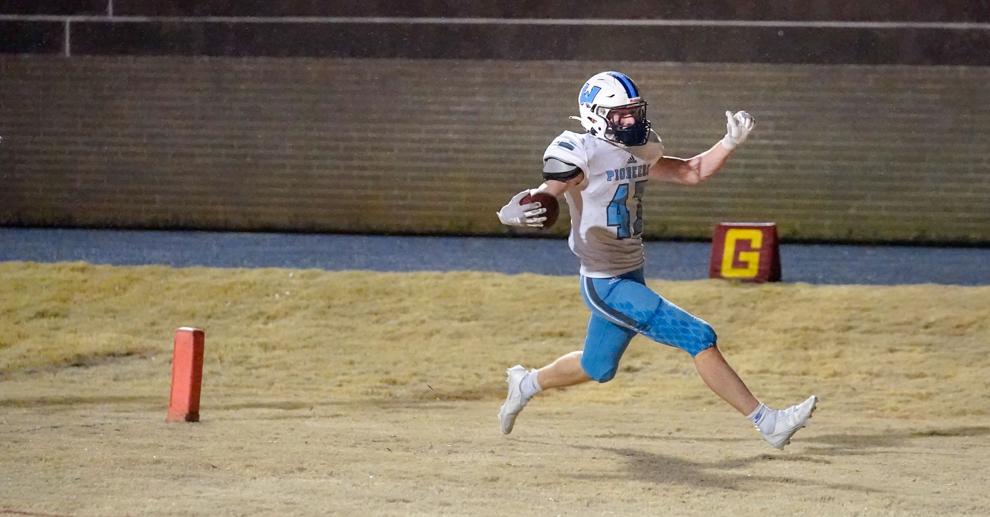 "Carter's punts and the special team's coverage were great in the fourth quarter," Habich said later. "Field position is important. We think we have a pretty good defense. Our front eight is good, with Isaiah (Shirley) and Orlando (Leon) upfront. And we feel pretty good about our linebackers.
"Field position like in those situations is important," said Habich. "It is hard to call plays when you are backed up against your own end zone. So field position was huge for us, obviously. It was a big turning point for us. We don't like to punt the ball, but we know where we are at this year. Offensively, we still made a lot of mistakes.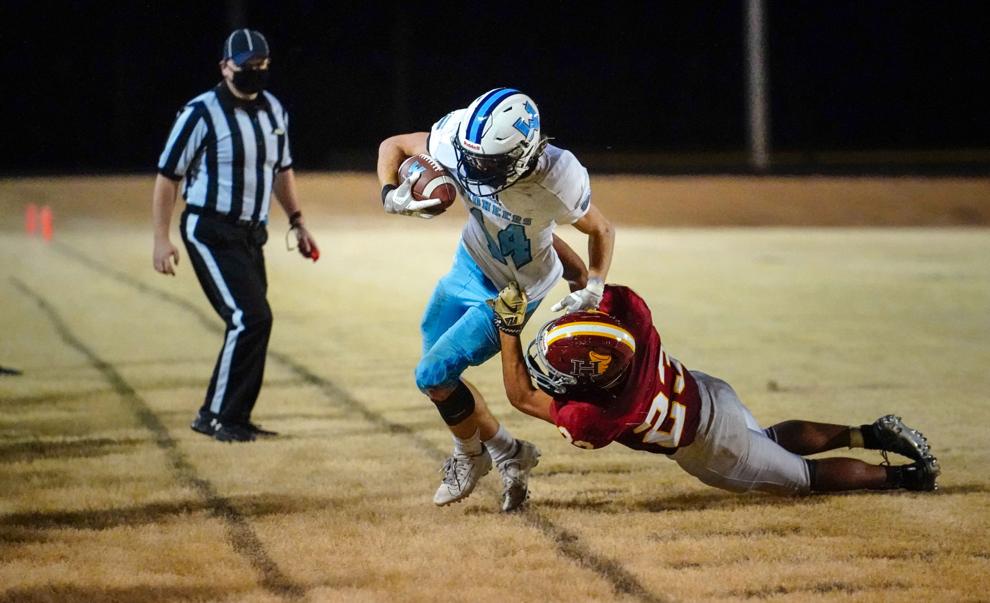 "Except for that one big pass play where we made some mistakes in the secondary," Habich said, "I thought we played pretty good football. We tackled well and we ran to the football. I am really proud of the players on defense and the defensive coaching staff for doing a very good job against an athletic Hickory team."
Habich took note of the offense's improvement from a week ago, too.
"Last week being our first game and having a limited amount of practice time beforehand, that game against Alexander Central was almost a practice. They are always a really good, well-coached team. So we have had our kids together for two weeks no, and I thought we got a little bit better, especially with our blocking up front," he said.
Habich added that he didn't think Hickory's defense was the same caliber as Alexander Central's, but that his team is getting better each week.
"Our kids are coachable," Habich added. "What sets Watauga apart is when they get to the high school varsity level we have very coachable kids. They have a positive attitude, and that allows us to play as a team better than most other places."
When asked about Hickory's ineffectiveness in running the football, Habich said, "We have Isaiah Shirley and Orlando Leon coming off the edge on the defensive line and they are pretty good. When you run a spread offense, if you can't block and protect the quarterback, it is hard to run a spread offense. Our goal was to take away the deep ball and to take away their screen (pass) game."
Now 2-0 on the young season, Watauga's next test will be at home against Hickory-St. Stephens on March 19, with kickoff scheduled for 7:30 p.m. The Indians are 1-2 on the season, but their two losses were tight games against Freedom (18-14) and McDowell (21-18). On March 12, the Titans defeated Bessemer City 30-0.
Total Offense – WHS 276, HHS 163
Passing – WHS 69, HHS 180
Rushing – WHS 207, HHS -17
Penalties – WHS 8-60, HHS 9-65
Defensive sacks – WHS 2 (22 yards), HHS 0
Time of Possession – WHS 29:44, HHA 18:16
Third down conversions – WHS 6/13 (46.2%), HHS 1/7 (14.3%)
Fourth down conversions – WHS 1/1 (100%), HHS 1/4 (25%)
Selected individual statistics
WHS – Carlton Horine: 2-4, 69 yards, 1 TD, 1 INT
HHS – Nick Everhart: 12-17, 169 yards, 1 TD, 1 INT
HHS – Turner Wood: 1-2, 11 yards
WHS – Sebastian Best: 12 carries, 70 yards
WHS – Carter Everett: 15 carries, 65 yards, 1 TD
WHS – Carlton Horine: 8 carries, 29 yards
WHS – Levi Temple: 4 carries, 22 yards
WHS – Joe Penley: 3 carries, 17 yards
WHS – Trey Thompson: 4 carries, 5 yards, 1 TD
WHS – Orlando Leon: 1-31, 1 TD
HHS – Ricco Wallker: 2-90, 1 TD
HHS – DeAndre Carlton: 3-39
HHS – Turbo Richard: 3-31
Northwestern Conference scores, March 12:



Alexander Central 53, Freedom 12
South Caldwell 50, McDowell 0
St. Stephens 30, Bessemer City 0