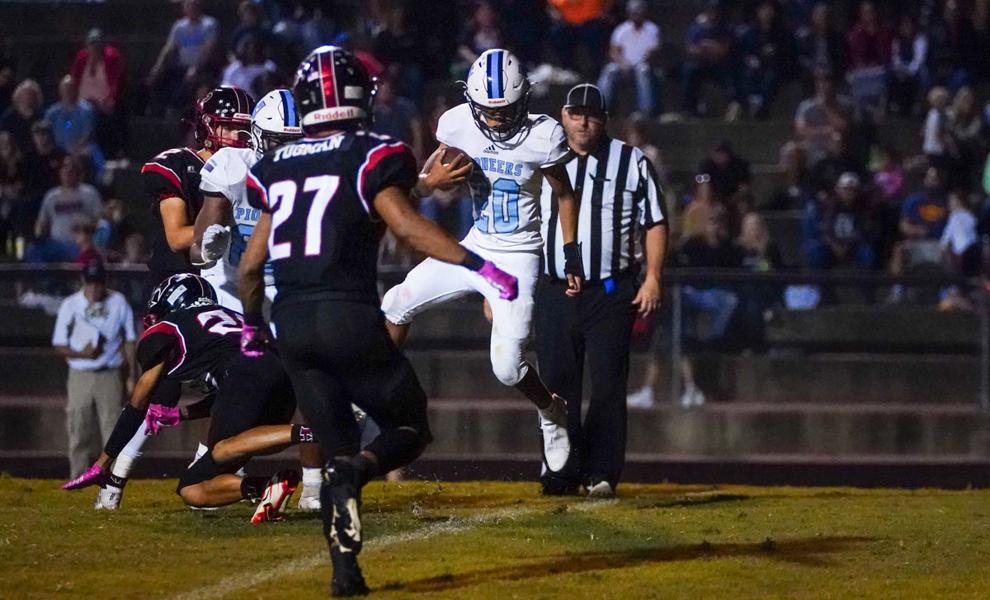 LENOIR — It isn't yet Halloween, but Watauga High School football certainly knew how to spook the Panthers of Hibriten Friday night. Maddox Greene and Trey Thompson accounted for three touchdowns each to lead the Pioneers' demolition of their 3A/4A Northwestern Conference rivals, 49-13.
Watauga came out swinging upon receipt of the opening kickoff. With an eight play drive that covered 79 yards in just over four minutes, the Pioneers punched the Panthers in the gut and kept punching. By the time six seconds had ticked off the clock to open the second quarter, Watauga already had a 21-0 lead. By halftime, it was 28-6. And after Thompson scored three consecutive touchdowns on runs of 2, 11, and 18 yards to open the second half, the Pioneers found themselves up 49-6 with a "mercy rule" running clock.
Pioneers freshman QB Greene was near unstoppable in rolling up 203 yards rushing.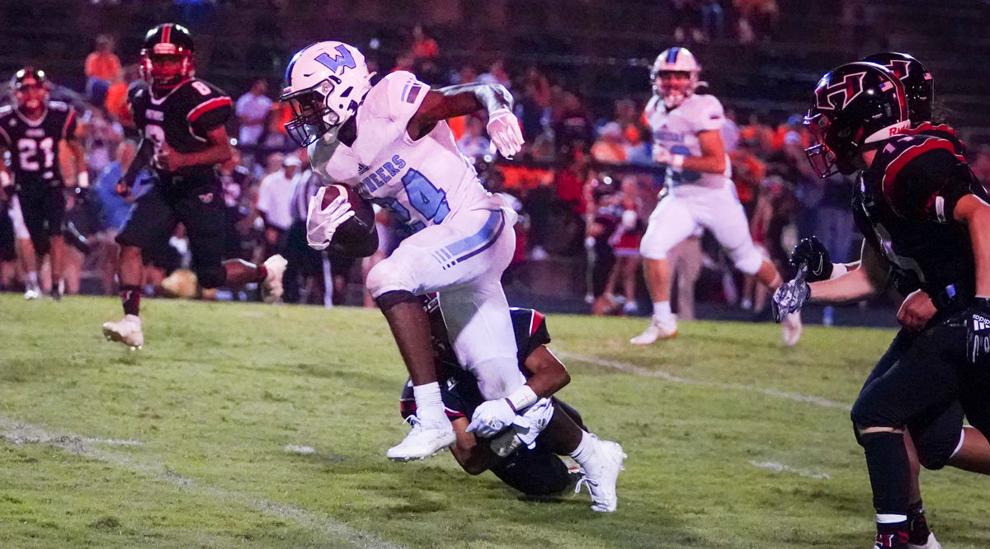 Hibriten has some athletes, to be sure. Watauga's coaching braintrust put together a plan to keep the ball away from them and the Pioneer players executed.
"Players win football games," said Watauga head coach Ryan Habich after the game. "The players have to execute and tonight ours did."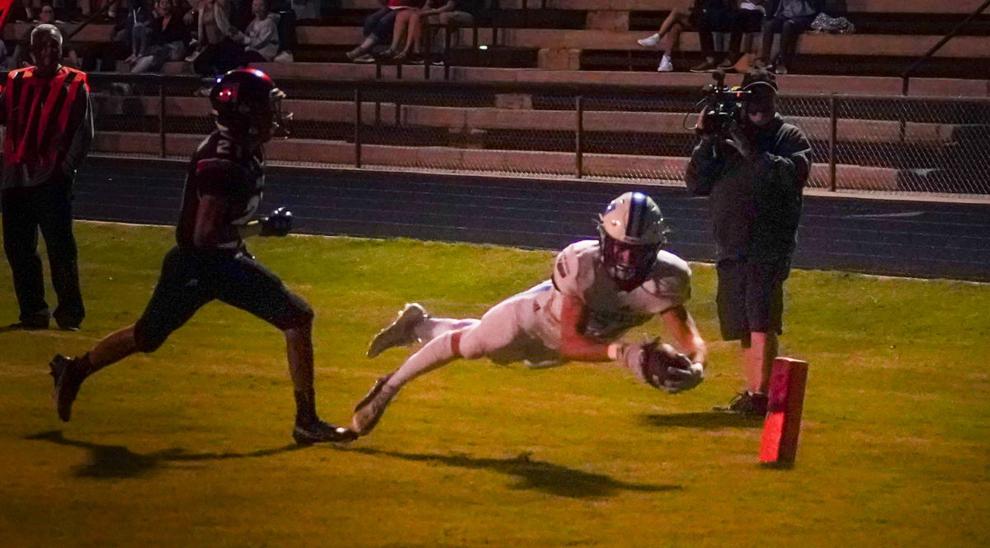 A key strategy was to keep the ball out of the hands of the two Panther senior speedsters, Jabee Powell and Sadharri Moore, each of whom have reportedly been timed at 4.5 seconds in the 40-yard dash. Both were back deep as kickoff returners.
Watauga placekicker Carter Everett had instructions not to kick deep, to keep the ball out of Powell's and Moore's hands. It was a strategy that worked until late in the fourth quarter when Everett was greenlighted to kick deep with the ball sailing to the Panther 9-yard line. Powell fielded it there and, true to form, ran it back 61 yards to the Pioneer 30 before being chased out of bounds by Morgan Henry and Aiden Watson.
"We have to get better at covering deep kickoffs," Habich said.
Defensively, Watauga did an effective job of thwarting just about every Hibriten offensive possession, putting pressure on the quarterback and containing the perimeter.
While Hibriten ran 50 offensive plays to Watauga's 42, the Pioneers rolled up 480 yards of total offense to the Panthers' 257 yards.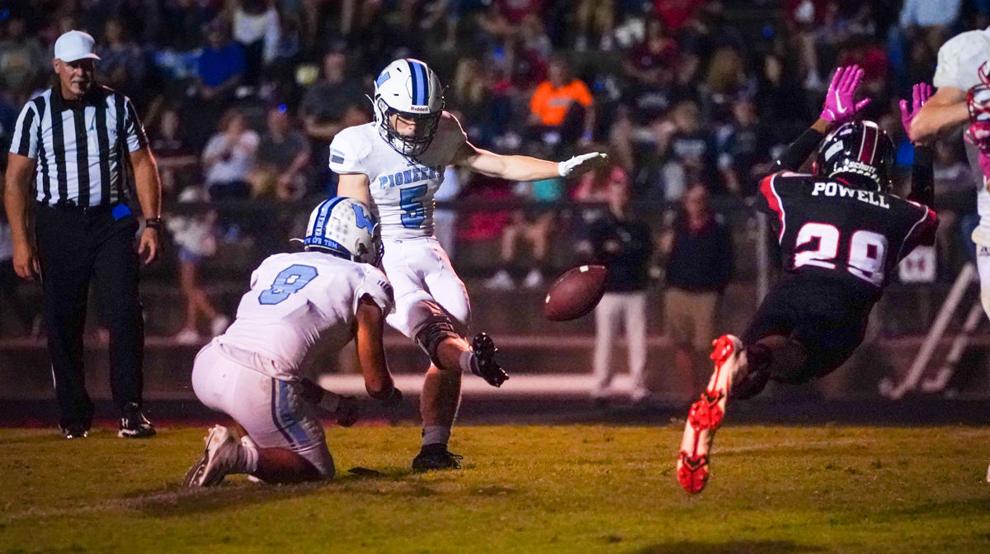 As well as Watauga was moving the ball, they had only four third downs, but converted on three of them. In one 4th down situation, they also converted. Hibriten was 5-of-11 in third down conversions, and converted on just 1-of-4 fourth downs.
With the win, Watauga takes sole possession of first place in the Northwestern Conference standings at 3-0. Hibriten and South Caldwell are tied for second at 2-1, both of their losses to Watauga.
Next up for Watauga is the dangerous Freedom Patriots, 1-2 in Northwestern Conference play and 3-3 overall.
"Freedom always seems to have some really good athletes," Habich said to reporters after the game. "So they are dangerous."
OCT. 15 NORTHWESTERN CONFERENCE SCORES
Watauga 49, @Hibriten 13
South Caldwell 51, @Alexander Central 27
@Freedom 54, Ashe County 28
OTHER SCORES OF INTEREST, OCT. 15
@Erwin 24, TC Roberson 20
Mitchell 33, @Mountain Heritage 0
North Lincoln 49, @Foard 3
@West Lincoln 35, West Caldwell 12
Hickory 63, @ West Iredell 0
@Madison 28, Avery County 27
@East Lincoln 42, St. Stephens 6
Wilkes Central 36, @ West Wilkes 0
@Surry Central 45, North Wilkes 20
Total Offense: WAT 480, HIB 257
Passing: WAT 4-of-6, 83 yards, 1 TD; HIB 6-12, 96 yards, 1 TD
Rushing: WAT 36-397, 6 TDs; HIB 38-161, 1 TD
Penalties: WAT 1-5, HIB 2-30
Fumbles-Lost: WAT 1-1, HIB 2-1
Defensive Sacks: WAT 5-18, HIB 0-0
Time of Possession: WAT 22:37, HIB 25:23
SELECTED INDIVIDUAL STATS
WAT — Maddox Greene: 4-6-83, 1 TD
HIB — Colby Wilson: 6-12-96, 1 TD
WAT — Maddox Greene: 13 carries, 205 yards, 2 TDs
WAT — Trey Thompson: 14 carries, 96 yards, 3 TDs
WAT — Cole Horine: 5 carries, 62 yards, 1 TD
HIB — Sadharri Moore: 8 carries, 101 yards
WAT — Orlando Leon: 3 catches, 61 yards
WAT — Cole Horine: 1 catch, 22 yards, 1 TD
HIB — Jabee Powell: 3 catches, 59 yards, 1 TD