BOONE – Call the Appalachian State men's basketball team the comeback kids, as the team rallied for a second night in a row to pull out a 77-71 win on Saturday, Jan. 9 against Georgia Southern at the Holmes Convocation Center.
After rallying from a 16-point second half deficit on Friday, Jan. 8, the team trailed for most of the game on Jan. 9 against GSU before mounting another late comeback to claim the win.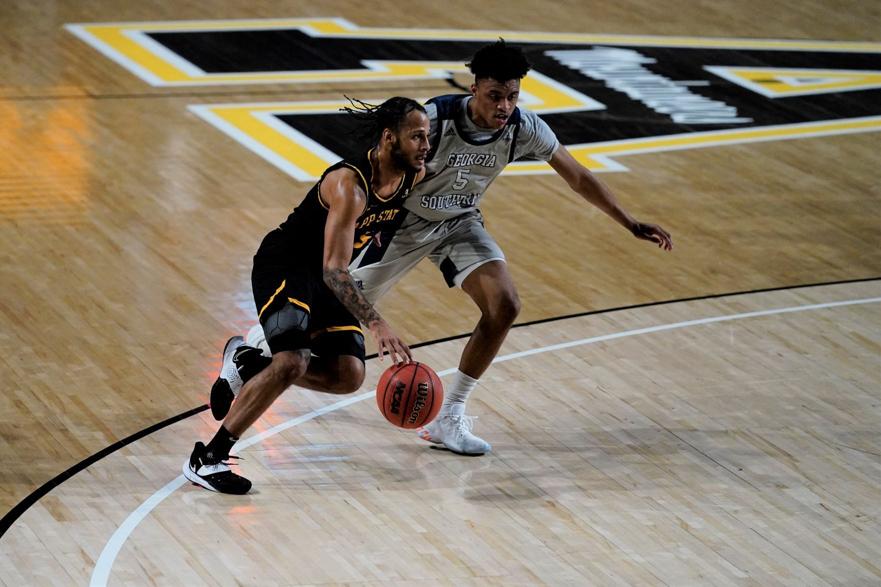 On the strength of 10 made three-pointers in the first half, the visiting Eagles led by 11 points with 5:54 remaining before intermission. The Mountaineers cut the deficit in half by the break, largely thanks to GSU turnovers and strong offensive play to take advantage of the by App State's Michael Almonacy, Donovan Gregroy, Deshon Parker and Adrian Delph.
App State is proving to be a fun watch in the 2020-21 basketball season, especially in the second half. In this contest, the Mountaineers were running and gunning, playing transition basketball with fast breaks on Georgia Southern turnovers. Frequently, those fast breaks ended in slam dunks to finish them off. There may not have been a crowd of any consequence, but without question those dunks energized the Mountaineer bench. Two of the slams were by Gregory, but he was joined in the fun by power forward James Lewis Jr. and forward R J Duhart. The only Mountaineer dunk in the first half came early by Delph at the end of a fast break to open the night's scoring.
After shooting 52.6 percent (10-of-19) from behind the 3-point arc in the first half, the Eagles seemed to have trouble assessing what the Mountaineers were doing defensively in the second half as they made good on only 1-of-11 attempts from long range after intermission. Afterward, App State head coach Dustin Kerns said their halftime adjustments were fairly simple: play a zone defensive scheme after they made a shot on the offensive end, but play man-to-man on misses. Maybe it was simple, but enough to keep Georgia Southern off-balance.
Once again, Appalachian's offensive production was well-balanced, with Gregory pouring in 19, Delph 17, Almonacy 15, and Lewis Jr. 14.
Lewis Jr. also got into double figures in rebounding, clearing the boards 11 times with five of them on the offensive end of the court that permitted second chance opportunities.
Although App State shot only 29 percent from behind the 3-point arc (5-of-17), overall they shot 53 percent from the field (28-of-53).
The Mountaineers held a 22-2 advantage in points scored off of turnovers and a 17-0 advantage in fast break points.
Appalachian realized an 18-11 edge in scoring from their bench and saw a 40-28 advantage from inside the paint.
With the two-game weekend sweep of Georgia Southern, Appalachian State joins Coastal Carolina atop the Sun Belt Conference East Division standings, each team with 3-1 conference records.
Next weekend (Jan. 15-16), the Mountaineers (9-4 overall) travel to Mobile, Ala. to take on South Alabama (1-3 in SBC play and 7-6 overall).
Selected Individual Stats
APP — Donovan Gregory (19 pts, 4 reb, 3 asts, 3 stls)
APP — Adrian Delph (17 pts, 2 reb, 1 ast, 2 stls)
APP — Michael Almonacy (15 pts, 4 reb, 2 asts, 1 stl)
APP — James Lewis Jr. (14 pts, 11 reb)
GSU — Elijah McCadden (14 pts, 4 reb, 4 asts,)
GSU — Eric Boone (14 pts, 5 reb, 7 asts)
APP — Justin Forrest (5 pts, 3 reb, 6 asts, 3 stls)
GSU — Gedi Juozapaitis (13 pts, 5 reb, 4 asts, 1 blk)
GSU — Prince Toyambi (10 pts, 2 reb, 1 stl)
SUN BELT SCORES: Saturday, January 9, 2021
@App State 77, Georgia Southern 71
@Coastal Carolina 83, South Alabama 69
Little Rock 78, @Louisiana 76
Texas Arlington 75, @Louisiana-Monroe 74
POSTPONED — Arkansas State @ Texas State
POSTPONED — Georgia State @ Troy
East Division
Coastal Carolina (3-1 SBC, 9-2 overall)
App State (3-1, 9-4)
Georgia State (1-1, 7-2)
Troy (1-1, 6-5)
Georgia Southern (1-3, 7-6)
South Alabama (1-3, 7-6)
West Division
Little Rock (3-1, 7-4)
Texas State (1-1, 7-4)
Louisiana (2-2, 8-3)
Texas-Arlington (2-2, 6-6)
Louisiana-Monroe (2-2, 4-7)
Arkansas State (0-2, 3-6)