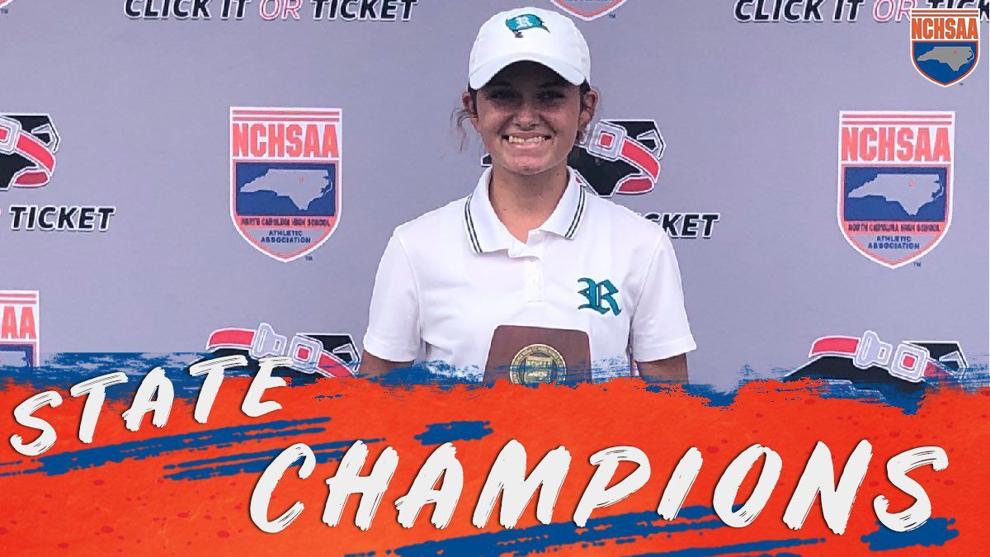 PINEHURST — It has been a good year for Macy Pate. In fact, it has been a very good year.
In April, Pate placed fifth in the prestigious national competition, Drive Chip & Putt event at Augusta, Ga., the weekend before the Masters Tournament, in the Girls 14-15 Division. On May 11, she put all of her golf game together to win the 2021 North Carolina High School Athletic Association 4A Women's Golf Championship, played on the Pinehurst No. 1 course.
In the process of earning the individual championship title with a two-under par performance, Pate also led her Reagan High School team to the state team title. The other two Reagan players scoring were Morgan Ketchum (third place at even par) and Anna Howerton (tied for eleventh place, at plus-five for the round).
Pate grew up in Boone and her father, Chris Pate, was the head of landscape design for the Town of Blowing Rock for several years.
Maybe nerves got to Pate at the beginning of her May 11 tournament round because she opened with a bogey on the 365 yard, par 4 Hole No. 1. She quickly showed what champions are made of, though, rattling off a pair of pars on No. 2 and No. 3 before a birdie on par 5 No. 4, brought her back to even on the day.
According to a report from NCHSAA, Pate "… ran off a string of pars before knocking down birdies on the par 4 No. 16 and the par 5 No. 18." She finished with a credible two-under par 68. Pate and Laney High School's Grace Holcomb (one-under, in second) were the only players among 45 finalists to shoot better than par for the round.
For the team competition, NCHSAA added the three scores of each team, the lowest total winning. The team scores:
+3 — Reagan
+11 — Green Hope
+16 — Cardinal Gibbons
+24 — Ardrey Kell
+27 — Heritage
+30 — Hickory Ridge
+42 — Holly Springs
In shooting her round of 68, Pate joins an elite group of high school girls to shoot 68 in the North Carolina state championship tournament. Four other girls, including Katherine Schuster (2018), Blair Lamb (2002 and 2004), Cydney Clanton (2005), and Gina Kim (2015) have also shot 68 — just one shot back of the all-time, 18-hole scoring record (67) set by Blair Lamb (2003) and Siranon Shoomee (2014).