HICKORY – Hickory High School's boys basketball team continued its near domination of Northwestern Conference opponents on Feb. 12, thumping Watauga (76-41) at David Craft Gymnasium. With the win, Hickory improves to 8-1 overall, 7-1 in NWC. The Pioneers fall to 3-8 overall, 2-8 in NWC pay.
After both teams went scoreless for the first three minutes of the opening period, Craft Gym became a playhouse for Hickory. The Red Tornadoes played with a high pressure, "pesky hands" defensive style and opportunistic offense.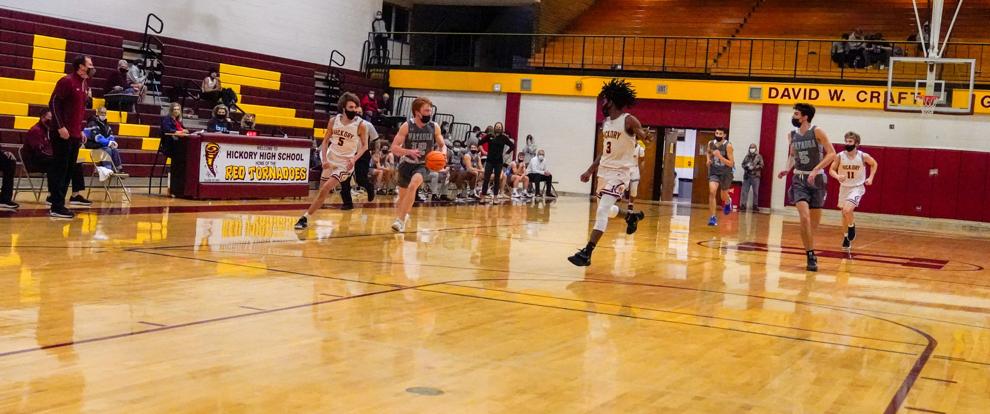 Watauga's Ben Hale broke the 0-0 deadlock with more than two minutes and 45 seconds gone off the clock, but that was the last and only lead of the game for the Pioneers.
It wasn't for a lack of effort because Watauga played hard from start to finish. They had numerous fast break opportunities off defensive rebounds, but the combination of Hickory's near full court pressure and quick hands poking the ball out of Pioneer possessions was disruptive. Add that to a case of fumble fingers for most of the visitors and you have a recipe for disaster via turnovers.
Watauga committed 16 turnovers in the first quarter alone and finished the game looking at the wrong end of a 30-10 disparity in miscues. If some of the Pioneers' otherwise flashy passes would have connected, we might well be writing about a different outcome — but that didn't happen. In almost every case the Pioneers' no-look and one-touch passes went flying past an unprepared teammate, were picked off by a Hickory defender, or might just as well have flown harmlessly into the cold night air enveloping the arena.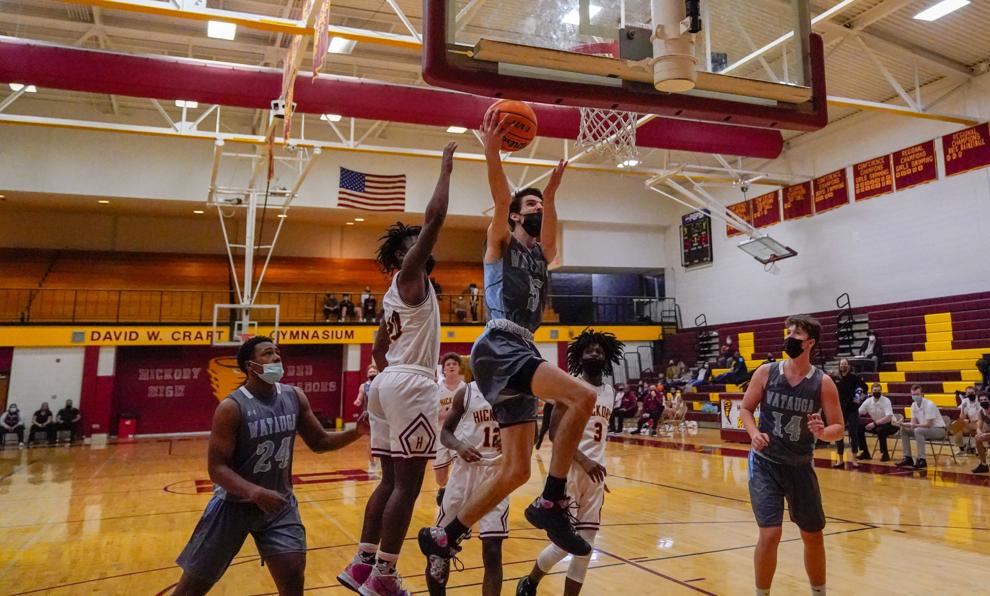 It wasn't Halloween, but for Watauga it was a horror story unfolding. By the end of the third quarter, Hickory was ahead 61-29 and by the fourth and final period the Red Tornadoes flirted with triggering the dreaded "mercy rule" (when one team gets up by at least 40 points, it starts a running clock). But after the score got to a 39-point differential with more than six minutes remaining, a late fourth quarter rally by the Pioneer reserves avoided that embarrassment.
No Pioneer scored in double figures against the Northwestern Conference's top-ranked team, although Bennett Ricker and Jonah Martin scored nine points apiece. Ben Hale, Isaiah Shirley and Tyler Ward each added six points.
For Hickory, Nick Everhart scored 16, Rico Walker 15, Landon Maddox 12, Jack Cameron 11 and Tyauan Hill 10.
According to MaxPreps.com, the Watauga boys' next opponent is Freedom, Tuesday, Feb. 16, back in the friendly confines of Lentz Eggers Gym, but the weather-impacted schedule changes, almost daily. Check the Watauga Democrat sports section regularly for any changes.
16 – HKY — Nick Everhart
12 – HKY — Landon Maddox
11 – HKY — Jack Cameron
10 – HKY — Tyauan Hill
9 – WAT — Bennett Ricker
9 – WAT — Jonah Martin