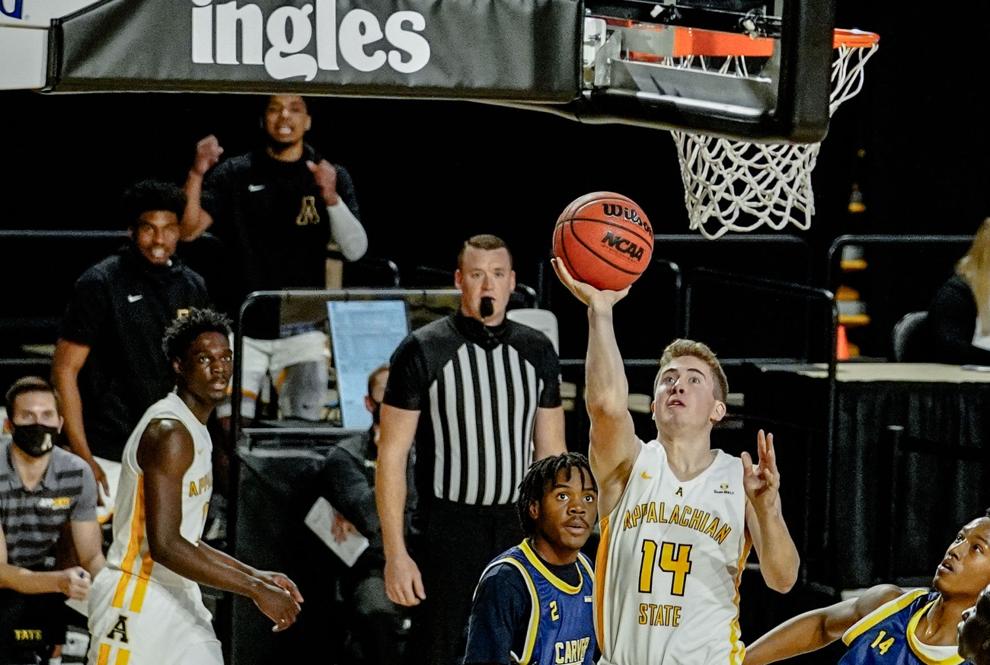 BOONE — Bryant Greene is loved, respected and treasured by his NCAA tournament-bound, Appalachian State men's basketball teammates — even if he does often find himself on the "opposing" team.
Greene is believed to be the first Watauga High School alum to earn a trip to "The Big Dance," the NCAA Division I Men's Basketball Championship tournament affectionately referred to far and wide as, "March Madness."
Michael Almonacy, the recently crowned MVP of the Sun Belt Conference championship tournament and recently named to the all-Sun Belt Third Team, said, "Without Bryant Greene, we might not be going to the NCAA tournament."
Embracing the role
Now in his second year on the Mountaineers, Greene is college basketball's Mr. Everyman — an ordinary, workhorse player willing to do whatever it takes to make his team successful. He comes to work every day and works hard, but the bottom of his shoes rarely feel the hardwoods when the game is on the line. His special practice role on the Mountaineers' team is one of the most important — playing the best, most-feared opponent in whatever matchup is coming next.
In his senior season of high school, in 2016-17, he was named First Team All North Carolina District 11. Because he is only 6-foot-1, the odds were against him for playing Division I college ball, even though he played fearlessly against taller, bigger opponents throughout his high school career. When playing in Division I basketball and the taller players are just as athletic and equally skilled, size matters.
Greene probably could have gone to an NCAA Division II or Division III school and been a star, but instead he chose to be among the legion of reserves in college basketball helping to groom the skills of the starters and the guys in rotation coming off the bench.
He chose Appalachian State, his hometown university and the program that last made it to the NCAAs more than two decades ago, in 2000, as a member of the Southern Conference. Since those heady days, and up to 2009, when Varsity Gym and then the Holmes Convocation Center were jammed with fans most of the time, the program has seen three head coaches in the last seven years.
Before COVID-19, fans in attendance had dwindled. It was only a couple of years ago that the large number of Davidson fans outnumbered the App State faithful in the Holmes Center for a regular season game — chanting, "Where's your fans? Where's your fans?"
A resurgence is afoot
Especially with the arrival of second-year head coach Dustin Kerns, none of that mattered to Greene.
"I have wanted to play basketball for Appalachian State for as long as I can remember," Greene said. Now he is not just playing for them, but as part of the Kerns-led Mountaineers he serves a pivotal role in the program's current resurgence.
"Bryant plays a vital, important role on this team," Kerns said in a March 12 virtual press conference, a day before the Mountaineers were to depart for Indianapolis and the tournament. "He plays on the scout team, but he is a very good player and he works hard at it. What a lot of people don't realize is that in our practices he often plays the part of our upcoming opponent's best player. And in that role he often gives our starters (fits)."
Greene understands his role and relishes in it.
"I have learned so much more about basketball since I have been here," he said. "Systems, plays, defenses, strategies. During the regular season, right after a game we start watching film of the next opponent. For three or four days we talk with the assistant coaches about the plays and the strategies and the skills for hours at a time. Then we have walk-throughs with the coaches before starting to scrimmage against the regular rotation players. We are trying to give them a look at what they will play against."
Come tournament time, the scout team doesn't have three or four days to prepare.
"For the Sun Belt tournament, we had four games in four days," Greene said. "That was intense, but now we have a preparation model for the NCAA tournament. It is a lot of work, but it is fun, too. I love basketball."
Making memories, living dreams
The one-time two-sport high school star (basketball and baseball) admitted that it is all somewhat surreal — and he seems to use that word a lot in describing recent events in his life.
"I will always treasure the memories of cutting down the nets after winning the Sun Belt Conference tournament," he said. "The streamers, the music, what sounded like firecrackers going off. It was all surreal."
Like every other young basketball player, Greene said that of course he dreamed of one day playing on a Division I college basketball team and in the NCAA tournament, even if playing in the NBA was more distant.
"But I never dreamed that one day I would be part of a team that actually is going to play in March Madness," he said. "It is surreal to think about it."
The significance of the moment for their son is not lost on his parents, Tim and April Greene.
"I am very thankful and blessed that my son Bryant gets to play on the Appalachian State basketball team," said Tim Greene, "and to be part of a great team concept that has seen great success in getting to go to the NCAA tournament."
His mother, April Greene, explains the family's reaction in a way that only a mother can.
"I loved seeing the excitement and big smile on Bryant's face as he celebrated with his teammates and coaches after the Sun Belt Conference win," she said. "But it was seeing him cutting down the net that meant the most. At that moment I realized what a surreal time this truly was for him.
April Greene added that for almost all of her son's life, she has watched him love the game of basketball.
"As he matured, I watched him turn that love into discipline and hard work," she said. "So not only to see him fulfill his dream of playing ball at App State come true, but also to see his team's opportunity to play in The Big Dance is more than we could have imagined, and again so surreal."