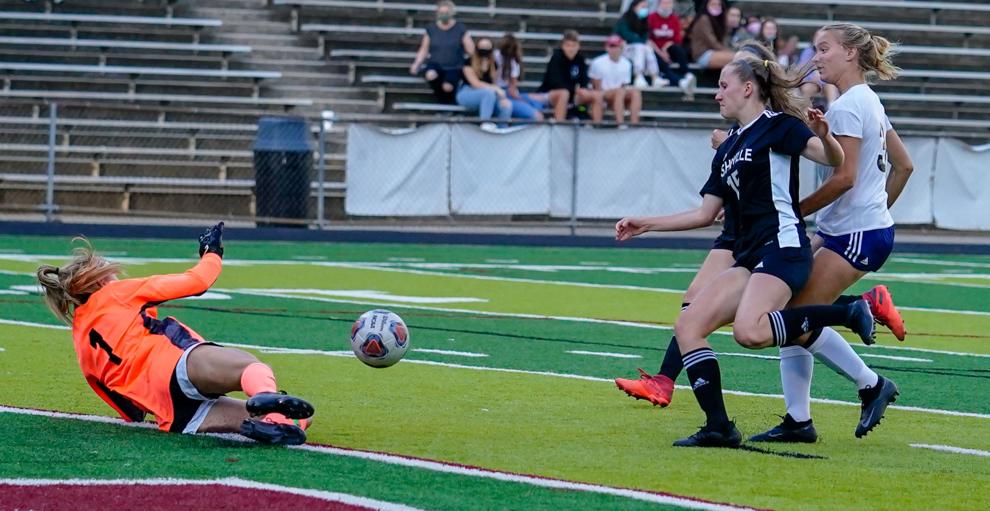 ASHEVILLE — Brilliant plays by both teams' goalkeepers and backline defenders for 79 minutes were overshadowed in the blink of an eye.
The outcome of a May 5 matchup pitting visiting Watauga against host Asheville came down to the last 56 seconds on the clock. The game seemingly was destined for overtime, but within that last minute, the ball squirted out of a frenzied melee in front of the Pioneers' goal; the Cougars' Olivia Agan alertly nudged it into the net for a 1-0 Asheville victory.
The home team breathed a sigh of relief with the Round 2 win. Asheville advances to play another day in the 2021 North Carolina High School Athletic Association's 3A Girls Soccer Championship playoffs. The visiting Pioneers' loss brings to a close their 'Cinderella'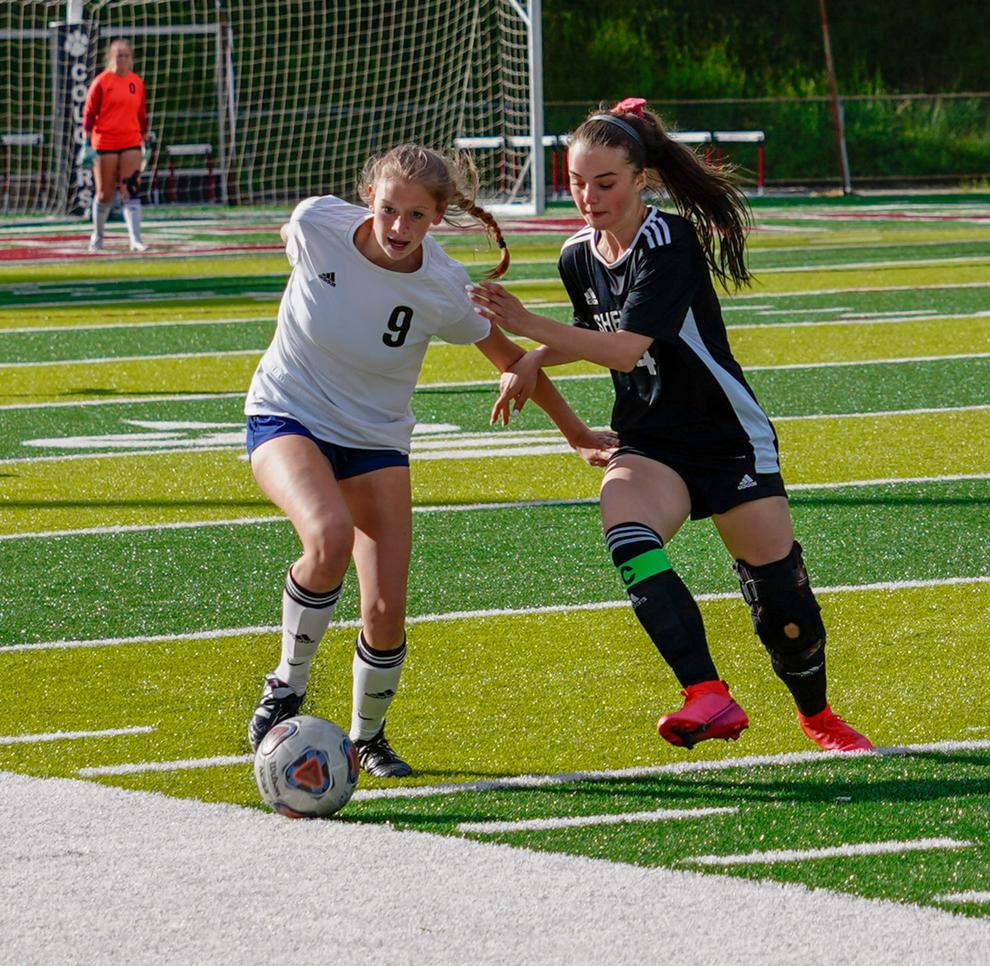 Amid the knowing tears that their season together had just ended, there were also laughs and smiles in the huddle of Watauga players surrounding head coach Chris Tarnowski after the game. Arms draped around one another; they knew they had given it their best.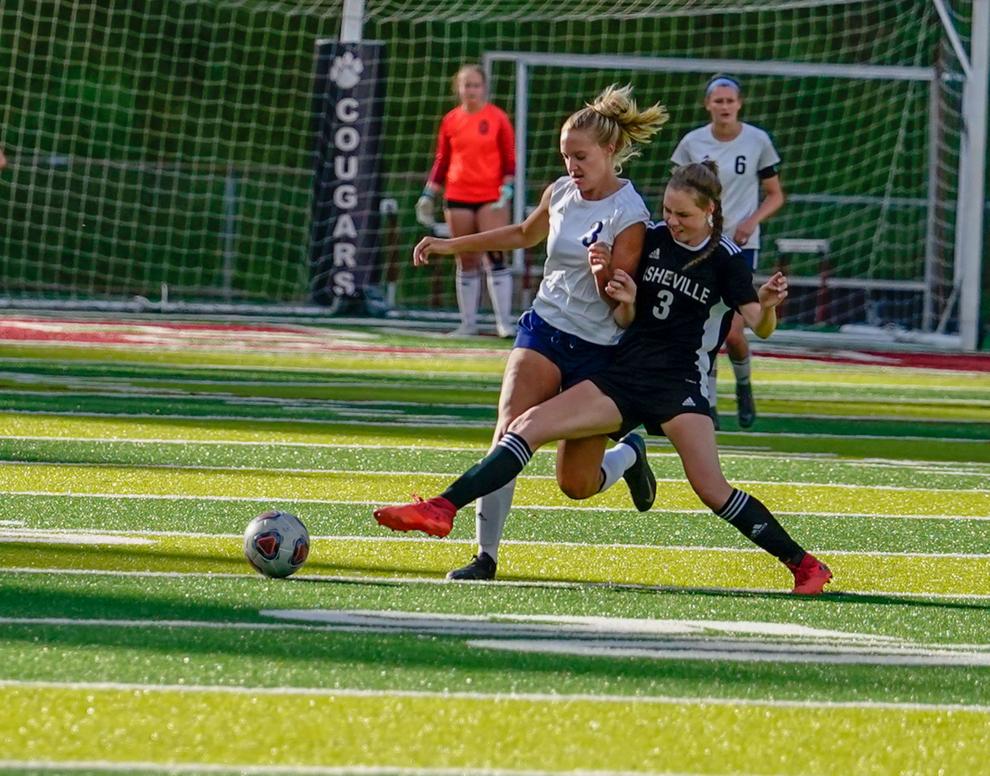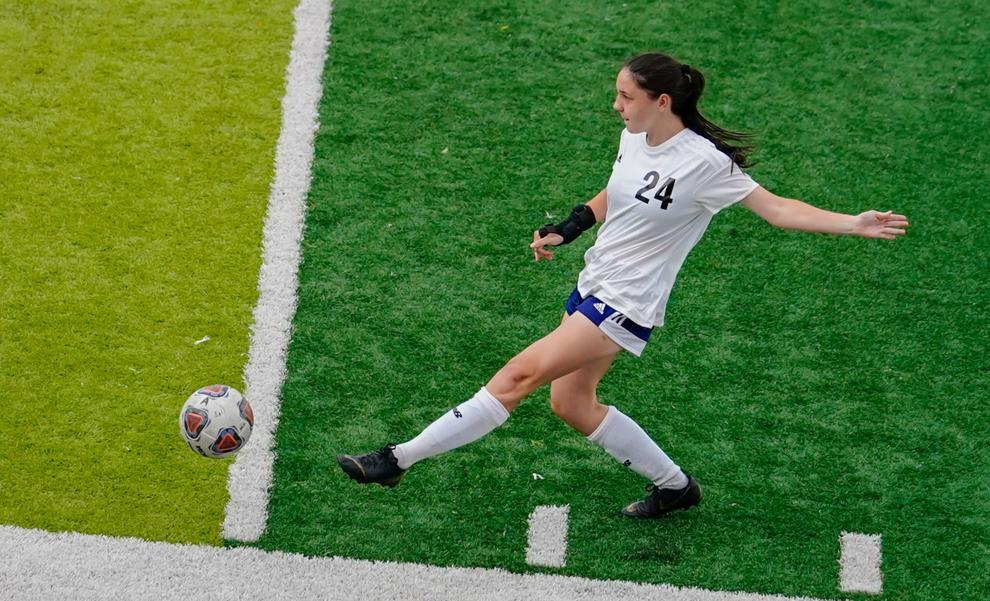 "Only a few days ago there was a lot of uncertainty as to whether we would even get selected for the tournament with our third place Northwestern Conference finish in the regular season," said Tarnowski. "Then we upset the No. 1 seed in Crest on Monday (May 3) to get here, and follow that up by taking this game into the 80th minute against a very good Asheville program. I am so proud of this Watauga team and this group of girls, more than any team I have coached before. They grew together over the course of the season and they fought hard to the very end. Asheville won, but I am not sure they were ready for what they faced today in how our girls competed for every possession."
For most of the game, momentum and possession seemed to favor the Pioneers. Asheville's Agan had a good shot opportunity sail wide of the net in the opening minutes of the contest, but otherwise Watauga's defenders and midfielders seemed to be ever present in smothering Cougar attacks, poaching balls and turning the action back upfield.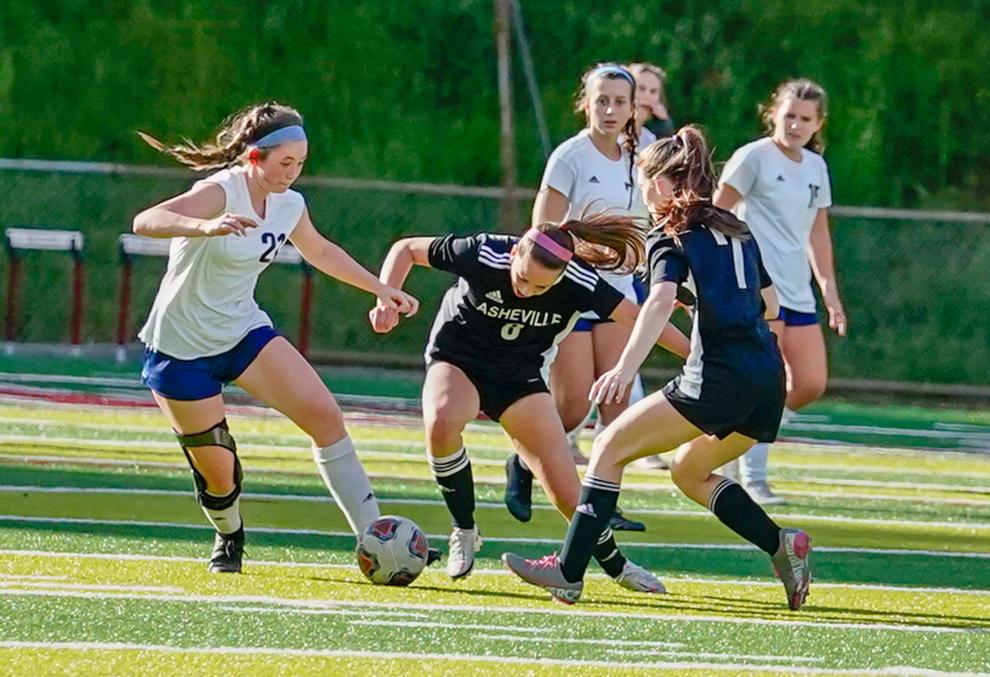 Credit Asheville goalkeeper Anna Hamner for a few impressive saves on pointblank rockets aimed at the net from the feet of Watauga's Brelyn Sturgill, Katie Durham and Shaelyn Sheaff. The statuesque, 5-foot-9 senior goalie dove and reached this way and that to defend against the Pioneers' onslaught of second half shots.
"A lot of the first half seemed to be played in the middle of the field, trading possessions, while in the second half there was a lot of activity at both ends," observed Asheville head coach Mike Flowe after the proverbial dust had settled. "This one really looked like it was going into overtime. It was just a very good game between two evenly matched contenders."
Flowe also expressed some relief that the game didn't go into OT.
"After winning in a double overtime match on Monday, I think my girls' legs were beginning to tire," said Flowe. "Those Watauga girls outplayed their No. 16 seed."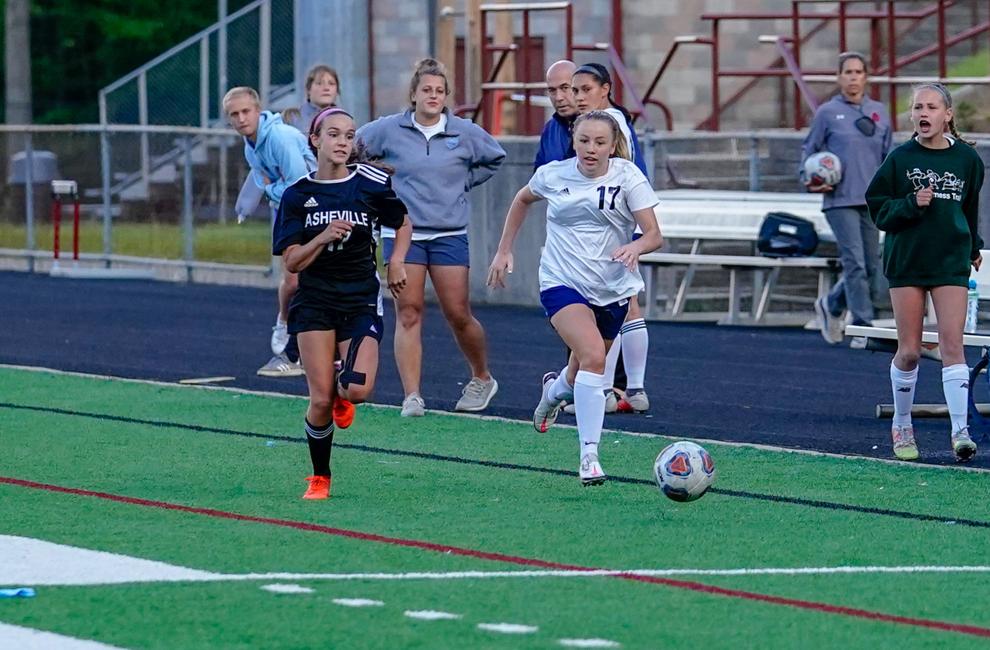 Watauga finishes the season at 10-5 overall, 9-4 in Northwestern Conference play. The No. 5 seeded Asheville (14-2 overall, 12-2 in the Western Mountain 3A Conference) advances to Round 3 where the Cougars will face WMAC rival A.C. Reynolds (14-2, 12-2). The Cougars split their regular season series with Reynolds. Their early season, 2-1 loss on March 22 required two overtimes. Asheville then defeated the Rockets on April 19, 1-0, before losing 1-0 to T. C. Roberson the next week, on April 22. Ironically, Reynolds' second season defeat was also at the hands of Roberson, 3-0 on March 28.
A.C. Reynolds advanced to Round 3 with a convincing, 6-1 win over St. Stephens.
The full Round 2 results for North Carolina 3A playoffs:
No. 5 Asheville 1, No. 16 Watauga 0
No. 4 A C Reynolds 6, No. 12 St. Stephens 1
No. 14 T C Roberson vs. No. 6 Cox Mill – not yet reported
No. 7 Charlotte Catholic 2, No. 15 Marvin Ridge 1
No. 8 Northern Guilford 3, No. 16 Clayton 0
No. 4 Union Pines 5, No. 12 Eastern Alamance 2
No. 11 East Chapel Hill 3, No. 3 Southern Alamance 2
No. 2 Chapel Hill 5, No. 7 Cleveland 0