BLOWING ROCK — There was nary a cloud in the clear blue sky, a fitting backdrop as a lone, dark-clad skier seemed to almost float down the snow-covered slope in Blowing Rock.
Several seconds later, another skier descended, some 50 to 100 feet behind the first, "jet trails" of snow kicked up into the air as she sashayed across the white powder, criss-crossing the face of Appalachian Ski Mtn.'s "Thin Slice," a slope for advanced skiers.
"Social distancing" may well be a buzzword that defines, even places limits on just about everything we human beings do these days. And yet, whether watching these men, women, boys and girls shoot down Mother Nature's ramp for the more accomplished or switch our attention to where beginners are negotiating the "Appaltizer" (easiest), it is hard to imagine how alpine skiing poses a threat for the spread of COVID-19.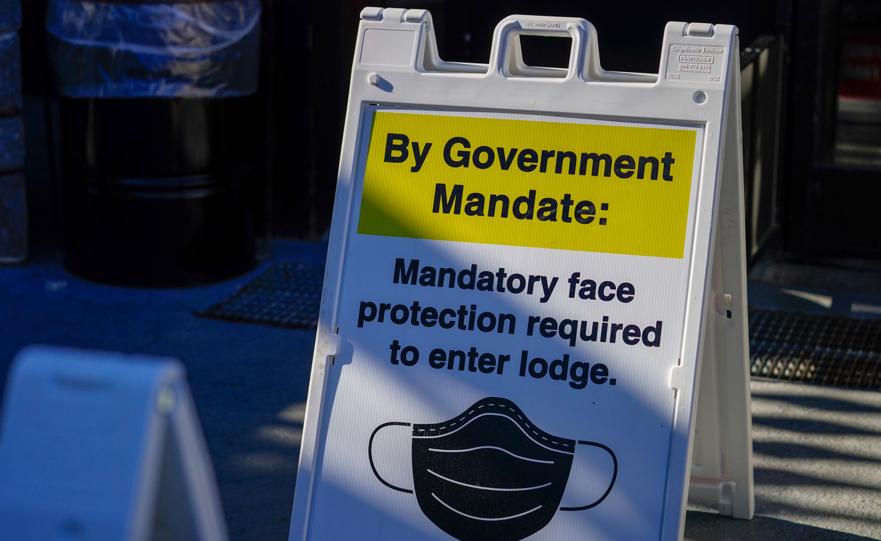 Then, of course, we start examining the businesses that facilitate our idyllic vision of skiers swooshing down a mountain. This is not, after all, cross-country skiing out in the wilds of Montana. With cross country, there is only an occasional interaction with another human being beyond a buddy, gal pal, or significant other with whom you might be sharing the moment and excursion.
According to the National Ski Areas Association, 37 U.S. states have operating ski venues with a total of 470 ski resorts nationwide in 2020. One of those is Blowing Rock's Appalachian Ski Mtn., which this past weekend celebrated its 59th year anniversary of serving up fun and frolic to winter sports enthusiasts of all ages: skiing, snowboarding, and ice skating.
As peaceful as it might seem in seeing a lone skier or snowboarder swooshing down the slopes, the business of getting that person up to the top of a mountain so they can experience the thrill of gravity's pull while on a blanket of ice … well, that can be a lot more frenetic.
Consider the ski attraction's activities as it serves its customers.
Sell lift tickets, either online or in person
Make reservations
Operate a lift mechanisms
Have "anxious to get up there" customers wait patiently in line before taking their turn on a chair lift
Greet them when they arrive at the front gate and collect money for parking
Sell season memberships
Offer and sell ski rentals, including boots and other paraphernalia
Offer and sell ski lessons
Conduct ski lessons, either in groups or individual instruction
Prepare, sell and serve food
Facilitate basic human needs, such as going to the bathroom
Offer and sell apparel and other "gear" for men, women, girls, boys, and toddlers through a retail store
Operate an onsite nursery or day care center so that Mom and Dad can go out and have some outdoor fun
Clean up after people: sweeping up, mopping, and disposing of waste and trash
Supervise safe use of the slopes
Moderate disputes and misunderstandings
Keep the technology running, including computers, telephones, broadband, point-of-sale registers, reservation kiosks, and more.
Historically, many if not most of those winter sports-related business activities have required close interactions between people.
Not this year, Appalachian Ski Mtn. owner and general manager Brad Moretz said. Because there are not yet full answers to the effects of COVID-19, the pandemic has made everyone, in every industry, rethink how they do business.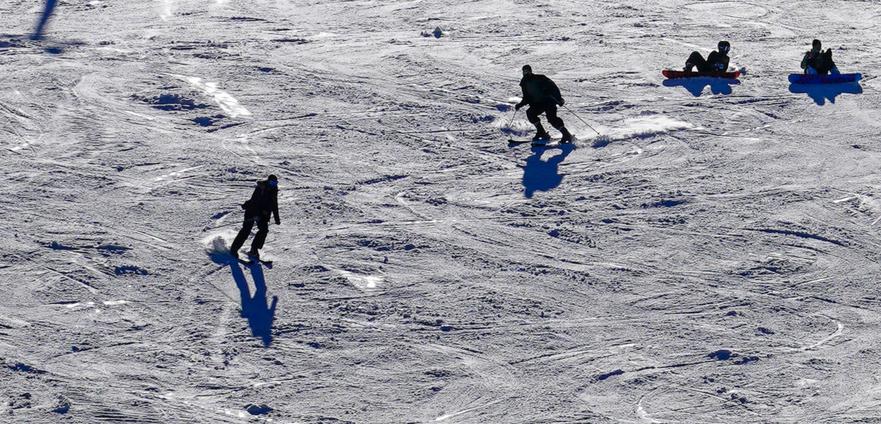 In almost every respect, Moretz suggested, the processes for re-thinking and implementing the changes are simply the cost of staying in business.
Opening weekend for Appalachian Ski Mountain was a great start to the season, Moretz said in a Sunday lunchtime interview between bites of pot roast, fried okra, and sweet potato cobbler. This year, the first weekend also served as a celebration of the resort's 59th anniversary weekend.
With cars jamming the ski lodge's parking lots as far as the eye can see, it was easy to see why Moretz was in good spirits about the start of the ski season, despite the state-imposed, COVID-19 restrictions and limitations.
"We've had as many as 4,000 skiers here in a single day," Moretz said, recalling large crowds of winter sports enthusiasts in past years. "We won't reach anywhere near that this year, on any day, but under the circumstances this is very good and a great start to our season."
Those "circumstances" include occupancy limitations as well as guest restrictions such as social distancing, a mask-wearing mandate and other steps taken for App Ski Mountain's part in "flattening the curve" of the pandemic.
To be open for business, Moretz said, "We took several steps to adhere to the state's requirements, as well as accelerated several improvements. You know, every year we seem to think of something new, something never even considered that leaves you to wonder, 'Why didn't I think of that before!' COVID has intensified that creative process."
Arguably chief among those improvements was expanding the online reservation system, creating time slots for every skier and all but eliminating walk-ins.
"Everyone here today," Moretz said as he waved his arms in a sweeping motion across the windows of the lodge, "made their reservations online. There are a few walkups, but they had to go to one of the kiosks and make a reservation for a time slot, just like the guests who registered online. Even then, the walkups represent less than 10 percent of our reservations."
Moretz hinted that on busy weekends the walkups are taking a risk by not registering in advance. They still have to find a timeslot. If none are available, they have to wait.
Moretz smiled broadly in reporting that the first weekend with the new timeslot system was working without a hitch.
"Last year," he said, "we used an online reservation system for lift tickets and equipment rentals. This year online reservations have been expanded to include not just lift tickets and rental equipment, but also lessons, clothing rentals, ice skating, nursery, season memberships, park passes and parking.
"So there are 10 things that we have online," said Moretz, pointing out that with less human interface there are fewer opportunities for COVID-19 (were it to be present) to spread either among customers or employees. "But the most unusual changes, perhaps, are that reservations are required now. You have to go online or through a kiosk. It is touchless. That way, when a customer gets here, everything is filled out and paid for.
"The other big change," he said, "is that you are required to have a time slot. What that has done — in currently popular parlance — is to flatten the curve of participation."
Since opening weekend is also the ski resort's anniversary weekend with special promotions and discounted rates, the new technology-driven reservation process was fully tested.
"We have a maximum number of permitted transactions, a maximum number of ski rentals, and a maximum number of snowboard admissions," Moretz added, "so this system not only evens out participation but also puts limits on our occupancy."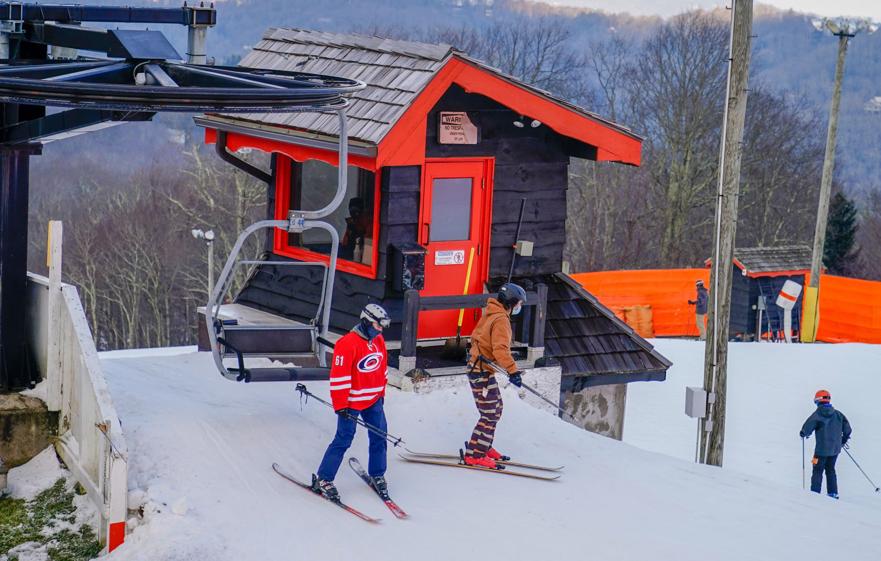 Asked whether the changes have sped up or slowed down the customer experience, Moretz reported that they have accelerated how fast the customer gets out onto the snow or ice after arriving and parking their car.
Because the new systems put a cap on the number of participants and transactions, Moretz noted that even the big opening weekend will only reach roughly half the resort's capacity.
"So, from an operations standpoint," he said, "these are relatively easy days for us. The numbers are not pressing us and that is what we want, for everyone to have a fantastic experience once they are here. We want everyone to leave healthy. And they have experienced very fast service in every part of our operation. From a staffing standpoint we have probably erred on the side of caution, with more staff in some areas. At the same time, some of the improvements we have made allow more people to go through with fewer support staff. So even when this whole COVID thing is all over, I think we will really benefit from some of these changes."
There have been only a few changes that affect the actual ski experience, Moretz said, noting that all skiers have to wear masks while they are waiting in the lift line and they have to wear a mask while sitting or standing on the lifts.
"When you are loading and unloading skiers from the chair lifts," said the longtime Blowing Rock resident and son of App Ski Mountain founders Grady and Reba Moretz, "there is fairly close contact in some cases and we want both our customers and our employees to be safe. So masks are mandatory."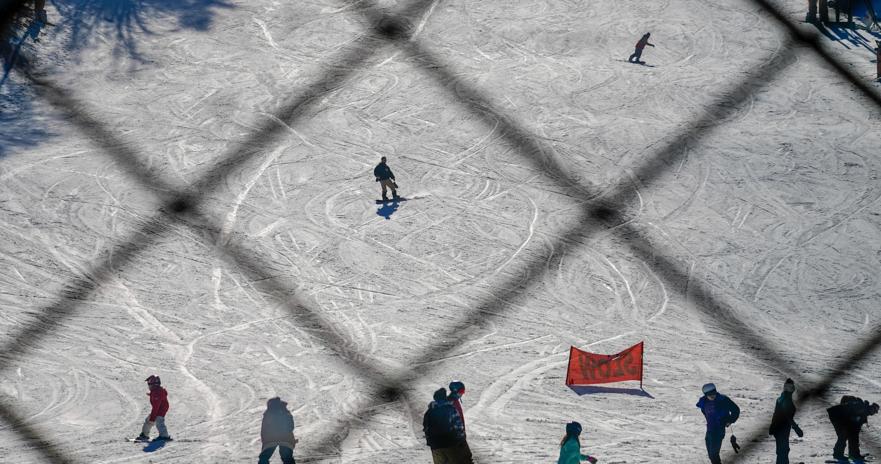 The changes have not just been to the ski- and snowboard-centric operations of the business. Inside, the lodge's food service dining tables have been spread out, at least six feet apart, to comply with the state mandates. In addition, Moretz reported, the lodge now has outdoor seating for some 400 people.
"We always had outdoor seating available on the deck," he said, "but now we have a lot of picnic tables and such on the lower-level patios, too. To accommodate those, we have moved some of our employee parking to different areas, too, and we have added picnic tables up by our ice skating rink."
Private colleges and universities often tout their generally lower student to teacher ratios as an attraction and App Ski Mountain may be adding value to their instructional sessions because of COVID.
"We are cutting our lesson sizes in half," Moretz said, "to no more than six. When we have these more limited offerings, those reservations become just that much more important to our guests."
Moretz stated that as a management team they have thought through every aspect of their business and its operation to space people out and reduce contact.
"One of the more extreme things we have done," he noted, "is to install forearm door pulls on every door. Somebody can come and never touch a door with their hands the whole time they are here. We have even put those in our staff restrooms and where employees go to clock in and out.
"Overall," he concluded, "the level of detail that we have gone to make things safe for our guests and our staff members is unbelievable. We look at these changes as investments in our business's future."