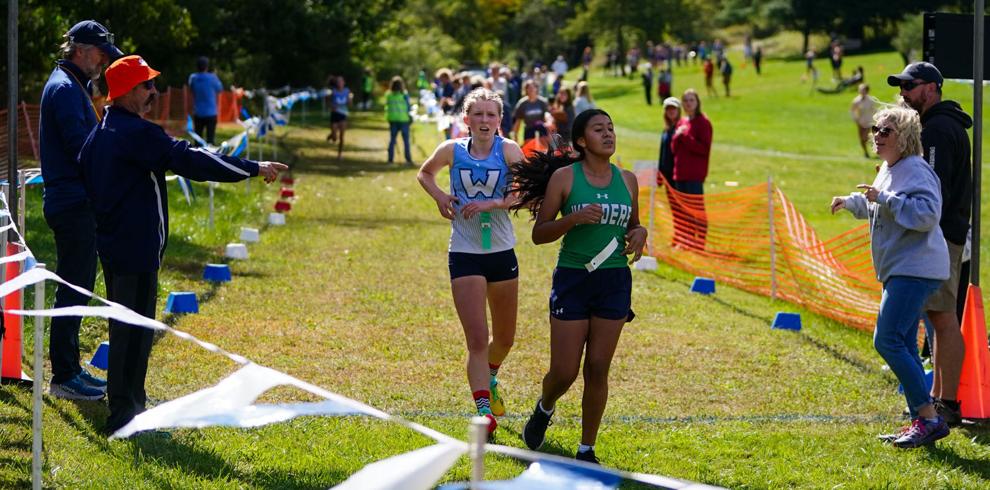 BOONE — If Watauga's Gwendolyn Anderson looked bewildered and confused as she crossed the finish line of the High Country Cross Country Classic on Sept. 25, it was for good reason.
While a competitor from Northwestern (Rock Hill) stayed with Anderson and Pioneer teammate early in the race, with more than a mile to go on the 3.1 mile course, Anderson and Cathey were virtually alone at the front, a large gap between them and the nearest runner in the field of 42.
Suddenly, as she approached the final "chute" leading to the finish line, there was a girl from A L Brown High School already in the chute ahead of her. And the two began racing the final 30 yards, the other girl apparently crossing the line just ahead of an expended and exhausted Anderson.
As it turned out, the other girl with a singlet bearing the team name, "Wonders," was in a state of wonderment. She still had over a mile to go in the race and had misunderstood the frantic waving of the race officials in front of her. The finish line chute was open and it was straight ahead of her.
It all got sorted out. Anderson was declared winner. The other girl's mishap may have stolen the Watauga champ's photo opportunity of crossing the finish line, arms raised in triumph but that final, forced sprint might also have shaved a few second off of her winning time. After the initial consternation, everyone laughed.
Anderson's winning time of 20.43 was not the only Pioneer bright spot on this sunny, cloudless day with temperatures in the upper 50s and lower 60s. As a team, Watauga captured the 7 of the top 8 positions, with all eight of the Pioneers' varsity runners finishing in the top 11.
Needless to say, Watauga took the team title with 15 points, followed by Northwestern (48), Enka (93), Ashe County (110), Surry Home (131) and A L Brown (147).
Completing the Watauga sweep of the top scoring positions were Cathey (No. 2, 20:54), Brianna Anderson (No. 3, 21:30), Moriah Bollman (No. 4, 21:46) and Ava Curtis (No. 5, 21:47) before Northwestern's Addison Meeker crossed at No. 6 (21:50).
The other Pioneer varsity girls, all finishing in the top 11, were Sophie Beach (No. 7, 21:55), Maddie Bollman (21:57) and Andriana Rink (No. 11, 22:11).