BOONE — After six years, the Watauga Pioneers football team's 25-game home winning streak was snapped when they lost 34-23 against Mitchell.
Coming off of a 47-0 loss to Maiden a week earlier, the Pioneers (1-2) entered the Friday, Sept. 3, matchup with Mitchell looking to get back on track while moving through their non-conference schedule. However, Mitchell (2-1) also had something to prove as they were coming off a loss and had set their eyes on a winning record.
Not helping the Pioneers was a rash of injuries — particularly at quarterback. While the team awaits the return of starter Carlton Horrine, they also lost backup Levi Temple in the massacre at Maiden.
Watauga head coach Ryan Habich noted after the game that his team knew Mitchell would not be an easy opponent, as the Pioneers' chances of winning would come down to executing their game plan and not making mistakes.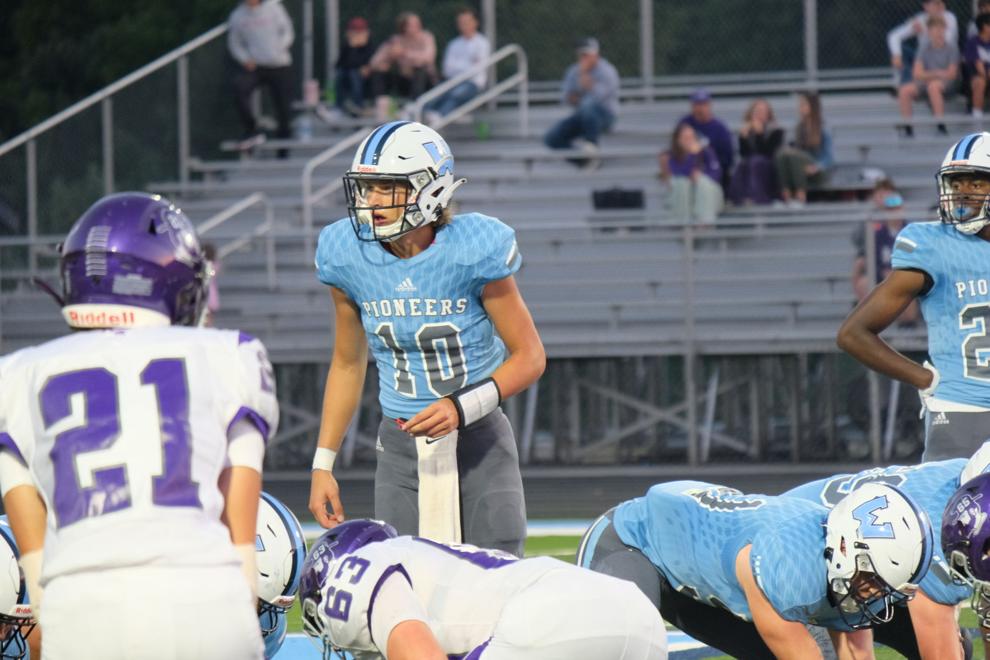 In the early going, it appeared to be working for Watauga. While their offense was taking time to click into gear, the Pioneers' defense was getting the job done against the visiting Mountaineers. Although Mitchell managed to move the ball down field, Watauga would bend but not break as they kept the game scoreless through the first quarter.
The trends would continue for both teams in the second, with neither being able to break the deadlock as they stuck to run-first offenses that clashed with a pair of stingy defenses.
With just under six minutes left in the first half, Watauga quarterback Wyatt Keller aired the ball out for the first time in the game. He found two-way star tight end Orlando Leon, who had broken free of his coverage and raced down the field for a 58-yard score. With a successful two-point conversion, Watauga had an 8-0 lead.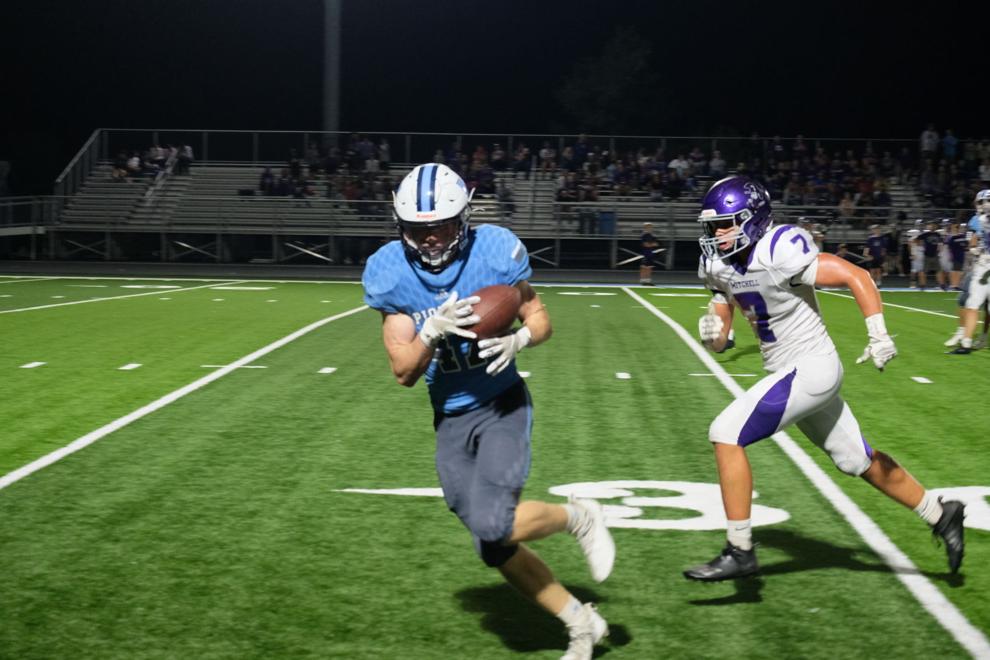 Mitchell did not waste any time in responding. Junior signal caller Ty Turbyfill dropped back on a snap and was immediately met by Leon in the backfield. Heaving up a prayer, Turbyfill's pass was hauled in by a Mountaineer receiver to set the team up in the red zone.
Turbyfill finished the job with just under two minutes remaining, diving into the endzone to cut the Pioneers' lead to 8-6 heading into halftime.
With the wind at their backs, the Mountaineers carried their momentum into the third quarter and Turbyfill kept picking apart the Watauga secondary when called upon. All it took was one pass, and he nailed it by hitting an open Ethan Willis in stride for a 59-yard catch-and-run score. After a two-point conversion, Mitchell led 14-8 and did not look like they were slowing down.
Watauga stuck to their game plan — running the option with a flurry of pitches and hard-nosed running. As the clock ticked away on the third quarter, the Pioneers marched down to Mitchell's one-yard line, setting it up for Will Curtis to pound the ball in for a 15-14 Watauga lead.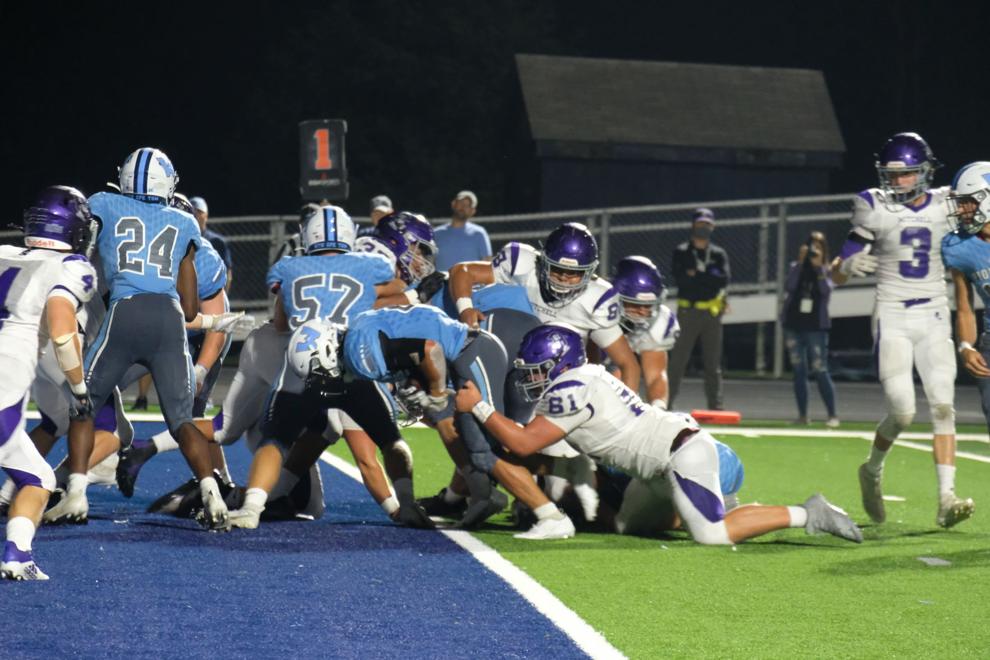 Having just seen their team take back the lead, the Watauga crowd sang along to "Sweet Caroline" as the fourth quarter began. However, the song hit a sour note when Mitchell scored with a one-play drive, as Turbyfill hit Dalton Hollifield deep during the chorus.
What had started as a tough, run-focused slog of a game had become a frantic shootout, and Watauga needed an answer.
Again, it was Leon, who hauled in a 29-yard pass from Keller before bullying his way into the endzone. Capping it off by catching the two-point conversion play, Leon had dragged the Pioneers back to a 23-20 lead with just under five minutes remaining.
Leon and Keller combined for five receptions, 195 yards and two touchdowns in the game, and Habich said the senior is an impact player like no other.
"We moved him around a little bit because we had to find a guy that you can get the ball to and they'll be able to do something with it and Orlando is one of those players," Habich said.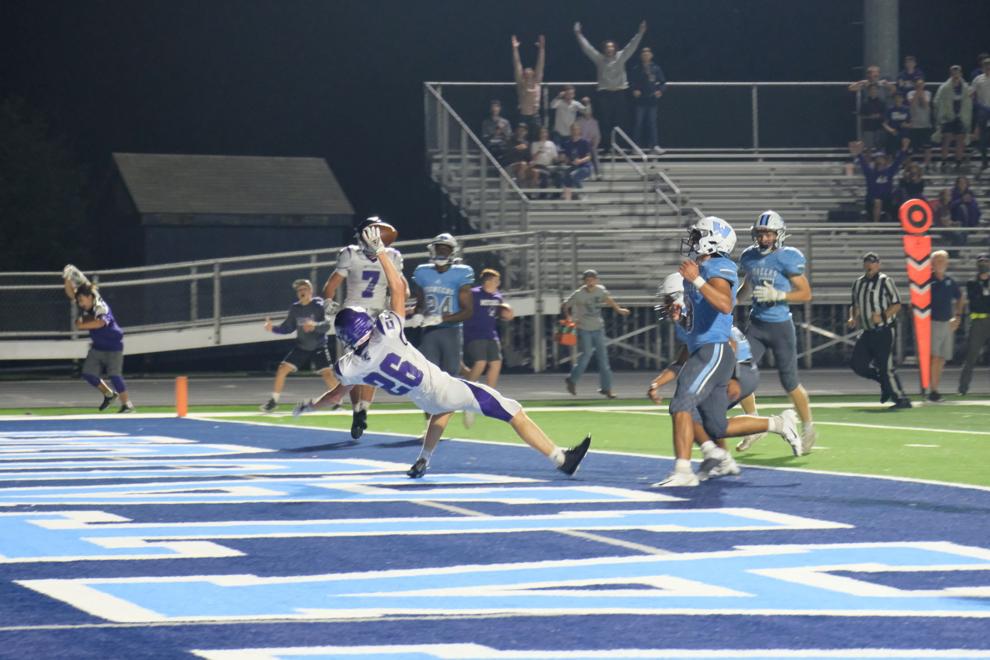 After Turbyfill led the Mountaineers back down the field and running back Gage Young pulled in a lead-stealing score, the Pioneers set up near their own 30-yard line, down 27-23 with 2:48 on the clock.
With the crowd waiting in anticipation of a fourth quarter comeback in their potentially 30th-straight home win, the Pioneers immediately watched their hopes crumble. Keller passed left, straight into the arms of Mitchell's Hollifield.
The Mountaineer raced down the right side, celebrating the game-winning pick six with his teammates in the end zone.
After the loss, Habich noted his team had picked up their effort compared to the game against Maiden, but there were still too many mistakes.
"It was one of those games that we had to play well to make it a fourth quarter game and I thought we made it a fourth quarter game," Habich said. "Our kids played with better effort but with mistakes in all three phases of the game, you can't beat good teams … We're young, we're inexperienced and green. When you start losing guys on the field and put new guys out there and they make mistakes, it's hard to do what you want to do."
Habich added that the season so far has been full of growth opportunities for the young team.
"We will get better," Habich said. "The biggest thing for our kids going forward is to not make excuses, take ownership of what we're doing wrong … We tell the kids, 'We think we have a strong culture that can get you through this, but every year you've got to build upon that culture.'"
After two games in a row against high-level opponents, the Pioneers will face a third in week four on Friday, Sept. 10. They will host Burns (2-1) another good team looking to make a run in the state playoffs, and, Habich said, the key for Watauga will be the team's young players continuing to step up.