BOONE – After being unprepared for some of Troy's offensive schemes on Jan. 1 in a 69-56 loss to open the new year, Appalachian State flipped the script on the Trojans at the Holmes Center while cruising to a dominating, 90-59 men's basketball win the following day.
Five Mountaineers scored in double figures, led by a game-high 21 points from long-range sharpshooter Justin Forrest. The senior guard was successful on 6-of-7 shooting from beyond the three-point arc.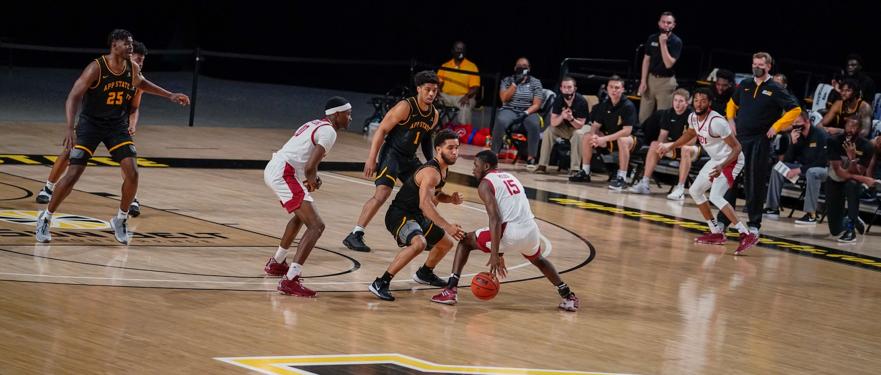 Also with big nights for App State were Donovan Gregory (15 points, 5 rebounds, 1 steal), Adrian Delph (14 points, 5 rebounds, 2 assists, 2 steals), James Lewis Jr. (13 points, 3 rebounds) and Michael Almonacy, (11 points, 5 rebounds, 10 assists, 1 steal).
The teams were only tied for about the first 20 seconds of the ball game at 0-0. Lewis Jr. drew first blood with a put-in from underneath and from that point on the Trojans rarely threatened. Lewis was fouled on his layup, so rewarded with an "and one" opportunity from the charity stripe, of which he took advantage. Troy's Khalyl Waters grabbed an offensive rebound on the other end and tipped in a bucket to shrink the Alabama-based team's deficit to just one point, 3-2, but that was as close as the visitors got for the rest of the night.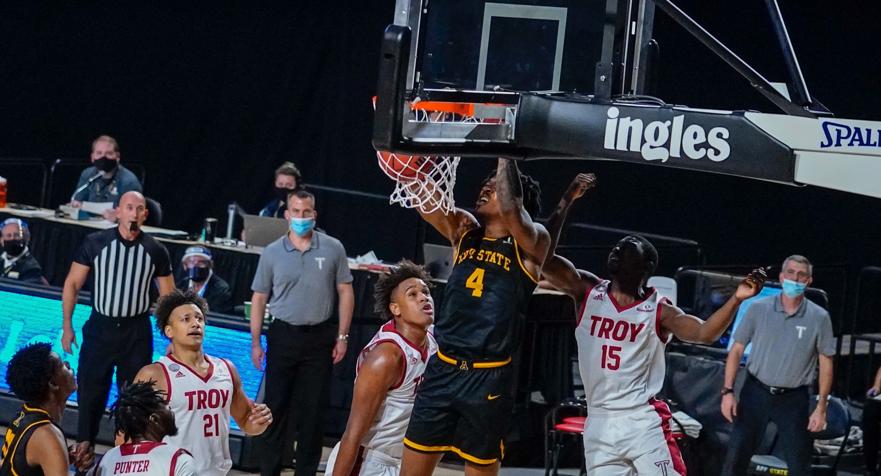 Before two minutes had ticked off the game clock, Delph and then Forrest drained consecutive three pointers. Suddenly the Mountaineers had a 7-point lead.
On the strength of pesky defense and balanced scoring, by halftime App State was nursing a 24 point advantage. In just the latter part of the first half, Delph contributed consecutive 3-pointers within about 30 seconds on either side of the 10-minute mark, while Forrest hit four shots from long distance in the final four minutes of the opening period.
Forrest put an exclamation point on his first half performance in the closing seconds. He was fouled while attempting another three-pointer as the clock wound down to zero, and was awarded three foul shots with 1.7 seconds left on the clock. Forrest calmly sank all three to finish first half scoring.
The Mountaineers didn't let up after intermission, although the offensive production shifted from Delph and Forrest to Lewis Jr., Almonacy, C J Huntley and R J Duhart. Lewis energized the raucous App State bench with a couple of thunderous dunks, while Amonacy hit on a couple of shots from long distance and displayed his overall athleticism with Fastbreak layups.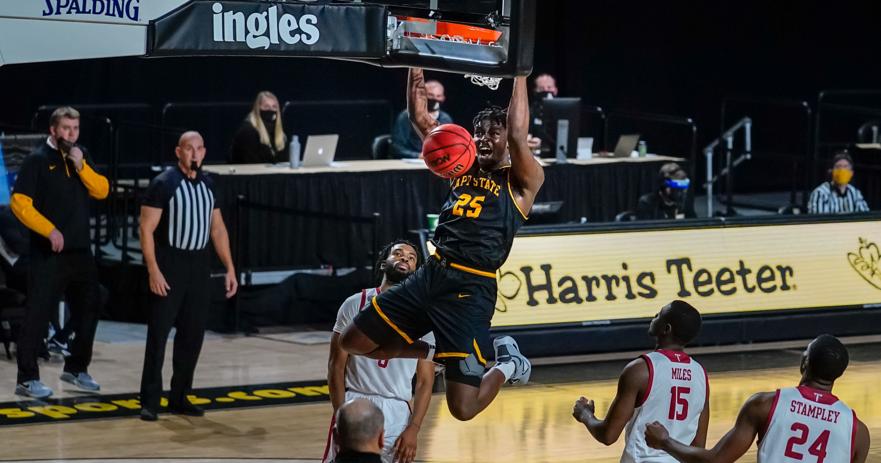 Afterward, head coach Dustin Kerns suggested that the team can almost expect the unexpected in this COVID-19-disrupted season.
"We've never played a team in back to back games," Kerns said. "After our poor performance last night, for which I give Troy all the credit because they came out with some things we had not seen before. But with a quick turnaround for our bodies and a quick turnaround with our preparation, we made some adjustments both offensively and defensively. I am really proud of our team. It was a great team win."
Kerns pointed out that the team recorded 20 assists with just eight turnovers which, he said, is a pretty good night.
"That's what we like to see," Kerns said.
One of the big risks in jumping out to a big, dominant lead early in a game is growing complacent — and letting the opponent back in the game. Kerns was asked how his Mountaineers were able to avoid that in this contest, knowing that they were playing the same team that had beaten them the night before.
"I talked about just that at half time," said Kerns. "Maturity, maturity, maturity. We were up 24 at the half and I challenged our guys that this was not the time to gamble. This was not the time to go for steals. This was not the time to one-pass or heave threes. When you don't do that stuff, it shows maturity. So I challenged our guys to show maturity and play the right way.
"I actually reminded them of what I showed them back in October," Kerns said. "I showed them some highlight film of improbable basketball comebacks, like down 17 with three minutes to play. I told them that they could not take a win for granted, even up 24 at the half. So I was really proud of our guys to go out and beat them again in the second half.
He added that early the team had moments where there wasn't a sense of urgency.
"So I reminded them in a timeout about showing maturity and that it is part of our growth, being able to go out and make the disciplined plays over and over again," Kerns said.
Even with the dominant win, it was far from a perfect performance. When it was pointed out to Kerns that the team shot 55 percent from the field, but they shot only 50 percent from the free throw line, he nodded.
"Yeah, as you were talking I just noticed that," said Kerns. "I feel pretty good about our free throw shooting, but it is interesting when your percentage from the field is higher than your percentage from the free throw line ... it is something that we have been pretty consistent with until tonight. We were in the top ten in free throw percentage coming into tonight's game. I'm sure now we won't be."
Next up for App State is another home stand next week against Georgia Southern, a longtime rival dating back to the teams' Southern Conference days before both moved to the Sun Belt in 2014.
All six teams in the conference's East Division are 1-1 after this weekend's opening. App State and Georgia Southern each have 7-4 overall records, with no common opponents. The Eagles had an impressive win over Conference USA's Florida International on the roadk 103-99 in double overtime. Like the Mountaineers, they split on Friday and Saturday, losing to South Alabama in Statesboro on Friday, 59-88, then rebounding to beat the Jaguars on Saturday, 62-49.
The Mountaineers' most impressive early non-conference win was at Charlotte on Dec. 11, 61-57.
Tipoff at the Holmes Center on Friday, Jan. 8, against the Eagles is scheduled for 6 p.m.