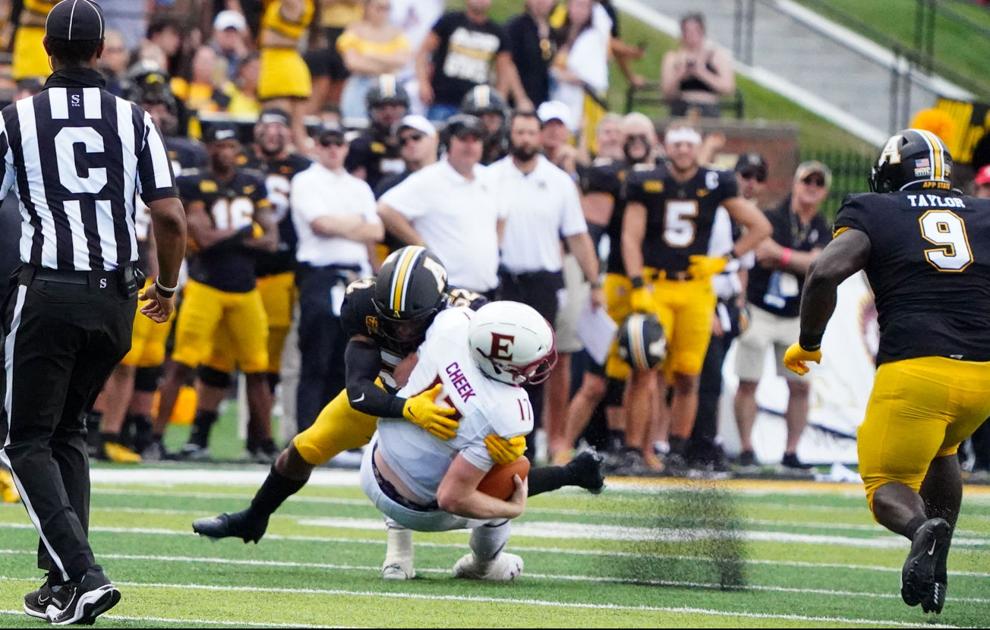 BOONE — Appalachian State football returned home for the first time this season to take on FCS minnows Elon, with the Mountaineers getting a dominant 44-10 win.
The Mountaineers (2-1) went into the game as the heavy favorites and were looking to shake off a road loss to then 22nd-ranked Miami a week prior. Meanwhile, the Phoenix (1-2) were at .500, but coming off a narrow win over Campbell.
While not the most competitive or storied rivalry in college football history, the two teams had years of history leading into the Saturday, Sept. 18, home opener. The former conference rivals had 42 previous games between them, although App State led the series 32-9-1 after the last meeting in 2013.
Since their last meeting, Appalachian has become a force in the Group of Five conferences and piled up six straight bowl wins to go with four Sun Belt Conference titles. Meanwhile, Elon has not had a winning record since 2018 and is still in the FCS.
The game was the first time Kidd Brewer was at 100 percent capacity in more than a year, and fans took full advantage of it.
A sold out crowd created a vortex of noise while Elon was on the field, amping up the intimidation factor.
"I want to say thank you to the fans," Mountaineers head coach Shawn Clark said. "I think the fans were a big part of today and helping us get over the hump. You come to Appalachian to get a world class degree and play for championships and we had the best fans in college football. We're very passionate and it was exciting to come back to The Rock."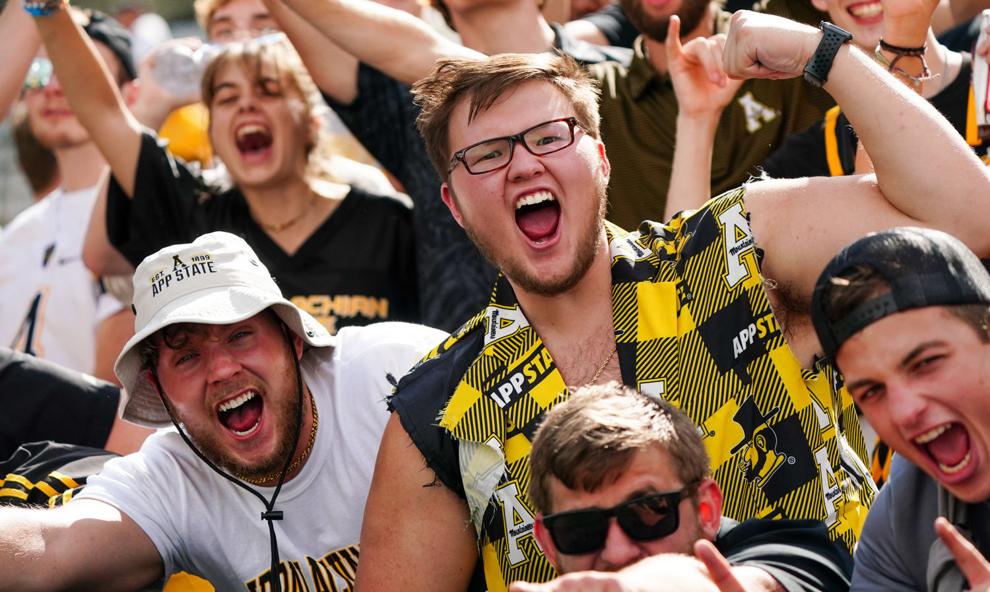 The Phoenix knew that if they wanted to pull off the upset, they had to get their passing game going. Leading the charge was quarterback Davis Cheek, who used quick, efficient passing to try and get the offense up and running. However, the Elon offense did not only have to deal with a raucous crowd, but also a Mountaineer defense.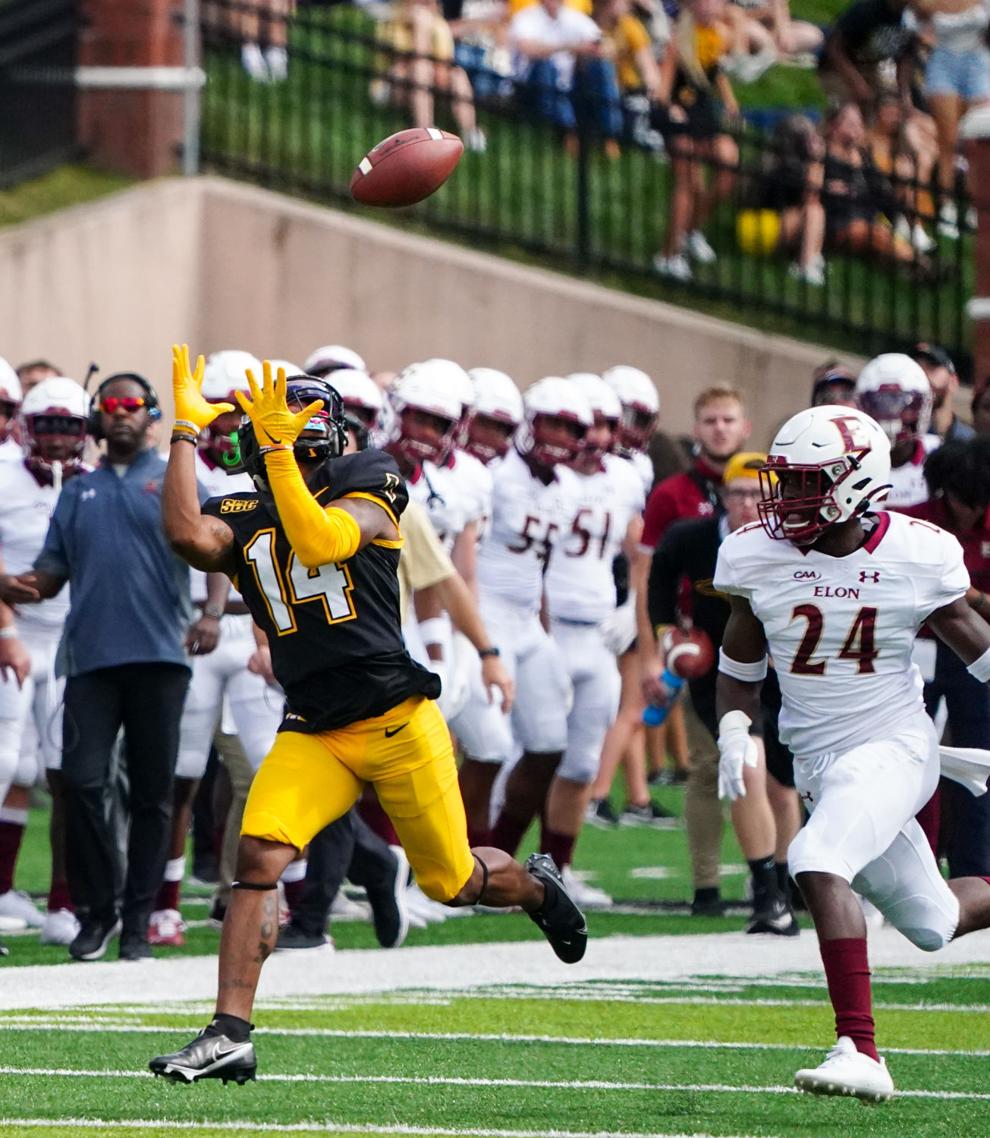 The Mountaineers made an impression on only their second play when QB Chase Brice hit Malik Williams deep for a 50-yard bomb. Three plays later, he hit Corey Sutton, who streaked down the right side of the field. However, Sutton was tripped up by Elon corner Marcus Hillman and fumbled the ball. Elon's Nick Veloz pounced on it in the endzone, and App had thrown away their chance for a lead.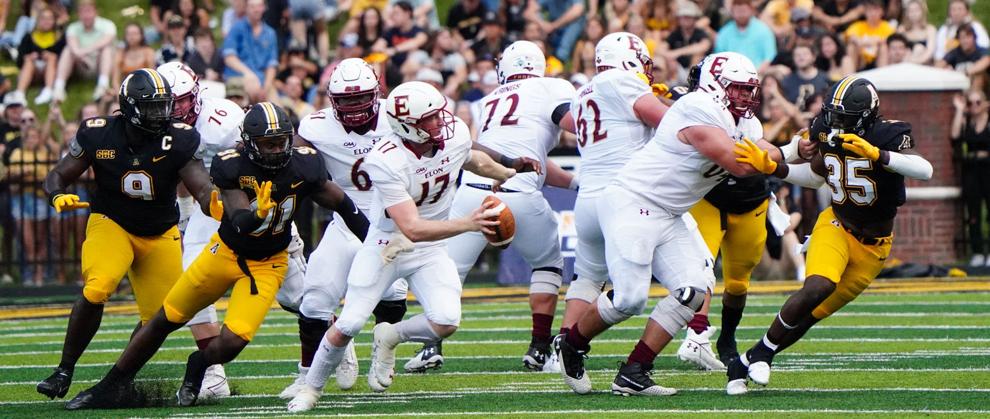 On their next drive, the Mountaineers got the score they missed out on earlier. Again, Brice went to Williams on a deep route, with the speedy wideout leaving his man in the dust on his way to a 47-yard touchdown reception and a 7-0 App lead.
With only two receptions and time left on the clock in the first quarter, Williams already had 97 yards and was seemingly un-coverable.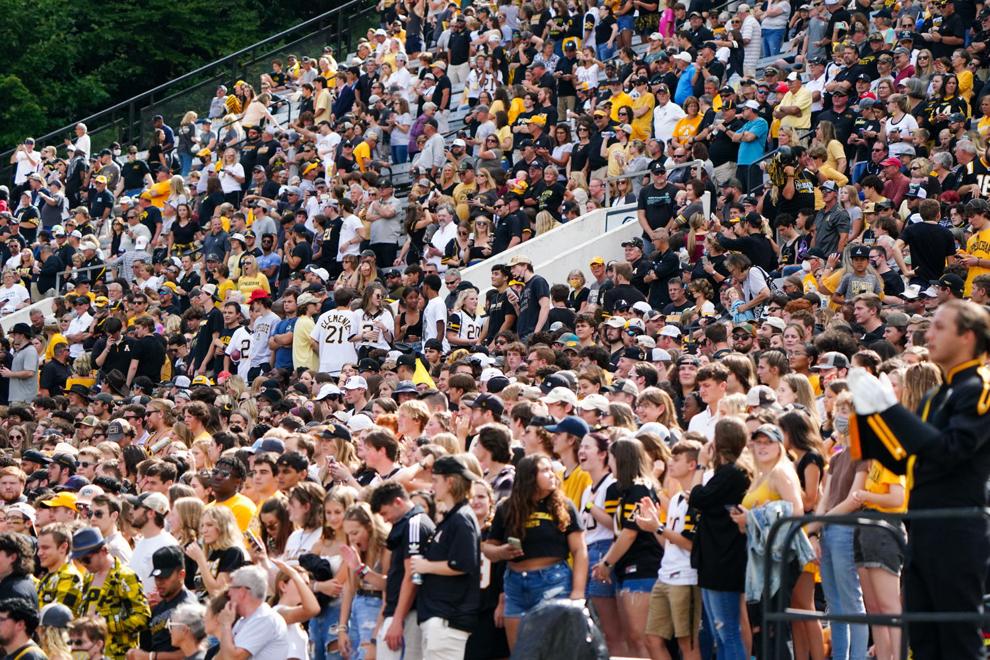 "Last year, we couldn't really stretch the field vertically and that allowed defenses to load the box," Clark said. "I think by throwing the ball downfield, trying to stretch the field, it sets up our running game."
Williams said after the game that the team as a whole has reacted positively to the offense stretching the field more, as evident by his career-high 123 yards on only four catches.
After Williams' score, the Phoenix pieced together another drive on the back of Cheek's arm. Still, they left points on the table by settling for a field goal from Skyler Davis. App took over with little time left on the clock and led 7-3 at the end of the first quarter.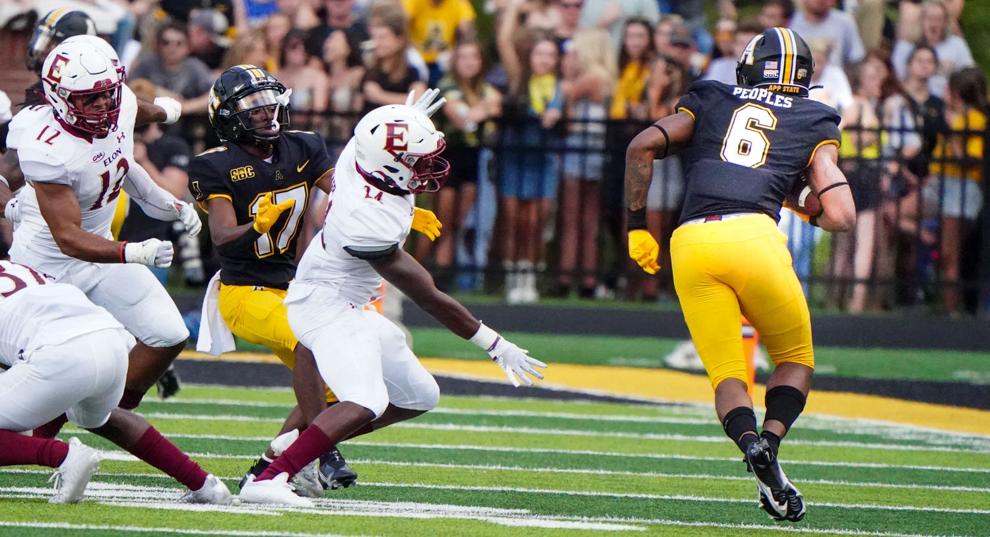 However, the Mountaineers were still having issues getting the ground game going as they took almost four minutes on a 10-play drive that ended with a 44-yard field goal attempt from Chandler Staton.
Staton gave the black and gold a touchdown's lead, and Elon wanted it gone.
The Phoenix began to drive down the field by taking shots deep that they previously avoided. But they ran into a brick wall named D'Marco Jackson. First, Jackson caught Kortez Weeks with a spectacular open field tackle that resulted in a loss of five yards for Elon. Facing a long third down, Davis tried to roll out of pressure and give his team a chance, but Jackson again blew the play up and got App's first sack of the game to end the drive.
App's final offensive drive of the first half was their chance to go into halftime with momentum before receiving the kickoff to start the third quarter. Instead of taking the chance at building a lead Elon may have found insurmountable, App was forced to settle for another field goal from Staton. With the 45-yard attempt good, the Mountaineers led by 10 heading into the half.
The disparity in App's offense was evident in the box score. Brice had piled up 232 yards by halftime, but the team as a whole could only muster 85 on the ground. Despite averaging 5.7 yards per carry, the Mountaineers could not commit to a ground game that Elon was beginning to sniff out in the first half.
However, App made the call in the second half, handing it off to Nate Noel early and often. Nearly halfway through the third quarter, both he and Camerun Peoples were averaging more than 4.5 yards per carry, but neither was the one to cap off the Mountaineers' drive that expanded their lead.
Instead it was Brice, keeping the ball and scampering into the endzone from a yard out.
Trying to answer back, Elon drove down the field and got dangerously close to finding the endzone. Just outside of it, Cheek tossed the ball to Kortez Weeks, but it ended up in the hands of App linebacker T.D. Roof.
Roof immediately turned up field and had his eyes on a score before being brought down 90 yards later.
"Every blind squirrel finds a nut once in a while," Roof said. "Just kind of right place, right time."
A penalty against Elon on the return only helped App, setting them up on the five-yard line. With great field position, the Mountaineers got a quick few yards, handing the ball to Camerun Peoples to finish it off with an easy one-yard jog.
Now up 27-3, App held a lead many expected them to over the FCS school. However, Elon still had fight left in them and 20 minutes of play to show it.
As App State tried to extend their lead on another drive, Hillman broke through to sack Brice and force a fumble. Tre'Von Jones picked it up and suddenly, Elon were within 40 yards of scoring. Cheek engineered a drive to get down to the one-yard line before McKinley Witherspoon broke through and gave the Phoenix hope.
If they were going to rise from the ashes though, Elon needed to make something happen to quickly erase the 27-10 deficit with just over a quarter of play left.
Elon nearly found their hope in the form of luck when App State corner Donte Small was called for pass interference and a three-and-out drive was given a second chance. However, they failed to capitalize and punted the ball away.
Another near miss came when returner Thomas Hennigan crashed into the back of one of his blockers, and it appeared it had been picked up by the Phoenix. Again, luck was not on their side as the ball was given to the Mountaineers.
App State was able to make mince meat of the Elon defense on their following drive, chewing up 50 yards in just over a minute on three plays. Two of the plays were handoffs to Peoples, who ran for 41 yards and a touchdown to make it 34-10.
After the drive, Brice's day was over and Jacob Huesman stepped under center. Brice went 19/25 and finished with 293 yards and a passing touchdown to go with his lone rushing score, playing a major role in the Mountaineers' win.
With just under three minutes left, whatever hope Elon had drained away when Chandler Brayboy fumbled at his own 25-yard line. Ronald Clarke picked it up, and all App State needed to do was run out the clock.
Tasked with doing so was local lad and former Watauga High School quarterback Anderson Castle, getting a garbage time touchdown with some tough running to make it 44-10 with less than a minute left in the game.
Back with a winning record, App will not have long to recover before they try and make it two straight. The Mountaineers will play host to another old rival, Marshall on Thursday, Sept. 23.
---
| | | |
| --- | --- | --- |
|   | App State  | Elon |
| Total Offense  | 528 yards  | 291 yards  |
| Passing yards  | 341 yards  | 225 yards  |
| Rushing yards  | 187 yards  | 66 yards  |
| Penalties - Yards  | 6 - 32  | 8 - 55  |
| Turnovers  | 2  | 2  |
| Time of Possession  | 27:07  | 32:53  |
| First Downs  | 24  | 14  |
| Third Down Conversions | 3/10  | 4/14  |
| Fourth Down Conversions | 1/1  | 0/0  |
---
Mountaineers Individual Stats
| | | | | | |
| --- | --- | --- | --- | --- | --- |
| Passing  | Cmp  | Att  | Yds  | TD  | Int  |
| Chase Brice  | 19  | 25  | 293  | 1  | 0  |
| Jacob Huesman  | 3  | 4  | 48  | 0  | 0  |
| | | | | |
| --- | --- | --- | --- | --- |
| Rushing  | Att  | Yds  | Avg  | TD  |
| Camerun Peoples  | 11  | 80  | 7.3  | 2  |
| Nate Noel  | 17  | 73  | 4.3  | 0  |
| Anderson Castle  | 4  | 30  | 7.5  | 1  |
| Chase Brice  | 4  | 10  | 2.5  | 1  |
| Jahmir Smith  | 1  | 0  | 0.0  | 0  |
| Jacob Huesman  | 1  | -6  | -6.0  | 0  |
| | | | | |
| --- | --- | --- | --- | --- |
| Receiving  | Rec  | Yds  | Avg  | TD  |
| Corey Sutton  | 7  | 128  | 18.3  | 0  |
| Malik Williams  | 4  | 123  | 30.8  | 1  |
| Jalen Virgil  | 3  | 33  | 11.0  | 0  |
| Thomas Hennigan  | 3  | 18  | 6.0  | 0  |
| Dashaun Davis  | 1  | 17  | 17.0  | 0  |
| Christian Wells  | 1  | 9  | 9.0  | 0  |
| Eli Wilson  | 1  | 5  | 5.0  | 0  |
| Mike Evans  | 1  | 4  | 4.0  | 0  |
| Nate Noel  | 1 | 4  | 4.0  | 0  |
| | | | | | | |
| --- | --- | --- | --- | --- | --- | --- |
| Defense  | Tkl  | Solo  | Ast  | Sack  | TFL  | Int  |
| D'Marco Jackson  | 13  | 6  | 7  | 3.0  | 4.5  | 0  |
| Trey Cobb  | 6  | 1  | 5  | 0.0  | 0.0  | 0  |
| Shaun Jolly  | 5  | 4  | 1  | 0.0  | 0.0  | 0  |
| Kaleb Dawson  | 4  | 3  | 1  | 0.0  | 0.0  | 0  |
| Nick Hampton  | 4  | 1  | 3  | 0.0  | 0.5  | 0  |
| Ronald Clarke  | 4  | 1  | 3  | 0.0  | 0.0  | 0  |
| Haigler Kevon  | 3  | 1  | 2  | 0.0  | 1.0  | 0  |
| Nicholas Ross  | 2  | 2  | 0  | 0.0  | 0.0  | 0  |
| T.D. Roof  | 2  | 2  | 0  | 0.0  | 1.0  | 1   |
| | | | | |
| --- | --- | --- | --- | --- |
| Kicking  | FG  | FGA  | XP  | Pts  |
| Chandler Stanton  | 3  | 3  | 5  | 14  |
| | | | | |
| --- | --- | --- | --- | --- |
| Punting  | Num  | Yds  | Avg  | I20  |
| Xavier Subotsch  | 3  | 118  | 39.3  | 3  |
| | | | | |
| --- | --- | --- | --- | --- |
| Kickoff Returns  | Att  | Yds  | Avg  | TD  |
| Thomas Hennigan  | 2  | 57  | 28.5  | 0  |
| | | | | |
| --- | --- | --- | --- | --- |
| Punt Returns  | Att  | Yds  | Avg  | TD  |
| Thomas Hennigan  | 2  | 1  | 0.5  | 0  |
| Malik Williams  | 1  | 7  | 7.0  | 0  |