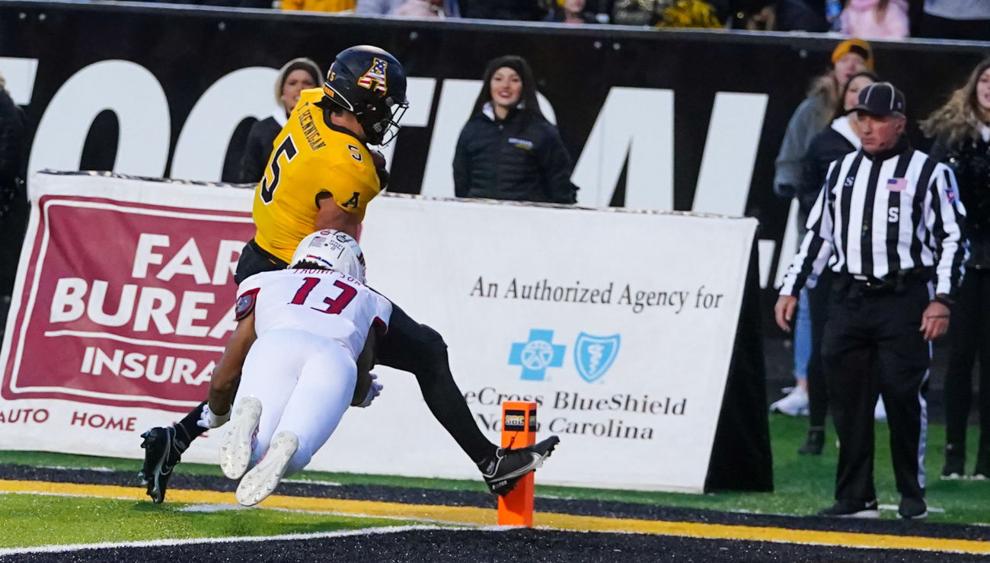 BOONE — For all but the last two minutes of the first half on Nov. 20, in Appalachian State's road game win at Troy, App Nation had to wonder whether the bottom half of the division had risen again.
First, Miami edged the High Country's favorite sons to open the season at Hard Rock Stadium. Then in October, Louisiana embarrassed the Mountaineers. Troy was threatening to do the same with two minutes to go before halftime, leading 7-3, and seemingly having borrowed some sort of voodoo hex from the Cajuns to put on the Mountaineer offense.
But oh, how things can change so quickly in football.
Quarterback Chase Brice shrugged off two early turnovers, and got the offensive ship righted just in time to heave a 21-yard TD-scoring pass to Corey Sutton with 21 seconds remaining in the first half. It gave the Mountaineers a tenuous, 10-7 lead before intermission and some success upon which to build.
Whatever adjustments head coach Shawn Clark and offensive coordinator Frank Ponce made at halftime should be bottled and patented as a voodoo antidote.
The Mountaineers simply built on that first half momentum and ran away with a dominating, 45-7 victory, clinching the Sun Belt Conference's East Division title in the process and earning an opportunity to exact a measure of revenge on Dec. 4 against Louisiana in the Sun Belt Championship Game in Lafayette, La.
Among the challenges that Georgia Southern faces in the Eagles' visit to the High Country on Nov. 27 is the Mountaineers' resilience. In almost every game during the 2021 season the Boone boys have been down but not out — except at Louisiana where Halloween came a couple of weeks early and App State was uncharacteristically pummeled into submission by a much better prepared team on that day.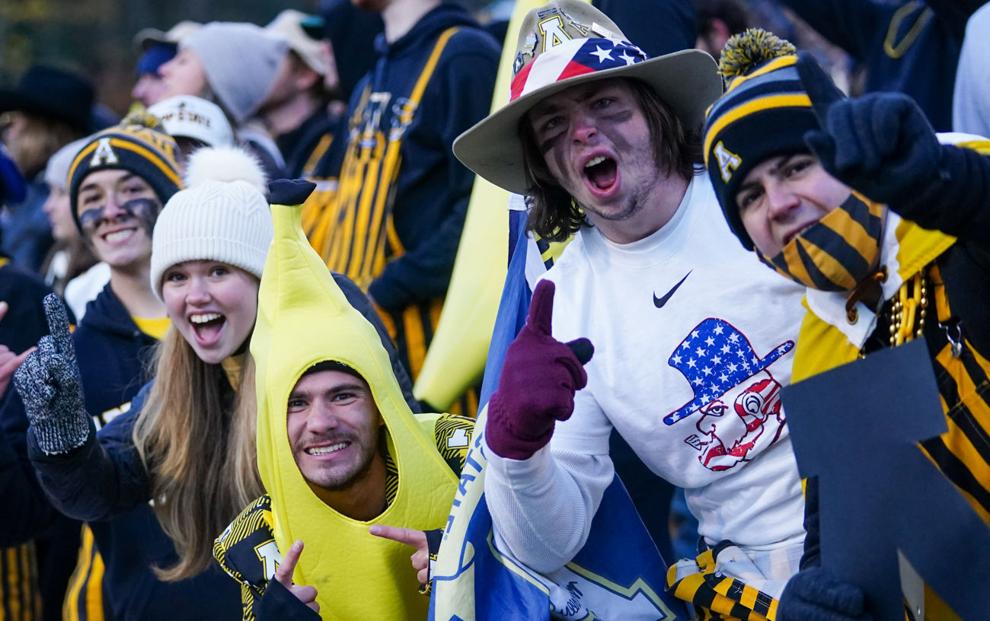 The historic rivalry between the Eagles and Mountaineers, especially during the two teams' tenure in the Southern Conference, was legendary. Since their simultaneous move to the Sun Belt and FBS level competition, the rivalry is not as intense, but still there.
Georgia Southern won the Sun Belt championship title in what was both schools' first year, 2014, but has not done as much since. Currently 3-8 overall after losing to No. 14 ranked BYU on Nov. 20, 34-17, and 2-5 in conference, the Eagles sit at the bottom of the SBC East Division.
Meanwhile, Appalachian is atop the East Division standings, 9-2 overall and 6-1 in conference.
While some prognosticators might say this is clearly App State's game for the taking with the Eagles and the Mountaineers polar opposites in 2021, record-wise, when it comes to this rivalry game nothing can be taken for granted. In 2019, the Mountaineers were cruising along undefeated, including an early season win over in-state Power 5 contender North Carolina, when Georgia Southern pulled some tricks out of their bag of goodies on Halloween to win, 24-21.
The Georgia Southern upset turned out to be the only blemish on App State's 13-1 season. Score one for the rivalry.
When Georgia Southern has the Ball
While the BYU sideline was hit by a horde of flying burritos at Paulson Stadium in Statesboro on Nov. 20, it is doubtful the Eagles sideline will suffer the same fate at Kidd-Brewer Stadium. Perhaps the Georgia Southern fans have a lot of pent-up frustration knowing that their beloved Eagles rank dead last in "scoring offense" in the Sun Belt and seventh in "total offense."
If anyone is confused by the GSU offense, it might be themselves. The word out of Statesboro is that all three top quarterbacks will be listed as "the starter" until the injury status of freshman Cam Ransom and redshirt junior Justin Tomlin is known later in the week. Both sat out the BYU game on Nov. 20, handing the reins over to redshirt freshman Connor Cigelske.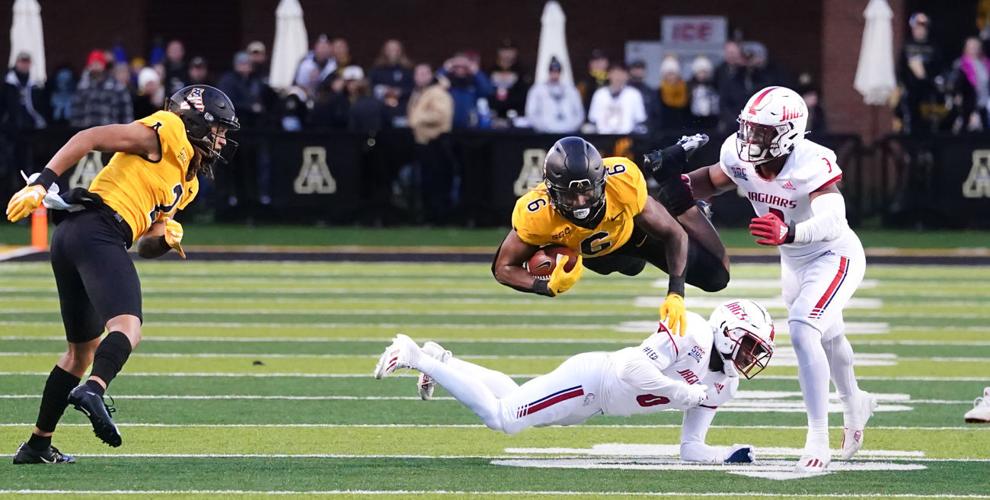 All three QBs have proven capable of running Georgia Southern's triple option offense. By running, that means they can run, too. While Cigelske only kept the ball eight times in his first action as a starter against BYU, he passed for 122 yards when not handing off to running backs Logan Wright, a redshirt senior, and Jalen White, a sophomore.
Look for White to do most of his damage running up the middle on dive plays, while Wright seems more likely to attack the perimeter. Whoever the QB is seems a threat for keepers both off tackle or around the edge with the option to pitch to an outside trailing RB.
The triple option requires defenders to quickly read and assess the QB's intentions. The simplest strategy may be to take away an RB's dive up the middle, most likely White's role. This forces the QB to attack outside or downfield. Rather than stack the box, which leaves the perimeter vulnerable, the onus is on the defensive tackles to read when the play is going to the middle and converge there, as well as for the middle linebackers to fill any gaps. This can allow the defensive ends to line up just a bit wider to contain a perimeter attack, supported by the outside linebackers. As with most offensive schemes, the best defense is to blow it up in the backfield, something App State's defensive front seven have done time and again.
Through 11 games so far this season, Georgia Southern ranks 7th in total offense in the Sun Belt Conference, averaging 347.1 yards per game and last (10th) in scoring offense, averaging 19.6 points per game.
Appalachian ranks No. 2 in the Sun Belt in scoring defense, giving up an average of 19.8 points per game and No. 2 in total defense, allowing just 328.3 yards per game.
When App State Has the Ball
What is intriguing about App State's offense is the run-first mentality — but with proven playmaking ability through the air.
Rolling up 451.5 yards of total offense per game, the Mountaineers are No. 2 in the Sun Belt, as well as No. 2 in scoring offense at 36.5 points per game on average. The team has rushed for an average of 199.0 yards per game (No. 3) and passed for an average of 252.5 yards per game (also No. 3).
It gets even more interesting when diving down into the individual statistics.
While running backs Nate Noel and Camerun Peoples are the No. 1 and No. 3 RB's in the conference, quarterback Chase Brice sports the second most passing yards per game average (242.5). What's more, three of the top nine receivers in the SBC hail from App State in terms of pass receptions, including No. 3 Corey Sutton (4.9 per game), No. 9 Malik Williams (4.3) and Thomas Hennigan (4.2).
The same trio rank in the top nine in receiving yards per game, too. Sutton is at No. 3 (74.6), Williams at No. 7 (66.8), and Hennigan at No. 9 (54.0).
To say that App State's offense is balanced would be an understatement. Earlier in the year, the University of Miami head coach Manny Diaz stated before the Hurricanes' matchup with the Mountaineers that Appalachian runs a unique "outside zone" rushing attack that is challenging to consistently defend. Meanwhile, only two other SBC quarterbacks have a higher pass efficiency rating than Brice's 151.6.
Georgia Southern ranks No. 8 in total defense, No. 7 in scoring defense, No. 7 in rushing defense, and No. 9 in passing defense. This year, there are 10 football-playing teams in the Sun Belt.
Sacks Against: App State (No. 1, 8 sacks), GSU (No. 5, 24)
First Downs: App State (No. 1, 262), GSU (No. 10, 197)
Placekicker Chandler Staton is No. 1 in scoring (96 points, 9.7 per game)
RB Camerun Peoples is No. 1 in TDs scored (13)
D'Marco Jackson, Nick Hampton, Demetrius Taylor and Ted Roof, Jr. are among the SBC leaders in QB sacks
Four Mountaineers are in the SBC top 10 in pass interceptions: Steven Jones, Jr. (No. 1, 5 (incl. 3 TDs), Trey Cobb (No. 4, 3, 1 TD), Ryan Huff (No. 6, 2), Ted Roof, Jr. (No. 10, 2)
Needless to say, based purely on statistics the Mountaineers should win this game. And yet, with the East Division title already sewn up and a berth in the championship game secured, will the normal starters be resting up or healing for the Dec. 4 championship? Will there be an emotional letdown, even if they play?
Then again, this is a rivalry game, too. Just as the season records and stats may mean little, the history between these two adversaries dating back for decades may have something to say about it, too.