BOONE — Watauga girls' basketball led the visiting Alexander Central hoopsters, 11-10, at the end of the first quarter, but the Pioneers later faltered when the Cougars turned up the heat with a smothering press defense in the second period. The final score in the Jan. 11 ACHS win was 58-46.
It is fair to note that Watauga girls' basketball is sharing players with the Pioneers' state tournament-bound volleyball team, the No. 1 seed in the state 3A Division's West bracket. At least five of the 12 athletes on the Pioneer basketball roster are on the volleyball varsity, so how much they have been able to practice with the basketball team is arguably in question.
What was not in question on this night, however, was the disruptive nature of the Cougar defense for most of this contest as well as the team's effective shooting, especially from long distance. ACHS shot 50 percent (8-of-16) from behind the 3-point arc, including three each from guards Reid Pennell and Sydney Hayes and perfect 2-fo-2 shooting by guard Chesney Stikeleather.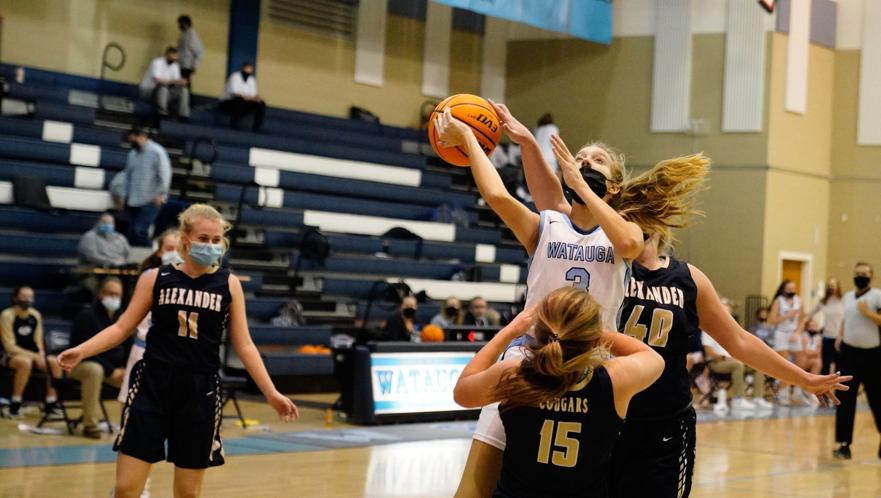 Stikeleather led all scorers with 16 points. Hayes poured in 13 and forward Nikki Hagy — who commanded the paint for a good part of the contest and grabbed a game-high 13 rebounds — contributed a dozen points from inside the paint.
The Pioneers got double-digit scoring from a trio of veterans, including forward Chelsi Hodges (11 points), Brelyn Sturgill (11) and guard Ava Williamson (12). Hodges and Sturgill, with nine rebounds apiece, were just one board away from double-double performances.
The second and third quarters were decisive periods for Alexander Central and their pressing defense, often full court, was on display. This caused turnovers, either creating steal opportunities or mishandles of the ball. Alexander Central came out on top in the second quarter, with an 18-11 scoring in the quarter to take a 28-22 lead into intermission. The Cougars then followed up with a 17-9 performance in the third period to all but put the game away.
Assists — ACHS 20, WAT 9
Blocks — ACHS 4, WAT 1
FG% — ACHS 37.7%, WAT 31.8%
3PT% — ACHS 50%, WAT 33%
FT% — ACHS 80%, WAT 70%
SELECTED INDIVIDUAL STATS
ACHS — Chesney Stikeleather (16 pts., 7 rebs., 4 asts., 3 stls., 1 blk)
ACHS — Nikki Hagy (12 pts., 13 rebs., 5 asts., 3 stls., 2 blks)
WAT — Chelsi Hodges (11 pts., 9 rebs.)
ACHS — Sydney Hayes (13 pts., 5 asts., 3 rebs., 1 stl.)
WAT — Brelyn Sturgill (11 pts., 9 rebs., 3 asts., 5 stls, 1 blk)
WAT — Ava Williamson (13 pts., 2 rebs., 1 ast., 2 stls)
WAT — Charlotte Torgerson (5 pts., 3 rebs., 3 asts., 2 stls.