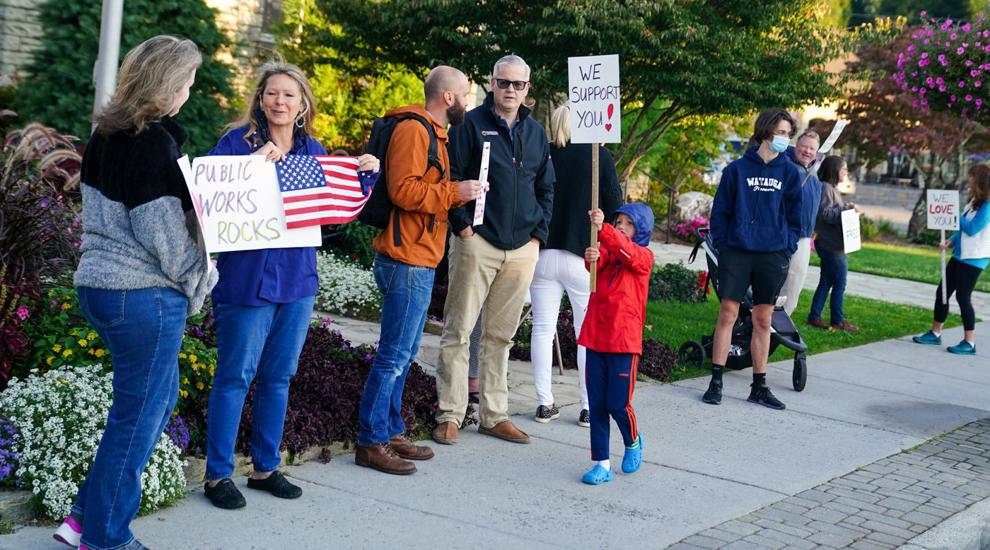 BLOWING ROCK — While it wasn't anything like the march on Montgomery or the massive demonstrations at the 1968 Democratic National Convention, it may have been Blowing Rock's best version of grassroots democracy. Although promoted the day before as a protest in efforts to rally participants, it morphed into more of a lovefest celebrating the town's employees on the morning of Sept. 10.
At 7:35 a.m., roughly a dozen "protesters" were in front of Blowing Rock Town Hall, called to action in support of the town employees who have not yet received a COVID-19 vaccination. On Sept. 7 the board of commissioners voted 3-2 to give the unvaccinated three choices: (1) Get vaccinated; (2) If not vaccinated, then submit to weekly COVID-19 testing; or (3) be terminated from employment by the Town of Blowing Rock.
Although the gathering was in response to the Sept. 7 vote, there was nothing in the way of acrimonious messaging in the signs carried by the protesters. Instead, the messages said, "Public Works Rocks," "We love police" and similar positive expressions.
Commissioner Virginia Powell, who immediately gave notice of her resignation from the board when the vote was taken on Sept. 7 and the motion passed, was front and center during the protest, along with family members. Powell's resignation, she said upon giving notice, was to be effective on Sept. 10, when the new policy was slated to go into effect.