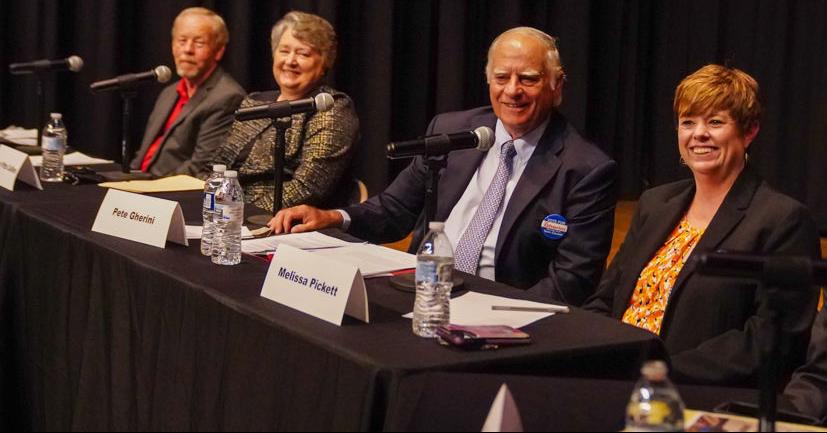 BLOWING ROCK — Before early voting gets too far along, we offer our version of a "Candidate Review" as an aid to voters. Our emphasis is on the contested race for Blowing Rock town commissioners where there are four candidates for three open seats.
Rather than asking them to speak about how they stand on current issues, our four questions focus on the candidates' preparation and qualifications for assuming the responsibilities of elected office, of becoming a representative of the people in what is essentially a legislative role.
Our format is simple. We have four questions and, for easy reader comparison, present all of the candidate answers for each question, question by question. We hope our readers find these as illuminating as the Chamber of Commerce candidate forum on Oct. 4, as well as the videotaped Q&A sessions hosted by Blowing Rock Civic Association. The order of candidate answers was determined alphabetically, by last name, in ascending order.
Editor's Note: The candidate responses have only been edited for uniform formatting, not for punctuation or grammar. In all cases, their words are their own. We offered no guidance regarding brevity nor restrictions on length of the answers.
Should you get elected, what have you done to prepare for the position?
Foremost, I have prayed about this position. I have communicated with citizens about town concerns. I have reviewed the role of a council member. I have reviewed the budget and town ordinances. I have attended council meetings. I feel the knowledge of working with state government will help me in understanding the differences of local issues.
Over the past four (4) years I have prepared myself to better serve Blowing Rock and its citizens by:
Attending all Blowing Rock Town Council meetings to listen and learn about the issues before Council, how those issues are raised and handled and how the Town Manager, Mayor and Town Attorney interact to complete Town business. I have also observed how Council solicits and treats input from citizens and taxpayers and believe we can do a better job in this area.
I have read completely the Town budget and have had multiple conversations with the Town Manager about the sources of revenue and the discretionary and non-discretionary expenditures.
I have solicited input from the citizens of Blowing Rock about issues they feel are most critical to them. This has led to the establishment of lines of communication that will serve me and the citizens going forward.
I have introduced myself to and have continuing communication with our Town Manager, Shane Fox and Planning Director, Kevin Rothrock, Mayor, Charlie Sellers and several current Council Members. This contact helps me balance input from citizens with the many unseen external challenges that often face Council in their decision making.
I have involved myself by volunteering for Boards and organizations which will be outlined later.
I have attended any and all meetings, report sessions, retreats, in person or virtually, where topics important to the Town are discussed.
My business experiences over the past forty (40) years of starting and managing multiple businesses has provided the opportunity to listen and learn from experts with a broad spectrum of expertise. Details regarding that experience are available at my website petegjr.com for those interested.
What I have learned serving as a council person has prepared me a lot for the position. Listening to the people of Blowing Rock has really prepared me for making decisions and I have also worked to be involved with educational opportunities to help me better understand the issues and represent the people of Blowing Rock. Most recently I have completed the UNC School of Government Advanced Leadership Corps, the League of Municipalities Diversity and Equity program, Board and Council Roles and Responsibilities (NCLM), and the UNC-SOG Effective Communication Course. And I am still more of a listener than a speaker.
I have faithfully attended Blowing Rock Town Council meetings, at Town Hall and virtually, for several years. This has enabled me to keep current with issues impacting our town and to contribute where appropriate. I have been appointed to serve on and chair not only a Town Commission, but also the boards of the Blowing Rock Chamber of Commerce and the Rotary Club of Blowing Rock. These have given me wide access to input from citizens that in turn have driven initiatives. Furthermore, when issues arise that require clarity, I continue to rely on our town staff who have always graciously shared their knowledge and expertise.
Leading up to this election, what Blowing Rock volunteer boards (BRAAC, ABC, TDA, Planning) have you served on and why are those service roles relevant to prospective service on Blowing Rock town council?
I have not served on any Blowing Rock boards due to the timing of retirement and Covid-19 becoming an issue. I feel the boards are necessary because it gives a public perspective, based on current ordinances , to provide necessary guidance for the town council to make rational decisions.
For the past four (4) years I have served on the Blowing Rock Planning Commission, the past two (2) years as it's Chairman. One of the most controversial and spotlighted areas of concern when it comes to balancing preservation of our village atmosphere and the progress needed to provide for families to live and grow in Blowing Rock is our Land Use Code. Outdated Code can actually lead to unintended outcomes. For four (4) years I have read and studied the code, application forms and proposals. This is a critical area of importance to citizens but it is complex at times. To be without a working knowledge of the Land Use Code would likely put a member of Town Council at a disadvantage or at least require significant time dedicated to the study of this important body of knowledge.
I am a member of the Blowing Rock Parks and Recreation Advisory Committee charged with recommendations for how Town properties would be designated for recreational needs. The obvious relevance here is the use of our Town property to maintain the village atmosphere and use for Blowing Rock families.
I will list other Blowing Rock civic organizations of which I am a member and just say that collectively these organizations are informative to me and the role I would play as a member of Town Council.
Blowing Rock Chamber of Commerce
Blowing Rock Historical Society
Blue Ridge Parkway Foundation
Blowing Rock Art and History Museum
Blowing Rock School Scholarship Fundraiser- Village Foundation
Blowing Rock and Watauga County Parks and Recreation Commissions, Blowing Rock Volunteer Fire Department Executive Committee, and the Blowing Rock Tourism Development Authority. Serving both Parks and Rec agencies helped me to understand the different ways of looking at funding for recreational things that people would like to have available. Over thirty years with the fire department and several years as chief taught me the importance of management decisions and prioritizing budget items that are needs and not just wants. Serving on the Blowing Rock Tourism Development Authority Board is very relevant to being on the town council because the TDA is at the center of the difficult balance between how residents feel and supporting a major part of the town's local economy.
I have served on and currently chair the Blowing Rock Appearance Advisory Commission (BRAAC) where we work to promote and enhance the natural beauty of our mountain landscape. Our objective is to help preserve and protect our publicly maintained spaces. We do this by providing input and advice to Blowing Rock staff and Town Council. Since I have served on BRAAC, it has evolved from a volunteer organization to a town-appointed commission. As such, this experience has informed me of the processes and procedures that are necessary to bring issues before Town Council for their consideration, such as ordinances, policies, and proposals for public/private partnership projects.
What civic organizations or municipal agencies have you served on or in, in other jurisdictions and why is that service relevant to service on Blowing Rock town council?
I served in Pender County disaster relief. I served with  our church's food bank.  Sunday School teacher for Special Needs.  Special Olympics volunteer. Bereavement committee for families of lost firefighters, law enforcement and first responders.  I feel these are relevant to serving on Blowing Rock town council because these agencies allowed me to serve with various individuals from all walks of life, while obtaining collective goals.
I'm going to take the second part of this question first as the relevance is common with all of my other experiences. Each of the Civic and Municipal organizations I have served have themselves served to educate me by allowing me to learn and grow from being exposed to a great many experts over a variety of industries and endeavors. I have worked with expert economists and law enforcement, business and marketing, educators and politicians. The sum of these experiences is what I bring the Blowing Rock Town Council.
President, Santa Barbara Chamber of Commerce
National Council on Vocational Education
Commissioner, San Francisco Bay Conservation and Development Commission
Chairman, Santa Barbara Downtown Organization
Commissioner of Housing and Community Development for the State of California
Milton Marks Commission ( Little Hoover) on California State Organization and Economy
Vice Chair Santa, Barbara Airport Commission
President Santa Barbara Sherriff's Council
Board, Alaska Visitor's Association Marketing Council
For those interested, more information is available at my website petegjr.com.
a. Serving as Secretary on the Board of Directors for the High Country Council of Governments is relevant because I have been fortunate to build many relationships that we can call on to help Blowing Rock in knowing how other towns are handling their problems. Being elected to the at-large member of the Board of Directors of the North Carolina League of Municipalities has been very helpful to serving Blowing Rock. The funding, grants, and financial information and examples from 561 other towns in the State are always good to know and relevant to serving on Blowing Rock Council.
I have served or currently serve on the Archive, the Artist in Residence, and the Events committees of the Blowing Rock Historical Society; the Community and Government, the Economic Development, the Event and Tourism Development, and the Membership committees, as well as the Executive Board of the Blowing Rock Chamber of Commerce; the Finance and the Governance committees of the Hunger and Health Coalition; and the Rotary Club of Blowing Rock as chair of the IMPACT club.
Serving these organizations over the past twenty years has taught me, first and foremost, the importance of listening as well as the virtues of patience, compassion, and commitment and how they all contribute to effective plans, policies, and solutions.
What do you feel are the three biggest challenges facing Blowing Rock currently, and why for each one?
a. 1. Covid-19 Mandates- I feel the decision to terminate the dedicated town employees due to not obtaining the vaccines or testing is unreasonable. The Covid-19 testing in my opinion is not the issue. There are many individuals that cannot take the vaccine for whatever reason. That should be their decision. We still live in the land of freedom of choice. The town employees earn sick days, therefore, these sick days should be allowed for whatever the illness. Our town employees also wear masks and socially distance. Disciplinary actions should be left up to the town manager. There should be other alternatives than dismissal.
2. 24-7 Ambulance Service- this continues to be an issue. This is controlled by the county commissioners. It is imperative that the town council work in conjunction with our county commissioners to establish a good model for all of Watauga County. We must understand that there will not always be a 24-7 transport stationed in Blowing Rock due to being pulled for standby once another unit has to leave the county or, is out of service, on another call. We have very capable Fire EMT/Paramedics that are able to sustain the patient until a transport ambulance arrives. My thoughts are to have a Quick Response Unit for the town that can arrive with all equipment but cannot transport.
3. Public Safety- Parking is an age old problem, along with pedestrians on Main Street. The pedestrians walking in undesignated crosswalks needs to be addressed. Main Street needs more legally marked and posted crosswalks. It is not safe to drive down Main Street due to the inattention of pedestrians. This is a public US highway that must remain open to everyone. In my opinion on days of high volume, there needs to be an additional presence of law enforcement. We have a wonderful BRPD. This is an issue that can be resolved without raising taxes by merely adjusting work schedules.
1- Parking- this is an issue at the top of so many people's concern list. This issue must be solved and fairly quickly. I believe most everyone knows what needs to happen so it's a matter of making the best choice decisions to get this done in the near term.
2-EMS/ Medical Transport- there is intense pressure being placed on Blowing Rock Town Council to pay for services that are essentially the responsibility of Watauga County Commissioners. Taxpayers in Blowing Rock already pay significantly higher property taxes to Watauga County based on assessed property valuations. The reason this issue is so important is the decisions made in addressing the EMS are likely to set precedent for how Blowing Rock and the Watauga County Commissioners engage on future matters. There should be some accountability for what the North Carolina legislature has authorized the county to provide if the County is to maintain the taxing authority for that service.
3- Main Street Infrastructure- water/sewer lines on Main Street are scheduled to be replaced next year. The likely useful life of that installation may be fifty (50) years. Whether to bury the overhead cable, electric, telephone lines etc. while we have open access is the question. The supposed cost is the issue. The sources of funding to offset Town costs are yet uncertain. As Mayor Charlie Sellers recently said, tourists may 50 years from now be coming to Blowing Rock to view our antiquated overhead power lines. This is a very large issue and it has a very long tail if not managed properly in the short term.
Infrastructure and Services
Even though we passed a bond to start on some of these neglected problems, we have only made a dent in our problem of aging water and sewer lines. Updates to our water and sewer plants are needed and storm water drainage continues to be a problem with the type of rains we are having now. We need to continue to make sure we are doing everything we can to support our town departments as our visitors and residents numbers increase so that we keep our high level of services that Blowing Rock is known for. This includes continuing to work to get the ambulance service that our area needs.
Lots of people say that parking in Blowing Rock is a good problem to have. I think this is true until it's not. If we don't take steps to solve the parking and traffic problems then the experience of coming to our town will become a bad experience for many and they will choose somewhere else next time. We have to invest in creating policies, enforcement, and parking area solutions to make sure this problem stays a good problem to have.
Kind Respectful Collaboration
Working together will be the only way we can really be successful as a community. Every citizen or group's ideas have some details that are valid. Not everyone agrees about all of the details. But we can listen to each other and find the things we agree on and get a lot done. I believe that the division between groups and individuals and attacking each other will slow us down and that's not what Blowing Rock is about. We've always had different groups of people and some real different individuals in Blowing Rock and they have always agreed and disagreed with kindness and respect.
More than likely, a poll would would expand a prioritized list of the biggest challenges currently facing Blowing Rock beyond the count of three! If elected to serve on the Blowing Rock Town Council I would like to work with our residents, Town staff, our town manager, fellow Council members, and our Mayor to address the following issues.
We must maintain our momentum to update and maintain our town's infrastructure in order to support our quality of life and to minimize costly disruptions.
We need to advance initiatives to develop strategies and tactics to implement near and long term plans in order to achieve solutions to issues impacting both full and part-time residents as well as visitors to our community. These include way-finding, vehicular and the pedestrian traffic, and parking.
Occasionally well-intentioned proposals are raised without the benefit of widely generated input. It is imperative that we achieve a more united working relationship between Town Council, town staff, community organizations, and individuals so that we can first recognize and agree upon the big picture; that is, what we need as residents of and for the Town of Blowing Rock. This will surely establish a greater springboard for proposals and plans.