HEAVENLY MOUNTAIN — The area where a landslide contributed to a fatal home collapse on May 30 was previously identified as a high hazard area for slope instability — and dozens of landslides have occurred there within the past century.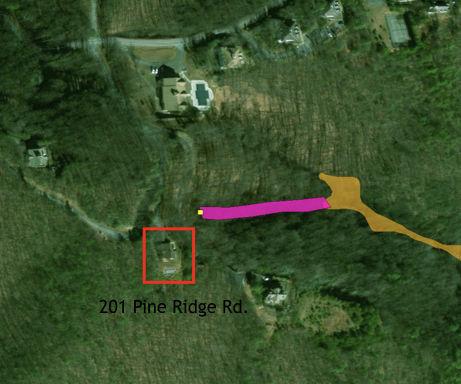 In fact, the landslide at 201 Pine Ridge — a factor that investigators said led to a buildup of propane gas and an eventual explosion that killed Jim and Audri Lanford — was located within a few hundred feet of a significant landslide that occurred during the devastating 1940 floods, according to a map comparison by geologist Anne Witt of the Virginia Division of Geology and Mineral Resources.
These hazards are known and documented in Watauga County because Watauga is one of only four N.C. counties to have had landslide hazard mapping completed before the state discontinued funding for the program several years ago.
But although this resource is available, the maps can be challenging to interpret without the aid of an expert, and there are no laws requiring property owners to be notified of such hazards — leaving it up to landowners, developers and homebuyers to educate themselves.
Mapping the risks
Watauga was among the Western NC counties worst hit by the remnants of Hurricanes Frances and Ivan in fall 2004, which walloped the region with heavy rains that led to flooding and landslides.
In the White Laurel subdivision off of Bamboo Road, a landslide caused six houses to be condemned and deemed uninhabitable by the town of Boone, including one home that was completely destroyed while its occupants were still at home, according to Watauga County Commissioners meeting minutes and information from Ellen Cowan, geology professor at Appalachian State.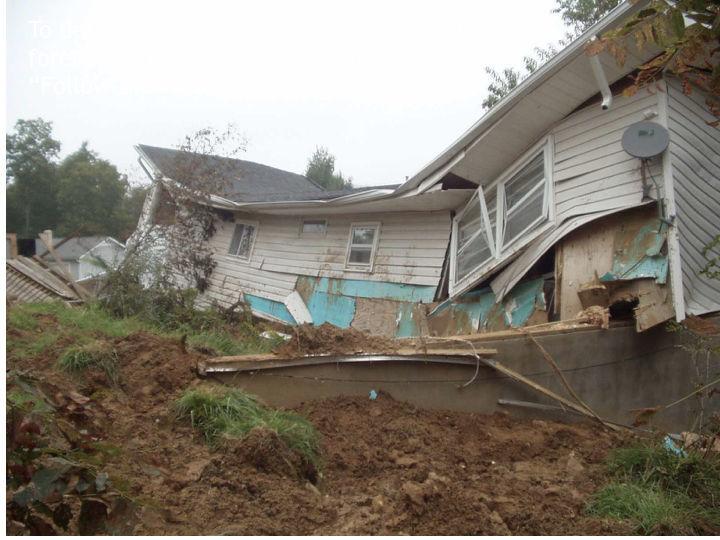 "When that happened, that really got the attention of the state," Cowan said.
In response, the General Assembly passed the Hurricane Recovery Act of 2005, which among other actions, authorized the North Carolina Geological Survey to produce landslide hazard maps for 19 western counties.
"People could not know the landslide risks associated with their housing location because such maps are not readily available," the legislation stated. "The state needs to update current flood mapping for and prepare landslide zone mapping for the region so that homes may be rebuilt in safe areas. Homes lying within flood and landslide zones need to be relocated to mitigate the possibility of further damage to life and property should subsequent events occur."
Macon County was the first to be mapped, followed by Watauga, "because of the large number of landslides and the 14 landslide deaths associated with the Aug. 13-14, 1940, storm, and the fast-growing population potentially at risk from slope movements," the NCGS said.
In developing the study and maps for Watauga, the NCGS utilized aerial photography, including photos taken after the 1940 floods, and visited 2,200 field sites. In January 2008, Rick Wooten of the NCGS presented the maps and findings to the Watauga County Planning Board, noting that 2,253 landslides had been documented in the county since 1940 and at least 32 structures had been damaged or destroyed by landslides in the same timeframe.
The NCGS found that 20 percent of the county is located within high hazard areas for landslides on the Stability Index Map, 41 percent of the county is within a potential landslide pathway and that at the time, 136 structures had been built on the tracks of 1940 landslides.
The NCGS delivered four maps to Watauga County, including the Stability Index Map, which shows where landslides could occur in the future, as well as maps detailing past slope movements, debris flow pathways and zones of potential rock slope instability.
The NCGS emphasized, however, that the maps were "not the final word" and not a substitute for a detailed site analysis.
Sliding to a halt
Following the presentation, the county posted a link to the maps on its website.
At the state level, House Bill 1756, the "Safe Artificial Slope Construction Act," was introduced in 2007; it would have required local governments to adopt ordinances regulating the construction of artificial slopes in mountainous areas and would have required the disclosure of landslide hazards by real estate professionals to purchasers of properties located in areas vulnerable to landslides as indicated on the NCGS landslide hazard maps.
The bill was met with opposition from various interest groups, who argued that multiple factors on a property contribute to slope stability and that it should be up to property owners and financial institutions to determine the risks, according to media reports. The bill ultimately did not pass.
Hazard mapping was subsequently completed for Buncombe and Henderson counties, but in 2011, the state discontinued funding for the program.
"At that point they had different priorities," said Wooten, who continues to work with NCGS as the senior geologist for geohazards and engineering geology in the Asheville Regional Office.
Joe Furman, planning and inspections director for Watauga County, said his office has received a "handful" of inquiries about landslide hazards through the years.
"We help them try to read the maps as much as we can, and then refer them to geologists or geotechnical engineers," Furman said.
'Need to be aware'
Cowan teaches a course on geomorphology for geology majors at Appalachian State.
"Because we're in Watauga County, we kind of use this as our laboratory," she said. Just weeks before the late May flooding and mudslides, Cowan and NCGS staff had scouted the locations of deadly 1940 landslides in eastern Watauga County in preparation for a student field trip in the fall.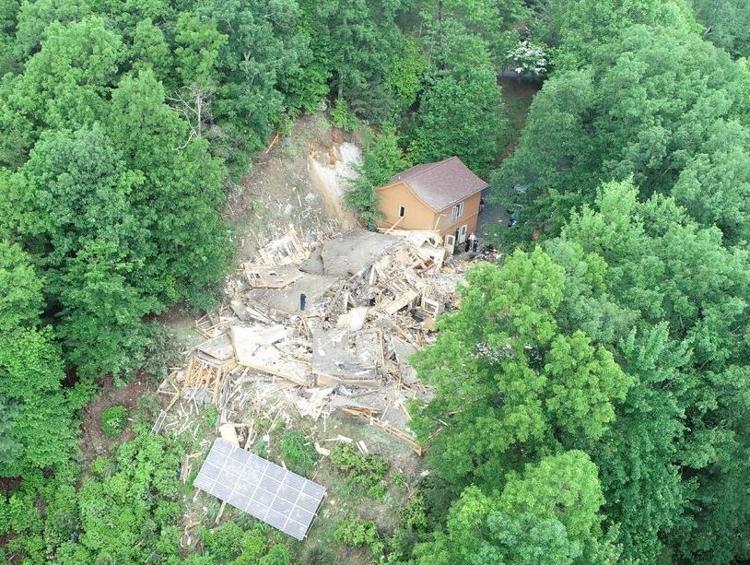 "All along the Blue Ridge are places where we need to be concerned, because these moisture events are the triggers," said Cowan, who noted that landslides often occur after a period of soaking rain followed by an intense rainfall. "People who live in Watauga County really need to be aware of these stability hazards."
The town of Boone adopted its own steep-slope ordinance in 2006, but those regulations no longer apply to areas in the former extraterritorial jurisdiction outside of town limits, as the town lost its ETJ authority in early 2017.
"We often times think that our safety is being looked after by the county or the city, but ... as a landowner, you have to be looking after yourself," Cowan said.
Cowan encouraged those who are interested to find the approximate locations of their properties on the Watauga County hazard maps — available via the county's Planning & Inspections office webpage or at http://tinyurl.com/yd5ujfcl — to "get an idea if it's even something you need to worry about."
If the site appears to be in a hazardous area, contact a licensed geologist for further review, she advised. In addition, the county Planning & Inspections office has access to GIS versions of the maps that can provide more detailed information than the maps that are available online.
Wooten said he is planning to visit the Heavenly Mountain site to document the recent landslide and add it to the NCGS landslide geodatabase.
He noted that since 2004, NCGS has worked with the National Weather Service offices in Blacksburg, Va., and Greenville, S.C., to determine rainfall conditions that can trigger debris flows so that landslide hazard language can be included in public advisory statements.
"The connection between weather and geology is pretty important in those situations," Wooten said.