BOONE — The new catering and conference area in Appalachian State's new north end zone facility will accommodate between 300 and 400 people and will be available for rent by the community, the Boone Town Council was told on Jan. 27.
Nick Katers, Appalachian State associate vice chancellor for facilities, appeared before the council at a special meeting to present information on ongoing capital projects and parking at the university.
The $50 million, four-story, mixed-use end zone facility at Kidd Brewer Stadium is currently under construction at the site of the former Owens Field House. The first phase is planned to open in time for the fall 2020 football season and will include retail spaces, box seating and catering space.
"This will be much more representative of a real FBS school," Katers said.
The project is being funded through donations to an athletics capital campaign, club seat revenue, Food Services revenue and debt through Millennial Campus designation, which will be repaid using tenant lease revenue, according to ASU.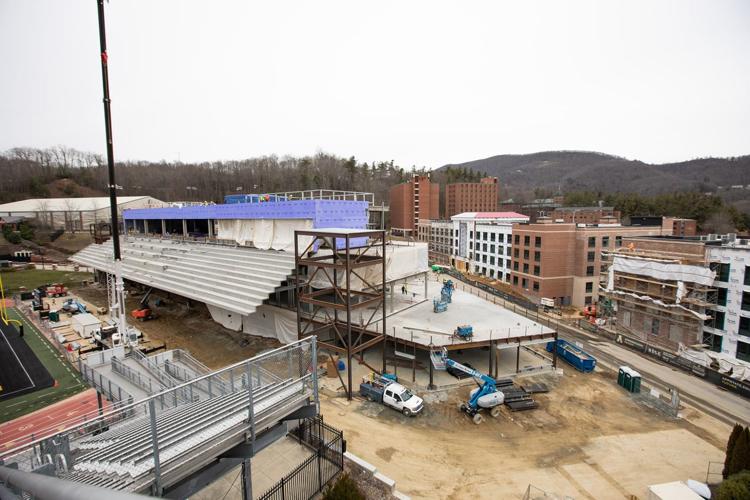 Boone Town Manager John Ward said there has been discussion amongst the Boone Tourism Development Authority and the Boone Area Chamber of Commerce about providing shuttle transportation to and from area hotels to the end zone facility for conferences and other events.
Ward noted that the facility will help fill a need that emerged after the closing of Appalachian's Broyhill Inn and Conference Center.
"We lost so much when we lost the Broyhill," Boone Town Councilperson Loretta Clawson said. "I hope we will be able to use some of this as a community venue."
"Absolutely," Katers replied.
The new football game seating area on the exterior of the facility will include six-seat and four-seat boxes, which include refrigerators. Food can be delivered to the boxes, Katers said.
"It's going to be a pretty nice changeup from some of the minimalistic amenities we had in the stadium before," he added.
Eventually, the home team locker rooms will be moved to the new facility, and the existing locker rooms in the Mark Ricks Athletic Complex will house the visiting teams. The building will also accommodate various athletics and academic uses, including athletic training and nutrition science.
The Jerry Moore Plaza at the facility, which will include a statue of the former Mountaineers head football coach, will not be ready in time for the 2020 season, Katers said, and is planned for completion in 2021.
Additional stadium improvements planned for later this year include replacement of the field turf and regrading of the south end zone hill. The field will be 30 percent larger once this is completed, Katers said.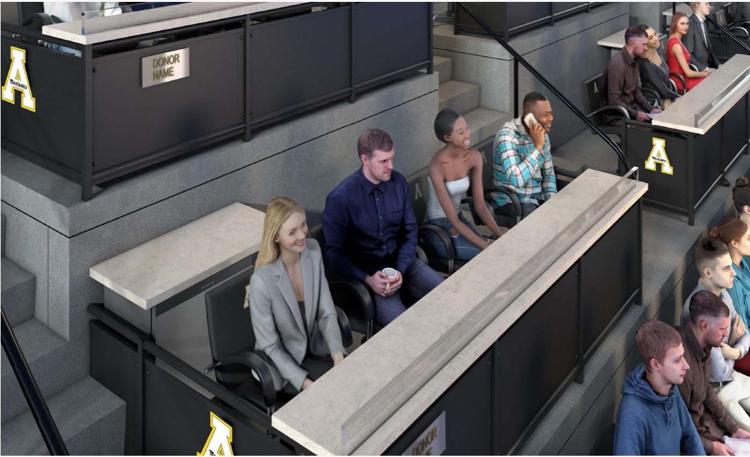 Residence halls
Buildings 100 and 200 of the $191 million public-private housing project in the stadium area are about 70 percent complete, Katers said. ASU projects a fall 2020 completion date for the buildings.
The third of the four buildings, building 300 — located next to the new parking deck in the former stadium parking lot — is planned to begin construction this winter, university officials said last month. And Justice Hall — where the last of the four, building 400, will be constructed — is slated for demolition between mid-May and early July of this year, said Katers. Buildings 300 and 400 are slated for completion in fall 2021 and fall 2022, respectively.
Matt Dull, associate vice chancellor for finance and operations at ASU, said in an interview last month that a committee has been charged with recommending building names for 100, 200, 300 and 400, and at that time recommendations were expected within the coming weeks.
The courtyards of the buildings, which are U-shaped, will be green space, Katers said, noting that the project would result in a small net increase of green space compared with the previous facilities.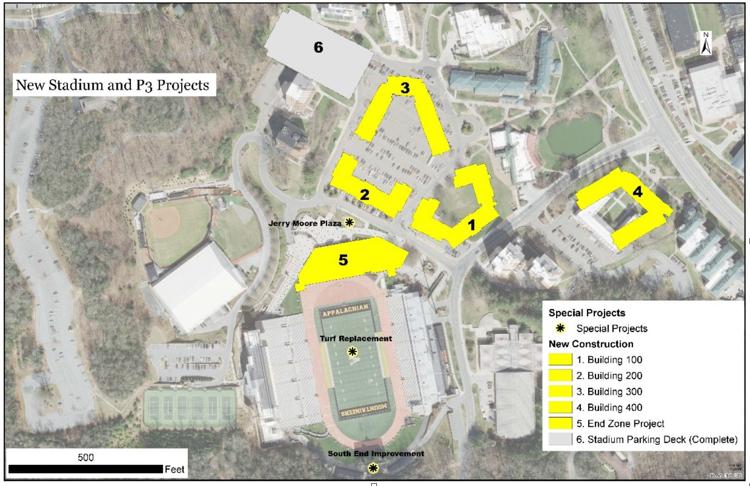 Energy plans
Boone Town Councilperson Nancy LaPlaca asked if the university's plans include net-zero buildings — buildings that offset their energy usage with renewable energy created on site.
Katers said that the planned Innovation Campus at the former Broyhill Inn site could feature the campus' first net-zero building.
"We're not there yet," Katers said, adding that university leaders are waiting for technology to prove itself in the governmental/institutional sector.
In response to LaPlaca's comment about Appalachian's current solar capacity of 170 kilowatts, Katers hinted at plans to expand, but said he was limited in what he could say before plans are presented to university leaders.
"We're going to have a megawatt while you're sitting in that chair," he told LaPlaca.
Ward noted that Appalachian and its Boone area electric utility, New River Light & Power, funded a sizable portion of the design costs for the burial of utility lines as part of the Howard Street project.
"The days of overhead utilities are gone," Katers said. "We will help you get rid of them all."
Katers also said he believes that AppalCART will be able to acquire electric buses sometime in the next 12 to 18 months.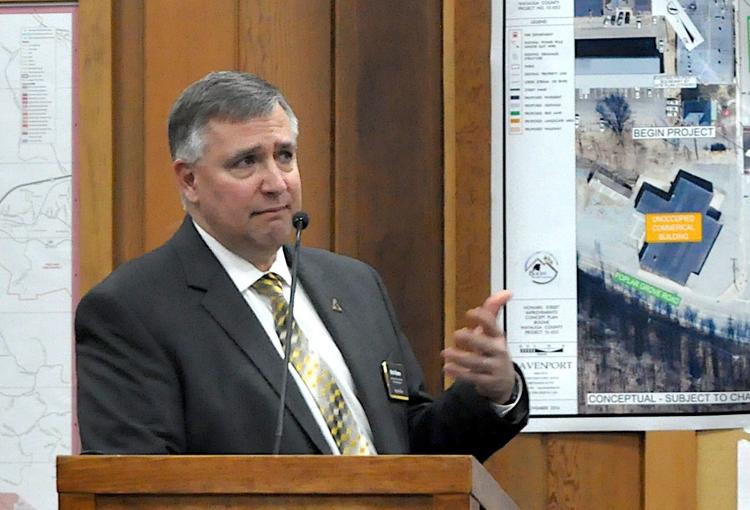 Other projects
Katers also mentioned that plans for a parking deck and daylighting of Boone Creek in the Peacock Lot area continue to evolve, with some concerns expressed about the potential height of the parking deck.
But any reductions in parking deck height would spread the deck area further toward the daylighted stream area, he noted, if the deck is to include the desired 600-plus spaces. About 479 spaces would be lost to the greening of the area for the stream daylighting, he said.
"It's going to be a tradeoff," Katers said.
Boone Town Council Member Sam Furgiuele said this was a unique situation in which greater height could be more advantageous than spreading out.
The project will likely be constructed in phases, Katers said, starting with the parking deck, then an expansion of Peacock Hall and finally with the daylighting of the stream.
The Appalachian 105 campus at the former old Watauga High School will include new athletic facilities, including a track, tennis courts and softball field, but further plans for the site are unresolved, Katers said.
A hotel and conference center was among ideas on a short list of proposals in 2018, according to past meeting materials, but Ward said Jan. 27 that universities are moving away from lodging projects. Katers noted that a hotel project proposed by a UNC system university was recently rejected by the Board of Governors.
Katers said the university could develop the State Farm property to provide additional space for staff who are currently in offices leased in B3 zoning districts. An administration building could be erected at the site of the current State Farm parking lot, with a parking deck.