Following is a summary of key information related to COVID-19 (novel coronavirus) and impacts in Watauga County and surrounding areas. Visit wataugademocrat.com/covid19 for additional coverage on the virus and its impacts. For editorial tips and questions, email editor@wataugademocrat.com.
The Watauga Democrat office is currently closed to the public, but our staff is still available to serve you. For your circulation, classified, advertising and news needs, please call (828) 264-6397. 
---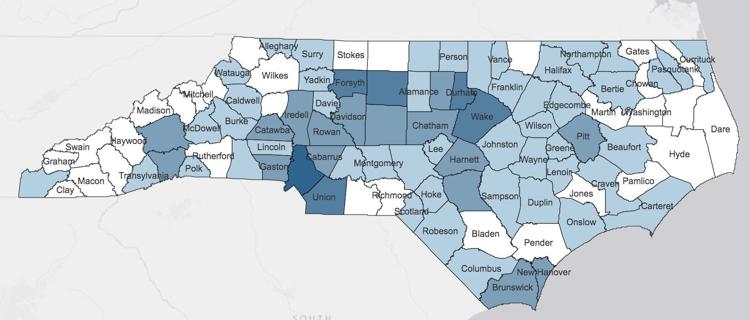 NC COVID-19 CASE COUNT: 1,186 positive cases in North Carolina as of 9:15 p.m. March 29, including five (5) cases in Watauga County. Six COVID-19-related deaths in N.C. More info: Click here.
STAY AT HOME ORDER: Effective March 30, for 30 days, N.C. residents are mandated to stay at home unless going out for an essential job, food, medicine, outdoor exercise or to help someone. The order by Gov. Roy Cooper also bans gatherings of 10 people or more and directs people to stay at least six feet away from each other. More info: Click here.
PARKS & REC:
SCHOOLS: North Carolina public schools are closed until May 15. More info: Click here. Watauga County Schools are operating seven feeding sites across the county. Parents from any school may pick up takeout meals at any of the designated sites in a drive-through line, or ask to have them delivered. More info: Click here.
HOSPITALS: ARHS has established a new telehealth and drive-through testing process for COVID-19: More info: Click here. Appalachian Regional Healthcare System has banned visitors at Watauga Medical Center and Cannon Memorial Hospital, except on a case-by-case basis for:
Hospitalized minors
Patients at the end of life
Patients needing help with communication or decision making
Patients giving birth
For more information on ARHS's COVID-19 response, visit https://apprhs.org/COVID19.
Screening, visitation limits in place at Foley Center. More info: Click here.
LOCAL GOVERNMENT OFFICES: Watauga County announced on March 20 that all county buildings would be closed to the public effective March 23, but remain on normal operating hours. More info: Click here. The town of Boone provided an update on town operations on March 24. More info: Click here. Previously, the towns of Boone, Blowing Rock and Seven Devils closed public access to their offices. More info: Click here.
RESTAURANTS/BARS: As of 5 p.m. Tuesday, March 17, dine-in options for all restaurants and bars in North Carolina are disallowed. Takeout and delivery options are still available. More info: Click here.
COMMUNITY AID & WAYS TO HELP:
App State, Blue Ridge Energy launch emergency funds. More info: Click here.
Virtual Dinner Concert Series. More info: Click here.
Care Box (food for service industry workers), Virtual Tip Jar, faith community food pickup sites, Quiet Givers Emergency Relief Fund, High Country United Way COVID-19 Relief Fund for nonprofits. More info: Click here.
Hunger & Health Coalition, Hospitality House food pantry, Christian Outreach Center, Quiet Givers.More info: click here.
Watauga County Schools are operating food sites at 7 locations Monday-Friday, plus food boxes & pantries at 17 more sites. More info: Click here. 
LAW ENFORCEMENT & COURTS: Boone Police are implementing new safety protocols, and Sheriff Len Hagaman has issued policies and recommendations related to the Watauga County jail.More info: Click here. N.C. courts have been directed to continue cases for at least 30 days. More info: Click here.
COLLEGES: Appalachian State moved many classes to online instruction beginning on March 23. The university will follow UNC system and CDC guidelines about large events and mass gatherings. Commencement ceremonies scheduled for May will be not be held on campus and will instead be held online, or grads can walk in December. More info: Click here. Lees-McRae is also moving classes online and canceling events with 20 people or more. More info: Click here. CCC&TI suspends classes, activities for week of March 16; most classes moving online. More info: Click here.
APPALCART: Until further notice, AppalCART will only be running the Green, Red, Orange, Pop 105 and Purple routes while Appalachian State University classes are meeting online, according to the Operations Manager Twitter account. Passengers required to board and exit through rear door of bus, with exceptions for those who need special assistance. Routes and paratransit service will follow the "break schedule" while ASU classes do not meet in person unless there is a demand to increase capacity. Rural route and Project On Aging route schedules remain the same. For more information, visit www.appalcart.com and follow twitter.com/AppalCART.
PHARMACIES: Boone Drug pharmacies offering drive-throughs, curbside pickup, delivery. More info: Click here.
UTILITIES: Blue Ridge Energy is closing its offices beginning March 16 and is taking steps to ensure no disruption to business operations and service to customers. All public gatherings and business meetings at its offices are canceled and it encourages public to utilize online services. New River Light & Power will be closed to the public until further notice. NRLP employees will continue reporting to work so there will be no disruption to operations or electric service. The drive-thru window will remain open for customers, but online payment is strongly encouraged.
CANCELLATIONS: 
SPORTS: The North Carolina High School Athletic Association has suspended the spring season until May 18. More info: Click here. The Sun Belt Conference has suspended all regular-season and championship athletic events indefinitely. More info: Click here. Watauga Parks and Rec suspends activities until May 18. 
TAKE PRECAUTIONS: People are encouraged to take common sense precautions to prevent the spread of all infectious diseases, including COVID-19:
Wash hands frequently with soap and water for at least 20 seconds at a time.
Avoid touching your eyes, nose and mouth with unwashed hands.
Avoid close contact with people who are ill.
If you are sick, stay home.
Cover your mouth and nose with a tissue when you cough or sneeze.
Do not reuse tissue after coughing, sneezing or blowing your nose.
Clean and disinfect surfaces that are frequently touched.
MORE INFORMATION