BOONE — Standing beside the Veterans Memorial on Appalachian State University's campus, former student Barbara Ashley recounted one of her earliest memories — standing in her front yard at Fort Bragg as she watched soldiers, including her father, jump out of airplanes.
Barbara shared her recollections and insights about the experiences of military spouses and families at the university's 2021 Veterans Day Ceremony, where more than 100 people gathered to honor and commend those who have served in the armed forces.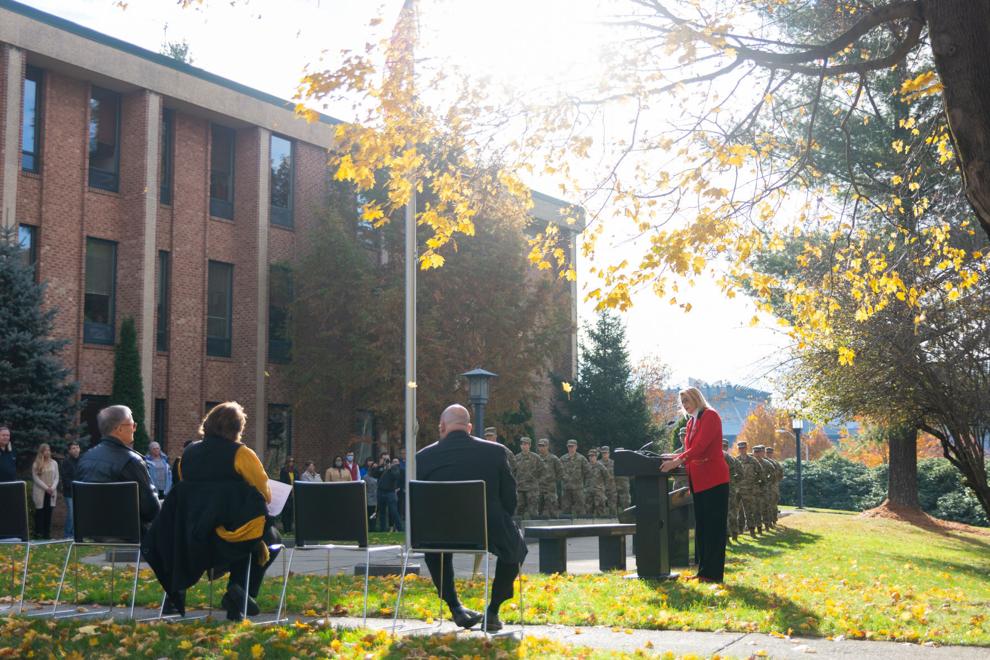 The ceremony included remarks from Chancellor Sheri Everts and Vice Chancellor of Student Affairs J.J. Brown.
"By recognizing this important occasion, we are expressing gratitude to all veterans, and especially to our campus heroes," Everts said, noting that App State employs 76 staff and faculty veterans and enrolls 384 student veterans and nearly 750 military spouses and dependents.
Barbara, an entrepreneur, spent 35 years as an active-duty military wife to Lt. Gen. (Ret.) Robert "Bob" Ashley — recipient of App State's Distinguished Alumni Award and former director of the U.S. Defense Intelligence Agency.
During the ceremony, cadets in App State's Army ROTC presented the colors, and Brent Bingham, arts production specialist and lecturer in App State's Hayes School of Music, performed the national anthem.
Tradition of military support
Brown said the university has been nationally recognized for its work to support veterans.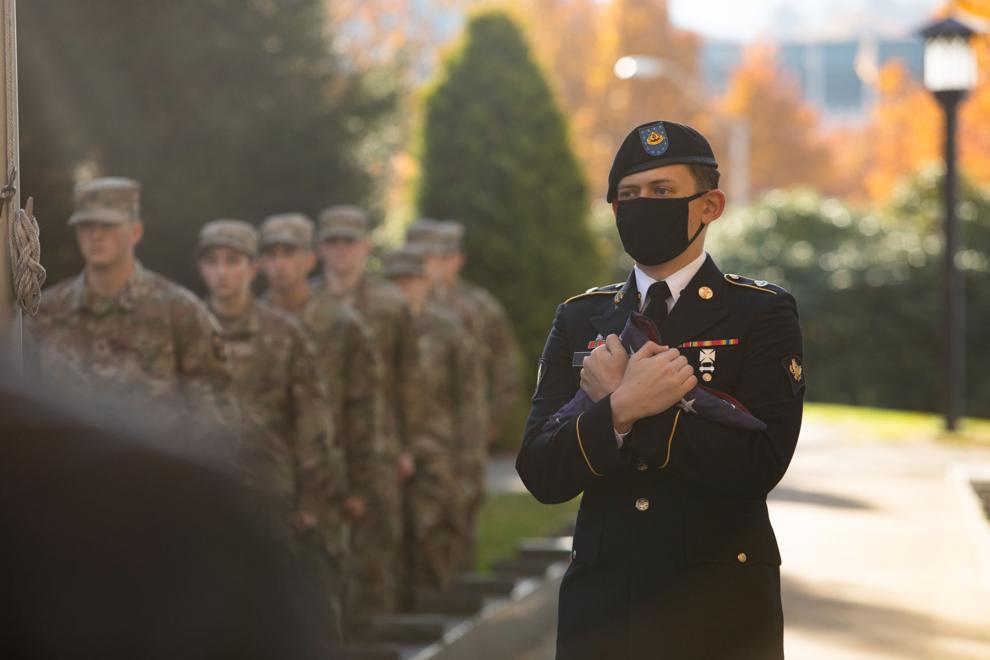 On Veterans Day in 2016, the university opened the Major General Edward M. Reeder Jr. Student Veteran Resource Center. This center gives military students access to mentoring, tutoring and support designed for their distinct needs, according to Brown.
App State has been designated a Military Friendly® School since 2010, he added, and this year, U.S. News & World Report ranked App State second for Southern universities in the Best Colleges for Veterans category.
Perspectives from a military spouse
Barbara thanked the audience for taking time to "pause and remember the significance of this day" and offered insights into her life as a daughter, wife, niece, cousin, daughter-in-law and sister-in-law of veterans.
"My first hero, like many girls, was my dad," she said, explaining that her father was a paratrooper in the 82nd Airborne Division at North Carolina's Fort Bragg.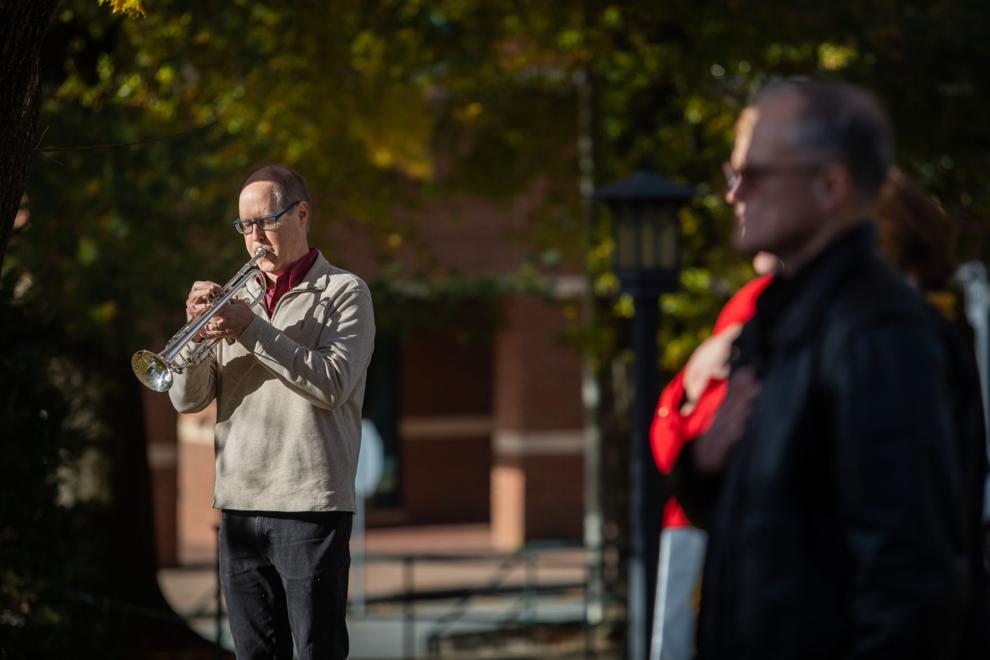 She said her second hero is her husband, who, like many service members, spent his military career working "16-hour days, seven days a week, and sometimes longer." Due to these extended hours, Barbara said veterans "often miss things that many of us take for granted" such as "birthdays, anniversaries, births of children ... and App State football."
"Our veterans are a representation of all the goodness in this country," Barbara said. "They are selfless heroes who put the needs of our nation before themselves and their families."
She shared stories of military families she has met over the last three decades, including "dual military" families, in which both partners are actively serving. At the end of one of Bob's deployments, she witnessed one of her most prominent reminders that veterans and their families serve together: Barbara went to welcome home the soldiers and saw a banner at headquarters that read, "Welcome home, mommy and daddy! Love, Julianna."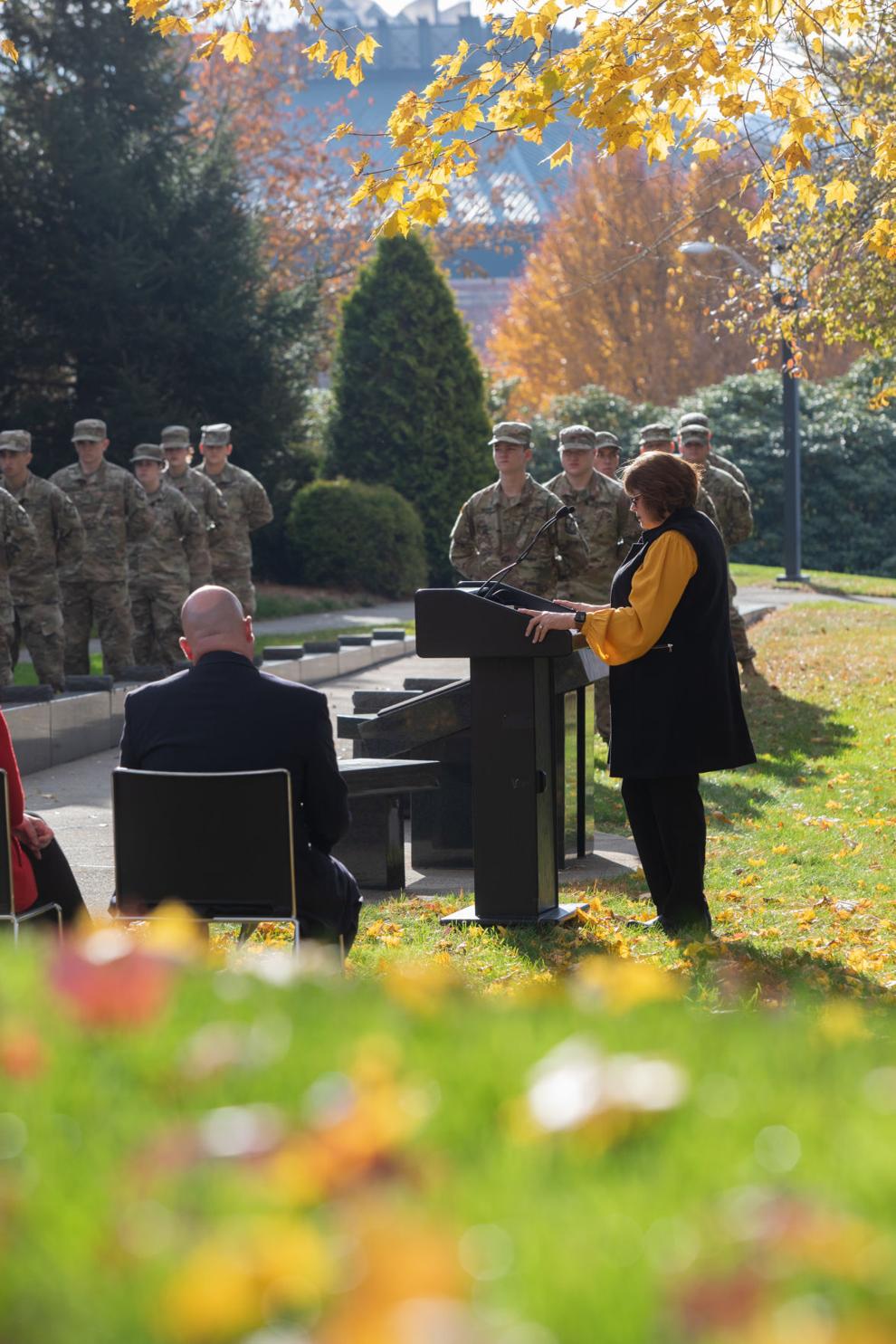 She challenged each person in attendance to consider the sacrifices of veterans and to find ways to show appreciation for their service.
About Barbara Ashley
Barbara, a native of Raleigh, attended App State from 1979–82. There, she met Bob, whom she married in 1985. She spent the next three decades as an active-duty military spouse, completing more than 17 relocations throughout Bob's military career.
She graduated from the ATI Career Training Center in 1990 with an associate degree for travel agents. Since 2011, she has owned Where in the World Vacations, a home-based travel agency.
Barbara and Bob have two children, Sean and Justin, and two grandchildren, Arthur and Keaton.