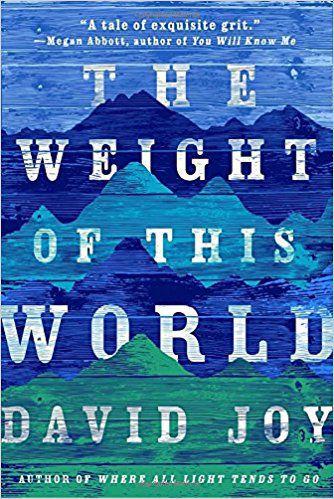 'The Weight of This World' by David Joy
In March 2017, I had this to say about David Joy's sophomore novel: "The Weight of This World" is no easy novel to consume. The story story of Aiden McCall and Thad Broom, inseparable lifelong friends, is a story of survival in rural North Carolina in its most raw form. The novel is riddled with pain — physical and, in multiple shades, post-traumatic stress — but is textured with honesty and a craving to see the world more simply, more black and white, than the horrific reality that is so often presented."
A year later, Joy's haunting answer to his Edgar-finalist debut, "Where All Light Tends to Go," is now available in trade paperback with new art on the cover and a discussion guide at the end. Such packaging is built with book clubs in mind, and your own club — or personal library, if you missed the release on the first go-round — will find "The Weight of This World" (Putnam) a significant addition to your shelf labeled, "Southern noir," with Joy taking a rightful position next to authors such as Ron Rash, Cormac McCarthy and Michael Farris Smith.
Like those authors, Joy is the real thing: He lives, works and writes what precisely has been called "pure, blood-soaked poetry from the gutter" from the Caney Fork community of Jackson County, N.C. Find our interview with Joy speaking about that poetry, and much more, in "Documenting the Collapse" at https://tinyurl.com/y77f6n72.
And, check back at these pages later this summer for a review and interview with Joy on his third novel, "The Line That Held Us." That novel is set to publish on Aug. 14.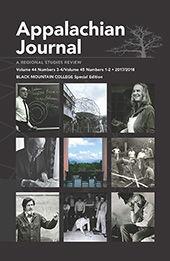 'Appalachian Journal: Black Mountain College special edition'
The progressive education that students — and faculty and staff — received at Black Mountain College came to an end in 1957 and, because we humans like things in round numbers, much fanfare has been paid to the institution since 2017's 60-year marker of that occasion.
Little of that fanfare, however, is so complete, encapsulated and critiqued as what you'll find in Appalachian Journal's current issue, a special edition and cornucopia of reflections, poetics, art, music, design and review centered on the brief tenure of what has become almost a mythologized ideal of inspirational higher education.
The arrival of the Journal on my desk a couple of times a year is always something like an unexpected present from a perfectly in-sync secret admirer or that vanishing breed of independent bookseller who, thrusting a book in your hand, begins the conversation with, "I've got something you're going to love. …"
There is much to love in AJ's current release. Much, much to love. With four volume numbers between its covers, this special edition runs to more than 450 pages of Black Mountain College diversity.
A special recognition is due to editor Sandra Ballard, guest editor Joseph Bathanti, the editorial board, cast, crew and more than five dozen contributors for the production of this issue. At $24 per year, AJ is not only one of the best journal bargains in the nation, it's one of the best gifts you'll receive all year.