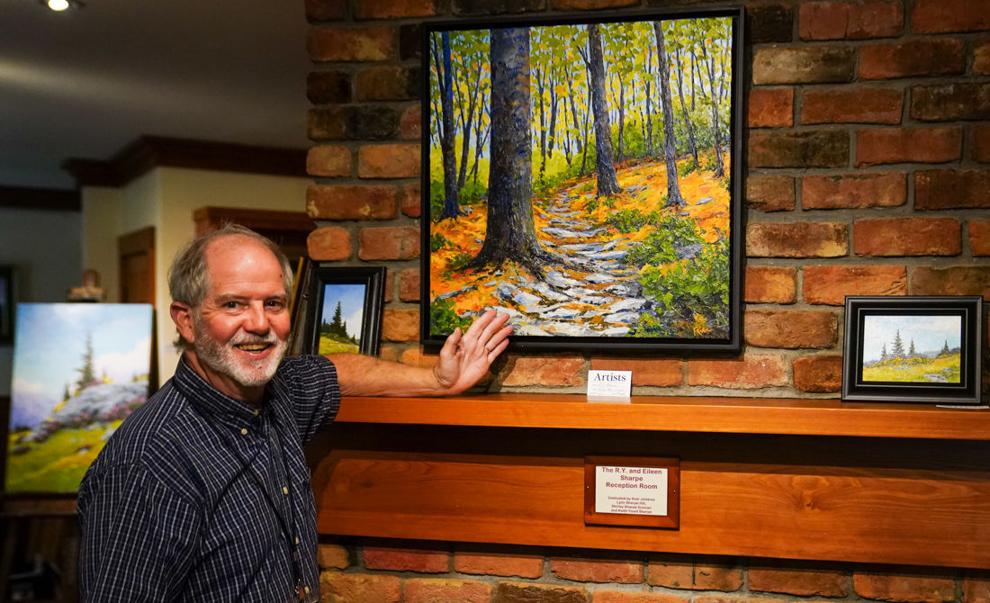 BLOWING ROCK — At 16, Fredrick "Craig" Franz arrived in Avery County, near Linville, "kicking and screaming" in moving with his parents from where he considered home, in Michigan. Fast forward five decades and, he says, there is no other place he would rather be.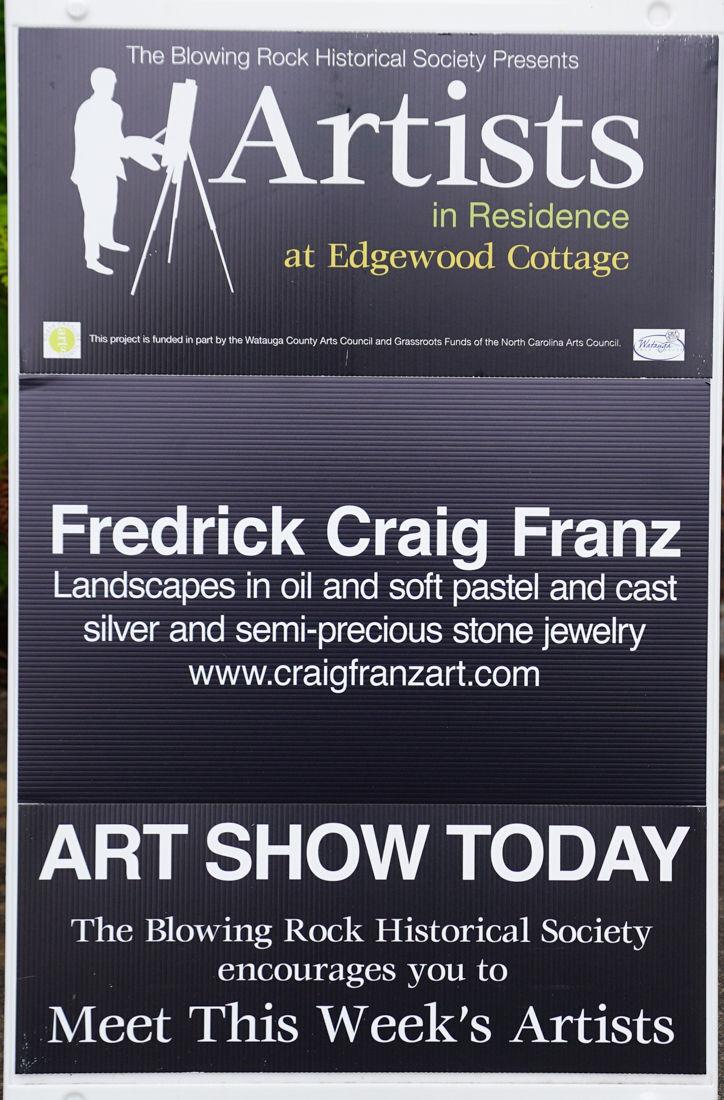 Through Sept. 5, this week's featured artist in the Blowing Rock Historical Society's Artists in Residence series at Edgewood Cottage on Main Street in Blowing Rock, Franz's images in oils and pastels jump off the walls, visually. Most are simple, even common scenes from the High Country, but the artist's attention to detail, as well as his use of light and color provide startlingly clean, impactful visuals.
"My parents were friends with a local Avery County family and they sold us an acre of land," he said in explaining the move from Michigan.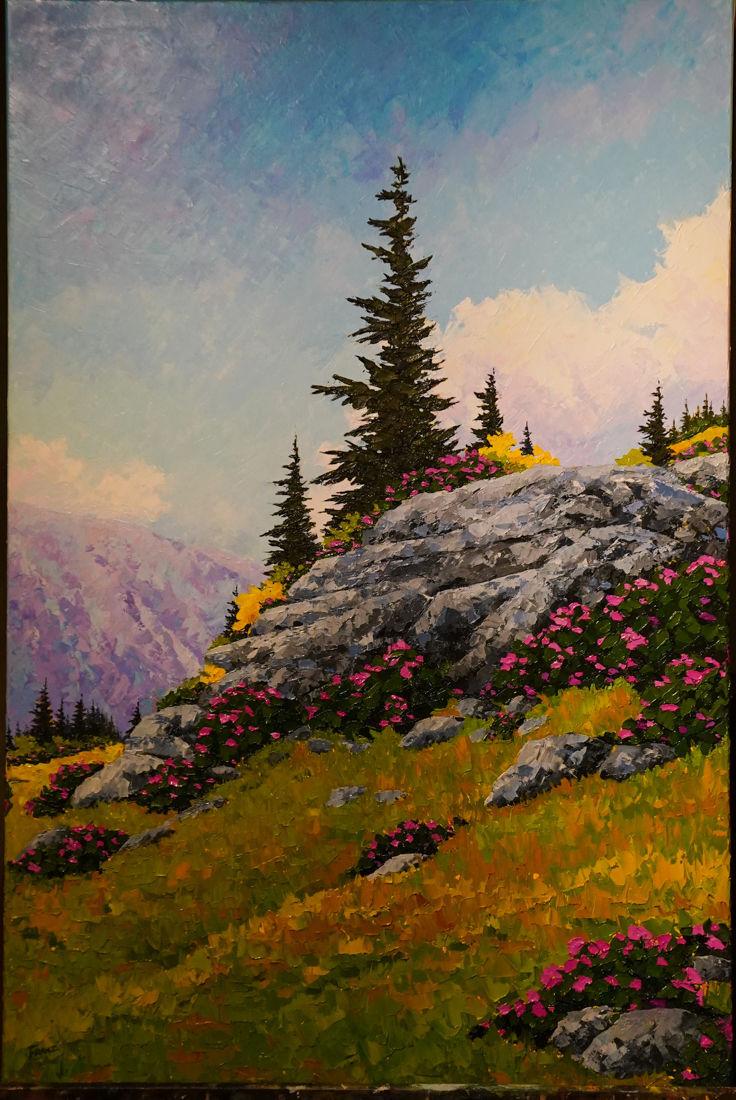 As for his style, "Like a lot of artists, I am influenced a lot by the French Impressionists of the late 1800s, particularly Monet as far as plein air work," Franz said about artists he admires. "But my tastes also lean toward Van Gogh and what he was able to do with color. That is an area that I am just now dipping my toe into, so to speak, playing with different color combinations."

Franz said that while he specializes in oils and pastel landscapes, he also has a small jewelry display as part of his exhibit, the pieces inspired by his days as a jeweler. It turns out that his path to plein air landscapes, whether oils or pastels, was not linear.
"I studied art in college, at Appalachian State, then I went out to the University of Kansas to study jewelry making. I worked for awhile as a jeweler craftsman back in the mid-1970s, in downtown Boone. That led, you might say, to my 'real' job as a dental technician. I went from making jewelry to making teeth. I jokingly say that I have a lot of High Country patrons, but the work is in their mouths."
Franz has always known he had a dominant, creative side.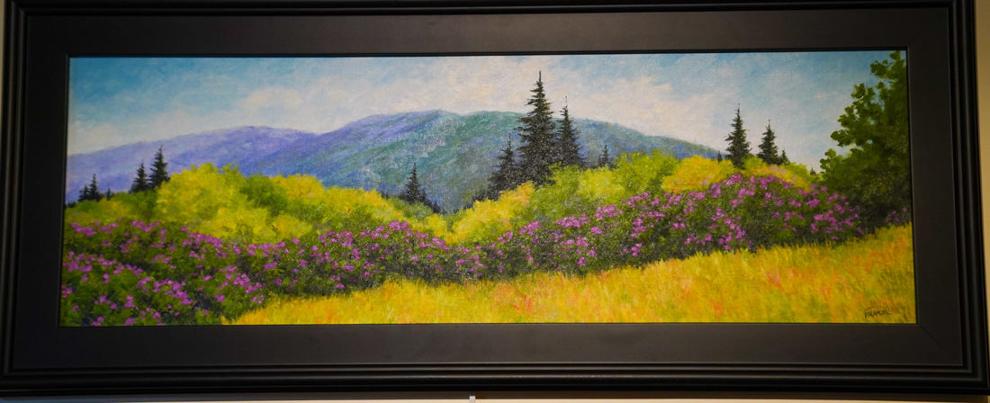 "I have been a serious painter for about 16 years, but my interest started when I was quite young," said Franz. "I am the kid who used to get gold stars for his art work in elementary and middle school, even as early as kindergarten. I guess that side of my brain is more developed than the other. It just works."
The Linville area resident was particularly appreciative of what the Blowing Rock Historical Society is doing with Edgewood Cottage in promoting local artists and giving them enhanced visibility.
"My exhibit here at Edgewood Cottage consists of 120 paintings. I hope local folks and visitors enjoy them, Franz said. "Most of these paintings live in a box, most of the time. Currently, I am not represented anywhere, so this exhibit opportunity here at Edgewood Cottage for this series is special."
Creativity, he thinks, is more nature than nurture.
"If you are a creative individual, which I call myself whether building houses, making teeth, creating jewelry pieces or painting, it is something that just comes out. In making art, when you become good at it and successful at it, there is a great sense of fulfillment, personally, to be able to produce something of beauty to hang on the wall," said Franz.
"I picked up the pastels, initially, because of the simplicity of them. I took some classes from local artist Kevin Beck, who has become a friend through the years. As you get more into painting, you meet others in the community of painting. Many encouraged me to pick up oils, which I did for eight or nine years. Just recently, I picked the pastels back up and have been having fun with them again, reinventing myself and my style through pastels."
Franz and his wife, Jennifer, are avid bicyclists, both mountain biking as well as road riding. They also love to camp, with painting tools in tow, of course.
"We have been as far west as Arizona, New Mexico, and Utah. We have been on both rims of the Grand Canyon, but I didn't find it a fulfilling, painting-wise. Everything is so majestic, too 'grand,' to coin a phrase. I would like to try it again, though. I was much more of a novice painter then than I am now. I loved Utah, especially. Especially as bicyclers, that is mecca," said Franz. ... "You can't beat the vibrancy of oil painting, but the pastels are much quicker to do. For oil painting, my style is to paint it and then paint it again. Sometimes I paint it a third time. You have to layer color and you have to let oils tack up a little, or dry.
"What makes a painting really appeal to the eye, first off, is composition. But you also need the contrast between shadow and light. I always look for that when I am trying to compose or paint something plein air. You look for shapes and if you have shapes and shadows and mid-range values, it usually makes for a more appealing composition."