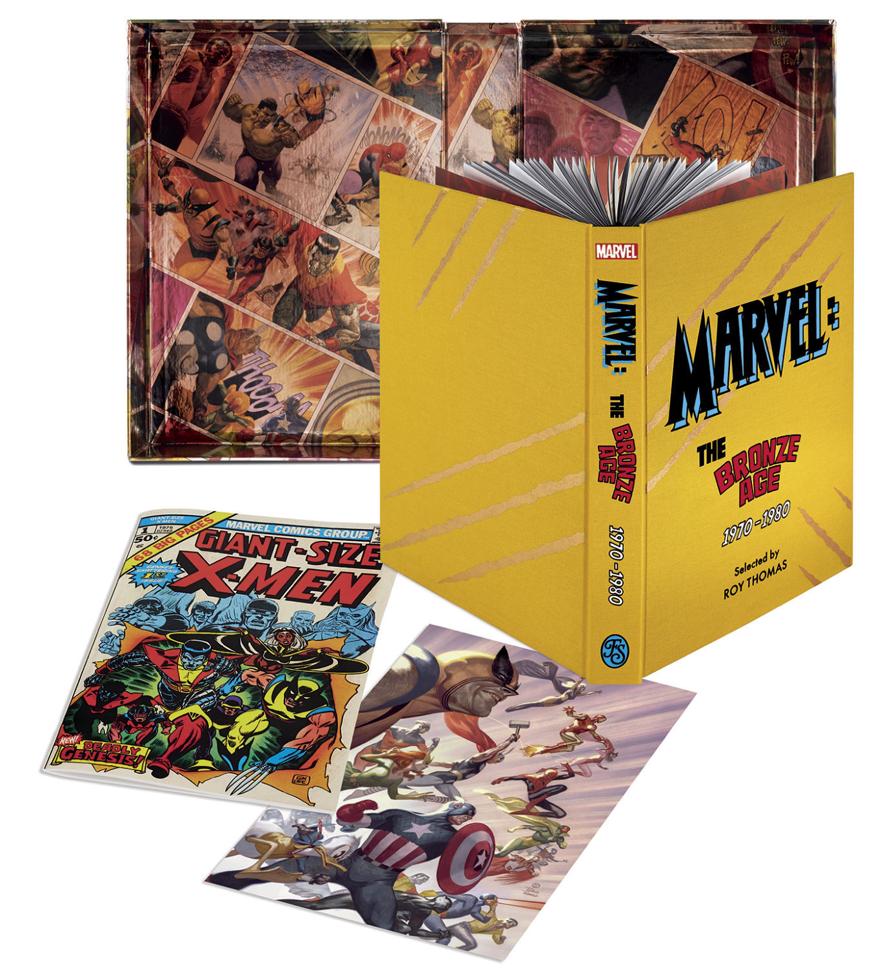 Sometimes the best is yet to come, and although that sentiment is more attached to a famous crooner than it is to an author, it can also be said of the 16 titles Mountain Times presents here, in our annual guide to the best of holiday print book giving.
Chosen not only for their diverse range of fact and fiction, these books also have in common that they are beautifully produced and crafted — and published or released in the latter part of 2020. These are new books, or new takes on classic titles, that can judged both by their covers and the superior content encased between their endpapers.
What we offer here are titles we have meticulously chosen from our favorite print publishing houses in volumes that span in price from a few dollars to hundreds per book.
Categorized by nonfiction and fiction, we're sure you're bound to find something here for the bibliophile in your own orbit.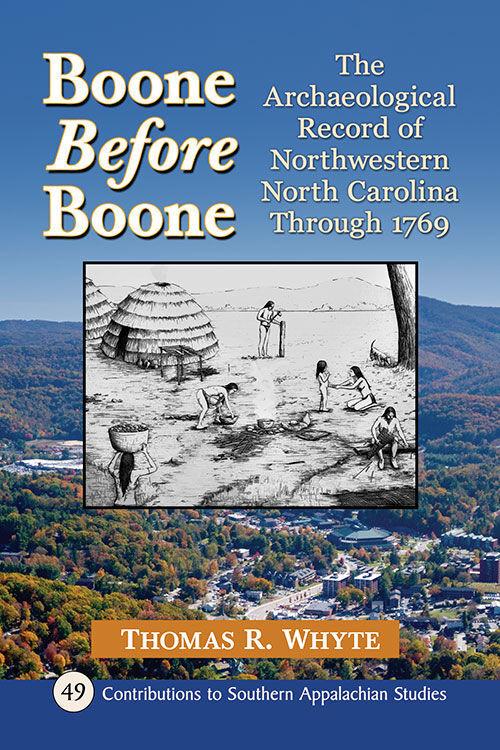 'Boone before Boone: The Archaeological Record of Northwestern North Carolina Through 1769" (McFarland) by Thomas R. Whyte
A very recent book about a very old subject is one central to understanding the High Country of Western North Carolina. "Boone before Boone" covers — although, perhaps uncovers is more appropriate — about 14,000 years of regional history in a comprehensive, yet compact volume from the pen of prominent archaeologist Thomas R. Whyte.
That Whyte teaches anthropology at Appalachian State University, centered on the town and region which are subjects of the book, means that the instructor doth know what he professes. Whyte draws upon decades worth of regional archaeological research for his new book, offering "readers a glimpse into the ancient world, beginning with the Paleoindian period during the Ice age, and ending in 1769 with the arrival of Daniel Boone," as quoted from a Mountain Times interview with Whyte in November (https://tinyurl.com/y35ynkt7).
Although many archaeological tomes are meant to be shared among archaeologists, the photographs, maps and illustrations in "Boone before Boone" complement a readable history broken into periods that bring ancient history forward to today.
Consider this from the "Middle Archaic Period: 6,000-3,000 BCE" subsection "The Gwyn Hayes Site": "On the eastern end of Boone, North Carolina, there is a bank, a pharmacy, and an ABC store. Before these were built there was a cluster of houses. Long before the houses were built Native Americans periodically camped there to avail themselves of the high, dry, and level ground the vast view of the Boone Valley to the west where three streams converge to become the South Fork of the New River, and the various food resources that abounded in summer and fall." Local history doesn't become much more tangible than this.
Add to this the credibility that comes not only from the research, but the publishing house, and "Boone before Boone" is something special for local readers and history lovers. Indeed, not only is the subject local for those who live or visit the High Country, the publisher itself makes a perfect pair. McFarland (https://mcfarlandbooks.com/) is a leading independent publisher of finely produced academic nonfiction and its headquarters are in Ashe County, a stone's throw from the Paleoindian and subsequent periods covered in the book from 11,500 BCE through the very specific "Late May 1540 CE" — and ending with the arrival of our namesake, Daniel Boone.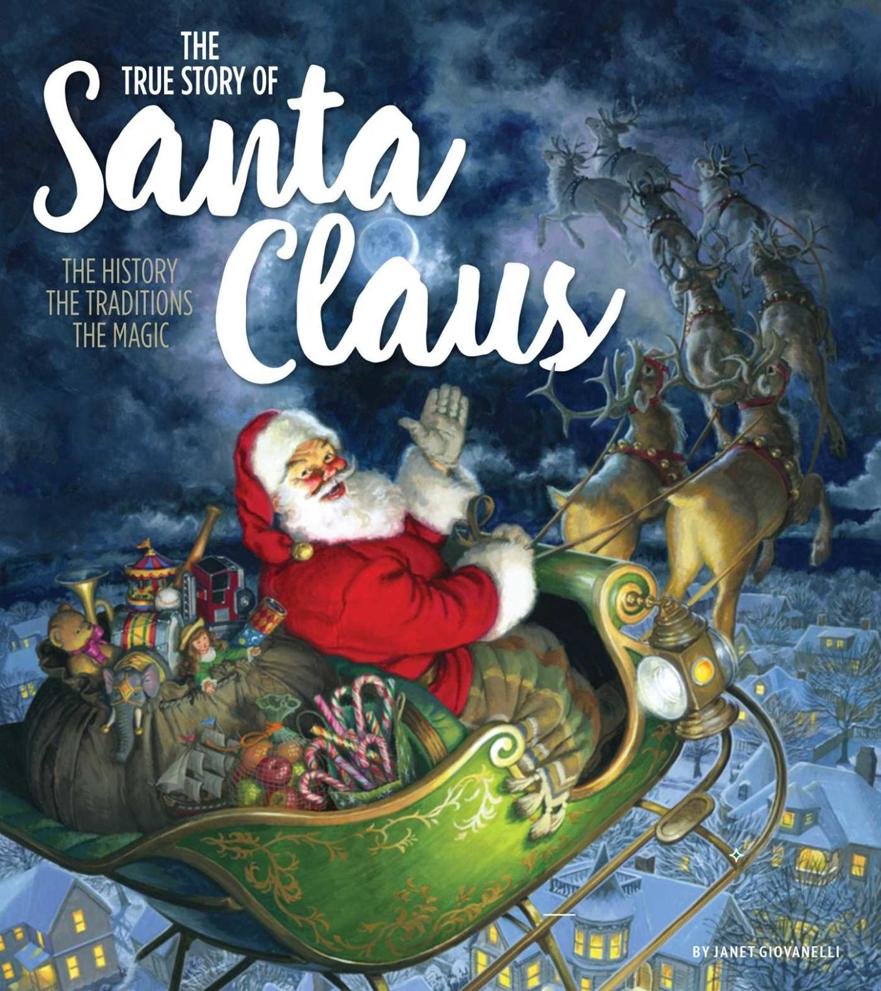 'The True Story of Santa Claus: The History, The Traditions, The Magic' (Centennial Books) by Janet Giovanelli
For the sheer joy of the season, you won't find a more beautiful book than Janet Giovanelli's "The True Story of Santa Claus."
Giovanelli is a veteran writer of entertainment and pop culture who has interviewed many of today's celebrities, but has a penchant for vintage Hollywood — Kelly, Bogart, Temple, Ball among them. Yet nowhere is her reporting more fully or beautifully produced than in this volume.
That the history of Santa Claus — from legend to story to film, song, advertisement, culture and collectible — could be encapsulated within 200 pages is magical in itself, but Giovanelli has done it here. And, with a beautiful, full-color layout sporting hundreds of photos across generations and genres, the book is as visual a gift for young readers as the text is for adults.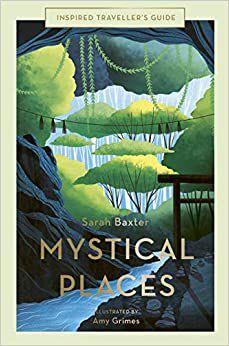 'Mystical Places' (White Lion Publishing) by Sarah Baxter
An enchanting book in every sense, "Mystical Places" is the travel guide we need right now — a perfect blending of fact and fancy touring dozens of very real places that also happen to be filled with myth, legend and fantasy.
The tour guide for the journey is well-ordained. Sarah Baxter grew up in Norfolk, England, but left there to travel the world. She was an editor with Wanderlust magazine and has helped author numerous "Lonely Planet" guidebooks.
Authoring "Mystical Places,' Baxter joins the Inspired Traveller's Guide series with this volume, and inspired is the correct descriptor for the book. Sealed with a library binding and cloth covers, the book is broken into 25 separate journeys across the world. From the castle at Tintagel, England, to the Nazca Desert in Peru, Baxter highlights the area as it stands today, and then does something wonderful: She brings forth the story behind the place.
Tintagel, as Grail-lore lovers will know, may or may not have been the birthplace of the fictional or factual King Arthur, but as Baxter writes, "Arthur may never have set foot on the island of Tintagel (or even existed at all), but he is certainly here in spirit now." She continues, with descriptors that befit a veteran traveller: "As a nod to the site's most famous legend, on oversize, sword-wielding bronze called Gallos (Cornish for power) was erected on the headland in 2016, looking exceedingly like how one might picture Arthur with Excalibur. But the ghostly figure is ethereal, only partially rendered; there are gaps through which you can see the landscape, even climb inside. Like Tantagel, the sinewy sculpture allows every visitor to add their own interpretation."
Wisely, to complement the myths and legends the publisher (https://www.quartoknows.com/imprints/2159/White-Lion-Publishing/) visualized each section by London-based illustrator Amy Grimes, whose serviceable renderings allow the reader to move beyond the landscape and into the stories that are drawn in this charming book.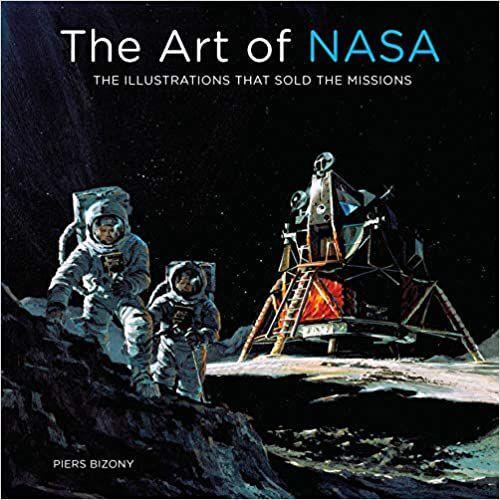 'The Art of NASA: The Illustrations That Sold the Missions' (Motorbooks) by Piers Bizony
Few authors could even have conceived of such a work as 'The Art of NASA: The Illustrations that Sold the Missions," and indeed, science journalist Piers Bizony may have been the only one.
Who knew, beside writers and researchers such as Bizony — author of titles such as "How To Build Your Own Spaceship" and "The Man Who Ran the Moon: James E. Webb, NASA, and the Secret History of Project Apollo" — that NASA even had a cadre of hundreds of historical illustrations, a veritable museum of mission renderings, in its bowels?
Yet take those illustrations and couple them with the historic tellings of not only the missions they promoted, but the history of illustrating and archiving such material, and you have a unique retelling of NASA itself from its earliest days.
In that telling, Bizony curated 200 artworks from thousands of files in NASA's archives. The result is a coffee table book — if you have a very, very large coffee table — that will fascinate believers both of science and science fiction, as the illustrations presented here would appear to be the latter, but are very much of real space exploration. (https://www.quartoknows.com/Motorbooks).
The renderings in this book, as would be expected from files taken from the world's premier space science organization, are faultlessly rendered here. Page after page draws upon a journey, from "the dawn of American space age" to "exploring the depth of space beyond Mars," of both space and time in a book itself as much a work of art as the illustrations it holds.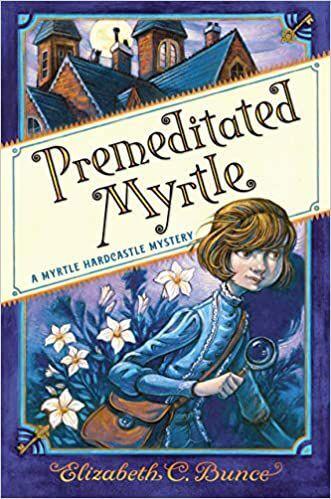 'Premeditated Myrtle (Myrtle Hardcastle Mystery 1) and 'How to Get Away with Myrtle' (Myrtle Hardcastle Mystery 2) (Algonquin Young Readers) by Elizabeth C. Bunce
Talk about your likable heroines. Well, actually, there will be much talk about Myrtle Hardcastle as the 12-year-old sleuth in Elizabeth C. Bunce's new series moves beyond her first two adventures and into children's libraries and imaginations.
Bounce is a veteran YA author with a bold and irresistible bookplate on her homepage: "Elizabeth C. Bunce, maker of fantastical, mysterious and ghostly stories for young readers (& discerning adults)." Now really, who could resist a build-up such as that?
But more, it's earned and justified. Bunce has crafted here a saucy tween investigator who much prefers the rules guiding toxicology reports than those for "Young Ladies of Quality" that her governess, and widowed barrister father, would promote.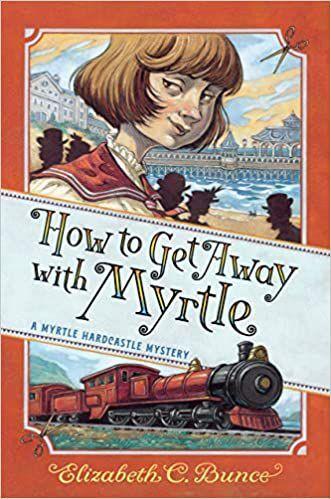 Yes, the books are of this charming era even if Myrtle, and truth be told, the governess Miss Judd, are of a more advanced society than the times they are born into. That is, a pre-teen girl is completely capable of solving a death under "Mysterious Circumstances," even when no one but her recognizes it is a murder, as she does in "Premeditated Myrtle." Or, of an entirely different murder involving a priceless tiara, a derailed private railway coach and a reluctant Scotland Yard, as in "How to Get Away with Myrtle."
Although it is likely that some discerning adults will find the e-book version of these titles creep into their reader — adults don't really read YA, do they? — there is much to be said for the tactile sensation of reading a print book that complements the period of the story, especially those as durable as these from Algonquin (https://www.algonquinyoungreaders.com/).
But, for another sensation, the audiobooks of these titles could be argued for. The London-based narrator Bethan Rose Young does a wonderful job of voicing not only Myrtle, but the entire cast, including Peony — the cat. Young trained at the Royal Welsh College of Music and Drama, and her voice work here and on other platforms such as BBC Radio 4 and Netflix show she learned her lessons well.
The titles we present here from The Folio Society are the most elaborate and arguably the most enduring on our list. Founded in London in 1947, this publishing house does not produce original titles. By design, it publishes exquisite editions of the world's literature in print only, and sold only through its website www.foliosociety.com. Each work is carefully crafted, illustrated and presented as not only great literature, but works of art that will last for generations. The volumes are not inexpensive, but because they typically have limited runs and are crafted with an eye to aesthetic detail, they tend to increase in value and collectors prize them. The range runs from the scholarly to contemporary and historical nonfiction, and popular fiction titles, such as the four we show here.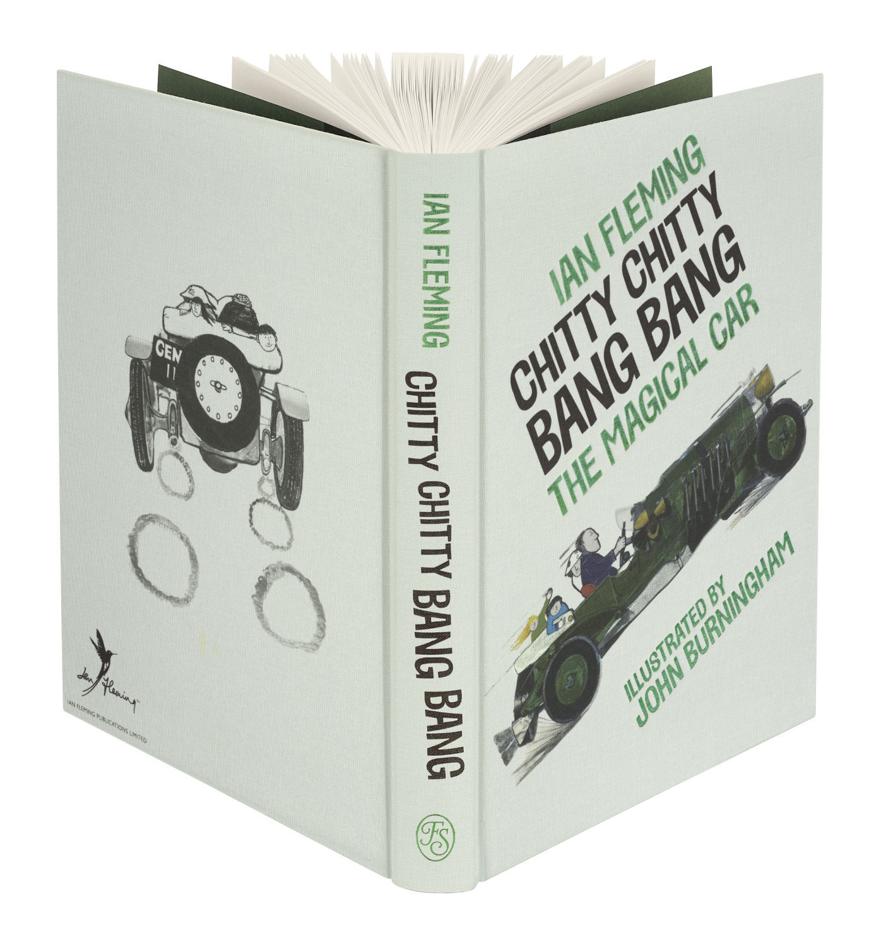 'Chitty Chitty Bang Bang' (The Folio Society) by Ian Fleming
More than half a century after its original publication, "Chitty Chitty Bang Bang" by Ian Fleming is just as enjoyable today as it was when the author published it for his son, Caspar, in 1964.
Many readers know of Fleming from his James Bond fame, and indeed there is more than a little of the spy motif in this novel as readers, and viewers from those who are perhaps more familiar with the Roald Dahl screenplay adaptation, have come to find out.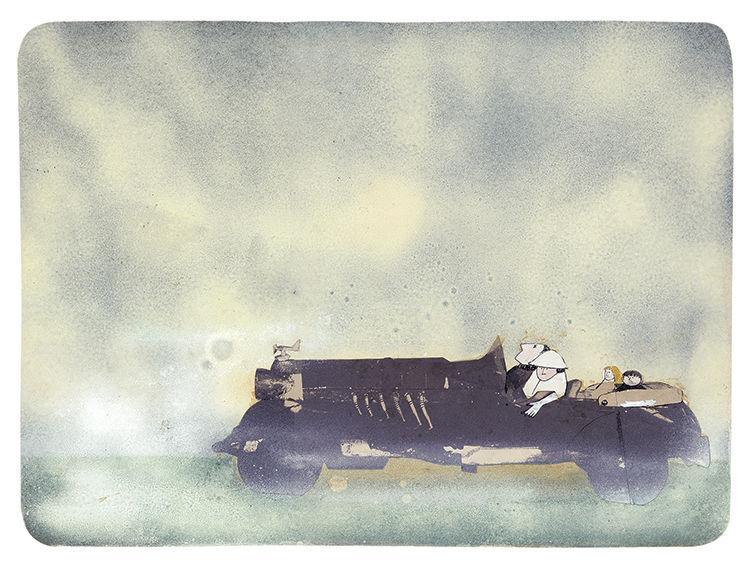 But at its core, "Chitty Chitty Bang Bang" is a fun, prescient novel with wonderful characterization based not on subterfuge but the aero-engineered racing cars built by Count Louis Zborowski in the 1920s that so fascinated the author.
In this The Folio Society edition, that fun is carried over, and every one of John Burningham's original illustrations are included here. The original designs in the volume are produced by automotive engineer Amherst Villiers, and the book is enhanced with an exclusive new afterword from Fleming's nephew, Fergus Fleming, that is illustrated with previously unpublished Burningham sketches and black-and-white photos from the family archive. Also here is an contemporary letter from Fleming to his publisher.
The original novel was published in three volumes and a first edition can now sell for more than $3,000, but The Folio Society does an admirable, and affordable, job here completing the task in one slip-cased volume.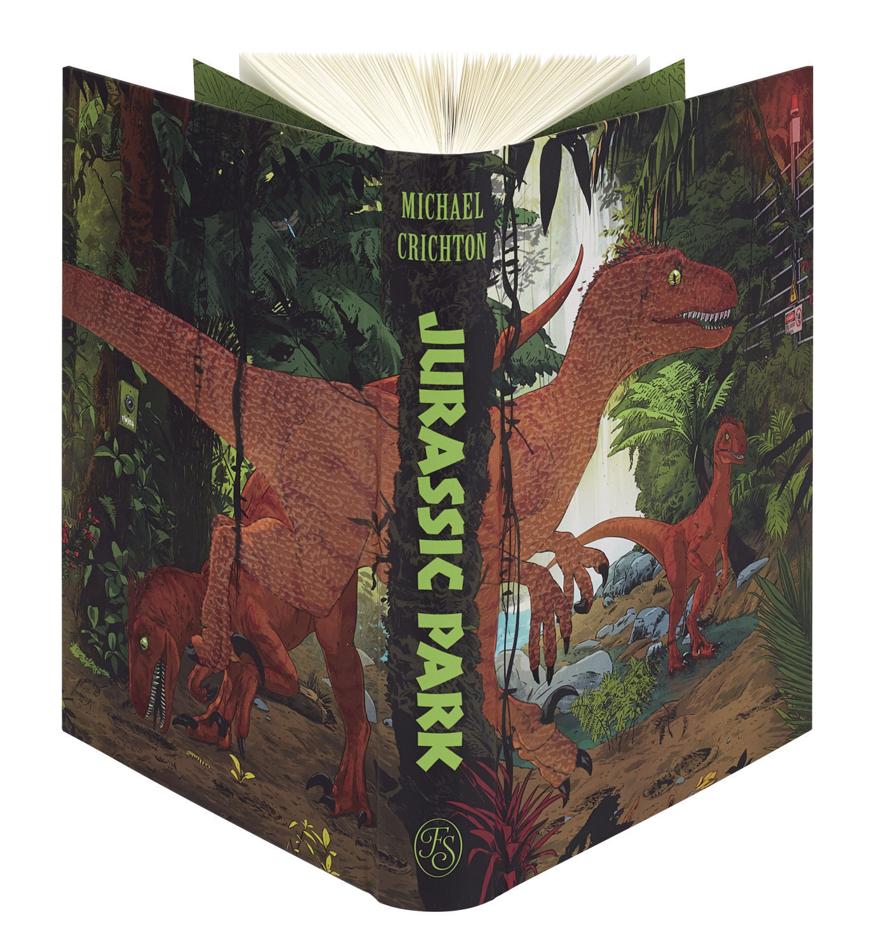 'Jurassic Park' (The Folio Society) by Michael Crichton
Michael Crichton sold more than 200 million books before his death in 2008, and many of those were popular trade editions designed for his throngs of fans. With this enduring and detailed edition of 'Jurassic Park,' The Folio Society offers a landmark 30th anniversary of the 1990 novel that produced a record-breaking movie from Steven Spielberg.
Sparing no detail of the dinosaurs back from extinction story, The Folio Society commissioned multimedia artist Vector That Fox to craft realistic portraits that were approved by credentialed paleontologist Steve Brusatte.
The publisher has included every graphic, graph and table from the original novel — Crichton thoroughly researched his subject — and uniquely includes a scaly dinosaur skin-like slipcase that enhances the tactile sensation of the story. For those familiar only with the movie, the novel is more complete and thoroughly shows Crichton's mastery of the techno-thriller genre he did much to spawn.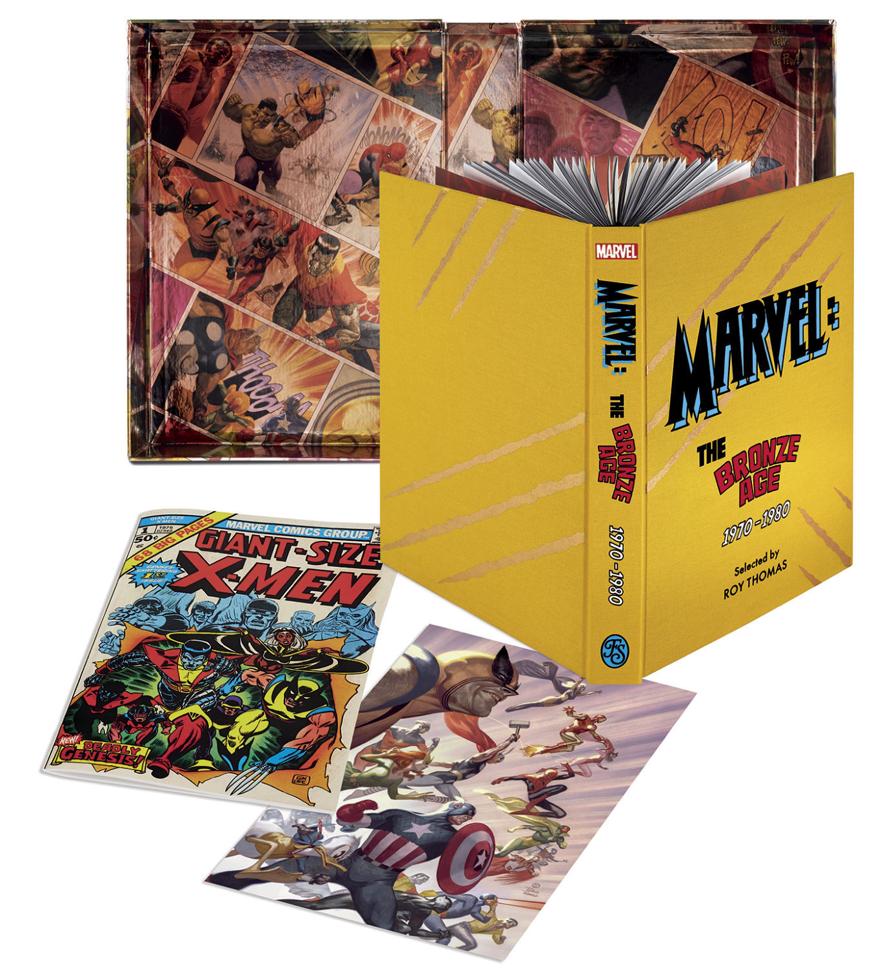 'Marvel: The Bronze Age 1970-1980' (The Folio Society)
And now, with "Marvel: The Bronze Age 1970-1980," the accolades are no less warranted. With this edition comes a scale and aged facsimile of 1975's Giant-Size X-Men No. 1, a digitally signed print from Marvel artist Julian Totino Tedesco, 11 curated stories in a cloth-covered oversize hardback with metallic foil and design by illustrator Ian Jepson set in a handmade presentation box with an original design from Tedesco.
For the comics lover and collector, this is the era that introduced Wolverine and Luke Cage and the reproductions here are produced from original material. With the publication of this edition, The Folio Society completes a Marvel trifecta unavailable new from any other source.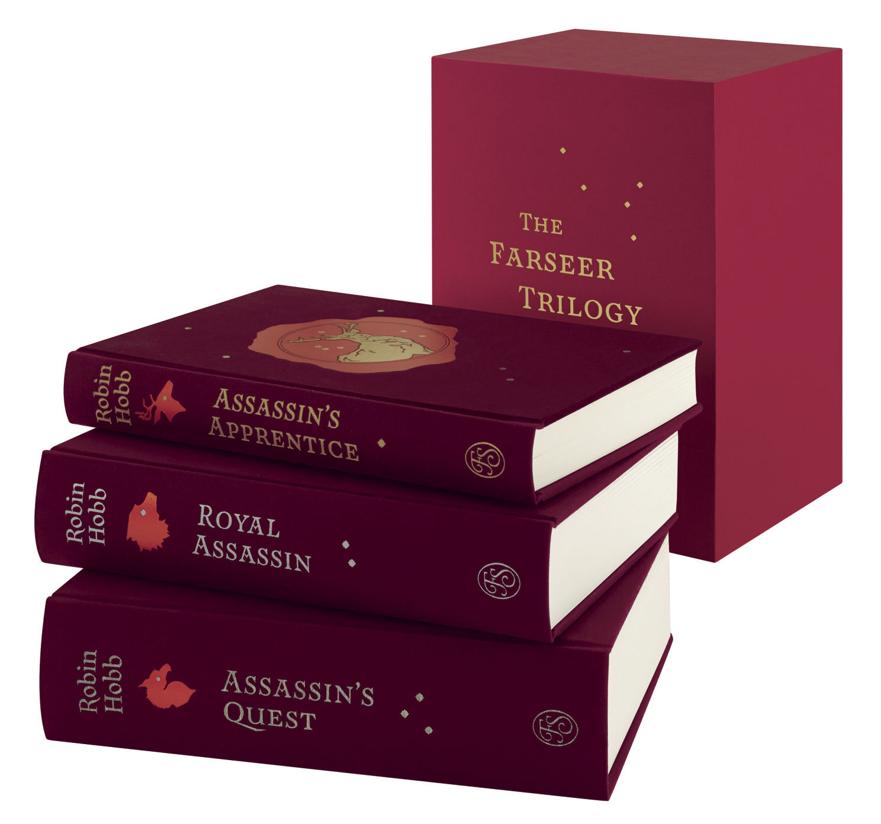 'The Farseer Trilogy' (The Folio Society) by Robin Hobb
With a fresh introduction by the author, Robin Hobb's "The Farseer Trilogy" ("Assassin's Apprentice," "Royal Assassin" and "Assassin's Quest") is The Folio Society's answer to a fantasy series that will be read and remembered and passed on to generations of fans. Few are the sequels that were as much awaited as were Hobb's trilogy in the late 1990s, and fewer are the books that deserve to be called a "modern classic" — but with praise from the likes of George R.R. Martin ("fantasy as it ought to be written"), it's an honorific well-deserved.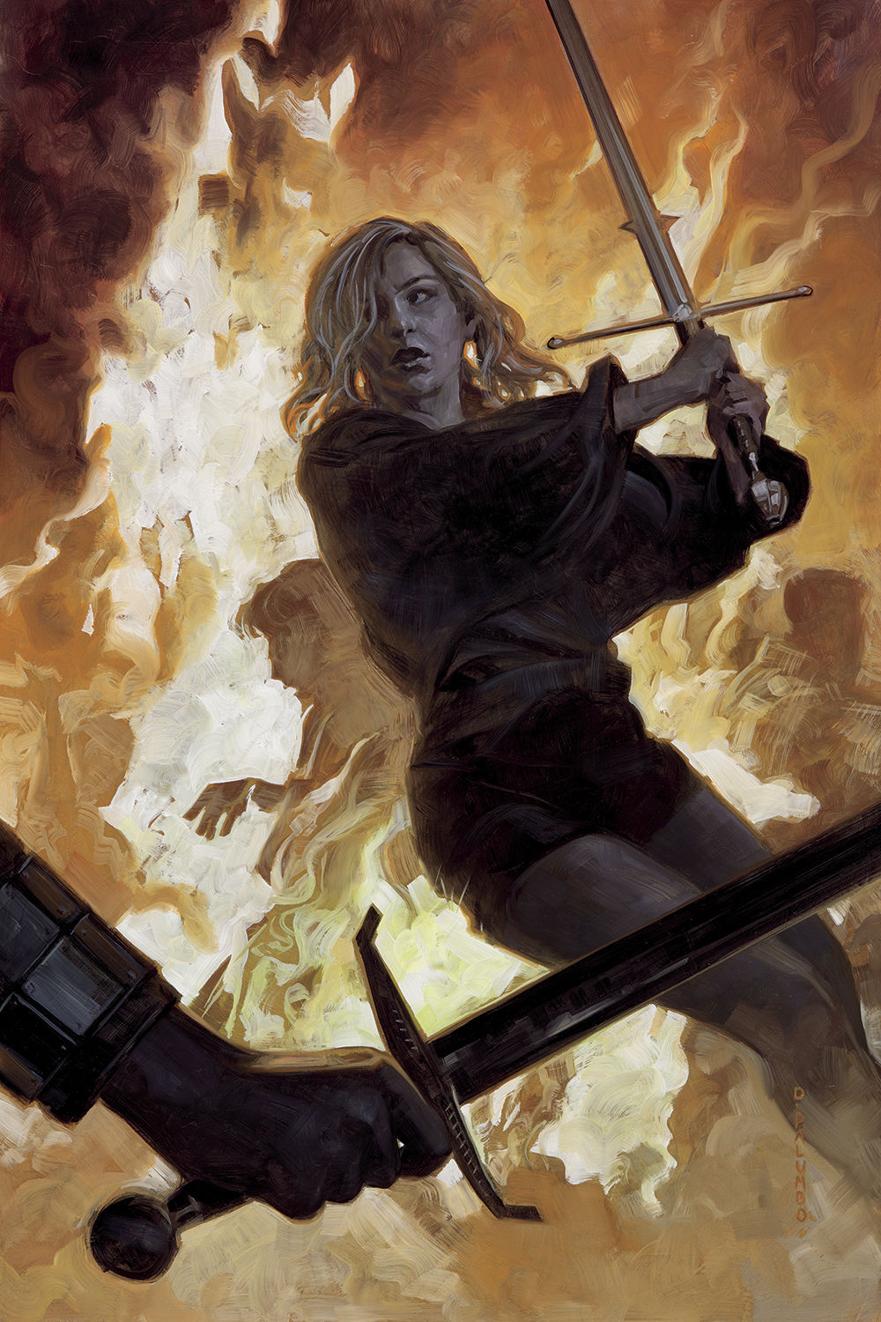 Also well-deserved is praise for The Folio Society's treatment of the trilogy. The story of the trained assassin FitzChivalry Farseer in the kingdom of the Six Duchies is presented in a collector's edition with illustrations from David Palumbo and map of the Six Duchies redrawn by cartographer by Neil Gower. The books are bound in blocked cloth with 15 color illustrations total, printed in black and red, with the maps drawn over two pages and total nearly 2,000 pages.
This pristine edition from The Folio Society is destined to be the definitive offering of Hobb's masterpiece.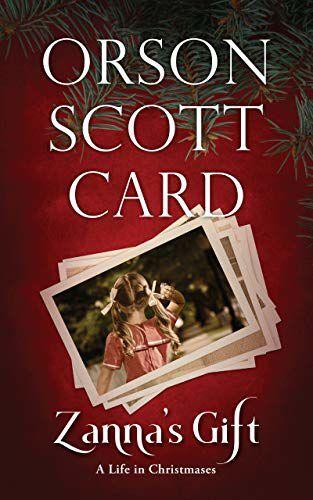 'Zanna's Gift: A Life in Christmases' (Blackstone Publishing) by Orson Scott Card
Orson Scott Card is a prolific writer from Greensboro, N.C., who was introduced on an international stage with the publication of the award-winning "Ender's Game" and its sequels, "Ender's Shadow" and "Speaker for the Dead" — science fiction novels that are read widely by both adults and young readers that set up moral discussions worthy of serious debate. In addition, Card writes popular fantasy, novels based on the Bible and has produced plays, scripts and poetry during his long career.
With such an output, it shouldn't come as a surprise that Card has a Christmas tale in his repertoire that incorporates much of the above. "Zanna's Gift: A Life in Christmases" is a beautifully produce, small volume from Blackstone Publishing (https://www.blackstonepublishing.com/books) that tells a Christmas story the way only Card could write.
Set in reality but steeped in fantasy and magic, it is the latter part of the title that is most telling. Early in this novella, Card pulls us in media res with this opening: "There are many ways to lose a child, and none of them is merciful. But like all unbearable things it can borne, and in the weeks before Christmas 1938, the Pullmans were learning how."
Such an introduction cannot be ignored, and from here Card introduces us to the unique and wonderful Zanna, a very young girl fully understood only by the brother who is now the subject of the Pullmans's grief. When he dies just before Christmas, Zanna is left with a present she had made for him — a drawing that only he could understand. Using the drawing as a touchstone for the life of the family and all of Zanna's Christmases until she is an old lady, Card manages, in just 100 pages, to weave a story that is tender, touching and loving — all of the things a Christmas story should be.
With "Zanna's Gift," Card again has not only produced a story that will be read by young and old, he has given us all a Christmas present that will be cherished generationally, especially during the holidays. As a bonus, Card also includes a new afterword about the genesis of the novella in this Blackstone edition.
Timeless Classics from Rock Point
To date, Rock Point has published six volumes in its Timeless Classics series — the works of classic authors from across the world in unabridged, deluxe and adorned volumes that are also extremely affordable. These volumes are designed with aesthetics and durability at the forefront, and include patterned endpapers, ribbon markers, and foil and deboss details on its covers — as much works of art and the authorial artistic content they contain (https://www.quartoknows.com/series/1328/Timeless-Classics/).
The newest additions to the series are two that this year join the complete novels of Jane Austen, complete tales of H.P. Lovecraft, complete works of William Shakespeare and the complete Sherlock Holmes: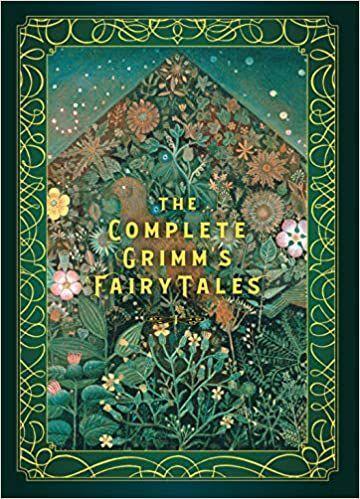 'The Complete Grimm's Fairy Tales' (Rock Point Timeless Classics)
While the original volume of Grimm's tales was titled "Children's and Household Tales," "The Complete Grimm's Fairy Tales" are not regulated to children. Adults and young readers alike have enjoyed these stories for more than two centuries, and in this volume the 211 classic tales from the German linguists Jacob and Wilhelm Grimm include favorites such as "Hansel and Gretel" and "Cinderella," and are accompanied by 40 color plates and 60 black-and-white illustrations from the English illustrator Arthur Rackham.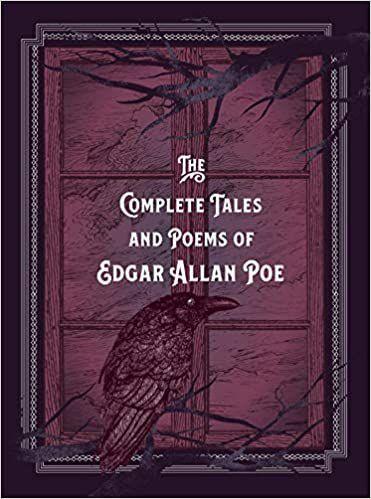 'The Complete Tales and Poems of Edgar Allan Poe' (Rock Point Timeless Classics)
Poe is undoubtedly America's most famous gothic writer, and his dark works continue to fascinate readers 171 years after his death. This volume includes every known tale — more than 70 short stories, 40 poems and his sole surviving novel, "The Narrative of A. Gordon Pym" — in addition to an introduction by historian, researcher and writer Daniel Stashower. Much of Poe's life — orphaned, debts, alcohol abuse and heartbreak — are encapsulated in his works — and well-archived in this Rock Point edition.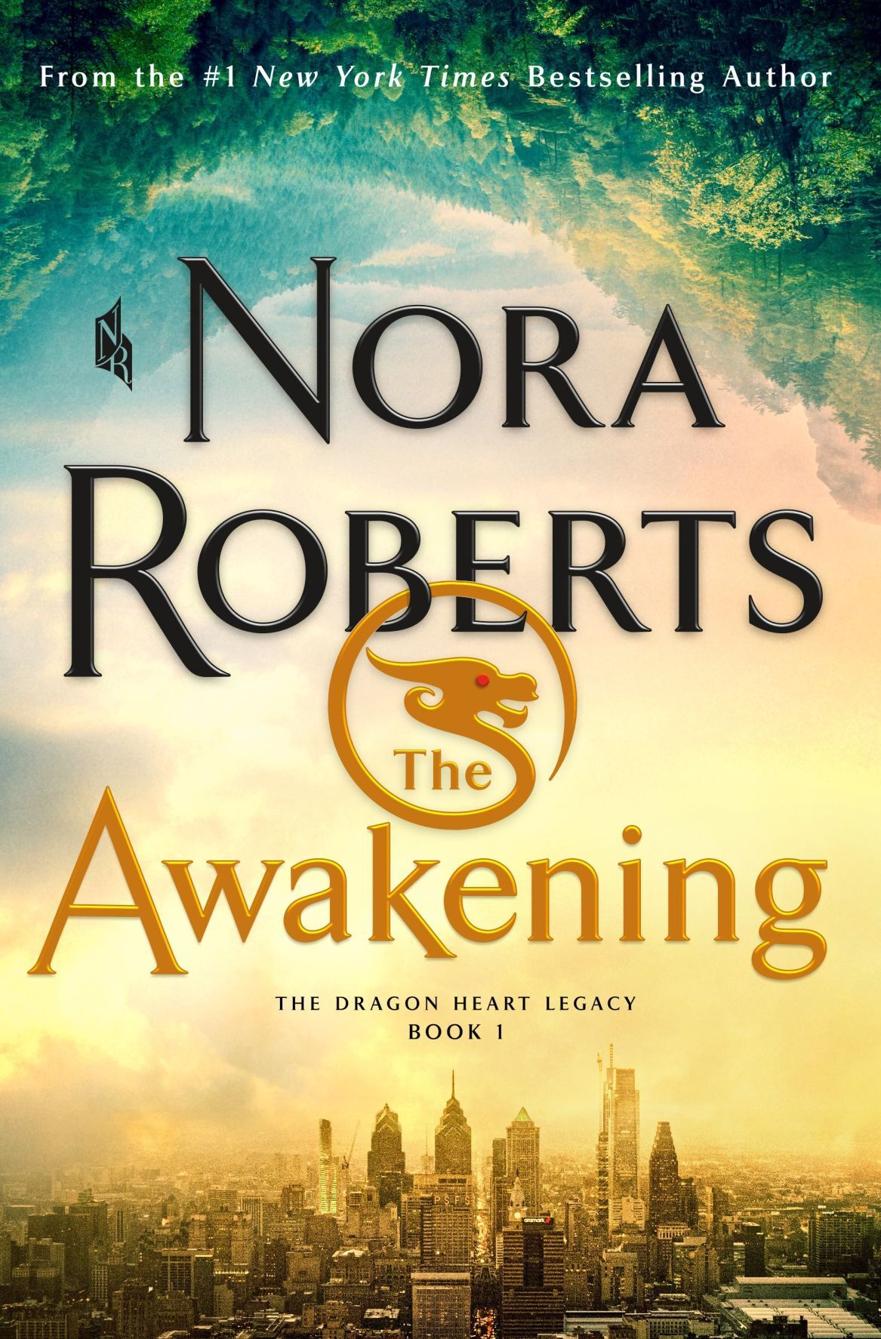 'The Awakening: The Dragon Heart Legacy, Book 1' (St. Martin's Press) by Nora Roberts
Under her own name, Nora Roberts has written hundreds — 225 to be precise — of romance novels, and this output is in addition to her works written as J.D. Robb, Jill March and Sarah Hardesty and in the additional genres of suspense and fantasy.
With this history, it's no surprise that Roberts was the first author to be inducted in the Romance Writers of America Hall of Fame, but a surprise for her most recent novel, "The Awakening," is that she incorporates romance, suspense and no small amount of fantasy into one work that not only crosses literary boundaries, but also the tastes of readers who might not have plucked a Roberts's title were it more pigeonholed.
In this series starter, Breen Kelly is a young woman struggling: to pay her student loans, in her relationship with her mother and with the dreams that mysteriously involve a dragon and the magical stories once told to her by a father who disappeared long ago. When Breen learns that she is the owner of an unexpected endowment worth millions, her day job tending bar is traded for a writing career and a journey to Ireland to discover the secrets of her youth. It is there that Breen learns magic is real and that there is more to her than she ever suspected.
In this novel, Roberts weaves some magic of her own in creating a compelling cast of friends and challenges for Breen that craft the beginning of a world readers will only reluctantly want to leave.
It says something about the power of Roberts's storytelling that it could be argued that the romance and struggles of the real world are even more enchanting than the fantasyland she crafts across the ocean, but then again, this is what the author does best — and here she does it as well as anything she has offered us before.
With illustrated endpapers, and an embossed cover and jacket, St. Martin's Press's (https://us.macmillan.com/smp/) design competes evenly with the content in a distinctive volume.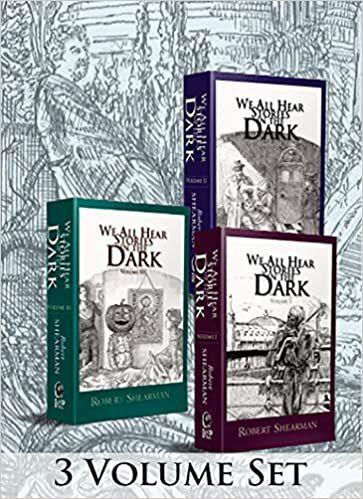 'We All Hear Stories in the Dark' (PS Publishing) by Robert Shearman
As a critic, I hesitate to align myself too closely to the reviews I write, but for this particular piece I owe an explanation to both you and the publisher of Robert Shearman's masterpiece, "We All Hear Stories in the Dark."
I've had Shearman's book in possession for a couple of months, with a review expected by the publisher, I'm sure, before now.
I have not been remiss. And, I can explain.
First, I have deep respect for any publisher that goes out its way to produce books the way publishers once produced books — for the story. Boost this with an incredible eye to detail, design and production of those stories, and this pretty much sums up why the UK's PS Publishing has long been my favorite independent book publisher. Cap that with a very cool newsletter that shows up regularly in my inbox, and that the publishing house is located in Hornsea, United Kingdom, Yorkshire — a place that just sounds magical — and I look forward to almost everything they produce.
But, I have not looked as forward to anything as I have Robert Shearman's "We All Hear Stories in the Dark."
If you love books, you cannot not love this one. Shearman began work on the volume in his 40s, and a decade later presented it to himself for his 50th birthday. Ten years to write a book?
Ah, like me, Shearman was not remiss, either.
Listen to this premise: "Once upon a time there was a man who lost his wife, and tried to find her by reading all the books in the world."
From this introduction, Shearman writes a book like very few have ever attempted before, and even fewer completed — looking at you, Chaucer — in telling the story of an old woman sitting in the dark who has 101 tales to tell, the last stories on Earth. But unlike Chaucer's grand try, these stories all intertwine and weave through one another, building exponentially and making each reader's way through the book unique. As the publisher rightly says: "You will be the only person who ever reads your version of 'We All Hear Stories in the Dark.'"
Part "Canterbury Tales," part "One Thousand and One Nights," the stories meet, separate and join again with the ultimate prize of winning back your wife from the dead.
About those stories — they are simply wonderful: charming, funny, mythical, horrific, adventurist, tragic, farce and fantastic, there is something for all of us.
And those parts about not being remiss, for Shearman and myself? The book runs to nearly 1,800 pages — pages that must be not only written, but then consumed before final judgment can be rendered.
Well, several months after getting my copy, that judgment is here: Shearman's "We All Hear Stories in the Dark" belongs in every library — period. It is not likely we will ever encounter a book quite like this again (a disclaimer — perhaps we will ... should George R.R. Martin, God bless him, ever finish his little tale).
Circling back to PS Publishing (https://www.pspublishing.co.uk/): The book is divided into three beautiful volumes with incredible art on the covers, endpapers and interiors by Reggie Oliver, and with introductions by the likes of Michael Marshall Smith, Lisa Tuttle, Angela Slatter and Steven Moffat.
Like this reviewer, if you don't already have a copy of this book, you've missed out on the trade hardcover and deluxe slipcased hardcover sets. Yet, the trade paperback version used for this review is very much available — and just as fine in production — and is priced at 45 pounds, or about $61 at the time of this writing from the publisher, although shipping must be considered during this year of pandemic.
Online sellers do appear to have stock of the volume stateside, but however you get the book, or however long you have to wait, just get it.
Shearman's present to himself is a gift for us all.