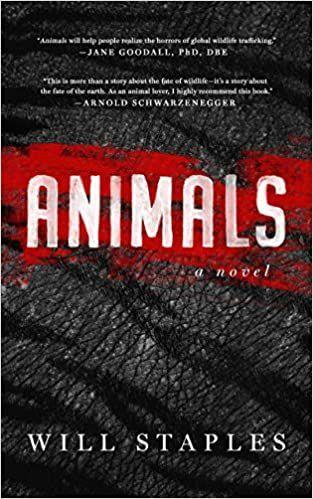 'Animals' by Will Staples, Blackstone Publishing, $27.99
If you get past the uncomfortable reptilian-texture wrapper on the hardcover of Will Staples' novel, "Animals," know this, it only gets worse — and that's the way the author wants it.
Uncomfortable is about the most tame adjective you can use to describe this haunting, impossibly important debut. Marrying three continents worth of research, including hundreds of conversations from those of Jane Goodall to the CIA, with the talent of a big-league screenwriter and video game scriptwriter ("Mission Impossible: Rogue Nation," "Call of Duty: Modern Warfare 3"), Staples has the wheelhouse to produce a cinematic story delving deep into the underground world of global animal trafficking. And this is where he takes us, on a fictional journey with converging storylines, characters and locations that are grounded in fact.
When Kruger National Park ranger Cobus Venter is stymied by the restrictions of his job following the death of two colleagues in a shootout with rhino poachers, the veteran soldier quits and goes rogue — taking the law into his own hands to eradicate the international concern at the source. Crossing paths with American insurance agent Randall Knight, who has uncovered ground zero of a global pandemic resulting from exotic animal breeding, and Audrey Lam, a member of the Hong Kong Police Narcotics Bureau searching for the people who spiked with strychnine the rhino horn powder that nearly killed her seriously ill son, Venter's efforts take him into a maze of corruption and organized crime where gambling, bribing and catering to the exotic tastes of the affluent are business as usual: "The whole world was for sale, Knight observed, and no amount of shopping at Whole Foods, of clicktivists' retweeting statistics, or protests at liberal universities could stop the invisible iron fist of economics."
The challenges before Venter, Knight and Lam are statistically damning, but challenging also is the reader's journey into this world of corruption. Staples' descriptions of tiger wine, the way bile is extracted from live bears and exports such as "pink tiger bones," which involves "sedating the tiger, then skinning and deboning it alive so that the heart still pumped blood as the bones were harvested," are the stuff of nightmares.
Which is exactly where Staples wants to take us — from ignorance to concern.
"I admittedly knew little about the world of animal trafficking when I began this project," Staples writes, "but I ended up having what amounted to a front-row seat for the Sixth Extinction."
The screenwriter is also putting his money where his text is: "My goal with this novel is to expose as many people as possible to this issue. To that end, all my income from this book will be donated to nonprofit organizations dedicated to protecting wildlife."
In buying the book he's asking us to do the same, which is a win-win. It's a damn good story, and we all get a chance to help write the ending.