Young adult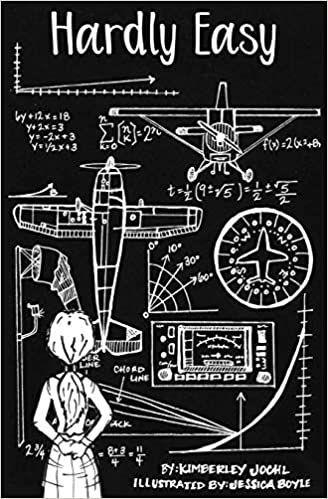 'Hardly Easy' by Kimberley Jochl (Wilfred Lee Books)
Because author Kimberley Jochl is who she is, skiing and flying were always going to figure significantly in her new young adult novel, "Hardly Easy." An athlete who competed in her 20s on the United States Alpine Ski team, Jochl would later go on to earn her pilot's license and currently she is vice president of a North Carolina ski resort.
What didn't figure so neatly was the sheer magic Jochl would be able to weave into this coming-of-age tale. Tackling a flurry of teen issues — identity, love, acceptance among those — Jochl's debut reads as with a veteran's touch. Avoiding preachy pitfalls common among new YA novelists, "Hardly Easy" offers a touching, warm and daring story that will cross over from teen to adult.
Charlotte "Charlie" Henson fell in love with flying at age 12 when she and her twin sister, Anastasia, first flew with their uncle in his single-engine biplane. Four years later, Charlie is old enough to take pilot lessons — her dream has only intensified and she has her sights set on one day flying jets for the US Navy — but is stymied when her father unexplainably forbids it.
Without his knowledge, and with her sister's and mother's aid, she forges on in her effort to earn a pilot's license, taking a job at a local municipal airport to pay for the lessons and befriending a young pilot who will help her navigate not only a path to flight, but life itself.
At this point, a lesser story would devolve into a messy familial affair, but instead, the novel evolves into one of empowerment and inspiration. Charlie learns to trust her family, her friends and mostly, herself, in embracing new opportunities and challenges: "Skiing and flying, I've discovered, are similar in so many ways. Mainly, both light me up inside and force me out of my comfort zone, and I love that ... most of the time."
Being forced out of your comfort zone is a perennial teen concern, and the stakes in this novel are high: Charlie is forced to pursue her passion against the will of the father she loves, while Anastasia struggles with acceptance in the wake of blossoming sexuality.
Others, too, face problems in seeming isolation — yet come to understand at the end that they're not alone. "I don't have another friend like you," Wendell confesses to Charlie. "You're the only one who doesn't treat me like a nerd. No one thinks I'm normal, but when I'm around you, I feel normal."
And even Charlie, who on the outside appears to be in complete control, finds an unexpected friend when she needs it most from Katie Mac, her once nemesis: "Keep reaching deep down, all the way to the core of your dream until you have the strength to pull yourself up. Never, ever give up, she said in her long, sweet, honeyed drawl. ... I think I've had Katie Mac wrong all these years."
Discovering not only who we are, but who we will become is the test we take as teenagers. If we are lucky, we have mentors and parents and friends to guide us to the right answers. In this, "Hardly Easy" gets it exactly right, as Charlie and her father both learn. "Believing in yourself and following your dreams, that's what's important," her father says to Charlie in an admission that feels very much a resolution to childhood, and a beginning toward adulthood.
Throughout the story, Charlie, her family and her friends grow to understand this. "As we glide over the rolling hills and the rainbow of green shapes that break up the terrain, I feel the tension between us trailing out behind us, dissipating like a contrail in the crisp mountain air," Charlie expounds while flying with her father. "It hits me. Of course he cares about my dreams, more than I ever knew. Maybe he's just having a hard time letting go."
Like Charlie's father, letting go will be difficult for readers of "Hardly Easy," but that is exactly what they should do. Jochl's novel is one to be shared widely with the teens and adults you love.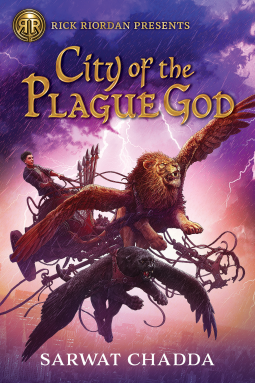 'Rick Riordan Presents: City of the Plague God' by Sarwat Chadda (Disney-Hyperion)
There's a gap in young adult fiction that many libraries would find difficult to fill: an adventure story with a Muslim protagonist who saves the world. And libraries are not alone. Even authors who identify with this ideal struggle with such a scenario.
"Growing up Muslim in Great Britain, I knew I couldn't be the good guy. It was a weird feeling as a kid," writes Sarwat Chadda in the author's note to his new novel, "City of the Plague God." "Is it any wonder, then, that it took me 12 years and 11 books to actually create a Muslim hero?"
Chadda resisted the scenario out of fear that "any celebration of my heritage would be seen as something scary or sinister. Phrases like 'jihad' or 'Allah Akbar' are so horribly misunderstood nowadays." But then came "Rick Riordan Presents."
Riordan, of "Percy Jackson" fame, publishes only about four books a year under the Disney-Hyperion Presents imprint, but each of those publications are important literary additions to the middle grade canon: They specifically aim to publish "great middle grade authors from underrepresented and backgrounds to let them tell their own stories inspired by the mythology and folklore of their own heritage."
And so we have Chadda's "City of the Plague God," the story of 13-year-old Iraqi American Sikander "Sik" Aziz, who will be tasked with stopping the Mesopotamian plague god Nergal from destroying New York City.
Following the death of his brother, Mo, during a trip to Iraq, Sik deals with his grief by throwing himself into the work it takes to help run his refugee parents' deli. But when Nergal attacks the business in an attempt to find a stolen treasure, a chain reaction spreads a plague infecting the city, Sik's parents included. As the story explodes from here, Sik and his best friend, Daoud, an aspiring actor, team up with the goddess Ishtar and her combat-ready adopted daughter, Belet. The result is an adventure worthy of the superhero Sik and his friends most admire, Gilgamesh — who, not unexpectedly, makes an appearance in the story.
Chadda does an admirable job in constructing not only the story but, through dialogue and plotting, overcoming stereotypes and weighty topics such as Islamophobia, terrorism and anti-Arabism.
"So, when are you gonna play a hero," Sik asks his friend, Daoud, who laughs at the question.
"Guys like us don't get to be heroes. You know that."
"Why," asks Sik. "'Cause you're an Arab, or 'cause you're a Muslim?"
"Take your pick, cuz. Take your pick," Daoud says.
But in this story, at least, Sik, Daoud and their friends do get to be heroes — and Chadda shows the way, crafting a novel that joins ancient gods with the fundamental Muslim belief in one God with enviable skill.
Thriller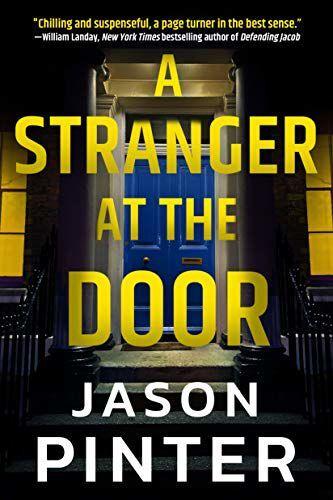 'A Stranger at the Door' by Jason Pinter (Thomas & Mercer)
Jason Pinter has more than 1 million books in print around the world, but it was with the first Rachel Marin novel, "Hide Away," that many readers found something different — a unique blend of crime story and familial domesticity.
In that story, Rachel is a police-affiliate investigator who makes the decision to uproot her family after the traumatic death of her husband. Now, living under new names and in a new place, the single-mother Rachel tries to make a new life for her children, Eric and Megan, because the alternative is just too painful.
In "A Stranger at the Door," all of this is threatened as Eric's schoolteacher, Matthew Linklater, is horrifically murdered just after sending Rachel a cryptic email about an unspecified threat. Involving herself in the investigation, Rachel struggles to keep her children safe even as a ghost from the past surfaces to threaten her family, and as Eric becomes ever more distant as he unwittingly becomes involved with a cult of killers hoping to use the boy as a pawn.
In this second installment, Pinter does not shrug his duty in advancing Rachel's backstory, teasing out what's necessary to make this read a standalone for those uninitiated with the debut. A thrilling page-turner, "A Stranger at the Door" is a fully fleshed-out story that questions the meaning of justice. Fulfilling the promise of this sophomore release, readers will eagerly anticipate more of Rachel Marin's developing story.
Mystery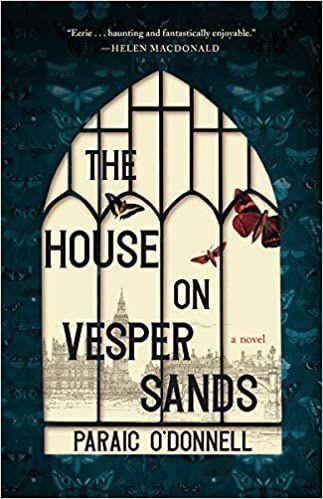 'The House on Vesper Sands' by Paraic O'Donnell (Tin House)
A supernatural mystery that has been compared to the likes of Dickens, Paraic O'Donnell's "The House on Vesper Sands" has a lot to live up to. The book delivers.
The year is 1893 and the place is London. When young female workers — scullery maids, seamstresses and the like — begin disappearing, O'Donnell assembles an unlikely combination of characters interested in the Jack the Ripper-esque crimes: an orphan-turned-heiress-turned-journalist, a poor university student, an inspector from Scotland Yard and a downtrodden clergyman.
When it is revealed that the inspector handles special cases dealing with the occult, the novel takes on its true gothic overtones while the separate lives of these characters collide, merge and approach the truth. A seamstress jumping to her death opens the novel, but nothing is really sewn together until the mystery centering on the Spiriters is teased from the backstories of O'Donnell's cast.
Tautly plotted, this richly atmospheric novel — even the snow becomes a character of force — from the Irish author already has earned voluminous awards and accolades. Read the book in front of your fire on a dark, winter day, or better, listen to the audio book from HighBridge's division of Recorded Books. Charles Armstrong's reading approaches the miraculous, not only putting you deep into O'Donnell's foggy streets, but even deeper into the characters who roam there.
Science fiction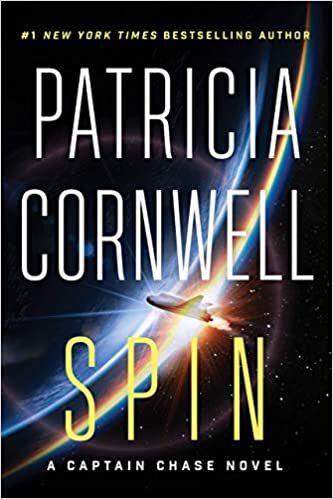 'Spin: A Captain Chase novel' by Patricia Cornwell (Thomas & Mercer)
Few authors can complete a cliffhanger like Patricia Cornwell, which is what she delivers in "Spin," the second in a series featuring heroine Captain Calli Chase, a supreme achiever — test pilot, quantum physicist and cybercrime investigator who moonlights as a "security guard" for NASA Protective Services.
When a top-secret NASA program spirals out of control following a horrific and failed rocket launch, Calli alone has the skill set, background and experience to make things right. Confronted by her missing twin sister, Carrie, Cornwell deftly makes the military threat personal, turning the search for answers about a sabotaged rocket launch into a quest to fulfill what appears to be her predetermined destiny — saving the world by leaving it.
With more than 120 million books to her credit, Cornwell has no shortage of fans — readers who are driven to her books by the author's penchant for immersion storytelling. "Spin" is no different. For the Captain Chase series, Cornwell gained insider access to NASA facilities, learned to spacewalk, studied robotics and sat one-on-one with space scientists. The result is a thrilling and honest beyond-this-world adventure.