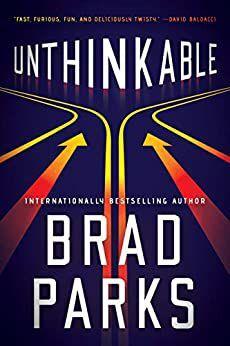 'Unthinkable' by Brad Parks (Thomas & Mercer, $24.95, 351 pages)
Every day we drape shrouds over the decisions that we, and only we, will ever know. Left or right? Go or stay? Tell or not. … In Brad Parks' new novel, those daily decisions are elevated by orders of magnitude, and once you get past the suspension of disbelief, "Unthinkable" is a driving, single-sitting narrative with twists and turns credibly woven into an engrossing plot.
Lawyer turned stay-at-home dad Nate Lovejoy opens the novel by awakening in an ornate bedroom — much is made of the original Rembrandt on the wall — after being drugged and kidnapped. Introduced to a secret society, the Praesidium, he is made aware that the organization's leader, Vanslow DeGrange, has a gift for catching occasional glimpses of the future. It's a singular talent which he and the Praesidium use to prevent epic disasters.
DeGrange's most recent revelation involves a quixotic lawyer whose ambition to tackle the coal-fired plant industry and the cancer it causes would, should she win, launch an environmental greenhouse-gas disaster that could kill as many as a billion people.
Jenny Welker, that lawyer, is Nate's wife. And so sets up the ethical question: Would you kill one person, even if that person is your spouse, to save tens, thousands or hundreds of millions of people?
It's this unthinkable proposition that becomes very much the center of Nate's thinking after he is coerced and family-threatened with the task. The Praesidium, never more than an arm's length away, has chosen him for both his accessibility and to distance its members from the crime.
Parks takes a gamble with this narrative supposition. Through clever plotting and character building he works hard to convince Nate, and by default the reader, that not only such a man as DeGrange is believable, but so is the premise that the needs of the many outweigh the needs, and deaths, of the few.
If you can get there — and Nate does through empirical examples and debatable rationales — the wager works. Readers so inclined are entreated with a fast-paced, series-starter story.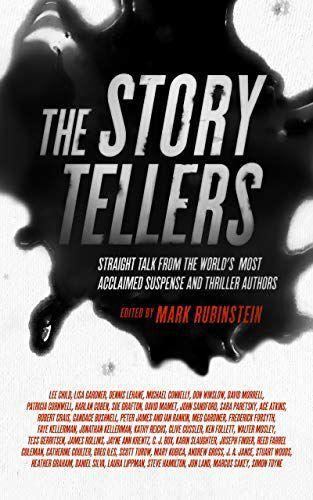 'The Story Tellers: Straight Talk From the World's Most Acclaimed Suspense and Thriller Authors' edited by Mark Rubinstein (Blackstone, $16.99, 364 pages)
For all of those questions you've ever wanted to ask your favorite thriller writer — beyond "where do you get your ideas" — editor, author and psychiatrist Mark Rubinstein has your back, and then some.
In "The Story Tellers: Straight Talk From the World's Most Acclaimed Suspense and Thriller Authors," Rubinstein delves deep into the psyche and persona of more than 40 writers, in essence casting them as characters in their own real-life stories.
Engaging and honest interviews populate the book — who knew that Patricia Cornwell kept sacred the memory of her first Kay Scarpetta novel reading, for which no one showed? — and the result is like sitting down with a group of friends … if your friends just happen to be multiple million book-selling authors.
Rubinstein's who's who of thriller and suspense authors is astonishing and the interviews are sober and sound, as if rubbing elbows with the world's elite storytellers is an everyday occurrence — which, for Rubinstein, apparently is.
Here we get candid reveals from the likes of Lee Child, Kathy Reichs, John Sanford, Don Winslow, Michael Connelly and dozens of other names you've been reading for years. Part advice, part tell-all, Rubinstein's collection encases a treasury of truths from writers whose stories we've enjoyed for years.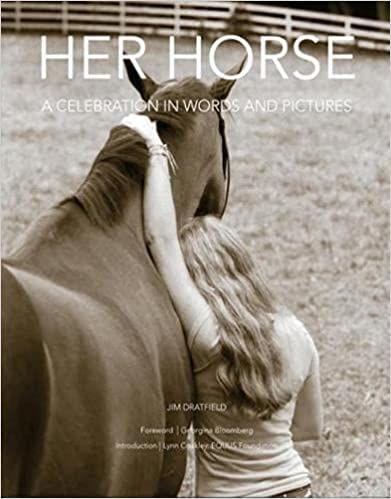 'Her Horse: A Celebration in Words and Pictures' by Jim Dratfield, with a foreward by Georgina Bloomberg and introduction by Lynn Coakley of the EQUUS Foundation (G Editions, $50, 160 pages)
Long after the horse shows in Blowing Rock, Saratoga and the rest of the civilized world depart for the year, those looking for an equine fix will have succor.
Renowned pet photographer Jim Dratfield's new photographic journey, 'Her Horse: A Celebration in Words and Pictures," is poetry through photos. As such, it lingers and captures the essence that is the joy and bond between a woman or girl and her horse.
Of his 13 books, Dratfield notes that 'Her Horse: A Celebration in Words and Pictures" is "perhaps, my most rewarding work. … Every relationship itself is a unique and distinctive love story." And those relationships are not only distinct, but voluminous: More than 120 images, from gold medalists to trail explorers, offer a unifying message.
Throughout the book words are few — a foreward by Georgina Bloomberg asks "What is it that attracts so many women to horses," while EQUUS Foundation's Lynn Coakley similarly addresses that "special bond" — because it is the photos which showcase a love that words can't capture.
Dratfield turns in this volume from chronicling the lives of his beloved cats and dogs, and his A-list clientele, to extend his craft to the pure emotion of one woman, one girl and one horse. It is a quote from Anotine De Saint-Exuprey attached to one of the images — he of the charming fable "The Little Prince" — that captures this emotion: "It is only with the heart that one can see rightly; what is essential is invisible to the eye."
In his newest offering, Dratfield is correct. "Her Horse" is rewarding, but not only for its author.