A good number of 6-year-old boys in America may grow up with a fascination for sports or making music, but rocks were what ignited the passion and lifelong interest of Blowing Rock's Randy "Doc" McCoy.

He liked the different colors, the different shapes, the different textures and the different patterns of rocks. It was this love that inspired him to open Doc's Gem Mine and later the fossil museum in 2007, which since inception has been located at 111 Mystery Hill Lane, just off of U.S. 321, between Blowing Rock and Boone.
Because his lease at that location was coming due on Oct. 1, 2020, McCoy said he had been exploring options as that date approached.
"I was talking with Mayor Charlie Sellers about trying to get the fossil museum moved into Blowing Rock so, among other things, it could benefit the school. The museum had grown to the point where we needed more space," McCoy said.
As it turned out, McCoy found more space for both of those businesses, which are separate enterprises but still related.
By taking on the space at the front of Tanger Outlets, McCoy has tripled the space he previously had available for the Appalachian Fossil Museum and at least double, but maybe close to tripling the space he has for Doc's Gem Mines. Plus, it is a symbiotic relationship with the outlet center. He benefits from the Shoppes on the Parkway traffic entering the center right next to his business, and Tanger gets greater exposure because of Doc's visitors.
"This space allows us to really focus on social distancing during these pandemic times," McCoy said. "We have a great relationship with Mystery Hill. We send them customers and they send us customers. But over there with the occupancy requirements imposed on us, we might be able to get two or three families into our space for the gem mine, at half capacity. Here, half capacity is 75 people. That's a big difference."
While Doc's Gem Mine has already opened at the new location, McCoy is busy readying the Appalachian Fossil Museum for a Jan. 22 opening. The "grand opening" is tentatively scheduled for April.
McCoy is committed to his customer's experience being as educational as possible. That's true at the Gem Mine, as well as the fossil museum.
"In the fossil museum, it is a guided tour," he said. "When a guest comes back here, they will get a one-on-one experience with all kinds of information about each fossil: what it is, who collected it, where it came from, even whether we found it or someone donated it or if we purchased it."
While McCoy will sometimes serve as tour guide, he won't be the only one. He said he hires and trains Appalachian State University geology students. As an enhancement for a college geology student's education, it doesn't get much better than the opportunity to work either at McCoy's gem mine or fossil museum.
"We have more real fossils on display here than at a big, publicly-funded museum," said McCoy. "I can show you stuff that they can't, and that opens up a lot of doors for people to learn. The big museums that are publicly funded have some constraints, including insurance. They might inherit or purchase a collection and make a copy of that collection to put on display but keep the real thing in a lab to still do testing and such, or stored in an archive. Students might occasionally get to come in to learn off of that one piece, but the public doesn't get to see the real thing. As a private museum, we can do things a bit differently. We have no state funding or federal funding. Sometimes it hurts our pockets because we don't have that state support."
Walking around the museum, McCoy points out items that come from England, Montana, South Carolina, North Carolina and Wyoming, among others.

"Up on that wall is a 30-foot prehistoric fish," he said, "and that emmonite over there came from Texas. I found that myself. Personally, I do two rock hound tours a month, all summer long."
And the facts and information keep coming, in a constant flow. A giant, prehistoric alligator on display was found in Tennessee. Additionally, a T-Rex's (short for tyrannosaurus rex) skull that came from Montana — found by Jerry Jacene of the Chattanooga area — is mounted on a rotating pedestal.
"For a lot of our collection, we raise money," McCoy said. "We have two donation boxes in our museum for our visitors to take some ownership. The giant alligator, we are still paying for. The big fish? We just got that and I paid the first $500 on it but we still owe $15,000. This isn't a cheap endeavor."
Talking about financing, McCoy said that the fossil museum alone is a few dollars shy of $10 million.
"I personally have invested close to $3 million into this business over the years, out of my own pocket," he said. "I went about six years here without collecting a paycheck. So, you can bet that we are very well insured and this place is heavily guarded."
After McCoy pointed out a couple of fossils that came from Canada and Montana, he was asked why so many of the fossils come from the Rocky Mountain region and not so much from the Carolinas.
"Simple," he said, knowingly. "Back in the dinosaur period, the Carolinas were under water. We get the oceanic fossils, such as the prehistoric fish and pelican-type creatures, but during the dinosaurs' time you would not have found them here, not at all."
It is information such as this which drives home McCoy's commitment to education, a passion that he is sharing as much as he can with Appalachian State, as well as setting up workshops for students at Blowing Rock School.
"If you compare us to any other gem mine in the state, we are absolutely the best value for what you get for your dollar," McCoy said. "We are authentic. We are the only gem mine backed by the North Carolina Board of Education. We teach about what you find, everything you go through has to come from North Carolina, Georgia, Tennessee or Virginia."
McCoy's first profession was in healthcare. He was a doctor, first in hospital emergency rooms, then in the military. He earned his medical degree at Duke University.
"A lot of guys, when they get out of military service, they go into law enforcement," McCoy said. "That wasn't me. I had a passion for rocks."
"I have been collecting rocks since I was 6, walking the beach with my mom," McCoy said. "She kind of got me into it. When I retired from the medical field, I wasn't really sure what I wanted to do. I didn't want to stay in medicine, and I didn't want to go into law enforcement. I love all of those guys and what they do, but I knew that wasn't for me. And I was too short and too broken to play basketball."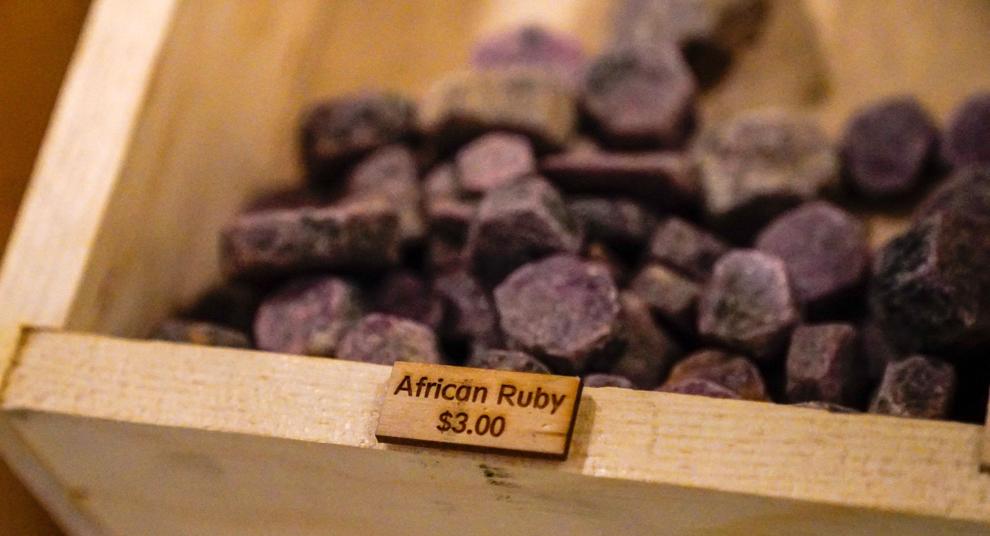 So, McCoy enrolled at Appalachian State University to study his lifelong passion of rocks through geology. He added recreation management to his academic pursuits and the double major soon paid dividends.
"I started Doc's Gem Mines my sophomore year, in 2007," McCoy said. "It just kind of took off from there. I started the fossil museum in 2011."
Everybody loves rocks, McCoy said in describing the market opportunity.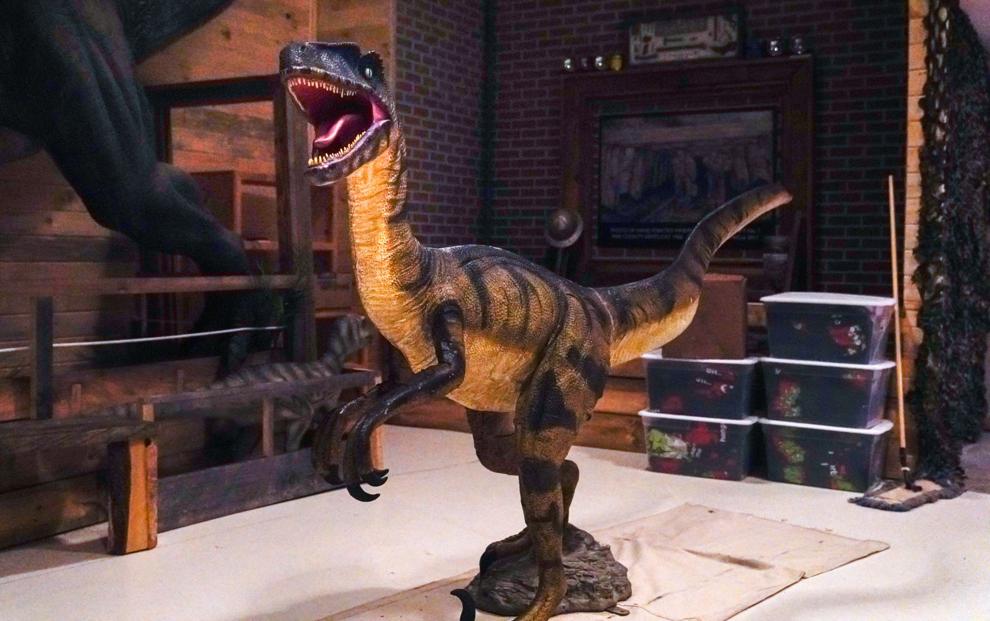 "There is something about the color or texture that gets your attention," he said. "Some people like to wear them. Some like to look at a particular rock's uniqueness and then understand what happened in nature to make it what it is. There is something for everybody in geology."
Pointing to a couple of dinosaur models in the soon-to-reopen fossil museum, McCoy explained the attention to detail and accuracy through research.
"We had those custom made based on the research we have now of these specific dinosaurs, including how they look and their muscle structure, how they carried themselves, their strengths, their weaknesses, all of that stuff," McCoy said. "We had these custom made based on the facts of what they would look like back then."
The models are not cheap imitations.
"These were made by the same people that did the designs for the "Jurassic Park" and 'Walking With Dinosaurs" movies. Each piece takes them about a month to build," McCoy said. "There is a lot of detail work that we want to go into them. You notice, for example, that the small one is really bright and the larger one quite a bit darker. The larger one, you see, lived in a more volcanic area so he would be covered with ashes. We had these made to be as specific as possible to the way things were."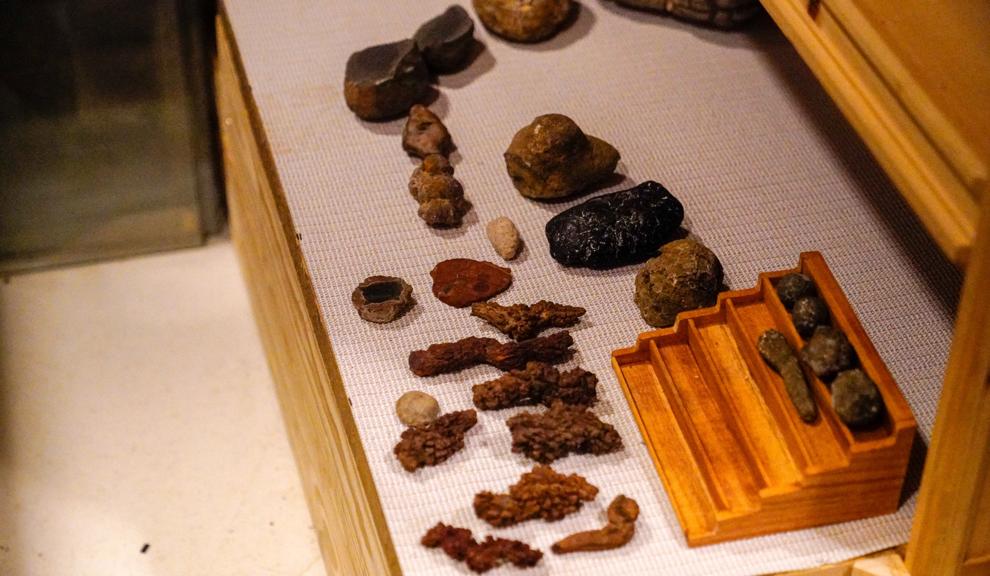 Hanging from the ceiling of the fossil museum is a display of a fossil skeleton that has been reassembled below a pelican-looking creature with a 16-20 foot wingspan.
"That guy was found down near Charleston, S.C.," McCoy said. "It was at the end of the runway when they were extending the airport. That is the actual fossil and a sculpture re-creation hanging above it."
Walking around the museum further, a visitor's attention may shift to what McCoy calls "Bob," short for "bag of bones" embedded in a rock face. It is a mixture of fossils from plant eaters and meat eaters. Turn around, and visitors trace a man-made re-creation of a dinosaur footpath, ending with the actual fossilized footprint of the real thing some millions of years ago.
"We sell a lot more of the higher end specimens, both fossils and gem stones at the McCoy Minerals location. We also carry watch lines," McCoy said.
Doc's Gem Mine and the Appalachian Fossil Museum are subsidiaries of McCoy Minerals, Inc., headquartered at 537 Main Street in Blowing Rock. The building doubles as the company jewelry and lapidary gallery and retailer.