ZIONVILLE — Coy Baker started blacksmithing in 2008 when he was a teenager, falling in love with one of the oldest crafts in human history.
As he got older, his passion for metalwork never left him, leading him to creating Baker Forge and Tool in Tennessee. In 2020, the business moved from Mountain City, Tenn., where Baker still lives, to a steel smith production shop in Zionville. Since the move, Baker has continued to raise his profile in the maker community with a unique style of Damascus steel.
Damascus steel is known for its complex patterns within the metal, the result of bonding and folding two different types of steel. Baker had been working with different patterns of Damascus steel when a friend proposed an idea.
"He asked me if he could send me copper and include it in the steel," Baker said. "I told him no, it's not possible to combine a ferrous and non-ferrous metals like that. He kept bugging me about it, so I told him if he sent me the materials I'd give it a shot."
Baker said he tried dozens of times to get the metals to work together to no avail, giving up on the idea and moving on to other projects.
"It kept popping up in my head though," Baker said. "I kept thinking of new ideas of how to get it to work and so I eventually went back to it."
He took inspiration from mokume-gane, a Japanese technique for making Damascus-like patterns in precious medals that was developed in the Edo Period.
Baker developed his own, proprietary method for fusing ferrous and non-ferrous metals with specialized bonding agents and heat treatments, resulting in Damascus steel with copper running through it as a layer.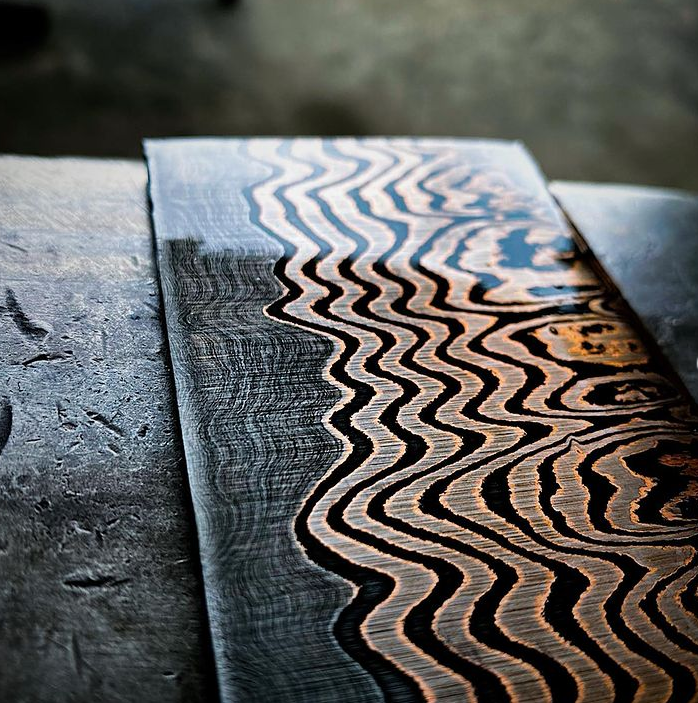 "It's time-intensive, but it's worth it," Baker said of the metal he dubbed "Coppermascus."
Baker can create roughly 40 billets over a two week period, ready to be shipped out to collectors. The billets are unfinished metal bars, waiting to be ground and cut to shape and size.
"There are people who will buy the billets from a maker like me and then send it to a knife maker," Baker said. "I'm not a knife maker, so I'm just happy to make the billets. It's really cool to see the results, where metal I made gets turned into a beautiful knife."
Aside from blades, Baker's steel has been used to make tattoo guns, golf putters and a variety of other items.
Due to the specialized nature of the billets and the time they take to make, they can be more expensive than a standard slab of steel — as a 13-inch-long billet of Damascus GoMai with copper can cost $220.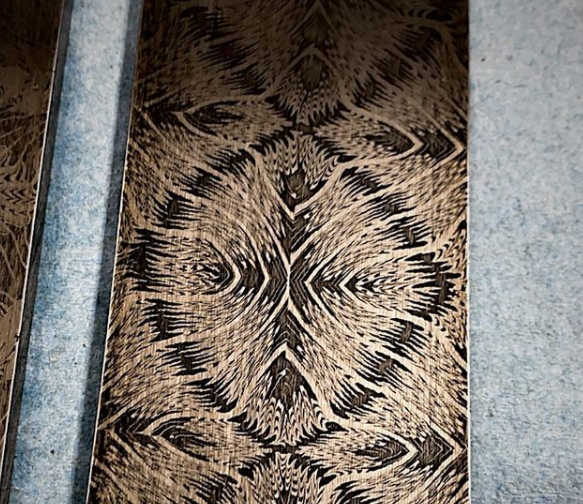 Between the copper patterns and high layer-count Damascus, Baker's steel is pricier than some, but still in-demand.
"The biggest issue I've had is finding help," Baker said. "Fact is, this stuff takes a lot of time and energy, and it's not like I can just hire someone off the street because it takes a long time to learn everything and get those skills to the level they need to be."
With Baker's shop being solely for production and business, not open to the public, his products can only be attained online. For more information about Baker Forge and Tool, visit www.bakerforge.com or find them on Instagram at @bakerforgeandtool.