BOONE — The four candidates for the three open seats on the Boone Town Council fielded eight questions at a forum hosted Oct. 10 by the Appalachian State College Democrats in the Table Rock Room of the Plemmons Student Union.
Incumbent Loretta Clawson and candidates Dustin Hicks, Nancy LaPlaca and Virginia Roseman responded to questions related to sustainability, housing, parking, transportation, small business and the town's loss of extraterritorial jurisdiction powers.
The forum was moderated by Pat Mitchell, assistant professor at Appalachian State and president of the North Carolina Economic Development Association, and Justin Lundy, a senior student at App State.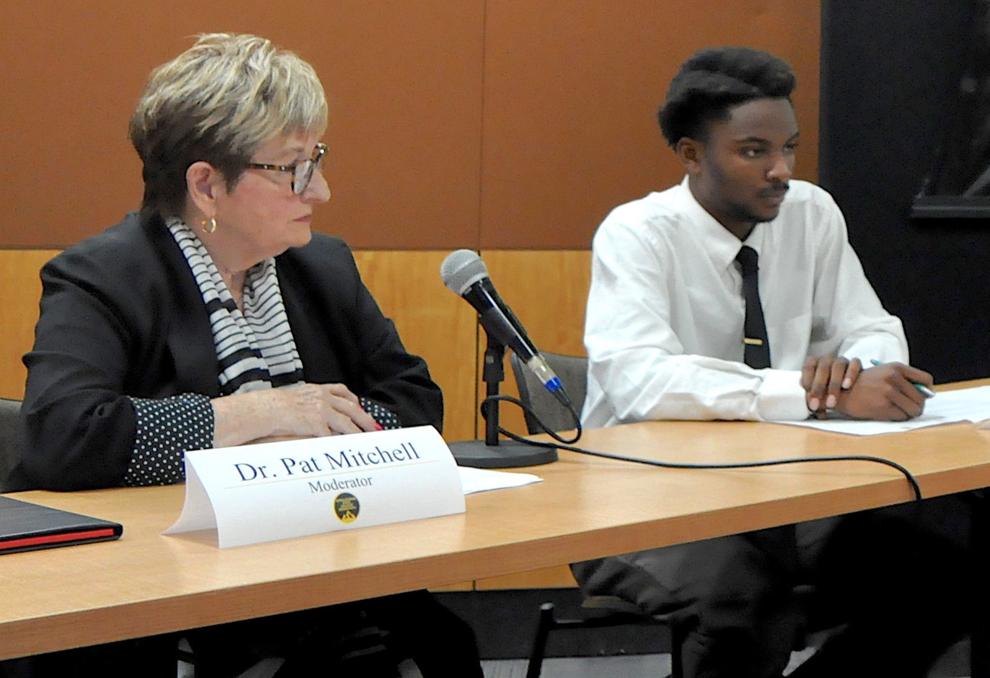 SUSTAINABILITY: Candidates were asked to name specific plans for sustainability that have not already been taken, as well as plans to pay for them.
Hicks said, "There's so many things we could be doing," including more solar, permeable landscaping and green space, but that the starting point must be more community engagement and democratic participation in town policy.
"That doesn't exist right now," Hicks said. "We have goals, but we don't have a plan."
Clawson listed current and recent efforts by the town to be sustainable, including hybrid police cars, tree plantings and departmental mandates to reduce energy usage.
"I wish we had more money to spend on sustainability, and if we can get our (sales) tax money back from the county, we can use that for sustainability," Clawson said.
LaPlaca indicated that despite their stated goals, the university still only derives 2 percent of its energy needs from clean energy, and the town of Boone is at 1 percent.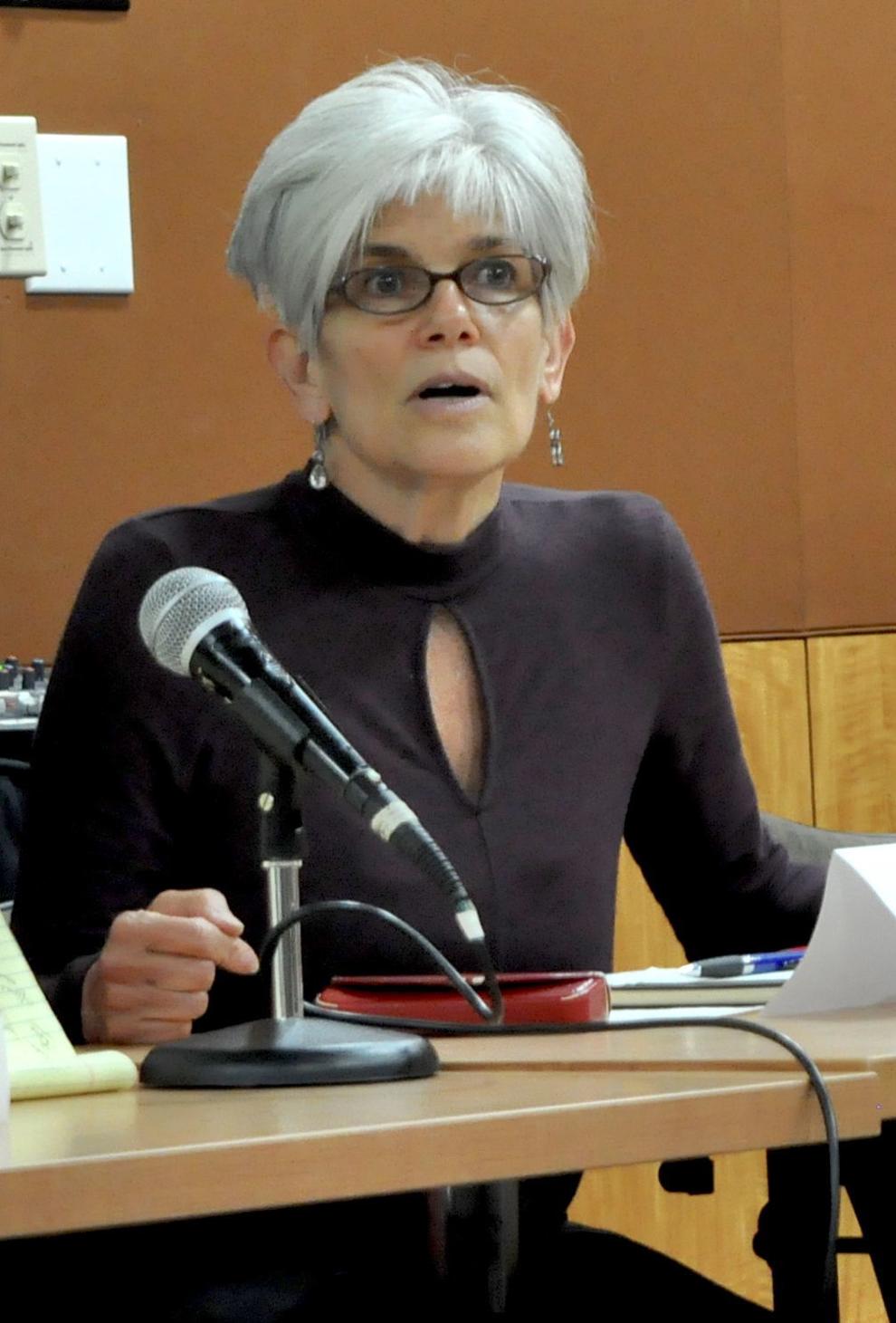 "We don't have the rules in place that would allow us to get there," she said. "If we don't electrify transportation and we don't take real steps to reduce carbon-based electricity, we're not going to get there."
Roseman said that to achieve climate neutrality, everyone must take steps together. She mentioned increased pedestrian and bicycle infrastructure, expanded bus routes and solar and wind power as opportunities.
HOUSING: The moderators asked how to accommodate high demand for housing while also preserving neighborhoods, and about fairness to tenants.
LaPlaca voiced support for a community land trust or tiny home community, as well as opportunities for student investment in housing. Roseman said Appalachian State needs to take more responsibility for building housing for students, and that she enjoys living in an old neighborhood that includes young families and graduate students.
"Neighborhoods do need to be protected, but you set the standards of what your neighborhood is going to be," she said, noting that in her neighborhood, everyone knows and talks to each other.
Hicks said the state and UNC system Board of Governors must be pressured to change policies requiring continued university growth, which they said is not sustainable. Hicks also opposes the current town occupancy restriction barring more than two unrelated persons from living together in a single-family neighborhood.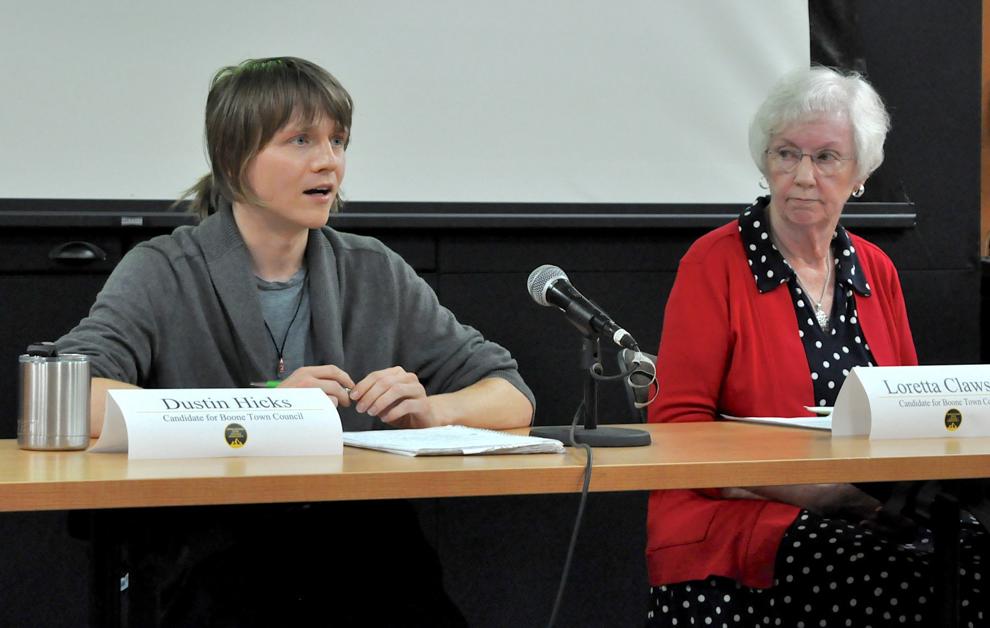 Clawson expressed doubt at the town's ability to affect BOG's growth plans, and she said the town's current efforts to rezone some areas and create small housing districts could create affordable housing options.
LaPlaca and Clawson said they were interested in the creation of a public advocate who could assist tenants, an idea proposed by current Boone Town Council Member Sam Furgiuele. Roseman said onsite management is crucial.
PARKING & TRANSPORTATION: Candidates were asked about their ideas for alleviating traffic congestion, collaborating with ASU on issues such as AppalCART and about parking.
Roseman supports the construction of parking decks on the outskirts of town limits, allowing patrons to ride the bus into town and reducing traffic, as well as making the town more bike and pedestrian friendly. Hicks said that housing must be addressed to address traffic. Hicks said they likes the idea of parking decks outside of town, but that with a goal of fewer cars on the roads in the future, too much investment in parking and motor vehicle infrastructure could be a waste of resources.
Clawson said the town must be more bike and pedestrian friendly and that the rejected N.C. 105 "superstreet" was not a fair deal for the town. She said the town is working with ASU on a new parking deck, but that the town cannot afford to build a new deck on its own due to the loss of sales tax revenue.
LaPlaca noted that she hasn't owned a car for years, and that higher-density housing, mass transit and electrifying AppalCART are key. And "for heaven's sake," she said, "if we do parking decks, let's put solar on them."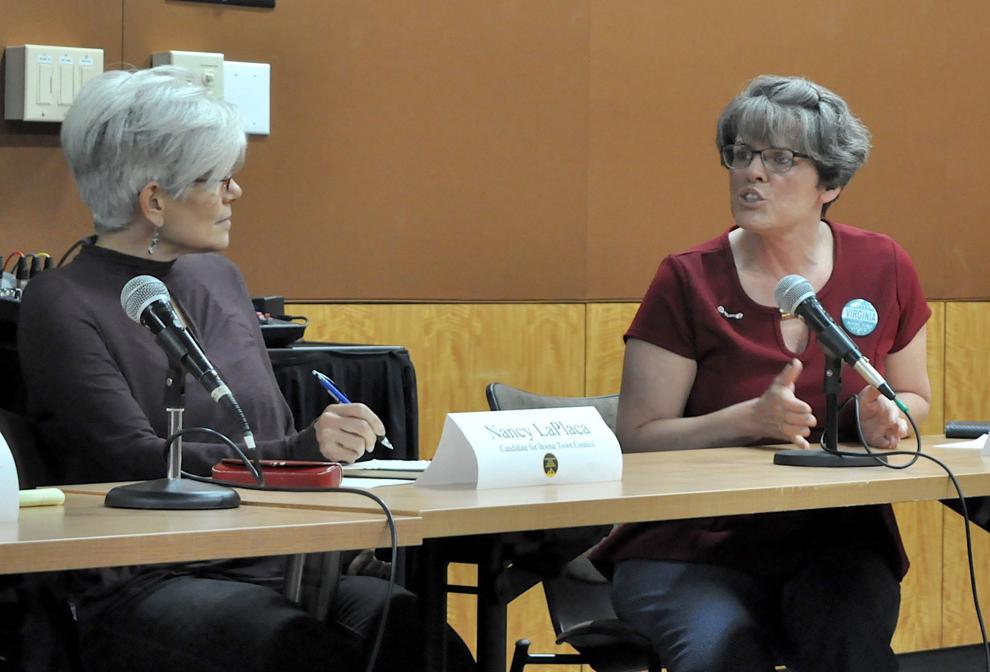 SMALL BUSINESS: The moderators asked if it is possible for the town to preserve and incentivize small businesses in the face of larger corporations moving in.
Clawson said the town offers facade improvement grants and is making streetscape improvements in downtown Boone, and that the Howard Street revitalization will provide small business opportunities.
"Larger corporations are doing well also," Clawson said. "We can certainly exist in the same area and everybody do well."
Roseman said the town must push the "buy local" message and proposed giving new businesses a tax break in their first year of operation. LaPlaca said the town must diversify its energy market, noting that 95 percent of the area's energy comes from Duke Energy, one of the largest corporations in the world. Solar provides 77 times more jobs per megawatt generated than "dirty energy," she said.
Hicks said the town could offer incentives through taxes and other methods for desired businesses, such as restaurants that prioritize local foods. They also suggested an alternative currency for locals and students, as well as recruiting businesses with strong social and community engagement and that are willing to share their spaces for community events.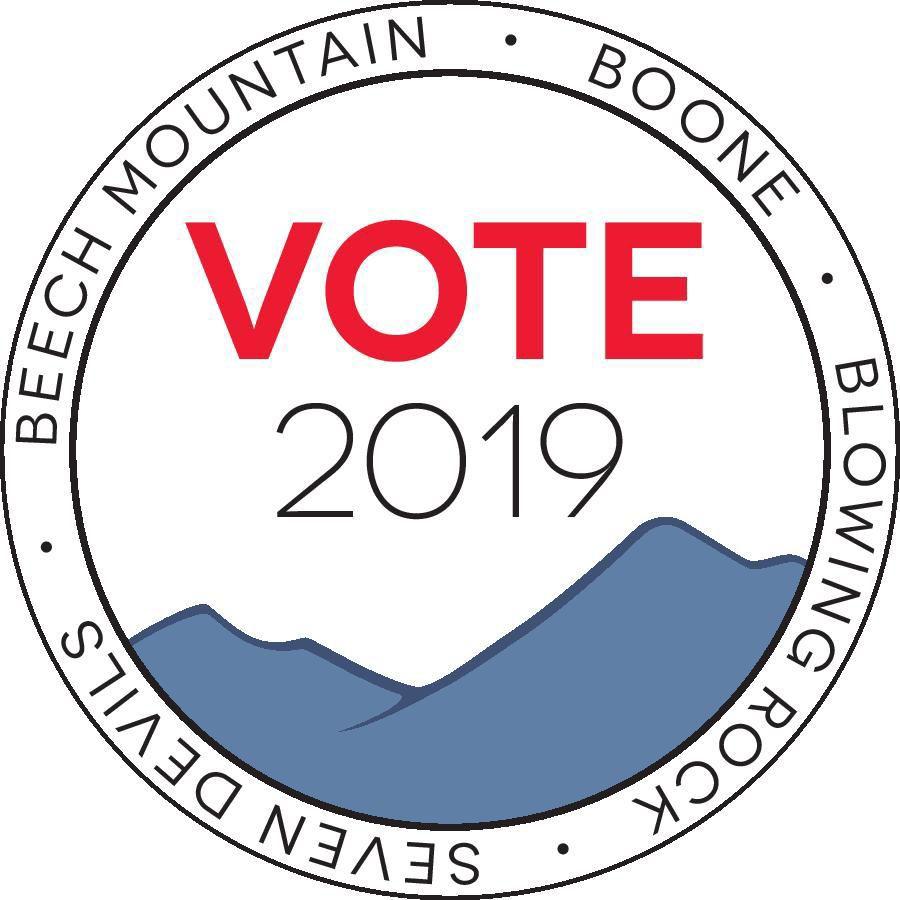 ETJ: Candidates were asked how to resolve issues resulting from the loss of ETJ powers, and if they would support providing town water to areas outside of town.
The four candidates in general lamented the loss of the ETJ and said it was unfair. LaPlaca said the town's water allocations and annexation are its best tool for controlling growth.