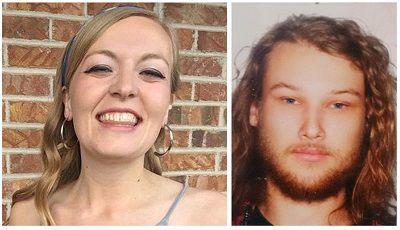 LIARD RIVER, Canada — A 2017 Appalachian State graduate and her boyfriend were found murdered on the site of a remote highway in northern British Columbia on July 15, according to the Royal Canadian Mounted Police.
"On Monday, July 15, at approximately 7:19 a.m. (Pacific Time), Northern Rockies RCMP front line officers were called to an area of (Alaska) Highway 97 approximately 20 kilometers (12.42 miles) south of Liard Hot Springs," a July 19 British Columbia RCMP statement said. "When officers arrived they located the bodies of two adults, a woman and a man, who were deceased. A blue 1986 Chevrolet van bearing Alberta license plates was located at the scene."
The couple have been identified as Chynna Noelle Deese, 24, of Charlotte, and Lucas Robertson Fowler, 23, of Australia. The cause of death has been determined to be a homicide by gun violence and the van was identified as belonging to Fowler, the RCMP said in a July 23 statement.
The couple were on a road trip through Canada, according to various media reports.
Deese received a bachelor's of science in psychology in spring 2017, as confirmed by ASU spokesperson Megan Hayes.
"It is with great sadness that we mourn the loss of our sister, Chynna Deese, who recently passed," the ASU chapter of Zeta Tau Alpha said in a July 18 Facebook post. "She was such a kind and adventurous soul and we have been honored to call her our sister. Our hearts are with Chynna's family during this difficult time, and we are so thankful to everyone for the support and kindness we have already received."
On July 23, the British Columbia RCMP named two suspects in the murders who had previously been classified as missing. Kam McLeod and Bryer Schmegelsky were spotted in northern Saskatchewan, several hundred miles from northern British Columbia, and are also suspects in a suspicious death at Dease Lake, roughly 300 miles west by car from where Deese and Fowler were found.
According to the Toronto Sun, a camper stopped and talked to the couple earlier on July 13. The camper said the two were sitting in chairs on the side of the road next to their van and told him the engine had flooded and they were waiting before starting up again.
The North District and British Columbia RCMP Major Crime Units were called to assist in the investigation, according to Sgt. Janelle Shoihet, a district advisory non-commissioned officer with the British Columbia RCMP. The New South Wales Police Force in Australia, which Fowler's father is a member of, and the FBI, supported the RCMP in notifying the families.
A press conference was held on July 23 to offer updates on the investigation, including closed-circuit television footage from July 13 of the couple at a service station in Fort Nelson, 180 miles from where their bodies were found.
"Investigators are working through a number of tips and tasks, including interviews with individuals who saw or spoke with the couple, analyzing forensic and digital evidence along with reviewing hours of (closed-caption television) and dashcam video footage," a July 23 British Columbia RCMP statement said. "The number and types of specialized services and investigators continues to fluctuate based on investigative needs."