AppalCART sets single-day ridership record Oct. 31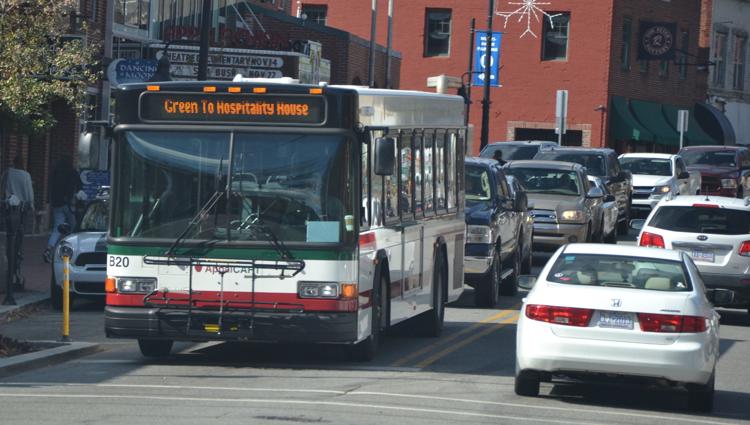 BOONE — AppalCART, Boone's free public transportation system, recorded a new record of single-day ridership on Thursday, Oct. 31, with more than 18,000 passengers, according to the organization.
AppalCART Director Craig Hughes said that the record number of riders came due to what he called a "perfect storm."
"We have higher ridership than we have had in the past," Hughes said. "More people are taking advantage of our service. And we had a unique situation with a football game on Thursday."
The Appalachian State football game versus Georgia Southern on the night of Oct. 31 meant that many students and visitors used AppalCART to go to the game, go out to eat and/or go home afterward, Hughes said.
For AppalCART, the previous biggest single day was on Aug. 21, when 15,500 people rode an AppalCART bus.
As Hughes mentioned, the single-day records mirror an uptick in overall ridership for AppalCART, which he said is up 12 percent so far in its 2019-20 fiscal year (July 1 to June 30), with an average of more than 13,000 riders per day and more than 40 riders per hour.
"I think a lot of it is convenience; there are several little factors that add up to it," Hughes said. "During the workday, we've got buses going by stops every 10 minutes in some locations, or 15 minutes for others. If you want to ride a bus, you don't have to wait very long."
Hughes noted other factors such as students saving money on not buying an Appalachian State University parking pass and an increase of locals for the higher number of riders.
At its current rate, AppalCART is on pace to carry over 2 million passengers this fiscal year, which would break its 2015-16 record of 1.84 million riders.
"I don't think we expected that big of a jump," Hughes said. "We did some tweaks to make things better … it's been a pleasant surprise."
From 2005 to 2016, AppalCART usage skyrocketed from less than 700,000 total riders in 2004-05 – the last fiscal year that AppalCART charged a fare for riders – to more than 1.8 million total riders a decade later. Annual total ridership has stayed around that 1.8 million mark in the last four years.
The ridership increase comes in the second fiscal year after major route overhauls were completed at the onset of the 2018-19 fiscal year. According to Hughes, the route changes made in spring and summer 2018 were designed to make sure prospective riders, mainly ASU students, didn't have to wait long, as certain routes were often filling up before reaching campus.
One big change in 2019-20 is the implementation of the new "Night Owl" routes. Currently, four routes – Gold, Pop 105 and modified versions of Orange and Express – run from 10 p.m. to 2:30 a.m. on Thursday and Friday nights and from 6 p.m. to 2:30 a.m. on Saturday nights.
So far, Hughes said the ridership numbers are both good and bad.
"Portions of it are doing very well," Hughes said. "Express and Pop (105 routes) are doing very well with around 20 trips per hour. For late night, that's pretty good. The other ones (Orange and Gold) are at 12-13 (trips) per hour."
Hughes said that AppalCART and ASU, which is the primary funder of the Night Owl routes, will look over the data and determine whether to keep the Orange Route going, but said the Gold Route will stay for now. The upcoming cold, winter nights could see Night Owl use increase, Hughes said.
"If it drops to 10 trips per hour, we'll have to cut it out as it's not a good use of resources," Hughes said. "We'll get with our (ASU) partners to see what to do."