WATAUGA — A total of 122,242 unemployment claims were processed in North Carolina from March 16 through 2 p.m. on March 23, according to N.C. Division of Employment Security's spokesperson Larry Parker.
The average number of claims for a similar time period is 3,000, Parker said.
"Staff is also working overtime and on the weekends," Parker said. "We currently are recruiting for 50 positions."
Parker said that approximately 87 percent of the claims were noted as being COVID-19 related.
"There could be more related to COVID-19 where the person filing did not indicate the virus as the reason for separation from employment," Parker said.
Unemployment claims can only be filed for "covered" employment, Parker said.
"A person's employment is 'covered' if it is through an employer that is liable under state and federal law to pay unemployment insurance tax on that person's wages," Parker said. "Some examples of non-covered employment are employment by a religious organization, commission-based insurance and independent contractors.
"If you are a business owner and are required to pay unemployment insurance taxes on your own wages, you may be eligible to receive unemployment benefits."
Embracing for the potential of the pandemic closures continuing indefinitely, local businesses are having to make staffing decisions.
On March 22, Chetola Resort, which is home to more than 40 lodge and bed and breakfast rooms plus more than 100 condominiums and timeshare units, announced it was temporarily closing.
According to spokesperson P.J. Wirchansky, approximately half of the 200 part- and full-time staff at Chetola pre-COVID-19 have filed for unemployment benefits.
"Those who are still on board, including management, have been tasked with tackling projects throughout the resort so we are able to offer an even higher level of quality and experience when we reopen for guests," Wirchansky said. "This has been a challenging time for all of us, and we are working hard to keep as many staff employed as possible."
Chetola also said that the Tarbutton family, which owns the resort, has set up a special fund to help staff who have been affected financially by the crisis.
"We look forward to opening again as soon as it's safe to do so," Wirchansky said. "Ideally, we plan to hire back as many staff as possible. Wouldn't it be great if the demand is so strong that we need even more people on our team? We're trying to be realistic and hopeful at the same time."
Many local restaurants have had to lay off most of their staffs. At The Local in Boone, front of house manager and bartender Laura McGarr said that out of a staff of 50 pre-pandemic, they are now down to fewer than 10.
"I want to be behind the bar making drinks again," McGarr said. "I want to be talking to people more than the brief interactions from six feet away while I go out to their car for curbside ... it's a hollowing difference to say the least."
McGarr, who said she has washed and sanitized her hands to the point of making her skin raw, noted that it has been uplifting to see restaurant employees support each other by ordering food from each other and to see regulars picking up their orders.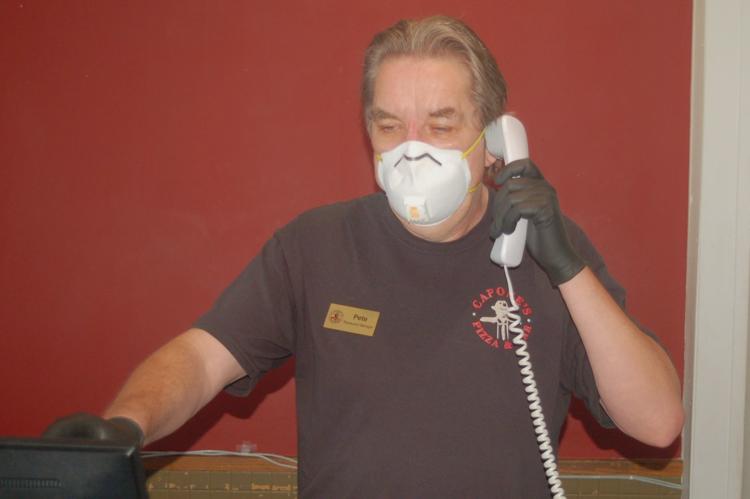 Pete Shurba, co-owner at Capone's Pizza in Boone, said that the restaurant laid off more than 30 workers the previous week. However, the future is in a "critical place," Shurba said, due to a slow winter season combined with the ongoing pandemic restrictions.
"We're hanging on, just hanging on by the skin of our teeth," Shurba said. "Will we make it another week? We don't know. Are we going to make it another month? We don't know."
Lost Province Brewing Company said in a March 19 Facebook post that it had to temporarily lay off 90 percent of its staff. Basil's restaurant of Boone stated on March 22 that it had laid off "most" of its staff.
"We laid off 45 employees and we have lost 66 percent of total sales since the governor's order," Foggy Rock of Blowing Rock said in a message.
Other local restaurants such as MyPho of Boone, Eleven80, Chef and Somme, Storie Street Grille and Best Cellar have temporarily closed.
"We feel that we can help the community by closing our location and donating food to the local charities that are feeding the hungry," Eleven80 owners Bob and Sandy Lovejoy posted on Instagram.
All 19 stores in Tanger Outlets of Blowing Rock were temporarily closed as of March 19, which included 250 people, according to Tanger Blowing Rock's General Manager Ronnie Mark.
Business resources
Low-interest loans and federal reimbursement programs could be an option for local businesses who need help meeting payroll or making payments during the pandemic.
H.R. 6074, the Coronavirus Preparedness and Response Supplemental Appropriations Act (known as Package 1), was signed into law on March 6. According to the N.C. Restaurant and Lodging Association, up to $7 billion in funding is directed to enable the Small Business Administration for its loan packages.
Other low-interest lending options in North Carolina include Carolina Community Impact, the Carolina Small Business Development Fund (formerly known as The Support Center), the N.C. Community Development Initiative, the Self-Help Credit Union and Thread Capital. For more information, visit www.boonechamber.com/localresponse.
To deal with potential supply chain disruptions, the Boone Area Chamber of Commerce says that www.manufacturednc.com contains every kind of thing produced in N.C., and businesses can register to connect.
Special shopping times for at-risk customers
Local grocery stores across the country are designating the first hour of business on certain days for seniors and others vulnerable to COVID-19.
"Lowes Foods is dedicating 7-8 a.m. every Tuesday and Wednesday as shopping hours for seniors and others who are vulnerable to the virus," Lowes Foods said in a statement. "Those who are not at risk are being asked to shop at Lowes Foods after 8 a.m. on Tuesdays and Wednesdays or other days of the week. The special shopping hours are in place until further notice."
Dollar General locations nationwide are doing the same every day from 8-9 a.m. Big Lots, Walgreens and Walmart are doing the same every Tuesday for the first hour of the workday. Harris Teeter locations are opening from 6-7 a.m. every Monday and Thursday for seniors and Publix locations are implementing it from 7-8 a.m. every Tuesday and Wednesday.