WATAUGA — Area nonprofits and charities are asking for the public's assistance as they brace for the impacts of the COVID-19 pandemic, and many Wataugans are looking for opportunities to help their fellow community members.
With an anticipated increase in demand for services, several nonprofits are requesting monetary donations, food, volunteers and other methods of support.
More than 50 people representing the local school system, nonprofit agencies, faith community and businesses gathered on March 16 at the Hampton Inn to discuss how the community can help each other during the time of this pandemic. Denise Presnell, a social worker at Hardin Park School, said there was "lots of community support ready to help."
Presnell said the group discussed opening several sites around the county that would offer a pickup service for food. While the group understood the public school system was offering food to students and existing agencies offered food pantries to the community, Presnell said it wanted to help fill in the gaps.
"It's for people who can't take advantage of things that already exist because of their work schedules, location or they may not have a vehicle," Presnell said. "The faith community wants to step in and be alternative sites and possibly be supportive in other ways."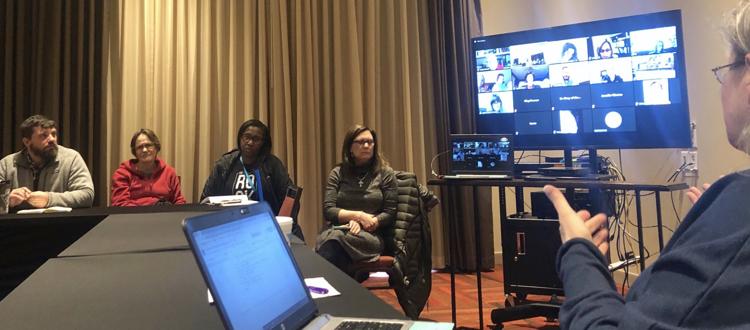 The following day, Presnell said the group was still hammering out details of where and when these sites would be available. The general idea was to allow the public to stop at these sites — likely offered at Watauga churches or businesses — to pick up a box of food. Details of operations were to be released at a later time.
In the meantime, local agencies — like the Hunger and Health Coalition, Hospitality House, Christian Outreach Center and Watauga Habitat for Humanity — are working to prepare for impacts. Presnell said donations of food or money should be made to the existing agencies and food pantries.
Hunger and Health Coalition
As of March 16, the Hunger and Health Coalition was planning to transition to a drive-thru-type operation over the course of several days, said Executive Director Elizabeth Young. All of the services it offers — such as its backpack program for children, pharmacy effort and food pantry — would still be offered in this format.
To continue to provide these services, the HHC is imploring the community to help in the way of monetary or food donations or by volunteering their time. Young mentioned that financial contributions are helpful, as the agency can purchase $5 worth of food for $1 through Second Harvest Food Bank.
The agency would also accept items like vitamins or cleaning supplies to keep the community healthy, Young said. Volunteers will be used to help with the drive-thru service and compensate for the additional people who will be coming to the HHC in the coming weeks. To inquire about volunteering, call HHC Volunteer Coordinator Terri Neiderhammer at (828) 262-1628.
"We'll need help from the community in meeting the increased volume and need for our services, especially (if) small businesses close and people who have been living paycheck to paycheck are suddenly left without — being unable to meet the needs of their families," Young said.
With restaurants being ordered to halt dine-in services, Young said that HHC could utilize materials restaurants have on site. This could include food items like herbs, frozen meats or beans, or other items like plastic utensils, napkins, to-go boxes and paper/plastic shopping bags.
"Anything they have that they'd be willing to share, we'd really appreciate," Young said.
HHC canceled its Empty Bowls event that was scheduled for March 28. Rather than rescheduling the event, the agency is postponing it until 2021. Young said this means a loss of the roughly $12,000 the event brings in annually for HHC, and HHC needs financial donations now more than ever.
Hospitality House
Hospitality House Director of Development Todd Carter said that the organization's food pantry was "slammed" with people on March 16.
"We've had a huge influx today of our food pantry," Carter said. "We started the day with a full pantry and now it's three-fourths of the way empty."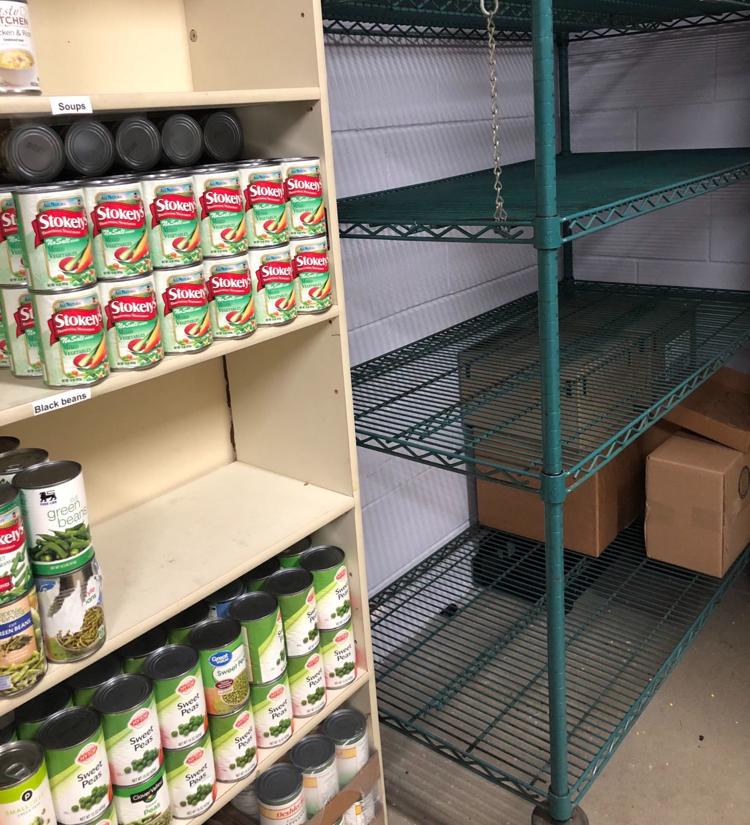 He attributed part of the influx of people to the temporary closure of the Christian Outreach Center operated by the First Baptist Church of Boone — which offers a food pantry service on Mondays. The COC made a Facebook announcement on March 11 that it would not be operating its food pantry on March 16. Those with immediate needs were advised to visit the Hunger and Health Coalition, Hospitality House or the Little Free Pantry of Boone located outside of the Social Services building.
"This is a precaution for our patrons and volunteers regarding COVID-19," stated COC in a social media post. "Many of our patrons are in high-risk categories, as well as five of our six regular food distribution volunteers (ages 63-80)."
Carter said that because people rely on the Hospitality House for food and shelter, the agency does not have the option of closing. The facility averages around 150 people per night with another 50 or so people in off-site units. Hospitality House has been in contact with AppHealthCare — the regional health department — for more than a week to prepare for impacts brought on by COVID-19.
"We are following the county-wide protocol put in place by AppHealthCare and are following their lead and directives as they come," according to Hospitality House.
WeCAN — the agency's crisis assistance program — remains open Monday to Friday from 10 a.m. to noon, and day services (showers, laundry, lockers) remain available seven days a week from 6 a.m.-7 p.m. until further notice.
Hospitality House will continue to operate its community kitchen and food pantry, which remain open seven days a week for those in the surrounding area who need meals or food items "including families, children and college students impacted by school closures," the agency stated. Hospitality House serves three meals a day: breakfast from 6:30-8:30 a.m., lunch from 11:30 a.m.-1 p.m. and dinner 5:30-6:30 p.m. The food pantry is open each day from 9-11 a.m. and 1-4 p.m.
"We remain committed to providing food to anyone who needs it," Carter said. "We're ready to fill in the gaps of what people need for food."
Food items that the Hospitality House stated could be donated were items like black beans, shredded cheese, frozen meats, canned tuna, canned chicken, bottled water, tortillas, pasta, Alfredo sauce, bread, peanut butter, plastic cutlery kits, meal sized to-go containers, reusable grocery bags, plastic grocery bags and banana-sized cardboard boxes. Additionally, Carter said the Hospitality House could really use a portable hand-washing station if a local business would be willing to loan one.
To help make donating easier, Carter said people could use Amazon's click list to send donations directly to the Hospitality House. To access the click list, visit https://tinyurl.com/vut55rv. To make a financial contribution to the Hospitality House, visit www.hosphouse.org/donate.
Christian Outreach Center
Kristel Rider, who helps to operate the COC food pantry, said that the organization's volunteers plan to start packing boxes of food for distribution on March 23. Patrons can pick up the food boxes from 2 to 6 p.m. on Mondays.
"Church maintenance staff will continue working to deep clean the building on a consistent basis," Rider said. "During this time of uncertainty, we anticipate an increase in the number of individuals and families served through the COC."
Food donation arrangements to the COC can be made by contacting First Baptist's office at (828) 264-2441.
Service worker coalition
On March 17, N.C. Gov. Roy Cooper issued a statewide executive order to halt dine-in options for restaurants and bars effective 5 p.m. that day. This could impact pay for those employees who are servers at dine-in restaurants.
Travis Reyes is a bartender and manager at The Cardinal in Boone, and said he and others started to have a conversation about ways to help service workers during the pandemic.
"It happened so fast in terms of the severity of it," Reyes said. "There are so many people in this town … that rely on this money that is about to be cut off."
A group is coming together to create a service worker coalition to offer help and services to service workers out of a job due to the pandemic, including those in food service — such as bartenders, dishwashers, cooks, waiters and servers — as well as other services that may suffer. Reyes said the group was unsure of logistics or details, but knew that the main goal was to create a centralized location for service workers to go for help.
Quiet Givers
"With COVID-19 causing numerous shutdowns, closings and delays in our area, some people may find themselves without work and without pay during the next few weeks," stated a March 13 social media post from Quiet Givers — a Watauga nonprofit. "In times like this the community must come together to support each other, and we want to do everything we can to make sure no need falls through the cracks."
Quiet Givers stated that it was ready to help those who may need assistance with rent, utility bills or other necessities. If an agency has a client in need, Quiet Givers said a referral can be made to its organization via a private message on Facebook or by emailing needs@quietgivers.org. Individuals seeking assistance can reach out to the agency to be connected with local resources.
"In order to receive assistance we require needs to be submitted to us through an agency, but we still encourage those who are in need to reach out to us so we can help them find the help they require," stated Quiet Givers. "We strive to be a resource that informs the community and connects avenues of assistance in the High Country to make sure those who are struggling can be connected with agencies that fit their need."
Nonprofit funding sources affected
Social distancing, orders banning events and other COVID-19 impacts are affecting the funding sources for many other nonprofits, such as Habitat for Humanity and the Appalachian Theatre.
Watauga Habitat for Humanity stated on March 16 that its ReStore would be temporarily closing until March 31; ReStore staff would not be accepting or picking up donated items during that time. Habitat events were being postponed and the organization was limiting volunteer activities at its build sites.
"The ReStore is our main funding source, and volunteers are our lifeline to getting our houses built," said Watauga Habitat Director of Development Allison Jennings. "We know we are going to struggle."
Jennings stated that it would be extending its Big Kahuna fundraising campaign, and urged community members to donate to the cause that directly supports Habitat's local affordable housing program. To donate to Habitat's Big Kahuna campaign, visit www.wataugahabitat.org/big-kahuna.
Appalachian Theatre — which opened in October after a multi-year fundraising campaign and restoration project — had to cancel several of its upcoming events due to COVID-19 concerns. The theater commented on March 15 that this would mean a significant loss of revenue for the theater as tickets, concession sales and rental fees are its main sources of income.
To make a donation to the Appalachian Theatre to offset the costs incurred for canceled events and the lost revenue, visit www.apptheatre.org/donate.