In less than a week, multiple groups have rallied to help High Country community members in the midst of the COVID-19 pandemic that's leaving many temporarily or permanently without jobs.
"This is such a philanthropic community," said Todd Hendley, a managing partner of Ransom in Boone. "A lot of places say, 'we support local,' but Boone is different. Everybody in the High Country really genuinely bands together."
Taking a "leap of faith," Hendley said Ransom is partnering with Wine to Water and Vincent Properties in hopes to help local service workers that were temporarily laid off. The three businesses have created a project called Care Box, which prepares boxes of food for local service industry workers.
Hendley met with Parkway School Principal Patty Buckner and Hardin Park social worker Denise Presnell on March 13. Hendley said Presnell invited him to attend a meeting the following Monday in which more than 50 community members met to discuss how they could help others with the impacts of COVID-19.
After that meeting, Hendley said he and his brother Doc Hendley — the president of Wine to Water — wanted to do something to help. The two knew they wanted to pack up food boxes to give to service workers. Not too long after, the brothers heard from Vincent Properties Marketing Director Shalamar Blevins that they wanted to partner as well.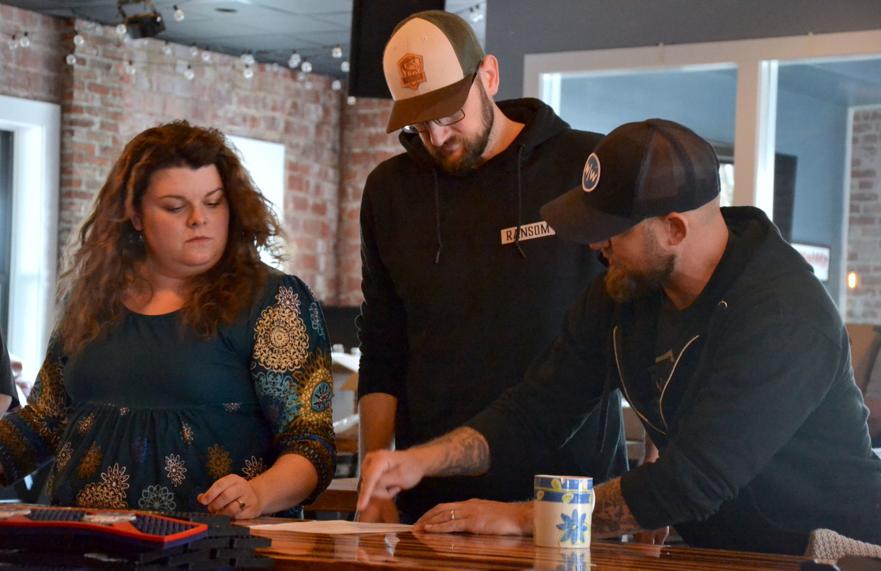 Blevins said all three businesses want the community to know that they are there for them, as the project's slogan is "serving our service industry."
Care Box received an overwhelming response of both people who wanted to help with the project and those needing its assistance. Todd Hendley said each box equates to about 40 meals, meaning at the end of its first week Care Box will have packed 16,000 meals, he said. According to the leaders, a household of four people may need about two boxes of food as the hope is that a box will last five to seven days for two people.
Each box will have items such as fresh meat, turkey slices, bread, rice, beans, pasta, fruit, soup, snacks, peanut butter and jelly. The boxes will soon include hand sanitizer, hygiene products and baby care items, according to the group.
What started as a plan to create a possible 150 boxes of food quickly grew to a goal of 400 boxes. The need grew after the group reached out to a multitude of area businesses to ask how many boxes they would need for their staff. Hendley said roughly 320 vouchers will be given to people to receive food boxes.
To inquire about receiving food from Care Box, service workers should contact their employer to connect with the group's organizers. Pickup for the boxes will be every Thursday and Friday from 1 to 6 p.m.
"Boxes are first come, first serve while supplies last, but we will be doing our best to make sure everyone is fed," the group stated.
Word quickly spread about Care Box, and Hendley said some community members have already donated money to the project by visiting give.winetowater.org/boxprogram. Money for the project goes to Wine to Water, which gives 100 percent of the proceeds to the project, Hendley said.
Volunteers have also started to just show up at Ransom to join an assembly line to pack boxes, he added. Volunteers who are willing and healthy are welcome, the group stated. For more information about Care Box, contact care.box40@gmail.com.
"Just to see the community band together, the restaurant owners and managers looking out for their teams, the volunteers showing up and people giving their hard-earned money to donate to this cause — it's insane," Hendley said. "It's exciting, but more than that it's incredibly humbling knowing that we live in a community that genuinely cares about everybody."
Hendley said he has also been in contact with Travis Reyes — a service worker at The Cardinal in Boone. Reyes has been instrumental in the creation of a local service workers coalition. The coalition has posted several resources to aid service workers on Instagram, and can be found by following @booneserviceworkerscoalition.
Virtual Tip Jar
Mark Nunes, an Appalachian State University employee, also wanted to help service workers by recently creating a "virtual tip jar." Nunes explained that the idea of a virtual tip jar is popping up in other communities that are also experiencing restaurant and bar closures due to COVID-19. The virtual tip jar gives the community a way to provide direct support to local service workers by use of a Google sheet.
The Google sheet that Nunes has created allows local service workers to list their name, the restaurant for which they work and an online payment method such as Venmo or PayPal. Community members can visit the Google sheet and find the name and virtual payment system of a server who they would like to support. As of March 19, 64 local service workers had signed up to be part of the virtual tip hat, according to Nunes.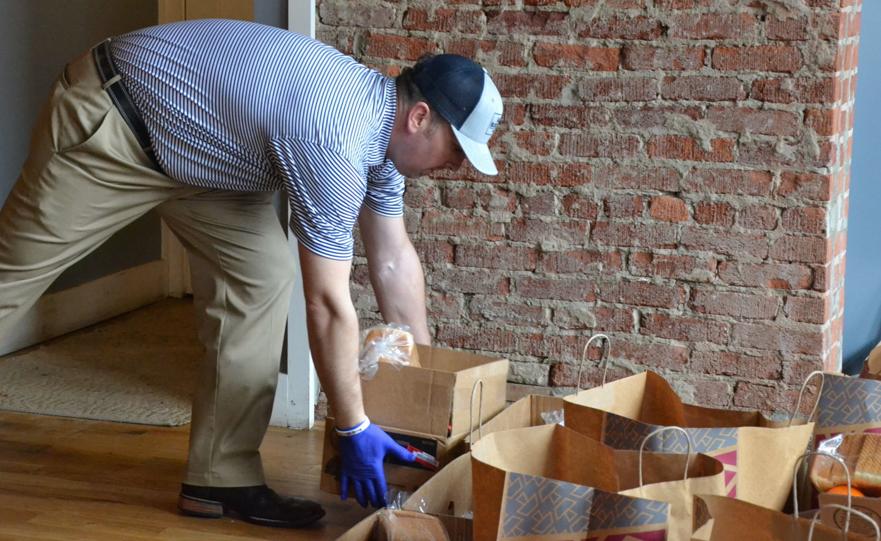 Community food pickup sites
A group of local churches, businesses and others have also opened up food pickup sites across the county. After the community meeting on March 16, Presnell said a group planned to create food pickup sites to ensure no one falls through the cracks.
Participating locations include Boone United Methodist Church, FaithBridge/Casting Bread Food Pantry, Hardin Park School, High Country United Church of Christ, Mount Vernon Baptist Church, Parkway Elementary School, theHeart, The Rock, Valle Crucis School and Rumple Memorial Presbyterian. Presnell said Rumple is supplying many of the boxes for other churches to distribute.
These meals are first come, first serve with limited supplies. Presnell said plans may change due to availability or in the case of any other government restrictions put in place due to COVID-19.
Hospitality House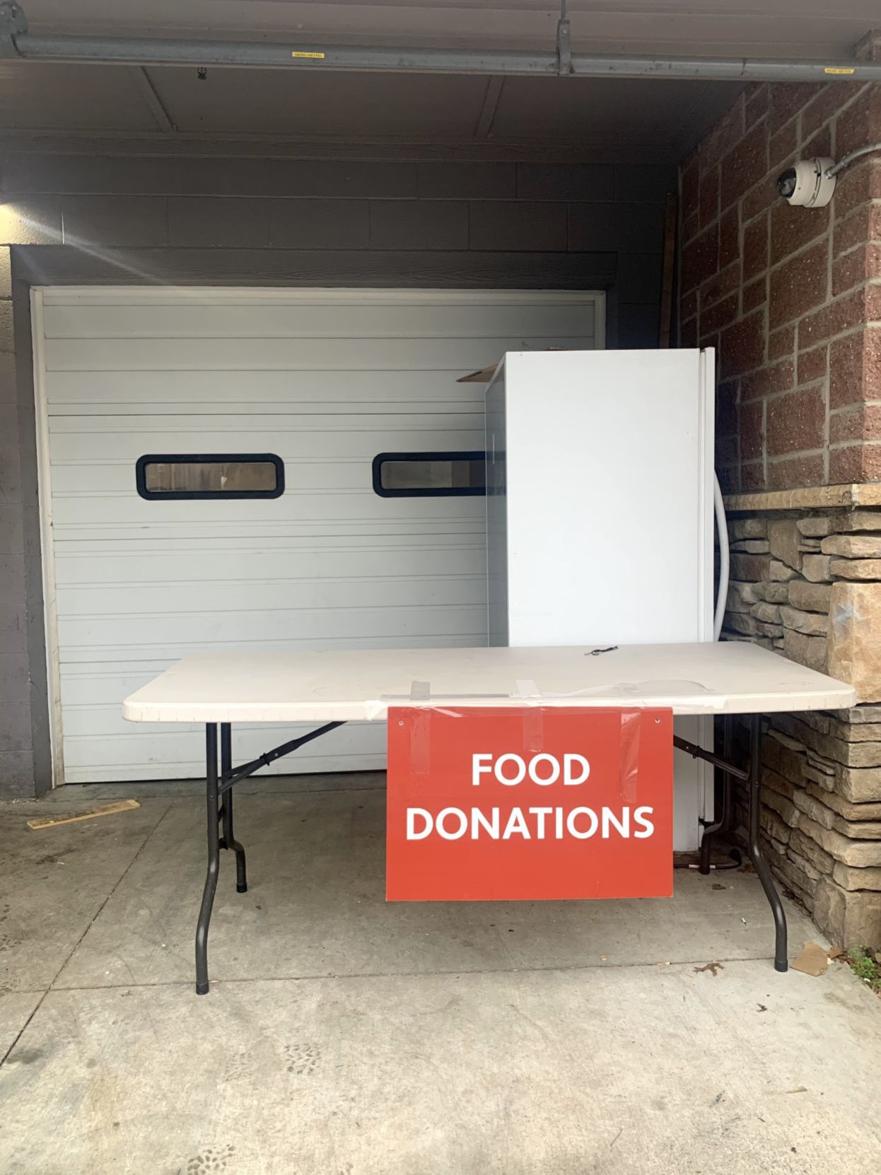 Hospitality House implemented drive-thru service only for food pantry clients and a new pre-packaged protocol for its food pantry on March 18. Services are still fully operational each day from 9 a.m. to 11 a.m. and 1 p.m. to 4 p.m., seven days a week.
The transition to drive-thru service is in response to the March 17 executive order from Gov. Roy Cooper that limits the sale of food and beverages to carry-out, drive-thru and delivery only. Breakfast, lunch and dinner will be served as pre-plated and packaged to-go meals.
Director of Development Todd Carter said that most returning clients have a Second Harvest Food Bank card and will use this when going through the drive-thru. New clients are asked to fill out personal information before receiving food. Carter said there are no county limitations for those in need of food.
Patrons who ride the bus or walk will have the option for a food bag instead of a box. They can pick up their food at a white table set up outside the food pantry door.
The agency is still providing housing, as well as showers and laundry service. Patrons in need of these services can call or walk in and speak to the front desk. Carter said clients are still allowed inside the building, but these precautions are being taken to lessen the amount of in-person interactions.
WeCAN, the agency's crisis assistance program, has suspended walk-in hours. All assistance has shifted to phone and email. The program is still operational and assists with heating, utilities and evictions. Email wecan@hosphouse.org or leave a message at (828) 264-1237 ext. 1 to speak with the WeCAN service coordinator Graham Doege. Donations can be made to WeCAN at www.hosphouse.org/wecan.
Quiet Givers
Due to the outbreak of COVID-19, Quiet Givers is experiencing a high volume of needs for rent, utilities and other necessities for people who are currently out of work. In order to address these needs as quickly as possible, the organization has established a COVID-19 Emergency Relief Fund to help address the recent influx of people in need.
"With so many needs coming in we just don't have the time to fundraise for each need individually the way we normally would," said Executive Director Matthew Lucas. "A lot of people are out of work right now and aren't able to pay their bills and these needs can't wait. We're asking the community to come together and help us provide a safety net for those who have nowhere else to turn."
Those currently experiencing need due to unemployment, reduced hours or other COVID-19-related emergencies are encouraged to reach out to Quiet Givers at needs@quietgivers.org for help finding assistance.
"Our first step is always to connect folks in need with agencies that we know about who may be able to provide assistance," Lucas explained. "But right now our first priority is to get people the help they need as quickly as possible, and we can't do it without the support of the community."
High Country United Way
High Country United Way announced on March 19 that it is launching the High Country COVID-19 Relief Fund to supply emergency funds to local nonprofit agencies — which includes 26 organizations across the High Country.
According to HCUW, 100 percent of donations will be used to help High Country residents in need of critical information and services like food or financial assistance. For more information or to make a donation, visit www.highcountryunitedway.org/covid-19fund.
"High Country United Way has been helping meet basic and emergency needs in our community for over 40 years," said Marti Phillips, High Country United Way executive director. "We have an established network of providers that we will be leveraging to increase resources to individual needs during this unprecedented time."
The local agency also highlighted the 2-1-1 system that was recently announced by Gov. Roy Cooper as the number to call for assistance and resources related to COVID-19. Operated by United Way of North Carolina, NC 2-1-1 is an information and referral service that individuals can use to obtain free and confidential information on health and human service resources within the community. The service is offered 24 hours each day of the week; resources are available in most languages.
HCUW is providing funding and support to bring 2-1-1 to Avery, Watauga, Mitchell and Ashe counties.
For specific needs related to food, shelter, energy assistance, housing, health care, substance abuse treatment and for assistance for older adults and for persons with disabilities, dial 2-1-1 or TTY (888) 892-1162 for assistance.
Laura Boaggio contributed reporting to this article.