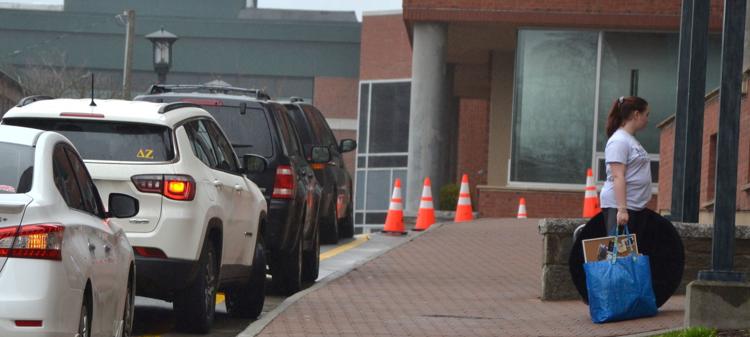 BOONE — Appalachian State freshman Zannah Kukral carried bags full of clothes, a corkboard and other belongings out of Summit Hall and into the misty rain on March 18, having been told the news of the university shift to online classes the Friday before.
The process since that time has been stressful, she said. She enlisted the help of her boyfriend to move out of her dorm, as her parents weren't able to get off of work.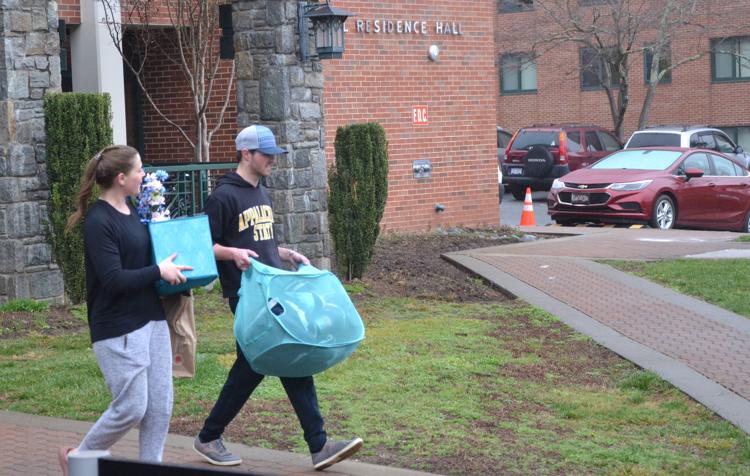 Kukral said her classes had all moved online, but that her freshman seminar class may begin late due to some difficulties. Kukral is moving back to Charlotte with her parents to find a job, as she was a student employee on campus.
"I don't have an income anymore," Kukral said.
The University of North Carolina system stated on March 17 that its 17 institutions were to instruct students to leave residence halls to limit the spread of COVID-19 unless students could establish a significant need to remain in university housing.
This announcement came six days after Appalachian State University and its sister institutions moved forward with plans to extend spring break an additional week (until March 23) with plans to shift to online classes for as many courses as possible. University leaders were to determine which classes — such as those with labs — would continue to require in-person instruction and attendance.
"Our goal is to return to in-person instruction as soon as reasonably possible," App State stated on March 16.
According to App State, UNC system Interim President Bill Roper authorized paid administrative leave for employees, including temporary and student employees for certain COVID-19-related absences through March 31.
Paid leave may apply to employees who cannot work because they have child care or elder care needs related to COVID-19-related facility closings; are not required to work on campus but cannot telework; or are unable to work due to cold, flu or COVID-19 symptoms; or are caring for someone with symptoms from these illnesses.
Students were to be given paid leave based on their average hours worked per week during the month of February. The university stated on March 18 that the Office of Human Resources and the University Payroll Department were developing procedures for student employees and would communicate updates when they could.
Beginning March 23, academic buildings will be open from 8 a.m. to 6 p.m. Departments on campus will remain open for business, and may adjust business hours and processes to encourage social distancing, according to the university.
Roper —who said he was a physician, educator and former director of the Centers for Disease Control and Prevention — addressed COVID-19 concerns in a video released on March 12. At that time, he said the university system remained focused on the health and safety of students, faculty and staff, and the delivery of its core academic mission.
"I understand why the university community is anxious at this time," Roper said in his address. "Concern is warranted, but panic is not."
Up until March 23, App State students are able to retrieve belongings from their residence halls, but are not required to completely move out.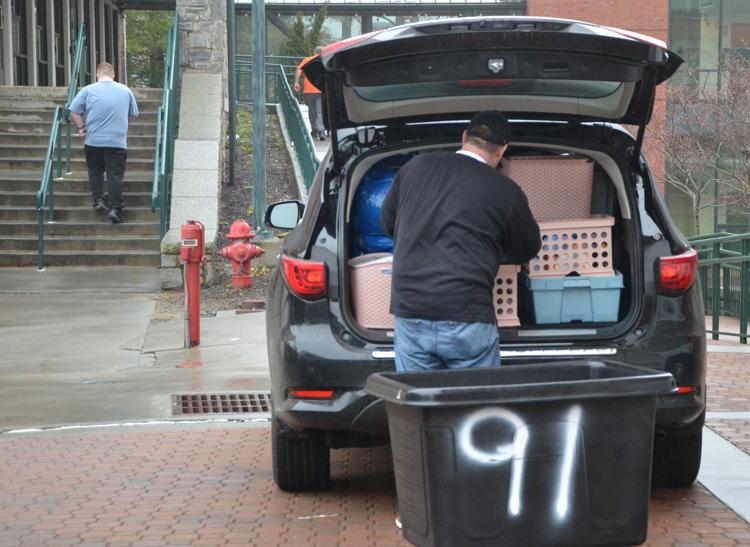 Dave Johnson drove from Nashville, Tenn., to help his freshman daughter move out of Cone Hall.
"She's upset," Johnson said. "Her freshman year has been truncated."
Johnson said his daughter wouldn't have had a way to move her possessions without some help and a vehicle to move them.
Nancy Phipps took the day off work to help her freshman daughter move out of Cone Hall as well. Phipps' older daughter, Savannah, helped with the moving process. Savannah Phipps is a sophomore who lives off campus, and said she was prepared to begin her online classes on March 23. However, she had not yet received an email with instructions about one of her classes.
After March 23, only students who have special circumstances and who have been approved to do so will be allowed to remain in on-campus housing. Students had to complete a special circumstances request form by noon on March 18 to qualify, according to App State.
According to the university, out of the 5,674 students who lived on campus, only 160 of them met the criteria to remain in the residence halls.
Special circumstances were defined as international student status, homelessness, significant financial hardship, the need for a safe environment or other significant circumstances to be reviewed on a case-by-case basis by a team of university staff. The university stated it would not grant requests based on club, organization, athletic or community involvement; local or on-campus employment; or undergraduate academic commitments such as research and labs.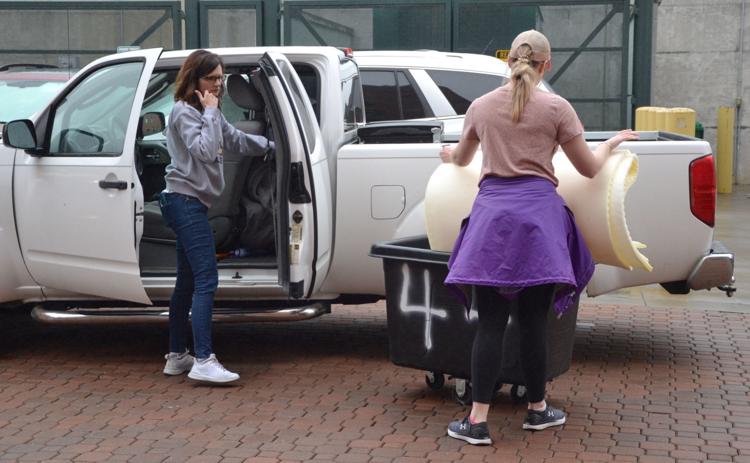 The university stated that discussion of any refunds for housing and dining will take place once "we are beyond the immediate issues."
The university stated it was working to ensure telework arrangements were in place no later than March 23 for all employees — including student employees — whose physical presence on campus is not required to perform the essential functions of their jobs.