The Boone Area Chamber of Commerce hosted its fourth annual 4 Under 40 Awards on July 23 at the Harvest House venue in Boone. The event was streamed live to community members via Facebook Live due to gathering restrictions that are in place because of the COVID-19 pandemic.
The event was presented in collaboration with Appalachian Commercial Real Estate, with several community sponsors including Mast General Store, BB&T (now Truist) and Boone Drugs Inc.
David Jackson, president and CEO of the chamber, emceed the event, which breaks nominations into four categories: Nonprofit Business Professional, Business Owner, Rising Star and Education Professional. The Respect Your Elder Award is "presented to an individual who displays a deep impact as an influencer, motivator and mentor to our emerging leaders of tomorrow."
Jackson started the ceremony by reminding the community that nominees, who are "emerging leaders in the community," were "nominated by peers, supervisors and subordinates."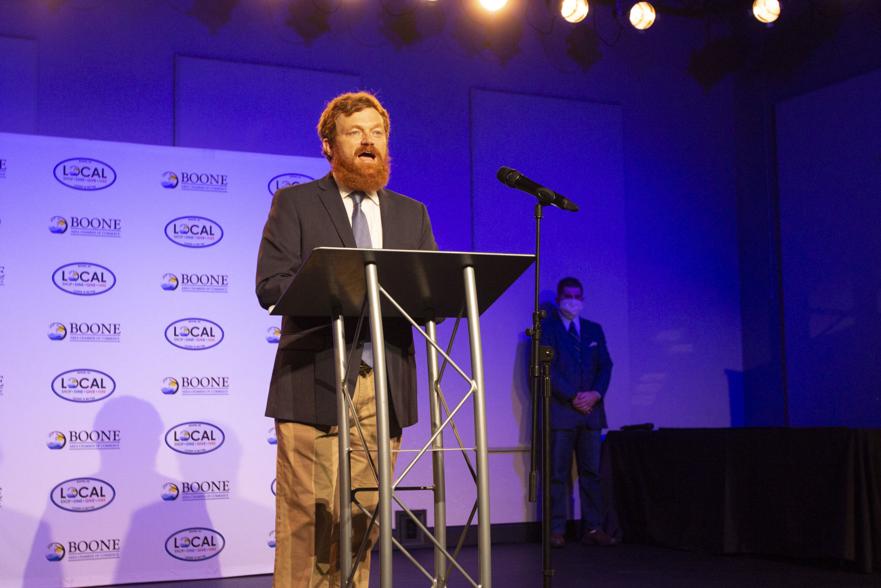 The Nonprofit Business Professional Award was presented to Lane Moody, who is the downtown development coordinator for the town of Boone.
"I moved here 20 years ago, and I think within 24 hours I recognized how special this place is, and I'm grateful that I'm still here, surrounded by these wonderful people who are so creative, so welcoming and so kind. I love our community, and I'm so glad I get to be the cheerleader," Moody said.
In addition to her work in downtown Boone, Moody is also the town's Main Street program director, and in 2019, she became the head of the town of Boone Parking Department.
"I will continue to wish, hope and pray that all of our hearts remain full and protected, especially from the fear of the unknown, that our minds stay open, that our bodies stay well and our families are prosperous," she said.
The award for Education Professional was presented to Laura Barry, the basketball coach for both the boys' and girls' Watauga High School teams, and the director of Peak Basketball.
A Cary native, Barry played one year of basketball at UNC-Wilmington and her final three years at UNC-Chapel Hill. She graduated from UNC with a dual bachelor's degree in Exercise and Sport Science and Communication Studies.
Barry first started coaching the girls' basketball team in 2016 and accepted the job to coach the boys' team in 2019. She founded Peak Basketball in 2018.
James Milner, Appalachian Commercial Real Estate president and owner, presented the Respect Your Elder Award to Ron Henries, who has a 48-year career as an educator and mentor, which includes 10 years served as board member of the Watauga County Board of Education.
Henries was surprised with the award by Scott Elliott, the superintendent of Watauga County Schools, bringing Henries to the venue in time to accept his award.
"Dr. Elliott has expressed several times that he doesn't believe I'm going to retire. He's going to get a shock — this time, it's for real," Henries said. "It's all about people — everything we do, it's about people. I've been really lucky with all of the people I've had to work with, work for and be around," Henries said.
The Business Owner Award was presented to Seth Sullivan, an owner of The Cardinal and Lily's Snack Bar, who couldn't attend because he and his wife, Lindsay, welcomed their daughter to the world earlier in July.
Sullivan submitted a video to be played in his absence, during which he thanked his restaurants' staffs, his business partners and the community for "making Boone a wonderful place to live and a great place to own businesses."
"It's been a really wild year to be in the restaurant business, but I've been very, very thankful the whole time that our businesses are in this community and have the great network of support that we do," Sullivan said.
The Rising Star Award, which is not presented to business owners, but instead to a community member who "is making a name for themselves within the industry or professional setting," was presented to Brady Combs.
Combs is a Boone native, a partner at Combs, Tennant & Carpenter, P.C., a former OASIS board member and a member of the Appalachian Theatre of the High Country Board of Trustees.
"I'm a product of this community — it's a very rewarding place to be … Every moment invested in this community is returned back tenfold," Combs said. "I stand here on the shoulders of others, and I'm grateful to do so. I look forward to what we can do together."
Jackson concluded the awards ceremony by thanking the event's sponsors and community members who support local leadership.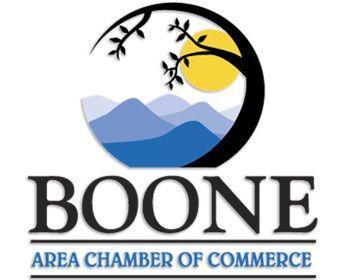 "Please do all you can during this time to keep Boone healthy. We look forward to seeing so many more of you gathered at some point in time in the future, but for now, we'll do all we can to continue to make our community the great place that it is," Jackson said.
In addition to a recording of the broadcast on the Boone Area Chamber of Commerce Facebook page, AppTV will re-air the event at 7 p.m. on Saturday, July 25, and Monday, July 27. AppTV, the Appalachian State University campus television station, is available on Skybest TV and Spectrum throughout Western North Carolina.