BOONE — The Appalachian Theatre of the High Country joined the town of Boone and other community partners in honoring graduating seniors from the Watauga High School Class of 2020 with marquee signage and large window displays at the theater's front on King Street.
"It seems only appropriate that we honor those performing arts students who are a vital part of the award-winning theatre, dance and music programs at Watauga High School," said John Cooper, chair of the Appalachian Theatre Board of Trustees. "In fact, the WHS Honors Choir, under the direction of Brandon Winbush, was the very first group to grace our newly renovated stage during a patron 'sneak peek" preview party last October."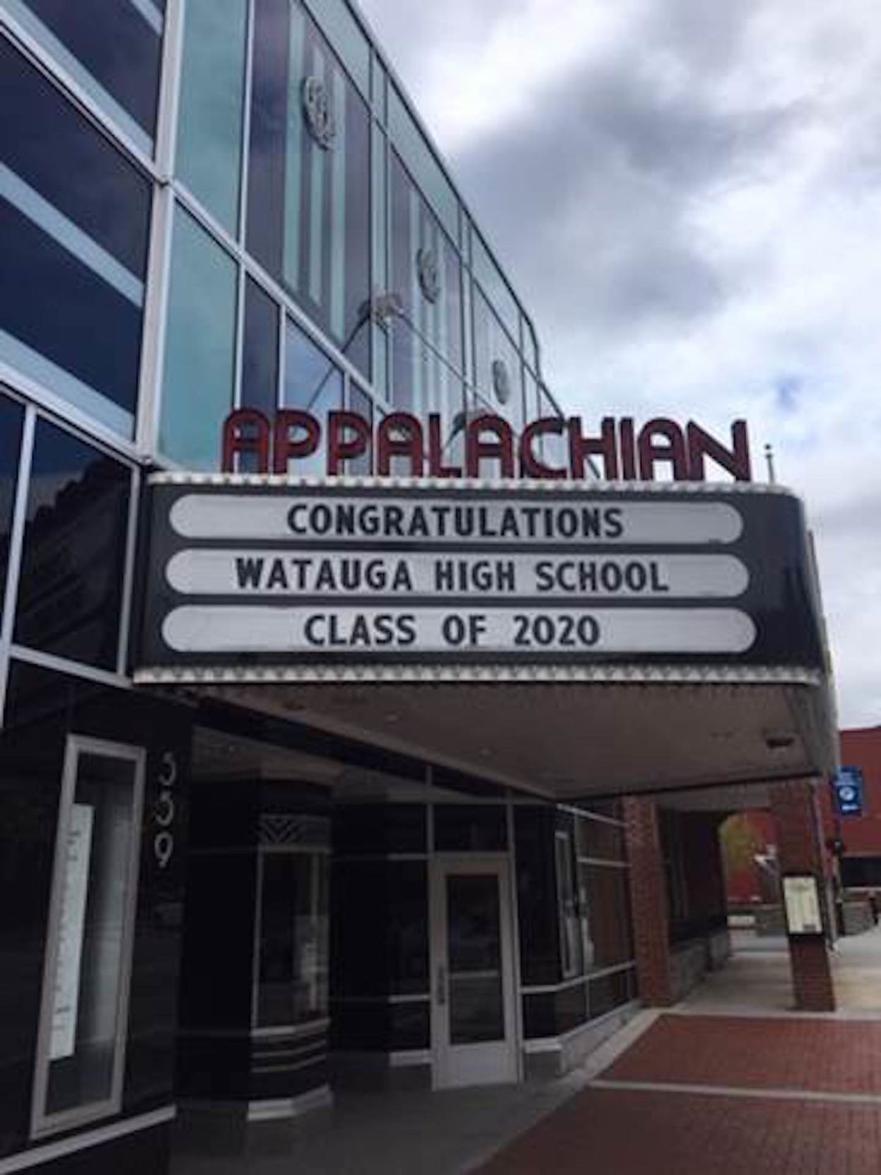 The WHS performing arts seniors being honored by the ATHC are Abbie Anderson, Erik Anderson, Aidan Beane, Aaron Broce, Andrew Cole, Livia Coppedge, Carolina Davidson, Carey Dowell, Zachary Duda, Dominic Hammack, Yaritza Galvez, Faith Giles, Emma Gravitt, Megan Helton, Abraham Hernandez-Aries, Catie Holder, Grant Holder, Eden Indicott, Adam Kallestad, Marie Kallestad, Alice McCracken Knight, Sarah Kruger, Emma Liesegang, Emilie Maillot, Madi Joy Marlowe, Maylin Miller, Fiona Marty, Maggie McCullough, Shelby Phillips, Margaret Quigly, Abigail Ramsey, Matthew Rawls, Taylor Rosenberger, Eli Selong, Leah Severt, Duncan Sherman, Faith Taggart, Dawn Trivette, Reagan Womack, Zachary Wood and George Young.
Since the exhibit was installed prior to the Memorial Day holiday weekend, graduating seniors and their families have been stopping on the sidewalk in front of the theatre to have their photos made in their caps and gowns in anticipation of commencement ceremonies that took place Saturday, May 30.
ATHC Executive Director Laura Kratt noted that the WHS Pioneer Playmakers were among the last groups to perform at the theatre prior to the government-ordered closure in response to the pandemic.
"Their standing-room-only encore presentation of 'Ernest and the Pale Moon' was a very successful benefit performance, and put the Playmakers over the top of their fundraising goal to represent our community and the state at the Southeastern Theatre Conference in Louisville, Ky., in late February and early March," said Kratt. "Who knew then that it would be their final local performance for the many graduating seniors involved?"
To learn more about the Appalachian Theatre of the High Country and its schedule changes, visit its website at www.apptheatre.org.