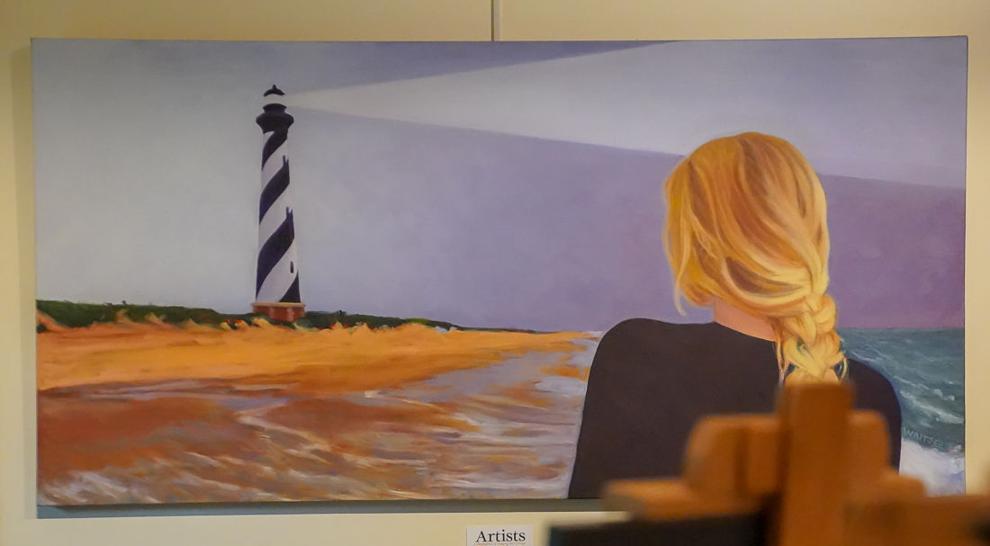 BLOWING ROCK — With a nod to the Cinemascope world in which we live, artist Waitsel Smith produces all of his paintings using a 1:2 or 2:1 aspect ratio. His visually stunning imagery is on display — and he is available to talk about it — this week at Edgewood Cottage as part of the ongoing Artists in Residence series produced by Blowing Rock Historical Society.
It is not surprising that a former creative director in advertising would create stark imagery that might well be used in promotional campaigns if not in fine art. The impact is sometimes surprising.
"That painting over there," Smith says in pointing across the room to the painting of a woman, back turned with loosely braided blonde hair falling against a mostly bare back while facing down a lane to a farmhouse, "evokes all sorts of emotions in women. The thoughts, hopes, fears, joys, despair ... they just well up inside of women in ways that I never dreamed of when I painted it. And it pours out of them as they share how it speaks to them. It has really caught me off guard a few times."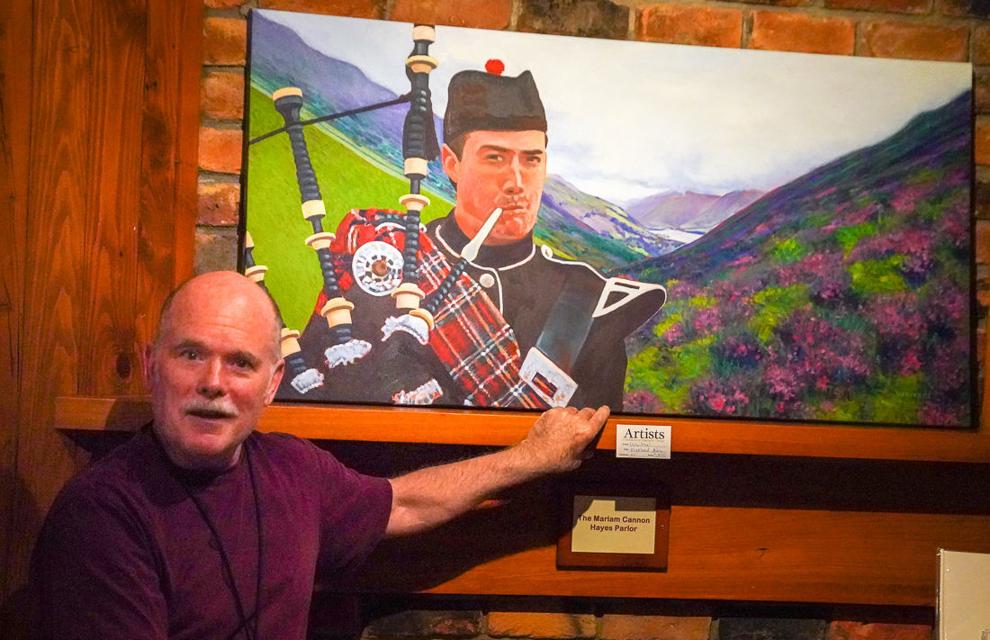 Smith often starts with the human image he wants in his picture and then develops the background. Maybe it is a sailor he saw at church, or something he saw on the Internet that inspires him.
"I don't go around hunting for scenes like a lot of plein air artists do," said the painter who maintains a studio and gallery in Lenoir. "I have started to do a little bit of plein air painting, and after speaking with (fellow exhibitor) Earl Davis, I am going to start meeting weekly with a group of plein air artists he belongs to."
For a man who studied film, music, and writing at the University of North Carolina-Chapel Hill for a few years before being told he didn't have enough credits to graduate in a major, today Smith seems laser focused.
"Upon hearing that, I suddenly decided it was to time settle on a course for my life. And I settled on art. I enrolled at East Carolina University because it has a great art program and majored in painting and graphic design," Smith said.
Smith also has an Associates degree in Furniture Design from Catawba Valley Community College.
From 1988 to 1994, Smith worked with The Lane Company in Conover as a senior furniture designer.
"New England and upstate New York, really most of the East Coast, are great places to go through attics and barns to find antiques. I used to travel with Lane executives and pick through places, finding old furniture. When we found things we liked, they would buy them, and then I would design rattan furniture around those old styles," said Smith.
While he enjoyed the furniture business, he still had art, painting, and creativity on his mind.
"In 1985, I launched an advertising firm, Creative Sharks, in Atlanta. We had a diverse client list that included Crescent Hills Water, Rice Architect, Perimeter Church, and Red Bull, among others," said Smith. "My history teacher in college said of my painting back then that I had advertising images in my artwork. I said, 'cool.' It is that creativity in storytelling with images that I credit for a lot of what I do today."
Smith says that he likes nature and landscapes, but he also likes people. Pointing to the face of a bespectacled man who could be an archaeologist standing in front of Egyptian pyramids while holding a small marble type ball with the world embossed on its surface, he talks about his craft.
"On the Internet, I saw the sort of face I wanted and in another image, an outstretched arm with a hint of a well-developed bicep," said Smith. "He's holding the world in his hands. Maybe he is Jesus Christ."
If there is a spirituality in Smith's work, it is a pretty good bet that it is intentional, consciously or even subconsciously.
"I am single, and always have been. My grandmother once asked me why I didn't have someone in my life and I said I had all these things that I loved, like painting, design, and all. She understood that I didn't really have time for someone or that I might make that someone else crazy. Today, I love Jesus. He is foremost in my life."
In his younger years, among Smith's passions was rugby and certainly that was the inspiration for his drawing of a rugby maul.
Despite his affinity for sports (at Chapel Hill he played soccer and lacrosse, before turning to rugby at East Carolina), it seems like in recent years he has made a sport of winning awards for his paintings. Just since 2015, he has earned nine awards for seven different paintings.
It may have been 18 years in the making, but he recently completed writing his first novel, Rembrandt's Gardener, and has started work on a second.
"I started Rembrandt's Gardener as a book about my grandmother and her wonderful house and garden. Then it evolved as a coming-of-age story about me struggling to become a man in the 1960s. Finally, it became a book about my grandmother's gardener, Lance, who reminds me of Christ in one of Rembrandt's paintings, 'Christ as a gardener appears to Mary Magdalene.' There is a connection between Lance, who claims to be descended from one of King Arthur's knights, and Christ, and that connection becomes a major theme in the book. There is a lot about knighthood and chivalry, as well as a mysterious door at the end of grandmother's English rose garden," said Smith.
Apparently, it has been a rich life for this creative man. Visitors to Edgewood Cottage can get to know him and delight in his work daily, through Sunday, 10 a.m. to 5 p.m. Edgewood Cottage is at the intersection of Main Street and Ginny Stevens Lane, next door to the Blowing Rock Art & History Museum in Blowing Rock.