BLOWING ROCK — From would-be car designer to fine artist, Hickory-based Randy Blake Clontz is living his dream.
"After graduating from St. Stephens High School in Hickory, I went to a couple of different post-secondary community colleges for an associates degree. My third year after high school, I decided that I was ready to move away. I went to Detroit to attend the Center for Creative Studies, which is now called the College of Art and Design, and got my Batchelor's degree in fine arts."
"When I was in high school, I thought I wanted to be a car designer. I wrote to General Motors, actually, and they recommended several colleges. Well, if you are interested in cars, there are few better places in the U.S. than Detroit, so I chose the college they recommended there. I wasn't thinking fine arts. I was thinking car design. That school, generally, is more under the umbrella of industrial design. Transportation design is a subset of industrial design."
"It was something about the vehicles that were being done in the 70s, when I was transitioning from kid to adult. The cars of the day fascinated me, how sculptural they were. Today's cars, not so much. They all tend to look the same, having found similar aerodynamics as they slice through the air for greater fuel efficiency. It is all window dressing, anymore. The shapes are all basically the same. All the SUVs are potatoes on wheels!" said Clontz.

Once in actual transportation design classes, Clontz's eyes were opened to reality.
"I realized that I wasn't really studying to design cars, but to design interiors, or hub caps," he said. "So I basically said, 'Never mind.' I finalized by degree in graphic arts after that."
Clontz did freelance graphics in Chicago after graduating from the Detroit college, got married, adopted a daughter from China, then found a job in Hickory that was similar to the graphics work he had been doing as a freelancer.
"I worked at that company, Southern Graphics Systems, for 14 years and then I started doing art full-time. Portraitures, landscapes, still life are my primary work, a lot of it by commission. Some of it, of course, is just for show, with some family stuff sprinkled in."
It is obvious that the family stuff is important to Clontz, with a portrait of his mother and 'life' paintings of his two adopted daughters, both from China.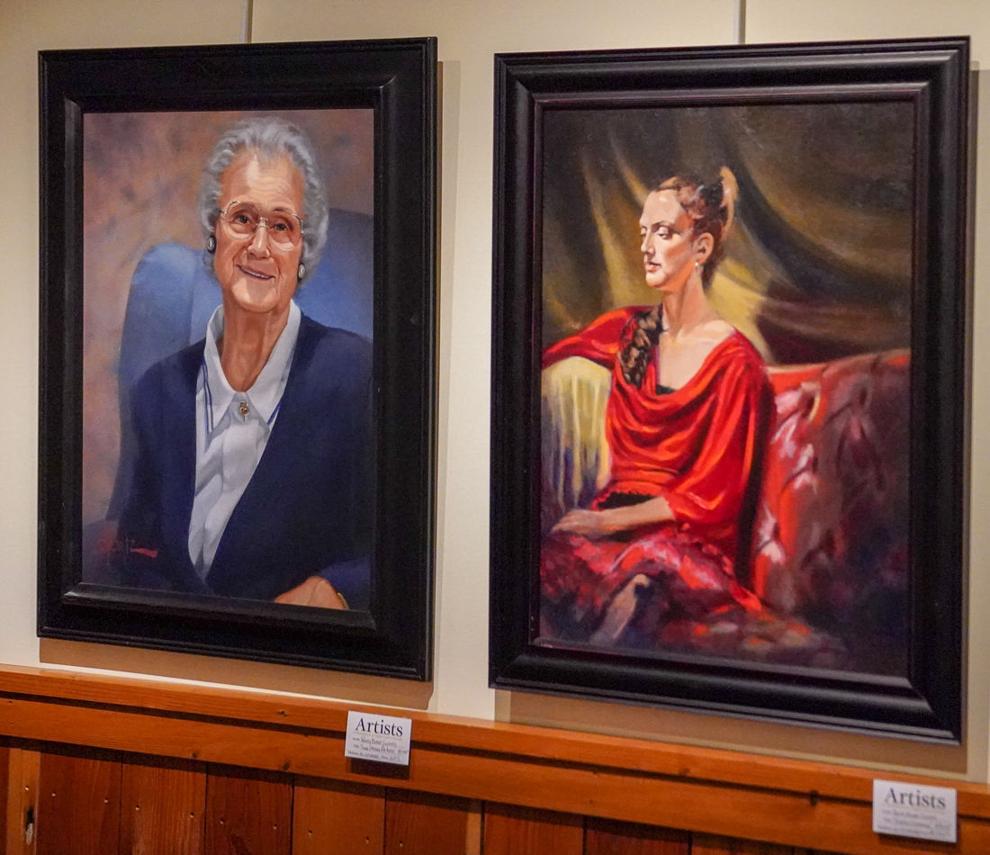 "I always pray to the Lord that he gives me the ability to not only capture the physical likeness of the individual subject of a portrait, but in some way the spirit of the person," Clontz said. "It is what I really strive for and in most cases I seem to achieve that."
Clontz participated in classes at the Hickory Museum of Art where the instructor had different sitters in a variety of ethnic costumes.
Pointing to some examples, he said, "We painted them at night, up there. In painting different ethnicities, I am not really looking to make any kind of statement, but looking for an interesting composition and good color. Composition is really one of my most important aspects of doing art. Even more than capturing an accurate likeness of the subject, I want it to be a good painting. I want it to stand alone as a valid piece of art."
In doing portraits, Clontz said that capturing the likeness is the biggest challenge. If you don't get that right, the piece becomes more of a caricature, which requires a different skillset entirely.
"It is not so difficult to capture the likeness of a human being, but whether or not it is that particular human being, your subject, that is what is hard. I am too persnickety to do caricatures. That takes a certain insight and ability to see things in a person's face and emphasize it in a way that is pleasing. I've never pursued that."
For Clontz, honoring God with his work and in his work is important.
"When I sign a painting, after my name I always inscribe, 'Sole deo gloria,' which interpreted means, 'God alone the glory.' I always try to point back to the Lord because He is the one who allows me to do this."