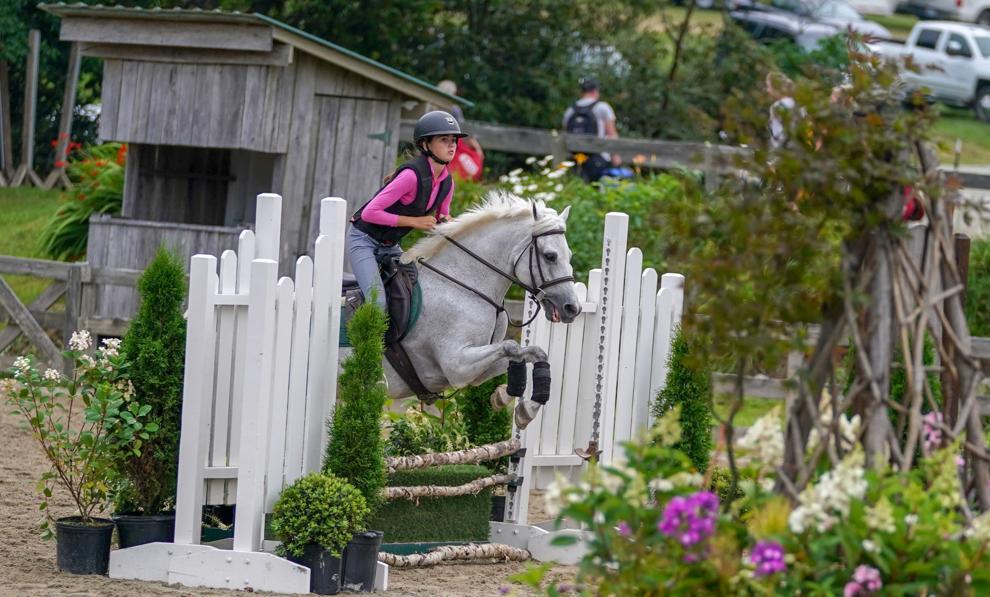 BLOWING ROCK — It was Monday, July 26, the day before the start of competition in the 98th Annual Blowing Rock Charity Horse Show, Hunter-Jumper Division. A quiet day?
Not hardly. By late morning, more than 500 horses had either arrived or were arriving. Each horse averages 3.5 people tagging along as its support entourage, said Rick Cram, show manager. That's nearly 2,000 folks directly associated with the horse show converging on the venue with their gallant steeds. In short, on July 26, the grounds of the Blowing Rock Equestrian Preserve were abuzz with activity: unloading horses and gear, meeting and greeting familiar friends and competitors, and getting valuable time in the practice rings.
When asked about his biggest challenge in the operation of the event, Cram did not hesitate with his answer.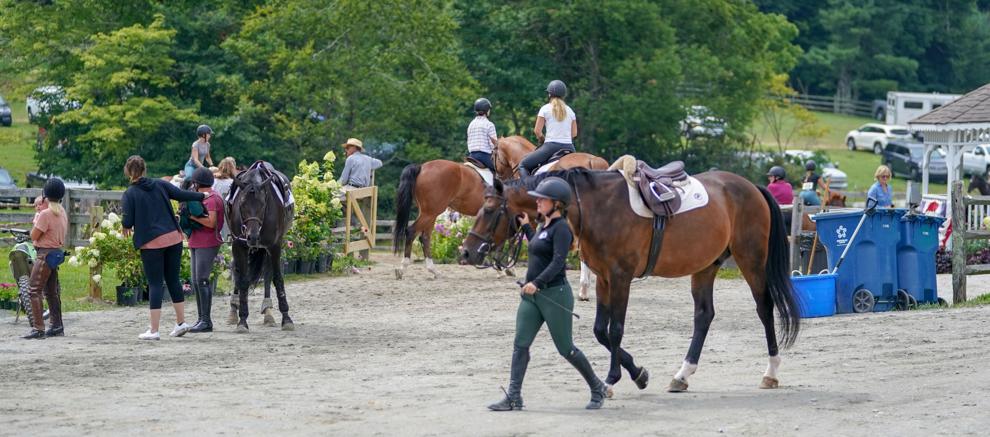 "It's the small footprint of the show, the lack of space, the condensed atmosphere," said Cram. "You have all of these golf carts and motor scooters going here and there, and these 1,200-pound animals all operating in such close quarters. Our biggest challenge is getting everybody to and from the competition rings, safely."
The veteran horse show manager explained that the Blowing Rock Equestrian Preserve is roughly a 20-acre parcel, including the grassy parking lot.
"Not only do you have cars and trucks coming and going, including UPS and FedEx trucks constantly making deliveries before racing off for their next stops, but we have 500-plus horses being brought to and from the show rings and the practice areas. Their riders, trainers, and owners are coming and going, too. People are bringing in grain and hay. They are picking up and hauling out manure after cleaning stalls. Trainers may have one horse and rider in the show ring and two or three in the schooling and practice rings," said Cram. "And it is all happening at the same time."
"And their paths mostly cross right out there, near the entrance to the show ring and the awards display. So from an event execution standpoint, it is the condensed area in which we have to operate without running into each other, avoiding collisions that either cause delays or even potential injuries.
"A lot of our condensed environment, our close-quarter atmosphere, of course, is because it is what the topography dictated when our forefathers built this place. Putting the barns on these hills, which involved a lot of excavation, while keeping the show areas on the flatter land in the valley. Especially for an event that is held once a year, they placed everything as logical as the terrain allowed. It works fine. It has great flow, but the bottom line is that it is only 20 acres with 500 horses and 2,000 people."
From veterinarians and ferriers to judges and golf cart drivers for getting people around, the horse show staff includes more than 36 men and women to make it all happen for the riders, trainers, owners and their horses.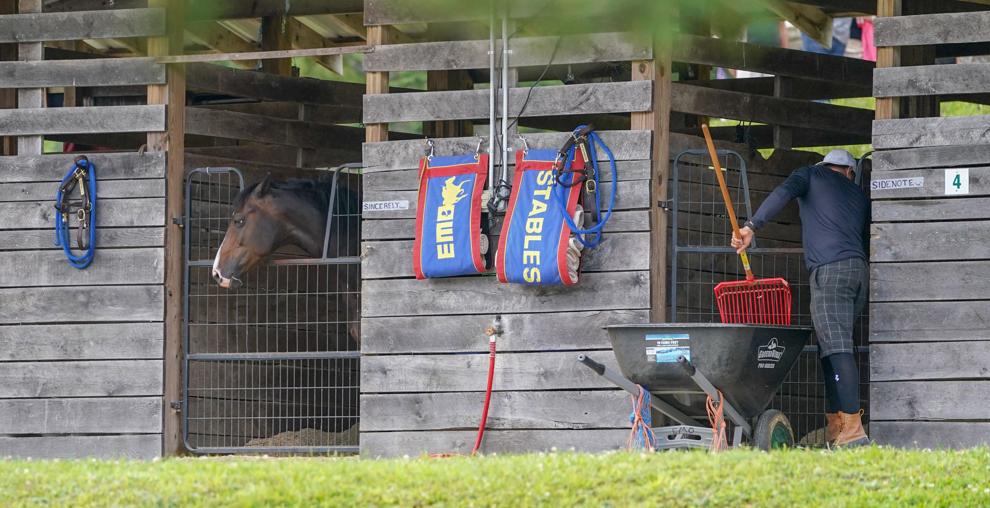 "Three dozen people to carve out of the side of this mountain the competitive environment that it becomes," said Cram. "That includes parking, getting the horses safely to and from their assigned stables, unloading and transporting the equipment that they bring, the folks driving the limo golf carts to get the participants here and there, cleaning stalls done daily, judges, announcers, stewards. Very few are volunteers and where they are it is usually with some kind of sizable financial support for a specific non-profit.
"For just this show, we'll go through about 7,000 bags of wood shavings for the stalls," Cram said. "We'll deliver about 4,000 bales of hay, and of course that doesn't count the massive amounts of grain that are fed to the horses. We spend about $30,000 just on removing the manure that is generated from 500 horses!"
Cram said that entries in this 98th edition of the Blowing Rock Charity Horse Show, which he emphasized is the longest, continuous running equestrian event in the U.S., come from a diverse number of locations in Virginia, North Carolina, Florida, Georgia, and Tennessee, among others states.
"This is an annual event. After the Equestrian Preserve opens up following the winter months, things get cranking pretty quickly after Mother's Day in May because first there is the Saddlebred portion of the show that happens in June, and about a month later we go into this Hunter-Jumper division for two weeks," said Cram. "There is a lot of preparation between the division. For instance, the area over there that we use as a schooling area for the Hunter-Jumper show is a parking lot for the Saddlebreds. So to turn that into a competition preparation area, where the riders tune up their horses to go into the show ring, requires a lot of work."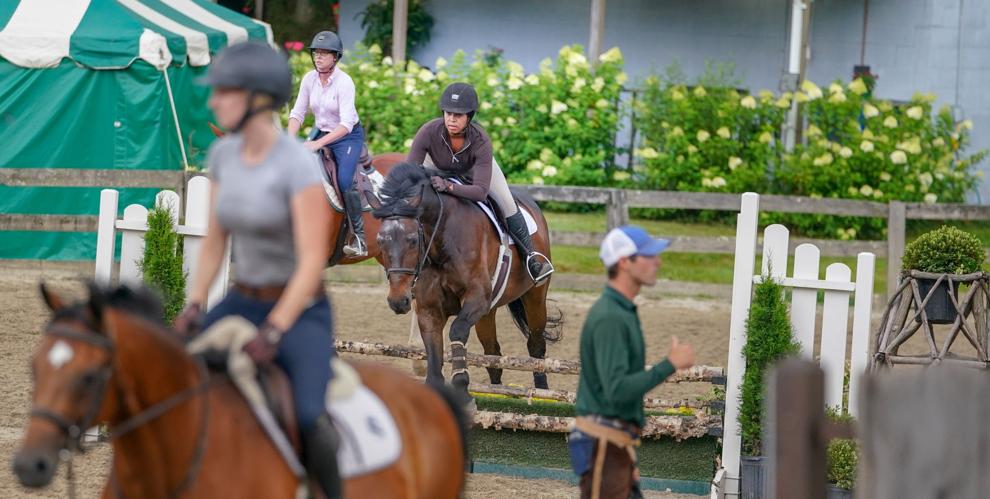 When it comes to the health of so many horses, redundancy is important.
"We have Nicole Swinehart out of Camden, S.C., who handles the veterinarian side of things," said Cram, "but she brings three assistants. It is just like having a medic on staff. If you have a situation, for example, where you have an accident in the main show ring and another one happens at the same time in the other ring, then you have to have more than one veterinarian available to cover the possibilities."
The Blowing Rock Charity Horse Show hunter-jumper division is part of the World Championship Hunter Rider Program of the United States Hunter Jumper Association. The program was founded in 1992 to recognize and celebrate the hunter rider. Since the inaugural WCHR Professional Finals in 1992, the WCHR program has expanded to include coveted year-end awards for Professionals, Developing Professionals, Amateur Owners, Adult Amateurs, Juniors, Children's and Pony riders. WCHR Program Members qualify for National and Regional Awards by earning points at Member Events held across the country throughout the qualifying year. Points from a rider's top four WCHR Member Events are used to determine the National and Regional standings. Each year the top ten nationally ranked riders and top six regionally ranked riders in each category, come together to compete in the WCHR Finals at the Capital Challenge Horse Show in Upper Marlboro, Maryland.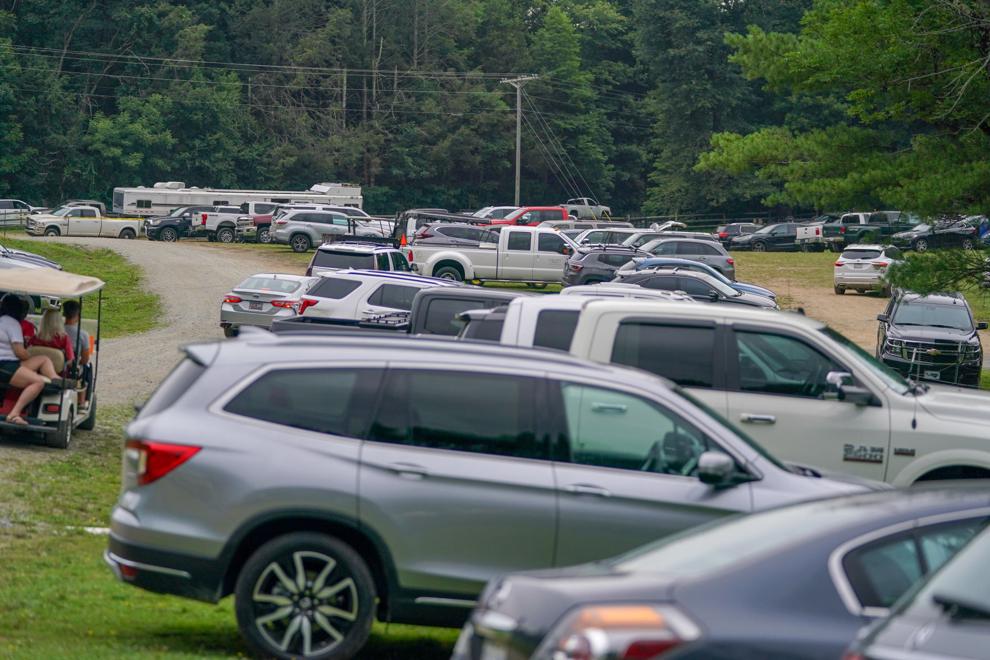 "That WCHR accreditation is not offered to many horse shows anymore," said Cram, "so we are honored to have that sanctioning. We start tomorrow (Tuesday, July 27) and run through Sunday (Aug. 1). Then the second week, we will do it all over again but we won't start until Wednesday (Aug. 4) and run through Sunday (Aug. 8)."
The United States Equestrian Federation is the governing body that creates the standards and regulations to follow.
"They say, for example, that you have to have X number of toilets per people count. The size of the lunging areas. We actually had to increase the size of our main schooling area a couple of years ago to keep up with the standard. All of the stuff like that is regulated and enforced by the USEF steward that is hired for our horse show to make sure we are keeping all of our i's dotted and t's crossed."
Cram explained that while each week is a different show with mostly the same competition classes and awards, there is very little turnover among the participants. Everyone comes stays to do it all over again.
"But they all like to have that Monday off," said Cram. "For some it is rest while others have to scurry home to check on their businesses and such, for the many it is an opportunity for them to get out and experience the High Country. They like to go to Grandfather Mountain, zip line, ride the carriage trails at the Cone Manor Estate, go to Tweetsie when it is open, hike the trails, really all the things that attract people to this area, whether as residents or vacationers. For a lot them, they just want to enjoy Blowing Rock. (Laughing) And of course laundry. That is a big deal on a Monday!"
Cram said that he always looks forward to the Blowing Rock horse show.
"This is a popular event with so many people," said Cram. "We have to turn some people down because we get fully booked. People anxiously await this show every year. I think a lot of the popularity stems from the fact that the board of directors is comprised of so many local people, with inputs from outside influencers. The local organizers understand the impact that this event has on the local community. There are positives and negative, of course, in terms of impact. The town is in the middle of peak season, and then we invade and the restaurants are full even while some are still understaffed. This year is even more stress, perhaps, because COVID-19 brought more people to the area. But my hat is off to this board of directors because they continue to steward a great event on this property and they have done it over decades. There are older shows, but not continuous because they didn't operate during World War II. We are now at 98 continuous years and I am looking forward to No. 100. It will be a big celebration."